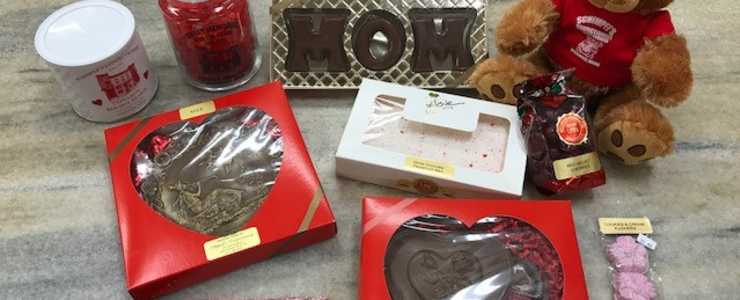 Mother's Day is Sunday, May 14. Here's where you'll find unique gifts, elegant brunches, and relaxing spa treatments in SoIN for the special moms in your life.
Mother's Day in New Albany
Café 157
Enjoy a relaxing, quiet atmosphere and fresh-baked scones, muffins, and biscuits, or select your favorites from their breakfast and lunch menu. Café 157 will also offer $1 mimosas on Mother's Day. While you're there, browse and shop for antiques and local artists' wares.
Café 157, 157 E. Main St, New Albany
(502) 548-9114
www.ChestnutsAndPearls.com

Wick's Pizza
Wick's Pizza will carry over their anniversary special for Mother's Day. Enjoy a 16" three-topping pizza and any dessert for only $26.  You didn't know that Wick's has dessert? They have an amazing cookies and cream wheel and a tie-dye cheese cake! Enjoy over $10 in discounts on Mother's Day at Wick's.
Wick's Pizza, 225 State St., New Albany
(812) 945-9425
www.WicksPizza.com
Brooklyn and the Butcher
Guests will enjoy a Bloody Mary bar and house favorites such as the Belgian Waffle Croque: house-made waffles with a sunny egg, Benton's country ham, truffle mornay, and skillet potatoes. Another favorite: Bacon Rosti, which is crispy hash browns with house bacon, asparagus, mushrooms, and hovamstarsas. Brooklyn and the Butcher will also have a professional photographer on hand between 10 a.m.-1 p.m. to take a special photo of families and their mothers. Photos will be posted on their Facebook page later that day at: https://www.facebook.com/brooklynandthebutcher
Brooklyn and the Butcher, 148 E. Market St., New Albany
(812)-590-2646
www.BrooklynAndTheButcher.com
Strandz Salon and Threadz Boutique
Give mom a gift certificate from Strandz and Threadz. She'll enjoy shopping at Threadz for stylish clothing and accessories, and will feel rejuvenated after a visit to Strandz Salon. Enroll in their new Family Membership Program and receive a 2-oz. custom-blended, custom-scented lotion at the first visit. With every visit, family members receive a free paraffin wax, invitations to exclusive events, product demonstrations, 25% off new products, a specialty drink, and more! Cost is only $19.95 a year and includes enrollment in the AVEDA pure privilege program.
Strandz Salon and Threadz Boutique, 322 Vincennes St., New Albany
(812) 945-5480
www.StrandzAndThreadz.com
Mother's Day in Clarksville
Champions Grille
Clarion Hotel's Champions Grille will have its scrumptious Mother's Day brunch from 11 a.m. – 3 p.m. Some of the menu items included are: Belgian Waffle and omelet station, salad bar with fresh fruit and cheeses, baked chicken and dressing, scrambled eggs, bacon and sausage, and an assortment of cobblers, pies, and cakes. Prices: $19.95, adults; $9.95, children ages 6-10; under age 5 is FREE. Reservations are encouraged.
Champions Grille, 505 Marriott Dr., Clarksville
(812) 283-4411
www.Facebook.com/Clarion-Hotel-Conference-Center-Louisville-North-286575188160309/
Rails Craft Brew & Eatery
There's still time to make reservations at Clarksville's revived historic-home restaurant! You and mom will enjoy ham, prime rib, chicken cordon bleu, lemon pepper cod, with a variety of vegetables, salads, fresh fruits and cheeses, and a chocolate fountain. Yes, that's right, a chocolate fountain! Prices: $23.99, adults; $10.99, children ages 3-10.
Rails Craft Brew & Eatery, 318 W. Lewis & Clark Blvd., Clarksville
(502) 523-2649
www.RailsCraftBrewAndEatery.com
Mother's Day in Jeffersonville
Maker13
The new dream, design, and build space in downtown Jeffersonville has two fun projects for moms and her children. On Friday, May 12, 4-7 p.m., kids can create a memorable leather key chain, etched with their own special message or drawing. Kids can also stencil and paint a wood sign (five designs to choose from). Both projects are only $10. On Saturday, May 13, Maker13 will offer its first Pinterest class 10 a.m. to noon. Makers will create a decorative "Welcome" or "Home Sweet Home" sign with vase for only $20.  
Maker13, 629 Michigan Ave., Jeffersonville
(502) 208-3440
www.Maker13.com
Springs Salon and Spa
All moms enjoy special treatment, especially if it's a spa treatment! Give her a gift certificate from Springs Salon and Spa to schedule a day of pampering around her schedule. The "Like Mother, Like Daughter" package includes two pedicures, two manicures, and two facials. Springs Salon and Spa also offers a relaxing spa treatment for mothers-to-be which includes a one-hour prenatal massage, facial, manicure, pedicure, and complimentary chocolates.
Springs Salon and Spa, 234 Springs St., Jeffersonville
(812) 284-1226
www.TheSpringsSalonAndSpa.com
Schimpff's Confectionery and Candy Museum
Since 1891, this beloved candy store in Jeffersonville has treated moms and families with its handmade red hot cinnamon drops and hand-dipped chocolates. For Mother's Day, choose from Schimpff's full selection of candy, gifts and fine chocolates for the special mother, grandmother, or mother-in-law in your life.
Schimpff's Confectionery and Candy Museum, 347 Spring St., Jeffersonville
(812) 283-8367
www.Schimpffs.com
Bristol Bar and Grille
Take mom to enjoy Bristol's lavish brunch buffet which includes Belgian waffles, scrambled eggs, biscuits and gravy, fried chicken, cheese grits, and fresh fruits and vegetables.  And, don't forget dessert, too! Cost: $23, adults; $7.50, children ages 4-11.  Tax and tip not included.
Bristol Bar and Grille, 700f W. Riverside Dr., Jeffersonville
(812) 218-1995
www.BristolBarAndGrille.com
Portage House
Jeffersonville's newest riverside restaurant will offer tasty dishes for Mother's Day. If you've not dined at Portage House yet, it will be a good time to stop in and enjoy specials like waffles and smoked trout dill salad, with green goddess dressing and fresh green beans. If you'll be boating on the Ohio Sunday, tie up at Jeffersonville's Fisherman's Wharf marina and stop in! Reservations are encouraged.
Portage House, 117 E. Riverside Dr., Jeffersonville
(812) 725-0435
www.EatPortageHouse.com
Olive Leaf Bistro
Olive Leaf Bistro's brunch is always a treat, but on Mother's Day, it will be extra-special. From 11 a.m.- 4 p.m., enjoy Mediterranean and American cuisine dishes such as lobster bisque soup, feta cheese salad, eggs benedict, omelets, shrimp scampi with artichokes, roasted smoked ham, mashed potatoes, sautéed broccoli, chicken parmesan, pork tenderloin, fruit salad, and a variety of desserts. Reservations required. Cost: $25 per person; $10 for ages 8 and under
Olive Leaf Bistro, 130 W. Riverside Dr., Jeffersonville
(812)913-1252
www.OliveLeafBistro.com
Kye's
How fitting that a special event venue would host a 'special brunch' just for moms! You and your family will remember your dining experience at Kye's on Mother's Day. For only $32.99 per person ($15 children ages 7-12, ages under age 6 are free), you will enjoy a delightful omelet station, smoked sausage, country fried steak honey glazed ham, mashed potatoes, biscuits and gravy, champagne or mimosas, and assorted dessert bites. A 5" x 7" photo will be available to commemorate mom's special day. Reservations required.
Kye's, 500 Missouri Ave., Jeffersonville
(812) 285-8500
www.Kyes.com
Search our restaurants and shopping listings for more Mother's Day ideas!