Things to Do on the Ohio River
Riverside Experiences
If your idea of a relaxing getaway is having water nearby, head to the riverside in SoIN!
SoIN - the part of Southern Indiana just across from Louisville, Ky. – is a collection of welcoming cities and towns on the Ohio River's north bank. Our communities are chock full of options for riverside fun, including patio dining, outdoor recreation, concerts and events. 
Read on to find out about the best ways to experience the river in SoIN!
Riverside Parks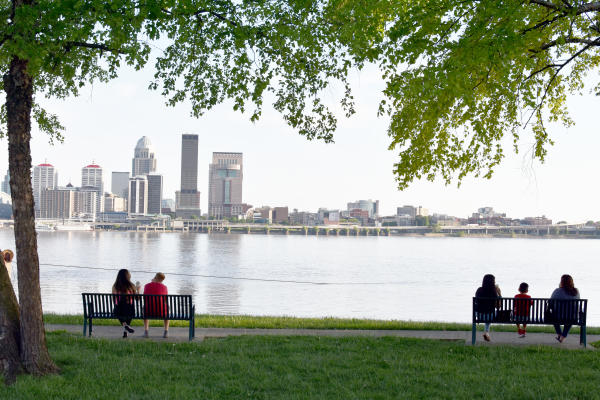 If you'd like to explore the riverside during your stay in Southern Indiana, make sure to visit our parks along the Ohio River. You can participate in outdoor activities while you take in scenic views.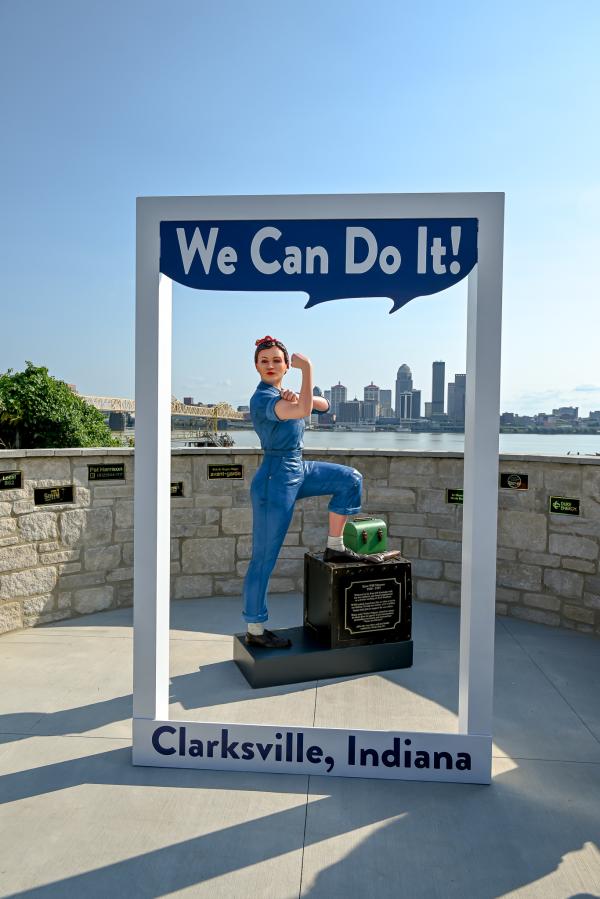 Bike along the river on the Ohio River Greenway. This 7.5-mile trail connects three of SoIN's communities: Jeffersonville, Clarksville and New Albany. While you're on the Greenway, stop at Ashland Park for a picnic with the best skyline views of Louisville. New in 2022 is the Rosie the Riveter statue, commemorating a Clarksville resident who was one of the women who inspired and modeled for the Rosie the Riveter icon! Take your picture beside Rosie with the Louisville skyline backdrop! Then, check if Widow's Walk Ice Creamery is open for a sweet treat. Further down the Greenway is Falls of the Ohio State Park where you can discover ancient fossil beds that line the river.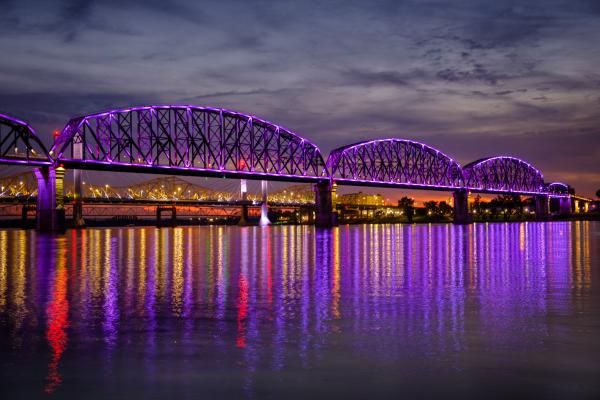 Walk or bike across the premier Big Four Pedestrian & Cycling Bridge which connects SoIN to Louisville. Once you cross the bridge, visit two states in one trip! Return to the base of the bridge in Jeffersonville to relax at Big Four Station Park, where you'll find a playground for kids, as well as a pavilion and nearby restaurants for refreshments!
Riverside Dining
The exciting culinary scene in SoIN extends along the Ohio River with several restaurants offering riverfront views. Grab a bite to eat in Jeffersonville at Upland Brewing Company, which has 20 taps highlighting the full Upland beer lineup, KingFish on the River, with a patio facing the river or Harry's Tap House & Kitchen, with Cajun-flavored fare.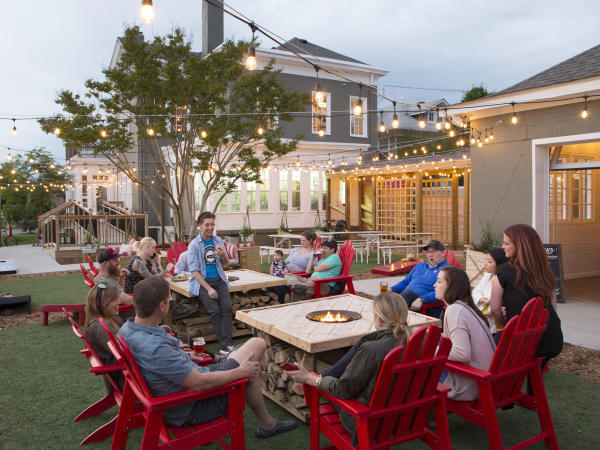 Just a few blocks away from the river are several other options including: 
•    Red Yeti, with locally sourced ingredients
•    Ramiro's Cantina
•    Parlour Pizza & Pints
•    Kabuki Hibachi & Ramen
•    Union Restaurant & GameYard 
•    Pearl Street TapHouse
•    Geraldine's Kitchen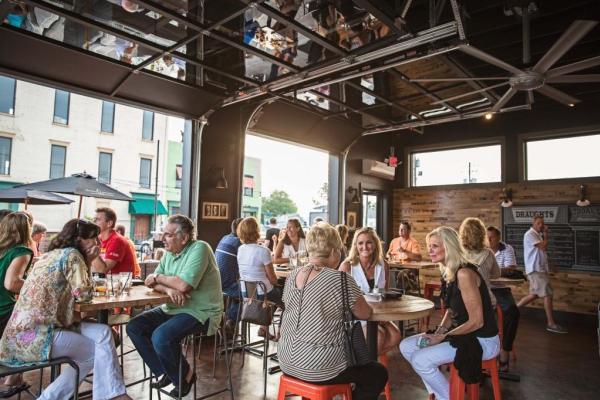 Move farther downriver to check out New Albany, where you'll find international cuisine like sushi at Dragon' King's Daughter or Mexican at La Catrina. New Albany is a hub for craft beer, wine and cocktails with the likes of Floyd County Brewing Company, Baer's City Winery and The Exchange Pub + Kitchen to name a few from this culinary haven.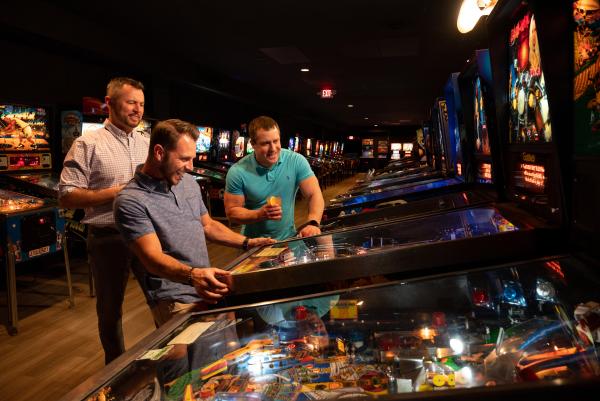 Stop downtown, uptown and all around New Albany for more delicious eateries including:
•    Board and You Bistro & Wine Bar
•    Leaven Bakery
•    Brooklyn & The Butcher
•    Israel's Delicias de Mexico
•    RecBar812
Check out our restaurants page to explore all your inland options, too. 
Riverside Water Activities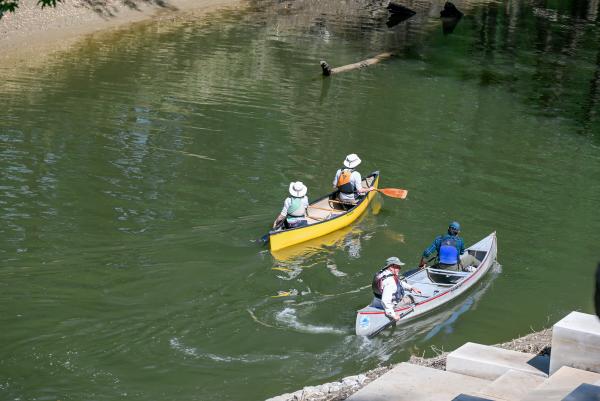 Don't forget to bring your water toys. The Ohio River is a refreshing escape for adventure seekers whether you're into fishing, kayaking, or boating. Paddlers looking for fun now have two launch points to access the Ohio River via the Silver Creek Croghan Launch and the Silver Creek Landing.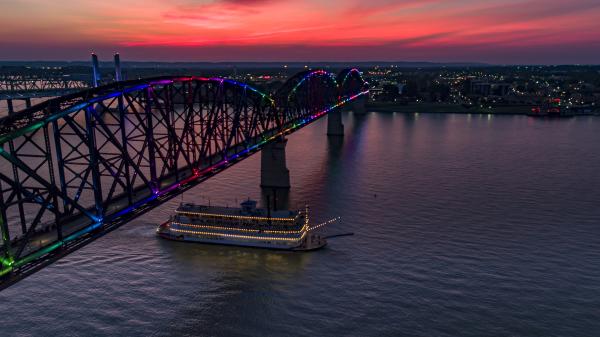 If you prefer to stay dry, don't worry; you can always enjoy a relaxing day on a pleasure cruise aboard the iconic Belle of Louisville Steamboat or the Mary M. Miller, a propeller-driven riverboat. 
Other Riverside Experiences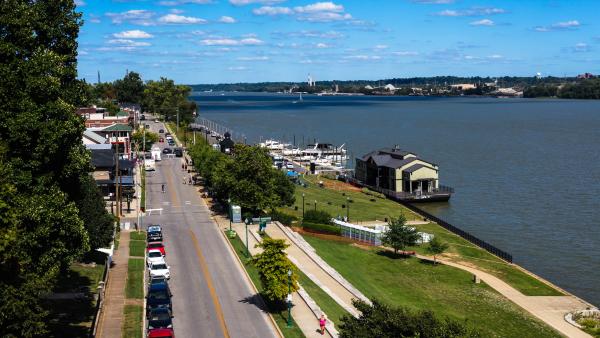 You can also access the Ohio River at these riverside locations:

•    Boat launch at Charlestown State Park
•    Fisherman's Wharf, downtown Jeffersonville 
•    Duffy's Landing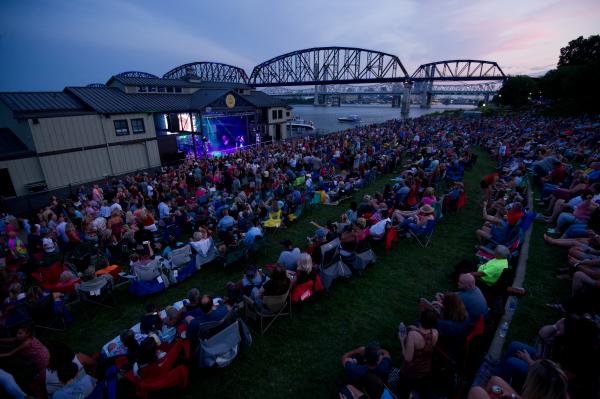 Events on or near the riverfront: 
Click here to learn more about these signature events.
•    Thunder Over Louisville
•    Jammin' in Jeff & Jeff Goes Country 
•    The Great Steamboat Race (part of the Kentucky Derby Festival)
•    Autumn on the River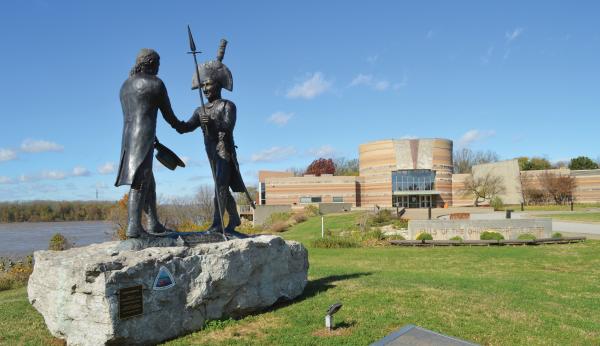 History 
Click here to learn more about the history of Clark & Floyd Counties. 
•    Lewis and Clark
•    George Rogers Clark 
•    Underground Railroad history  
Ohio River Way
While on or around the Ohio River don't forget to use the Ohio River Way Digital Map to help you navigate around the river or feel free to use the Ohio River Way Guide to plan your Ohio River adventure. You can view the guide online or request yours today!