Accessibility in Southern Indiana
Travel Accessibility & Inclusion
Southern Indiana (Clark & Floyd Counties) strives to accommodate visitors with special needs. We're always working to make our systems and services even more accessible for all travelers.
Stay up to date on all things SoIN by signing up for our monthly newsletter, and start planning a weekend getaway by ordering a FREE visitor guide!
Assistive Technology on our Website
Assistive technology can help people with disabilities access, navigate and engage with digital content. We've partnered with Audio Eye, an assistive technology company, to optimize our website to help people with impairments or disabilities maneuver within our website. Audio Eye works to fix digital content issues to meet the standards of the Website Content Accessibility Guidelines (WCAG). 
Examples of assistive technologies are screen readers, voice recognition software, reading assistants, and switch devices that replace the need to use a keyboard or mouse.
Typically, the accessibility needs of users are grouped into four areas:
Visual: People who are blind, low vision or color blind.
Auditory: People who are deaf or hard of hearing.
Motor: People who have limited fine motor controls, muscle slowness, or tremors and spasms.
Cognitive: People who have learning disabilities, memory impairment, attention disorders, or difficulty with problem-solving and logic.
To use Audio Eye, look for the accessibility icon on the bottom right-hand side of our site. To learn more about using the Audio Eye visual toolkit, click here.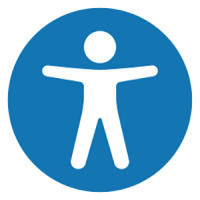 What are you looking for?