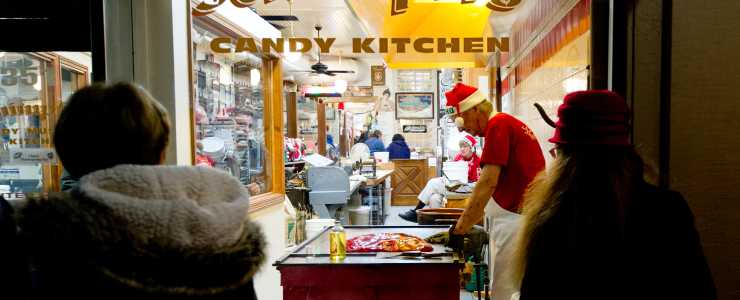 Southern Indiana comes alive with the magic of the winter season, offering a delightful array of holiday events and activities that are sure to warm your heart. From festive light displays and parades, ice skating rinks, and seasonal culinary delights, there's something for everyone to enjoy during this special time of the year. Explore our list of winter holiday activities in Southern Indiana and let the spirit of the season fill your days with joy, wonder, and cherished memories.
Top Holiday Activities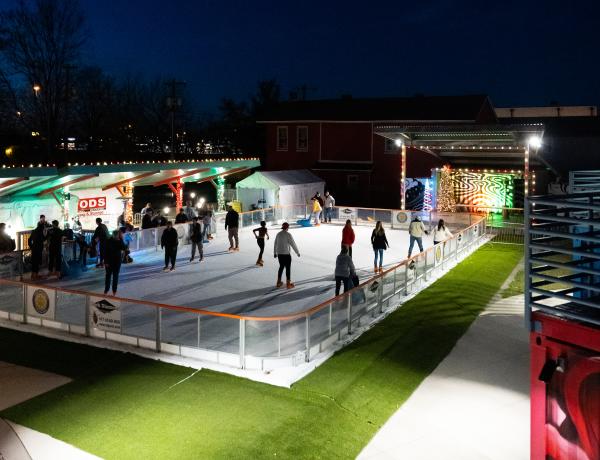 Jeff Ice Skating rink
Welcome to "Jeff on Ice" – where the ice is calling and the fun never stops! At Jeff on Ice, the adventure begins on the hour, every hour, with 45-minute skating sessions that promise an exhilarating experience for all. Santa will be at the ice rink December 9 and 16 for visits with the kids!
For just $12 per ticket (plus fees), skaters of all ages can take to the ice and enjoy the thrill of gliding across the rink. Your ticket includes complimentary skate rental, so you can step onto the ice with ease.
Tickets for 'Jeff on Ice" are on sale now, and the rink is open through December 31. Don't miss out on the opportunity to create unforgettable memories on the ice this winter.

Huber's Orchard and Winery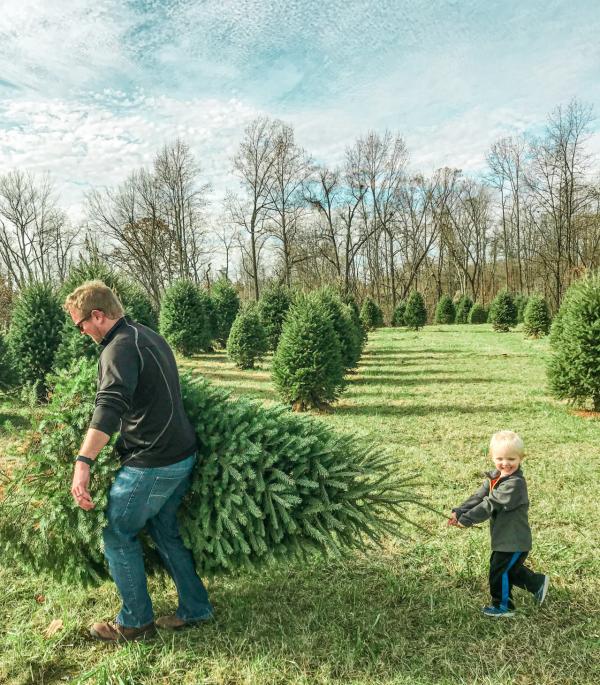 Wine, spirits and Christmas tree shopping - At Huber's Orchard and Winery, guests can revel in the holiday spirit as they choose the perfect Christmas tree in a picturesque setting. Alongside the festive tree-picking experience, visitors will discover an extensive array of wines and spirits to make their holiday celebrations truly special. Huber's Orchard and Winery provides the ideal destination for all your holiday needs.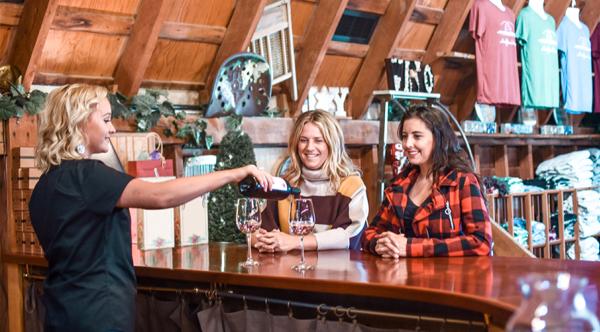 Pop's Reserve Release - The highly anticipated Pop's Reserve Release Party will take place from 6 to 9 p.m. November 16 at Huber's Plantation Hall. Guests can savor complimentary chili and cheese while enjoying live music.
Mark your calendars, as the exclusive wine release will be available for the public to purchase from the winery starting at 10 a.m. November 17.

Holiday Candy Making at Schimpff's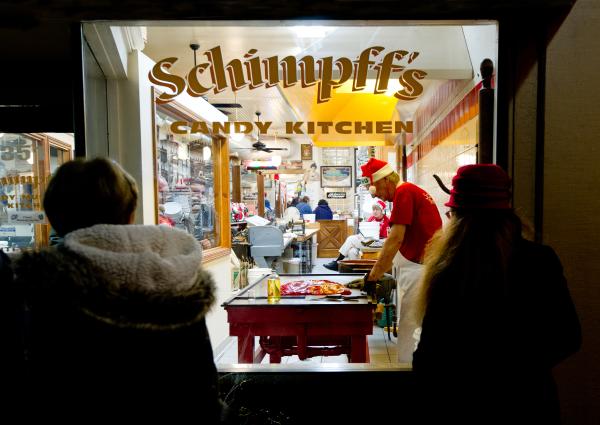 The Saturday following Thanksgiving is an absolute treat for all who visit Schimpff's! Prepare to be dazzled as they whip up magical holiday candy right before your eyes. They'll craft either delightful candy canes or intricate ribbon candy, making it an enchanting experience you won't want to miss!

MESA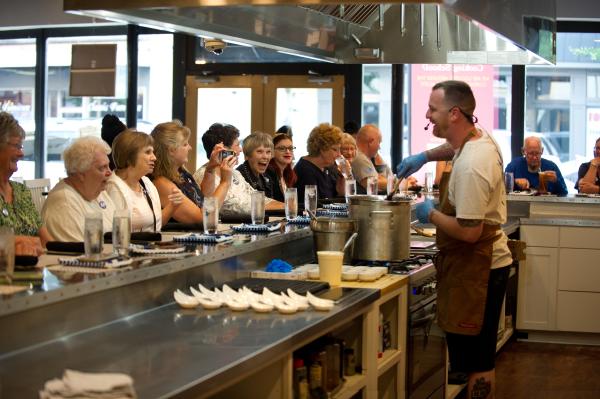 MESA is proud to offer a range of exciting holiday cooking classes this season. On December 1, there's a mouthwatering 3-Course Dinner at 5:30 p.m. and 8 p.m., followed by a thrilling Christmas Movie Trivia event, both expertly led by Chef Liz Martino. For those looking to savor a farm-fresh Christmas experience, sign up for a delectable 4-Course "Farm to Table Christmas" with Chef Mike Bowe of Red Yeti on December 23. These culinary adventures promise a memorable holiday season for all. Get tickets for these and other dinners on the MESA website.

MESA Kids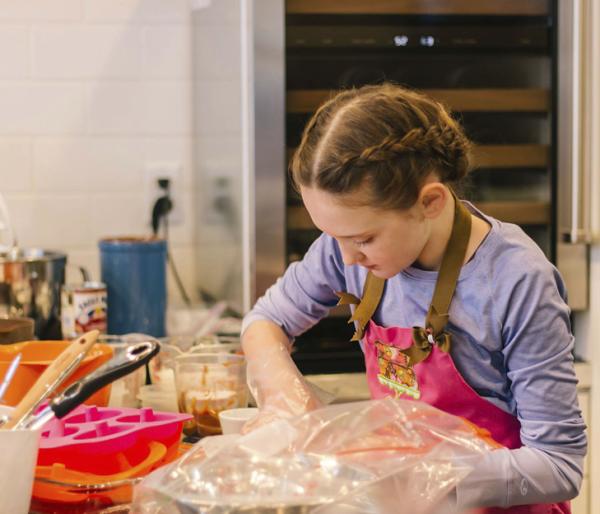 MESA Kids Cooking School presents an engaging opportunity for young aspiring chefs! Their upcoming cooking class series, taking place every Wednesday from December 6 - 20, offers kids the chance to master the art of preparing delectable appetizers and desserts fit for the whole family. For just $27.50 per class, participants not only gain valuable culinary skills but also receive all the materials and ingredients required for each session. It's a hands-on, creative adventure that promises to leave young chefs inspired and their taste buds delighted! 

Derby Dinner Playhouse Holiday Shows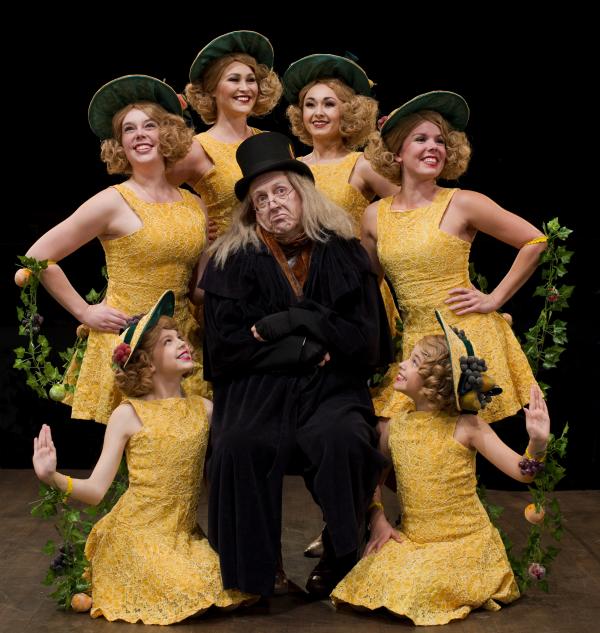 Step into the enchanting world of Charles Dickens' timeless tale, brought to life in a dazzling Broadway musical! This lavish and thrilling production is a must-see for the holiday season, running from November 9, through December 31. For $42 to $51 per ticket, you'll enjoy a magical evening that includes dinner, the mesmerizing show, along with tax and parking. Plus, special discounts offered for AAA members and groups. Don't miss the chance to experience the holiday spirit in an unforgettable way.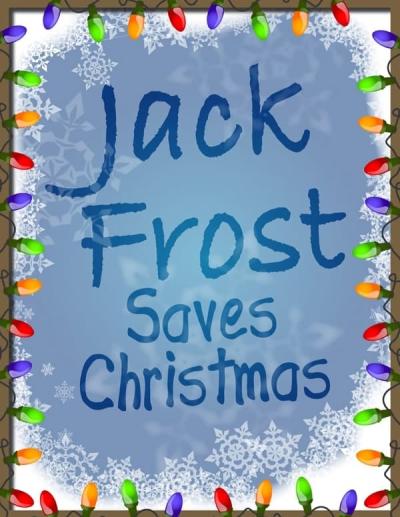 Families looking for a delightful Children's Musical Theatre experience, tailored for children aged 3 to 12, won't want to miss this! Running from November 11 to December 23, every Saturday, Jack's captivating adventures in Christmastown will unfold before their eyes. Jack's journey involves discovering his icy talents and ultimately saving Christmas. 
With ticket prices set at $18 for Breakfast or $23 for Lunch, families can enjoy a kid-friendly meal, an enchanting show and hassle-free parking. It's the perfect recipe for a heartwarming holiday outing that the entire family can relish. Derby Dinner holiday shows sell out quick, so don't delay!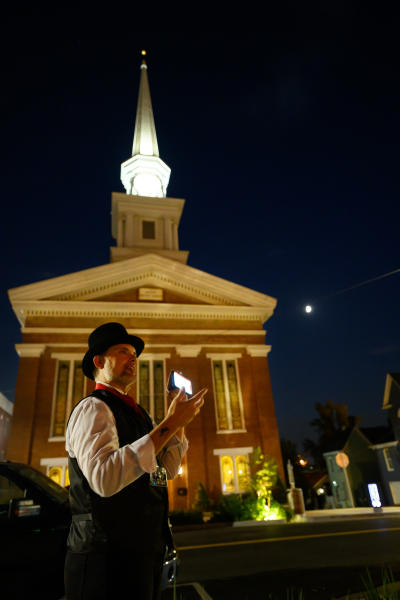 Bundle up and take a winter stroll through the haunted, violent, and tragic past events of downtown New Albany, set to the warm glow of the downtown holiday lights! Friday, December 15 from 7:30 - 10 p.m. For a special treat, midway through the tour, visitors will be stopping at The Root for a little respite from the cold and to warm up with a cup of hot chocolate or coffee! The Root is located in a building that dates back to around 1859 and is one of the oldest in downtown New Albany.
 
Santa, Mrs. Clause & Grinch Sightings 
When the enchantment of the holidays fills the air, there's no better way to embrace it than by sharing your wishes with the man in the red suit. This list is your guide to discovering the best places to visit Santa in Southern Indiana. If your heart is "two sizes too small", you might prefer to see everyone's favorite green villain, The Grinch, who has also been spotted in some SoIN locations.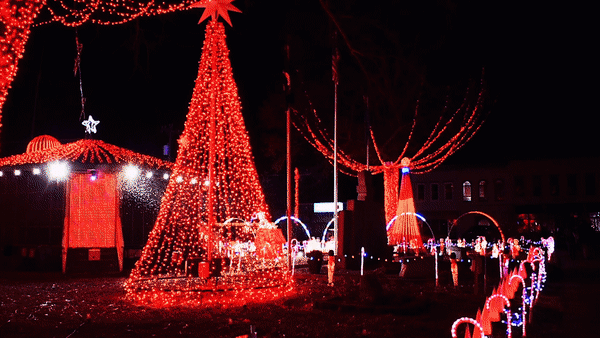 Charlestown: Christmas City is one of SoIN's most festive light displays with multiple locations lighting up to transform Charlestown into a "Christmas City." Not only is the event a haven for spectacular lighting showcases and festive activities, but visitors can also meet Santa, reindeer and The Grinch! Visit the City of Charlestown website for a list of dates and times.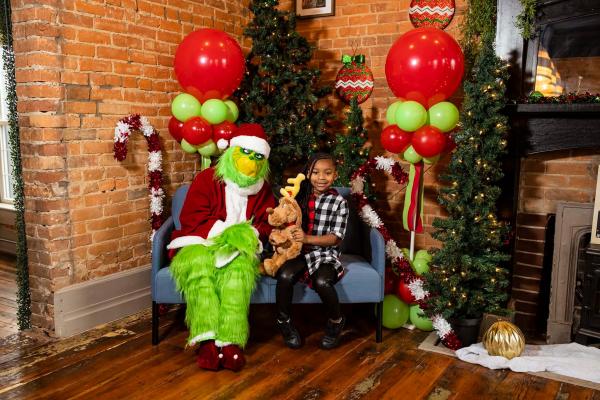 Source: https://www.facebook.com/FrescoTeaBarNA
Returning due to high demand Friday Dec. 8, the 3rd annual "Pictures with the Grinch" event is a must-attend! Guests can savor delicious Boba Tea and snacks before making their way upstairs to meet the beloved character in green. Plus, every family will receive a complimentary photo to cherish.  
Source: https://www.facebook.com/ShopGreenTreeMall
Green Tree Mall is thrilled to welcome Santa Claus this holiday season for a heartwarming meet-and-greet experience Nov. 24 - Dec. 24. Reservations are recommended but not required. Walk-ups are always welcome and will be accommodated on a space-available basis.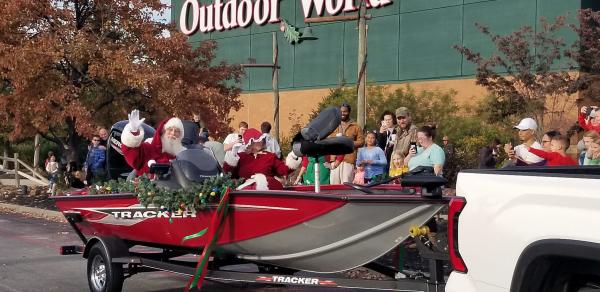 Source: https://www.facebook.com/bassproshopsclarksvillein
Visit Santa this season at Bass Pro Shops! Santa will be available for your one free photo by reservation at Basspro.com/Santa so don't delay in getting your reservations now! The hours begin on Sunday, November 5 and run through December 24.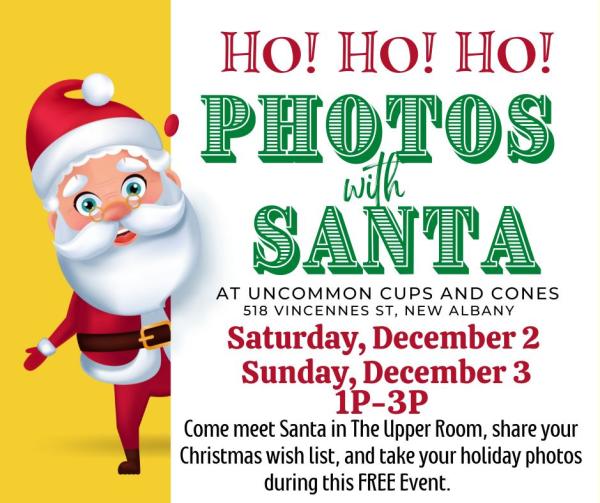 Meet Santa in the upper room on Saturday, Dec. 2, and Sunday, Dec. 3, from 1-3 p.m. Share your Christmas wish list and snap a photo during this FREE event.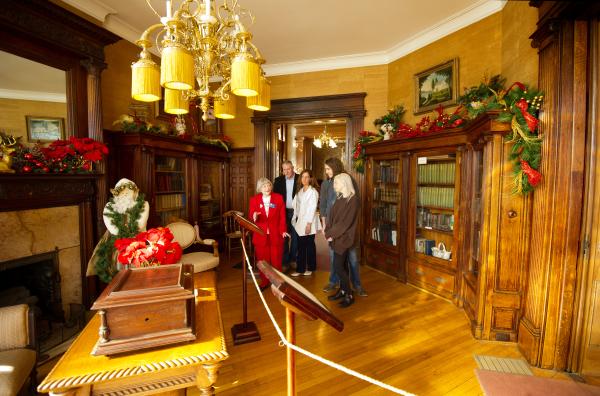 Come and peruse the crafts and unique items available from local artisans at this one-of-a-kind event December 3, from Noon to 4:00 pm at The Howard Steamboat Museum. The perfect place to find a great gift for that hard-to-buy-for friend or relative. Visit Santa Claus, enjoy seasonal music provided by the Thomas Family Brass Duo, and share in light refreshments with us as we celebrate the season!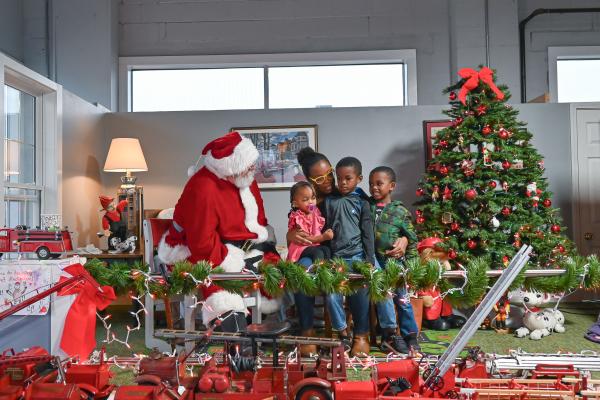 December 9, Santa will be at the Vintage Fire Museum! Children of all ages can have their photo taken with Santa, will receive a gift and a food treat from Santa and will see antique toy fire trucks. Enjoy seeing the amazing things in the Museum, too!
 

Festive Cocktails and Hot Chocolate 
What better way to get into the holiday spirit than with the warmth of a steaming cup of heavenly hot chocolate or a uniquely crafted festive cocktail! Southern Indiana is your destination for the most divine hot chocolate and the most creatively concocted seasonal cocktails. This guided list is your passport to savoring these delightful beverages that will transport you to a world of delicious holiday magic. 
Festive Cocktails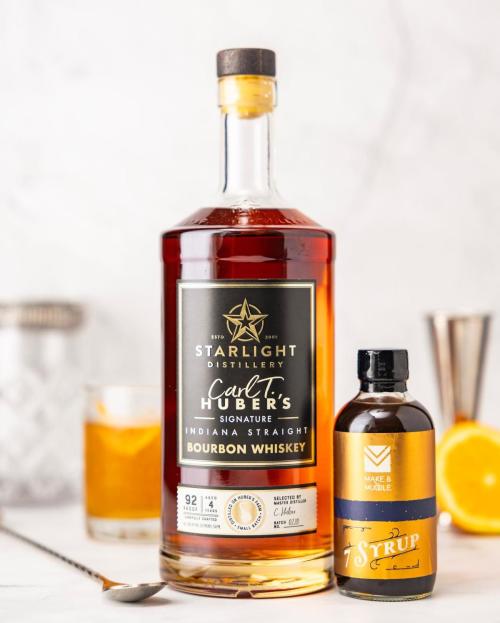 Huber's Orchard and Winery Interactive Cocktail Class
Join the Cocktail Evangelists from Make & Muddle for an interactive class on November 9 and December 5. Each session features unique cocktails with fresh, field-to-glass ingredients. Learn cocktail techniques, history, and enjoy a welcome drink, three class cocktails, plus a small appetizer with your ticket. 
Hot Chocolate 
Preparing for Winter/Winter Wear 
Embrace the chilly season with style! Dive into the world of fashionable winter outerwear by exploring the offerings of these local shops in the heart of Southern Indiana. Get ready to revamp your winter wardrobe and make a statement! 
Looking for more places to find that perfect gift? Check out our "Holiday Staff Picks" blog post to see our favorite spots to gift shop for the whole family! And if holiday lights are what make your spirit bright, don't miss our "Holiday Light Events" post.