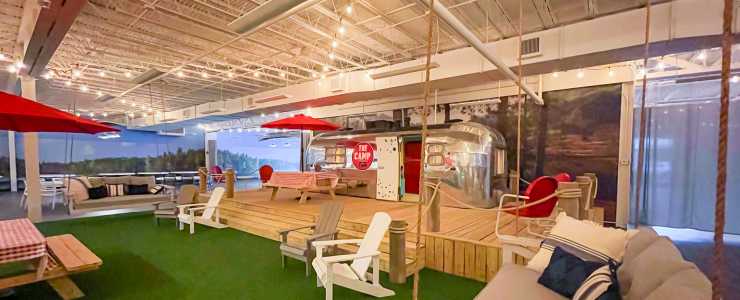 When you're traveling, you want to know where the fresh, new places are! This blog is devoted to giving you the latest info on what's new in Clark and Floyd counties (it's the area we call "SoIN").  
We'll be highlighting businesses that have opened in Clark and Floyd Counties during 2022, so bookmark the page and check back often to keep up with everything in SoIN! 
Click on the links to view the most up-to-date hours and information for each location. 
RESTAURANTS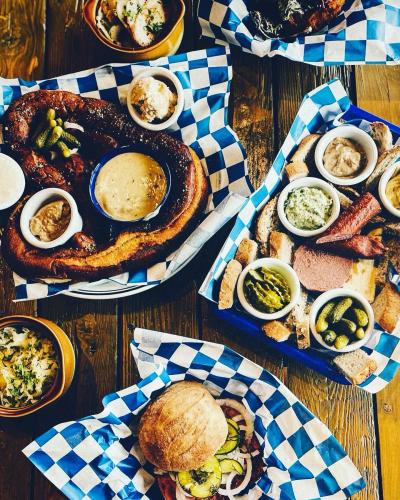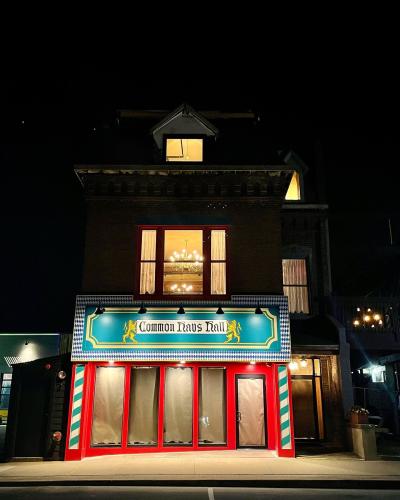 Image Source: https://www.facebook.com/profile.php?id=100075795013427
Common Haus 
Location: 134 Spring St., Jeffersonville 
From the owners of Pints and Union, the Common Haus was a vision rooted in a family recipe. This German, Bavarian-inspired, Common Haus will have not only a full-service restaurant and walk-up street food window but will house an event space, a three-story Beer Garden and a rooftop bar. Because this is a Common Haus where the owners envision a communal experience, the experience will be focused on bringing people together in a shared experience which might include a seat and a big, shared table. Pretzels, spaetzle, sauerkraut and Brats, yes please.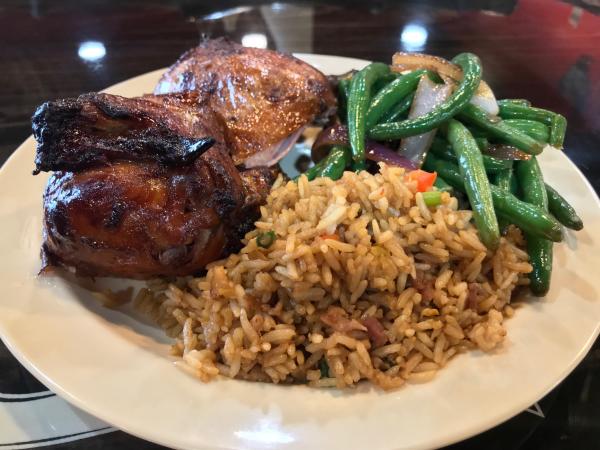 Image Source: https://www.facebook.com/caralis2016
Carali's Rotisserie Chicken 
Location:  703 E Lewis & Clark Pkwy, Clarksville 
Carali's is bringing Peruvian Rotisserie Chicken to Southern Indiana. Named for owners Carlos (CA), Rafael (RA) and Rafael's mother Lidia (LI), Carali's is hoping that you'll agree their special charcoal-fired rotisserie chicken and sides will keep you coming back for more. The restaurant serves fresh (never frozen) chicken marinated in Peruvian spices, grilled on their special charcoal rotisserie and bring it together with sides such as yucca fries, cilantro rice, and plantains. There are many more sides and appetizers including Yucca bites. There are also sandwiches, wraps and salads available. Carali's also offers a catering menu for larger events and parties.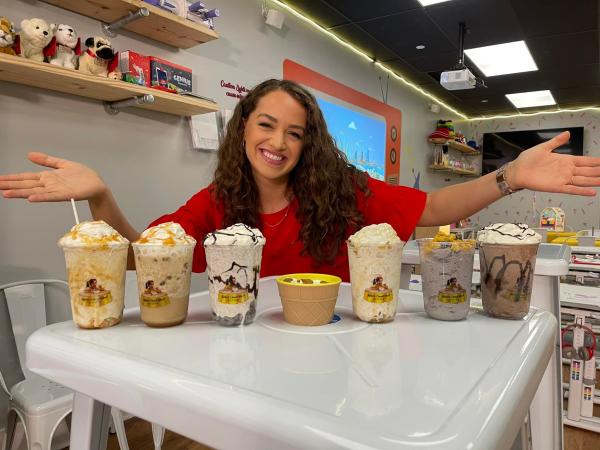 Image Source: https://www.facebook.com/taylorscerealbowlkitchen
Taylor's Cereal Bowl Kitchen 
Location: 438 Spring St., Jeffersonville 
If you're looking for a sweet treat, stop by Taylor's Cereal Bowl Kitchen for a delicious mixed shake. Build your own, choosing from more than 30 of your favorite cereals, candy, fruit, and syrups, or try a specialty shake. Celebrate a local icon with "The Champ Shake" (vanilla ice cream, Honey Bunches of Oats, bananas, honey and whipped cream) or combine your favorite morning treats with "The Hot Shake" (vanilla ice cream, John Conti coffee, Cinnamon Toast Crunch, caramel syrup and whipped cream). This new restaurant is serving up more than dessert, doubling as a sensory-inclusive space where families with neurodivergent children can explore interactive activities that build critical thinking and fine motor skills. With vegan options on the menu as well, Taylor's provides food and fun that can be enjoyed by all.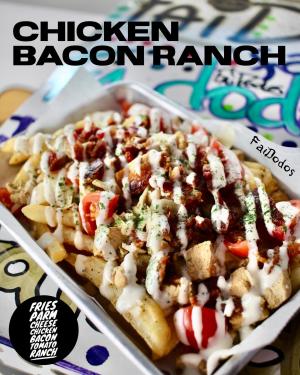 Image Source: https://www.facebook.com/FaiDodos
FaiDodos 
Location:7815 Hwy 311, Sellersburg 
While there's no dance party inside this new Southern Indiana restaurant (at least not every night), the rotating menu features plenty to party about. Every other month, Faidodos switches up its menu offering patrons new dishes influenced by street food from around the world, including Cajun, Mediterranean and Indian cuisine. Stop in for lunch or dinner to enjoy loaded fries, sandwiches, and more dishes full of international flavor. Satisfy your sweet tooth with Dodo Bites, deep-fried, bite-sized treats. 
EVENT SPACES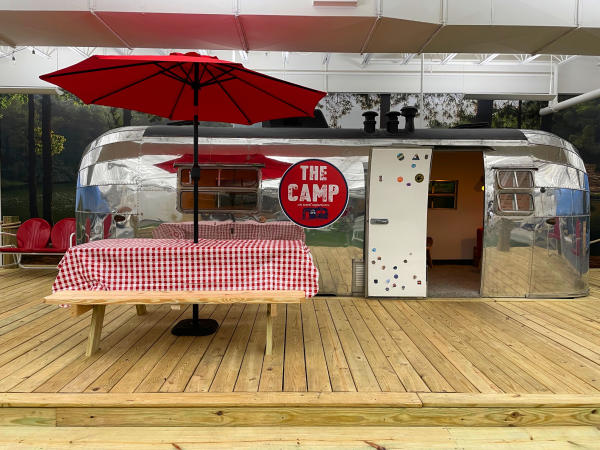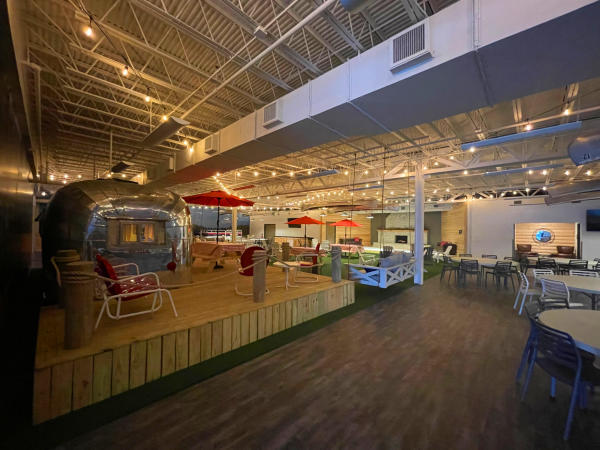 The Camp 
310 Spring St., Jeffersonville
Located in the heart of downtown Jeffersonville, arc—known for creating innovative and fun spaces since 2001—is dipping its toes into the event venue business. Catering to corporate business events, including dinners, receptions and trainings, the Camp at arc is a unique, versatile space that provides up to 250 guests with an "event experience." This 10,000 square foot space brings the great outdoors inside, pairing all the comforts of the new, state-of-the-art facility with camping favorites. A pontoon boat, Airstream trailer and picnic tables provide great space for breakout sessions or where folks can kick back and enjoy the man-made, lakeside views or an intimate live performance. Hosts can book the space as well as an event coordinator to help curate the perfect event. 
SHOPPING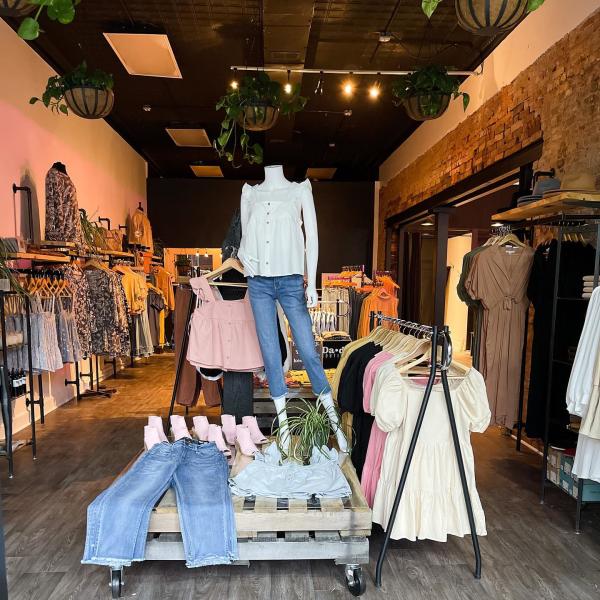 Da•da Apparel Co. & LOVESICK
129 E Spring Street & 131 E Spring Street, New Albany
Helping women look and feel comfortable, confident and beautiful in Downtown New Albany since 2017, Da•da Apparel Co. has moved and expanded into a split concept location on Spring Street! Da•da Apparel Co. is now located at 129 E Spring Street. Right next door, at 131 E Spring Street, is their new store and second brand – LOVESICK. This new, split concept location will allow Da•da Apparel Co. to serve an even broader audience. With the two stores open side-by-side, shoppers can seamlessly move between the two spaces. Check out both curated selections where you can pick up more conservative basics and bohemian pieces at Da•da Apparel Co., or edgier pieces for a night on the town or a summer festival at LOVESICK.
HOTELS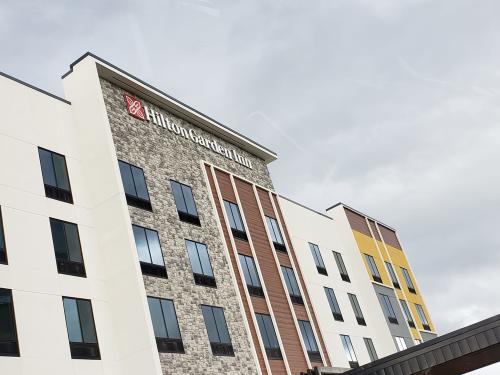 Hilton Garden Inn Jeffersonville & Fuzzy's The 15th Club Food & Spirits 
Location: 4900 Water Tower Road, Jeffersonville 
A new hotel is teeing off in Jeffersonville! The Hilton Garden Inn Jeffersonville offers guests "contemporary comforts", including Wi-Fi, streaming TV, pet-friendly rooms, a 24-hour fitness center and business center all conveniently located near I-265 and the River Ridge Commerce Center along the 10th street corridor. Owned by Southern Indiana's own golf legend, Fuzzy Zoeller, the hotel also features an attached restaurant, Fuzzy's The 15th Club Food and Spirits, serving breakfast, lunch and dinner daily. The pub style menu includes salads, sandwiches, in-house smoked meats and roasted chicken. 
MOVED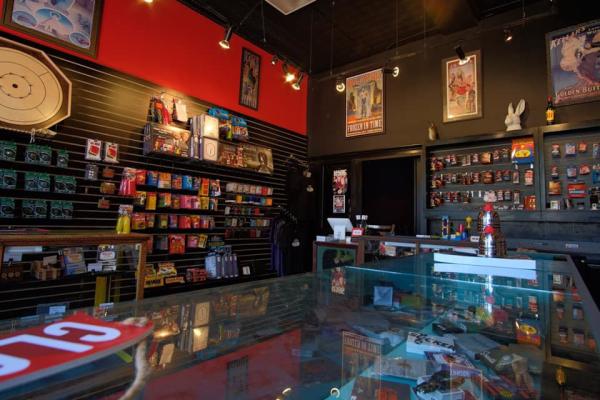 J&B Magic Shop and Theater 
610 East Spring St., New Albany 
This disappearing act comes with a happy ending. J&B Magic Shop and Theater, a staple of the New Albany community, has reopened at a new location. One of a few brick-and-mortar magic shops left in the U.S., J&B's offers visitors the opportunity to be part of an immersive magic experience. Shop owner Brent Braun has made a name for himself behind the scenes, creating high-profile magic tricks seen on shows including "America's Got Talent," "Britain's Got Talent" and "Penn & Teller Fool Us." Reserve your spot for a show featuring some of the best magic performers in the world, then stop by the shop to purchase a magic trick to gift or to begin your own journey into the world of illusion.