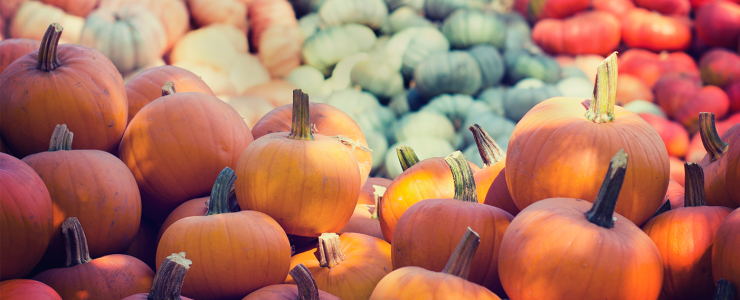 News of auction shouldn't stop you from visiting both Huber properties
Editor's Note: Good news! You can still enjoy fried chicken, biscuits, apple butter and family fun at Joe Huber's Family Farm and Restaurant. The business remains in the Huber family, and the restaurant will stay open.  
Two of the most popular fall destinations in Starlight have similar names but offer unique experiences for families visiting SoIN.
Huber's Family Farm, best known for Joe Huber's Family Farm & Restaurant, has drawn thousands of families to Starlight, Indiana for dining and farm experiences. Since the announcement that the Family Farm would be put up for auction, some long-time visitors of the beloved attraction may be unclear about what the future will bring. However, families can still enjoy all the 160-acre farm has to offer through December 1, including its restaurant, gift shop, soda pop shoppe and farmers market.
 
Also located in Starlight, just minutes away from Joe Huber's Family Farm & Restaurant, is Huber's Orchard, Winery & Vineyard, another cherished family favorite. Since the announcement in September, many have wrongly assumed that Huber's Orchard, Winery and Vineyards is part of the auction in November.  It is not. While both share the Huber name, they are separate organizations with different ownership. It is unclear what will happen to Joe Huber's Family Farm after the auction, but Huber's Orchard Winery & Vineyards will continue with business as usual in all it has to offer its visitors.
Fall, with its plentiful harvest and palette of beautiful colors, is the perfect time to head to Starlight to visit both Southern Indiana treasures.  And in late December, guests can also spot Santa visiting Huber's Orchard, Winery & Vineyard on Saturdays and Sundays.

Joe Huber's Family Farm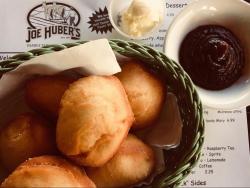 While the future is uncertain at Joe Huber's Family Farm, the present still provides the opportunity to visit this family farm that was purchased in 1926 and has been in the Huber family ever since. Since its beginning, Joe Huber's Family Farm has been a place to celebrate nature's goodness, family, and life on the farm. Make sure to have a meal and browse the gift shop when you visit.

•    Joe Huber's Family Restaurant – "Real food" is what you will find on the menu at Huber's Family Restaurant. Its fried chicken and fried biscuits with apple butter are legendary. Everything is made from scratch and is served family-style. The restaurant will celebrate Thanksgiving for the entire month of November. Fresh turkey, homemade dressing and pumpkin pie will be on the menu daily. The restaurant will be open on Thanksgiving Day serving its annual Thanksgiving Day Buffet. Make sure to make your reservations ASAP for this annual celebration. This year is sure to be a sell-out.

•    Farm Market, Soda Pop Shoppe & Gift Shop – With the holiday's right around the corner, that perfect gift might be found at the Farm's gift shop. Homemade apple butter, preserves, and country ham are just a few of the gift ideas.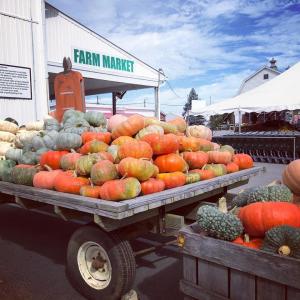 Huber's Orchard, Winery & Vineyard

Probably best known for its award-winning wines, Huber's Orchard, Winery & Vineyard is more than just a winery. It's the largest farm in Southern Indiana with 600 acres of orchards, vegetables and vineyards. A visit to the farm is an experience that will cultivate life-long memories.

•    Huber's Winery – Over 900 gold, silver and bronze medals from wine competitions from all regions of the US have been awarded to the wines produced at Huber's. November offers the opportunity to purchase a bottle of Pop's Reserve wine. A seasonal wine, it's made in limited quantities and is available on the third Thursday of November each year. Make sure to include a visit to the tasting room when visiting the winery. Before, or after, your tasting, browse the wide array of gifts available in the winery gift shop. 

•    Starlight Distillery – Along with its award-winning wines, Huber's is now distilling premium bourbon, whiskey, gin, vodka and brandies. Distillery tours and tastings are available.

•    Starlight Café – Enjoy a lite lunch in the dining room or outside (weather permitting) on the beautiful patio that overlooks the farm.

•    The Ice Cream Factory and Cheese Shop – Satisfy your sweet tooth with homemade ice cream and find the perfect cheese to pair with a bottle of Huber Wine. The Ice Cream Factory also serves freshly brewed coffees, flavored lattes, and hot chocolates.

•   Farm Market – Seasonal fresh vegetables and fruits, homemade fudge, baked goods, and assortments of jams, jellies and other various culinary delights are all under one roof.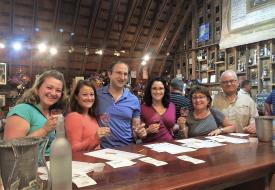 •    U-Pick Experiences – seasonal opportunities on the farm may have passed, but the upcoming holidays will once again provide the opportunity to cut your own Christmas tree. Come and enjoy what will truly become a family tradition for years to come.

•    Plantation Hall – A beautiful event space that is the perfect place for that special event. While many of the events held in the hall are private, be sure to check to see if there are any public events being held during your visit.
     
If all of this wasn't reason enough to plan a November visit to the Winery, its Semi-Annual Wine & Spirits Sale will be held Nov. 9 – 18.