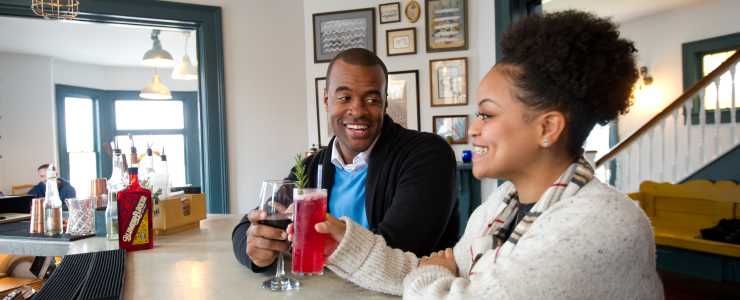 When my husband and I want to avoid crowds because of Covid-19 or just keep things cozy on a date night, we have so many options in just a 10-mile radius. We often don't know where to start! From waterfront patio dining to picnics in the park, southern Indiana is a fantastic choice for our cozy date nights. 
Here for the Patio 
The best place for us to start is to listen to our bellies. When we want refreshing patio dining with a waterfront view, we look to downtown Jeffersonville's restaurants. They are right on the river with picture-perfect city skyline views.  
Here are our top three picks in Jeffersonville: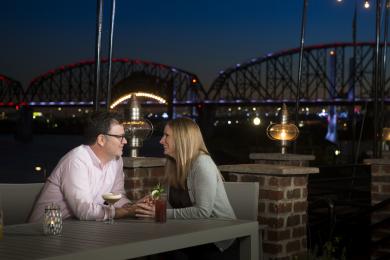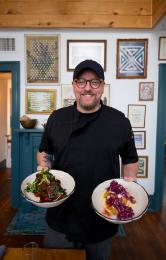 Portage House, a Southern/Asian fusion we love with hand-crafted cocktails and a beautiful, twinkle-light setting.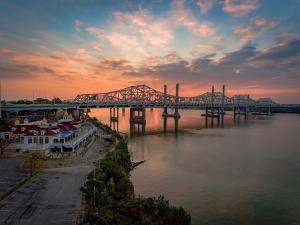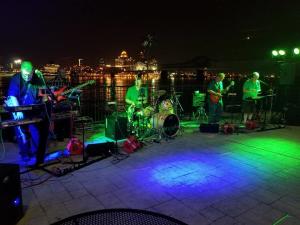 Source: www.facebook.com/KingFishJeff
Finally, check out On the Rocks, a patio bar attached to Kingfish on the River, that features burgers, drinks, and live music through exclusive patio seating right on the river!
While New Albany may not have direct riverfront views because of its levee, it certainly has fantastic patio options for date-night dining. Here are our top three picks: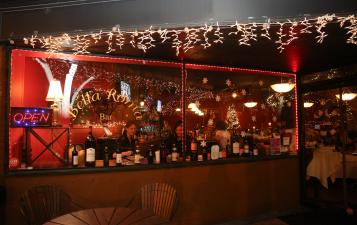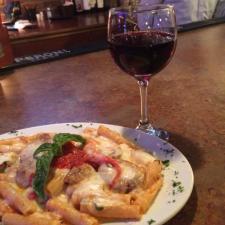 Source: www.facebook.com/Bella-Roma-Italiana-Cuisine-695746550479511
Because he perpetually craves Italian food, my husband will always recommend Bella Roma not just for his favorite meal, but for the old-world atmosphere, the great wine selection, and our absolute favorite, the tiramisu. Though the patio experience is understated, it is a beautiful covered area to sit and people watch – especially in the fall when the air is crisp and feels more romantic! 
For a more upscale-but-still-neighborhood favorite, The Exchange Pub + Kitchen in New Albany boasts an impressive rotating menu sourced almost-exclusively from local farms and has a beverage program that never ceases to amaze me. Their patio vibes are so intimate and lounge-y that sometimes I don't want to leave. 
For the full pub experience, we love Floyd County Brewing Company not only for its extensive local beer selection but with a diverse menu. Their Biergarten is so impressive: one floor features The Grain Haus, which offers wood-fired pizza to accompany the full bar while we play Giant Jenga. 
Make like Yogi Bear: Use the pic-a-nic basket 
If we want to put in a bit more effort for an intimate date night, there is nothing like finally putting our picnic set to use! We love strolling the New Albany Farmer's market on a Saturday morning to scavenge for local veggies, cheeses, meats, and wine for the perfect picnic – and don't forget the farm-fresh flowers for that special romantic touch. 
For a less hands-on experience, I highly recommend ordering a charcuterie board from Board & You, the newest unique gem in New Albany just a few blocks away from the perfect picnic in a park or the waterfront! Pints&union also offers charcuterie and European pub-food to accompany their hand-crafted cocktails to-go. Their unique pairings never disappoint! 
Because our favorite "date night" activity is often a morning bike ride along the Ohio River Greenway, we love stopping in downtown Jeffersonville to begin or end our long excursion with a treat. We love Pearl Street Game and Coffee House for the caffeine boost or stopping at The Widow's Walk Ice Creamery or Pearl Street Treats for a cold snack. We also love grabbing a picnic lunch to-go at the new Café 223, right at the base of the Big Four Bridge, and picnic at Ashland Park for beautiful views of the Ohio River.  
Earn Your Treats 
Biking the Greenway is, of course, a great option for earning your treats. You can buy them between Jeffersonville and New Albany, but the area has even more activities to offer for locals and visitors.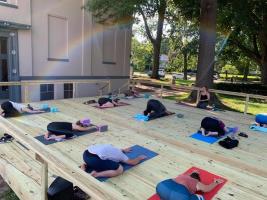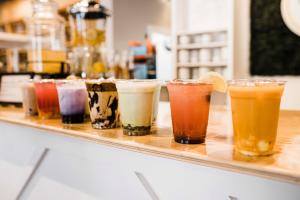 Source: www.facebook.com/InnerSpringYoga                 www.facebook.com/FrescoTeaBarNA
My favorite weekends include practicing yoga with Inner Spring Yoga, who now features a beautiful new yoga deck under the giant trees on the property for a full sensory experience. I highly recommend stopping by the new Fresco Tea Bar (inside Mesa, A Collaborative Kitchen) afterward for a refreshing way to extend the zen. 
Finally, we like to break out of downtown to explore Rose Island, Charlestown State Parks's abandoned amusement park. Enjoy a leisurely walk on a trail along the Ohio River. After you explore, treat yourself at Charlestown's 62 Twist Ice Cream & More for burgers, sandwiches, and delicious cold treats. Or be a true local and grab Charlestown Pizza Company to go! 
There are so many options for dining and other fun date night activities when you want to get out of the house, but still want to feel a little solitude with your significant other. Find a full list of Southern Indiana restaurants to explore.