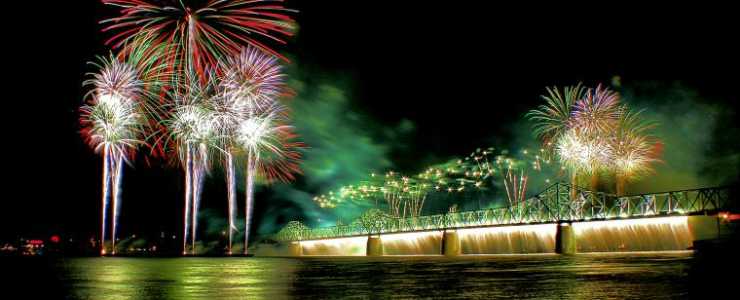 SoIN communities love to celebrate Thunder Over Louisville, the air and fireworks show marking the beginning of the two-week Kentucky Derby Festival. To help you have the best Thunder experience on the north shores of the Ohio, here's how and where to enjoy Thunder "SoIN Style."
In Downtown Jeffersonville
Big Four Burgers & Beer
Doors open at noon at this downtown Jeffersonville gourmet burger restaurant. Enjoy a buffet with certified Angus beef burgers, slow-cooked Carolina pulled pork, all-beef hotdogs, French fries, mac and cheese, corn on the cob, beer specials, and more! Wristband will guarantee table space on decks, with freedom to walk about and return to your space. Access to indoor restrooms.
Where: Big Four Burgers & Beer, 134 Spring Street, Jeffersonville
Cost: $65 per adult, $40 per child
Info: (812) 913-4967: www.BigFourBurgers.com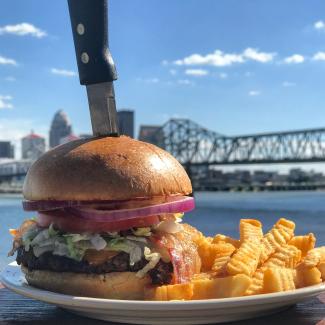 Buckhead Mountain Grill
Gather with friends and family at Buckhead's Beer Garden. This is an outside tented event that will be held in the Buckhead lower lot. Enjoy appetizers, a full dinner buffet, and spectacular views along the Ohio River. Gates open at 2 p.m.; the tent event will remain open until after the fireworks. Corporate tent packages and inside/patio prime seating also available.
Where: Buckhead Mountain Grill, 707 W. Riverside Dr., Jeffersonville
Cost: Adult: $125; Children 12 and under: $50
Info: https://www.Facebook.com/events/2022546471335650
Cluckers
Reserved seating guests will enjoy a Cluckers' buffet that includes their popular boneless wings, chips, coleslaw, and fried pickles. Buffet served 5-7 p.m.; other menu items will be available.
Where: Cluckers, 100 W. Riverside Dr., Jeffersonville
Cost: $55 per seat; guests must purchase entire table ($110 for 2 seats, $220 for 4 seats, etc.)
Info: (812) 590-3662; www.Cluckers-wings.com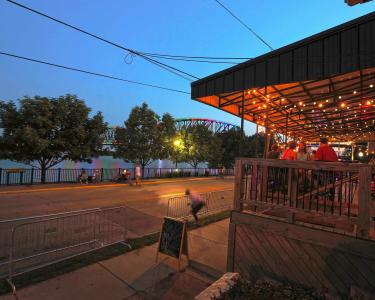 Flat12 Bierwerks
Starting at noon, attendees can enjoy Flat12's craft beers and delicious food. Then at 7 p.m., VIP party-goers will enjoy reserved riverfront patio seating until midnight, and beer pours until 11 p.m. All patrons will have full access to the taproom and indoor restrooms. Coolers, outside beverages, and pets are prohibited. All attendees must be 21+ with a valid form of ID.
Where: Flat12 Bierwerks, 130 W. Riverside Dr., Jeffersonville
Cost: VIP, $250 for table of four
Info: https://www.Facebook.com/flat12jeffersonville
Kingfish and On the Rocks Patio Bar
Reserve your spot at this riverfront seafood restaurant and patio bar in Jeffersonville. Enjoy a buffet, reserved inside or patio seats, or outdoor tent seats (not reserved).
Where: Kingfish & On the Rocks Patio Bar, 601 W. Riverside Dr., Jeffersonville
Cost: Tent: $80 per person; Stool seats: $170 per person; Indoor seats: $170 per person; $395 table of four, lower deck
Info: (502) 339-0565; http://www.KingFishRestaurants.com/wp-content/uploads/2006/08/Thunder-2017-flyer.pdf
Olive Leaf Bistro
Delight in Louisville skyline views and Mediterranean cuisine at this Jeffersonville restaurant. A delicious buffet will include a hummus trio, prosciutto and melon bites, grilled salmon, lobster bisque, shrimp scampi, and pasta dishes. Be sure to save room for baklava, mini crème brulee, or cannoli for dessert! Buffet will be open from 2-10 p.m. All seating options include buffet and non-alcoholic drinks.
Where: Olive Leaf Bistro, 130 W. Riverside Dr., Jeffersonville
Cost: Call for pricing: (812) 913-1252
Info: https://www.Facebook.com/events/2066810836928551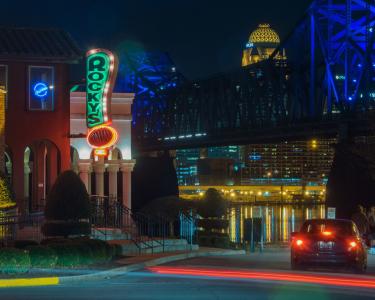 Rocky's Sub Pub
Looking for a fun, safe, family-friendly area to enjoy Thunder? Rocky's will again have their beer garden event, offering appetizers, a full dinner buffet, and kid's entertainment. Enjoy the wonderful views from the lighted tent, or reserve a seat inside or a prime patio seating.
Where: Rocky's Sub Pub, 715 Riverside Dr., Jeffersonville
Cost: Adult: $50; Children (age 7-12): $25; purchase tickets: https://www.eventbrite.com/o/rockys-sub-pub-17076743259
Info: https://www.Facebook.com/events/151830255510899
In Clarksville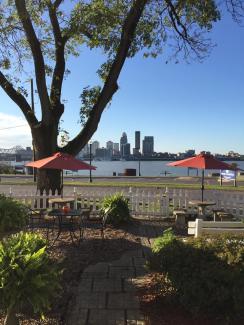 Widow's Walk Ice Creamery, Coffee Shop & Bicycle Rental
Watch the air show and fireworks from Widow's Walk, which provides some of the best unobstructed views of the Louisville skyline. Reserved seating will be in a comfortable setting with indoor and outdoor privileges the entire day. Guests will enjoy exclusive access to Widow's Walk Ice Creamery and the coffee shop, with a 10% discount on food and drinks. There will also be darts, cornhole, exciting prize drawings, and entertainment provided by Wax Factory (6-9 p.m.)
Where: Widow's Walk Ice Creamery & Coffee Shop, 415 E. Riverside Dr., Clarksville
Cost: Adult: $75; Children under 12: $25
Info: http://www.WidowsWalkIceCreamery.com/Thunder-Over-Widow-s-Walk.html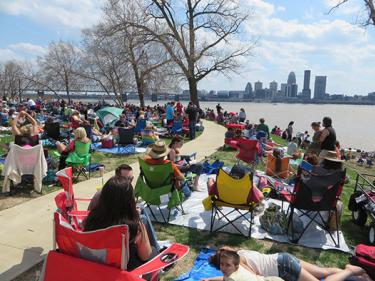 Ashland Park
Bring your blankets and lawn chairs to enjoy the day in a family-friendly atmosphere. Known for its stellar views of the Louisville skyline, seeing Thunder Over Louisville from this riverside park will be like having a front row seat! To ensure a safe and memorable experience for everyone, park rules are strictly enforced. Visit the website below for viewing areas, rules, and restrictions.
Where: Ashland Park, 400-413 E. Riverside Dr., Clarksville
Cost: No admission
Info:  https://thunderoverlouisville.org/
In Downtown New Albany
Thunder is #SoIN New Albany
Seven restaurants and several shops in downtown New Albany have partnered to offer a brand new Thunder experience on April 21. With one price to "Thunder is #SoIN New Albany," ticketholders can enjoy an appetizer and beer or cocktail from these participating restaurants:
Guests will also receive a T-shirt, serving as a map of downtown New Albany with locations of each restaurant. Wear the T-shirt and shop in these downtown stores for more fun and discounts:
Where: various downtown New Albany locations
Cost: $75.95
Info: https://www.facebook.com/events/157219331645507/
For the latest Thunder Over Louisville parking and event updates, visit the Thunder Over Louisville event.