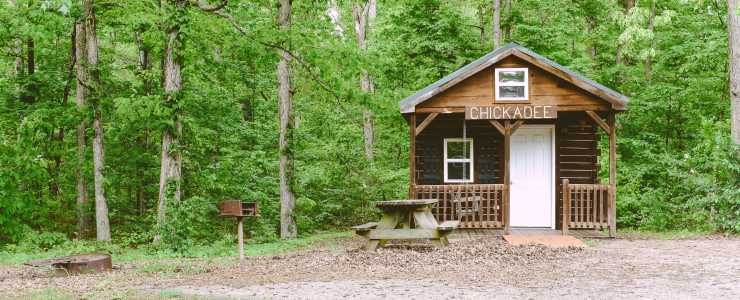 Throughout the year, cabins provide cozy getaways for long weekends of outdoor adventures, pure nostalgia, or a great way to break up your own sense of cabin fever! 
Southern Indiana has several cabin options to give you the adventurous experience best suited for your family or travel crew. 
Rustic Cabins for the Minimalist's Getaway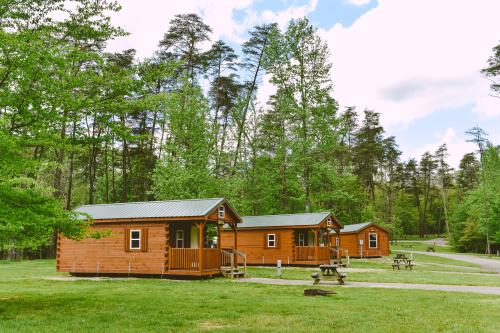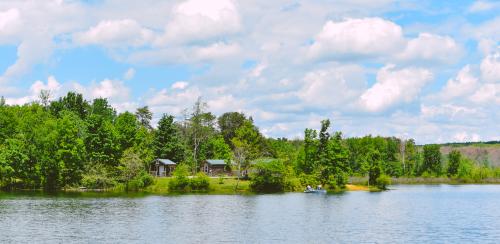 Deam Lake State Recreation Area
If you want the rustic experience that's just a step up from traditional camping, look no further than Deam Lake's rustic cabins. These 264-square-foot cabins offer one full-size bed frame and one set of twin bunks. Note: you must bring your own mattresses and linens. The cabins also include a loft and a small front porch, a fire ring, and a picnic table. There's no running water or private bathrooms inside the cabins, but never fear! Drinking water, a shower house, and community toilets are within walking distance. 
Though this certainly isn't a cabin for glamour, it's a great solution for the minimal vacationer who likes proximity to Deam Lake and the incredible Knobstone Trail. 

Homey Cabins for Basic Comforts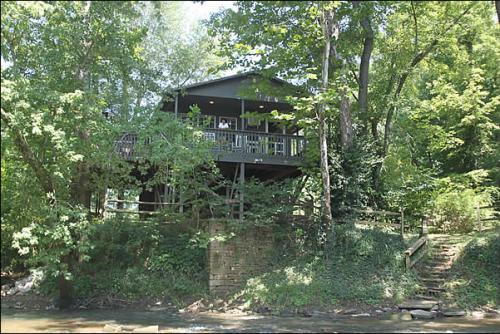 Along the Blue River Cabin Rentals 
If you're looking for more riverside adventures, this experience offers private access to the 60-mile Blue River with two cabins, one that sleeps four, and the other that sleeps 12! Your family will have access to exceptional fishing, river wading, canoeing and kayaking (through a nearby rental service), canoe shuttle service, and proximity to thousands of forest acres in O'Bannon Woods State Park and Harrison-Crawford State Forest. Check their availability. 
Cushy Cabins for the Luxury-Adventurists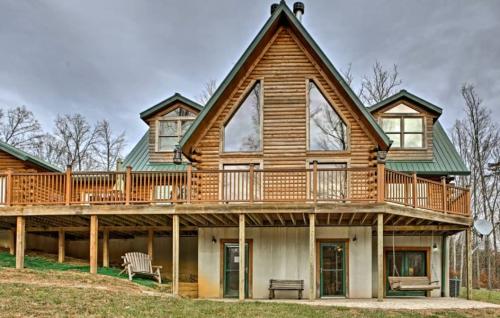 Heavenly Hills Lodge 
This 6-bedroom lodge is an exquisite log cabin situated on 40 acres of rolling hills in serene woodlands. There is a beautiful 6-acre lake and a large wrap-around deck to enjoy the peaceful scenery from many viewpoints. The front porch has swings and rockers, a wonderful place to relax and enjoy nature. This magnificent wilderness and all its beauty also provide easy access to miles of adventurous trails for hiking and horseback riding in the Clark State Forest. Reserve your stay.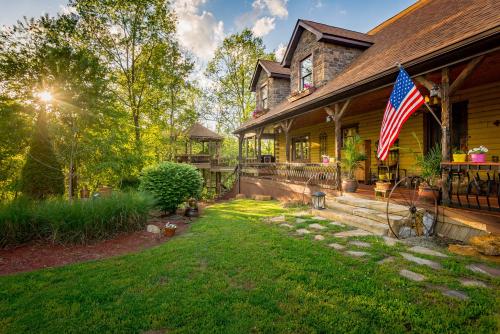 Stone Creek Cabin Retreat 
If you're looking for luxurious amenities, including a double-decker gazebo, a hot tub, and luxurious indoor amenities (bring lots of bath bombs), this cabin offers jaw-dropping features to treat the family. With incredible forest views, this cabin is just minutes from hiking adventures in Clark State Forest or golfing adventures at nearby courses. Check availability.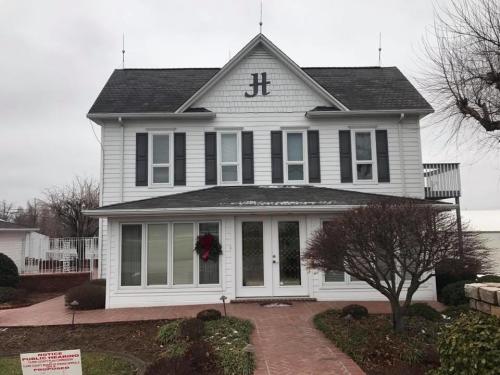 Uncle Joe's Bird Nest 
Technically, this gorgeous home is not a cabin, but the restored farmhouse and previous home of the late Joe Huber offers a gorgeous getaway to folks who love to explore the Huber properties that made this area such a great family getaway: Joe Huber's Family Farm & Restaurant and Huber's Orchard, Winery and Vineyard. There are so many amenities on these expansive family farms. For the full experience at both Huber's properties, this place is for you! Check reservations.
Bonus tips: How to Navigate VRBO/Airbnb 
If you are new to the marketplace of online vacation rentals, here is a simple how-to guide to finding your ideal vacation stay. The trick: FILTERS. 
Start by filling in your ideal location, travel dates, and the number of guests. 
With that quick search, you may get an overwhelming number of results that will either take you down the rabbit hole of options or give you decision fatigue. 
Using filters, you can quickly limit your search results to find the amenities best suited to your needs.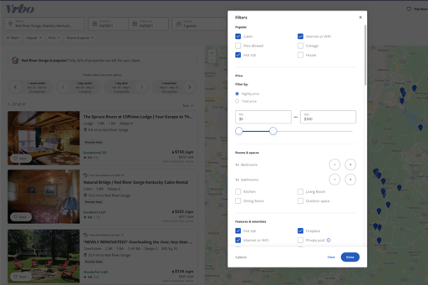 When I search for a cabin vacation, it's usually because my husband and I are ready for a hiking-and-adventure extravaganza. When we're hiking, we want a hot tub 100% of the time. That filter alone will remove dozens if not a hundred options from our list! 
Filters are nearly limitless. You can choose the number of beds, baths and bedrooms. You can note if you want a mountain view or a waterfront view. You can choose ADA-compliant properties for accessibility, and the property type, such as cabins, chalets, cottages, etc.  
Where to start: View and refine your SoIN Cabin Search on Airbnb or VRBO.