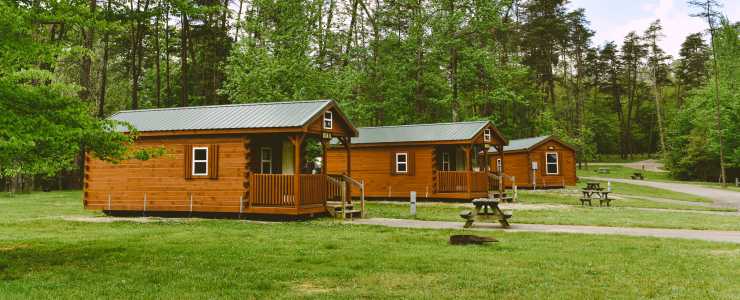 Deam Lake State Recreation Area is a gem in southern Indiana north of Louisville, with 1,300 acres of forest and trails and an impressive 104-acre lake. Featuring a variety of activities, this is a fun day trip or a long weekend with the family.
Most people come here for: The Beach
Top 3 features:
Ideal for: Families (though couples and solo adventurists love it, too!)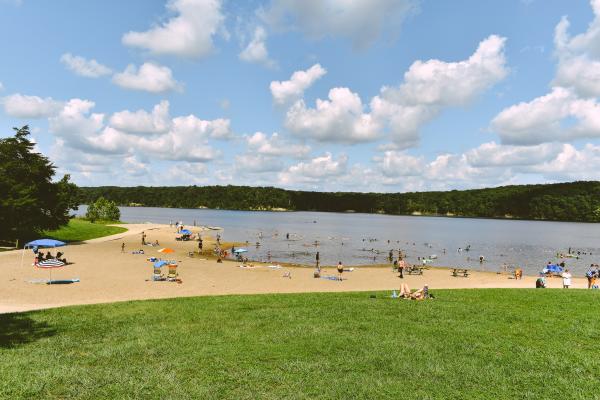 The Lake Life
Deam Lake's most unique feature is its sandy beach on the lakeshore. It is a taste of a beach vacation without the travel. The beach is open from Memorial Day through Labor Day weekend, with restrooms, dressing rooms, and showers available. Food concessions are available on weekends only, and the beach is wheelchair accessible.
With the lake's 104 acres, you can enjoy its gorgeous scenery while fishing as long as you have a valid Indiana fishing license. It also features a boat launch ramp for electric trolling motor only.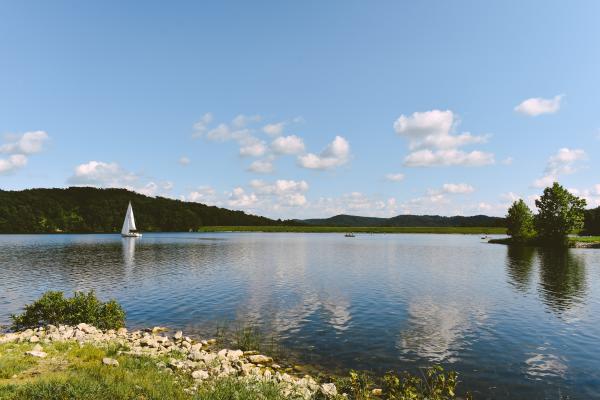 Rowboat and kayak rentals are available Memorial Day through Labor Day on weekends. Mix it up with your family or friends before or after your hike or forest exploration.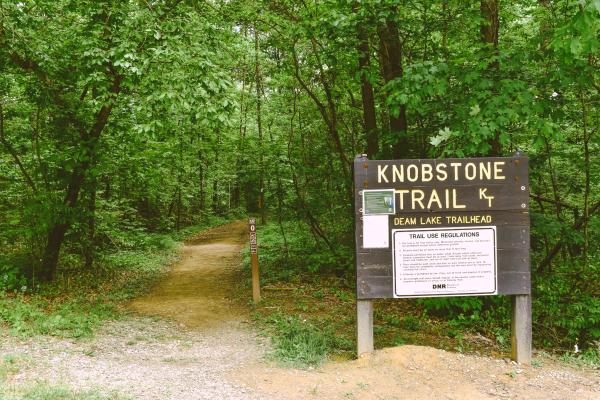 The Trail Mix
Hiking Trails: Deam Lake has four walking trails that range from easy to rugged. Deam Lake has trailhead access for the Knobstone Trail, Indiana's longest footpath. A 60-mile backcountry-hiking trail, it passes through Clark State Forest before continuing through Elk Creek Public Fishing Area and Jackson-Washington State Forest.
If your kids aren't up for a long trail, you can check out the Forest Education Center. It is usually open during regular park hours, though hours may vary. It's best to call before you go. The center features a bird-watching area, kids' activities, and an outdoor garden that attracts butterflies and insects. There are also short paths surrounding the center!
Horse Trail: Trail 3 (or the Yellow Trail) is the only multi-purpose trail that allows horses. The 6-mile loop trail completes a circle around the lake. Horses are not allowed on the main roads and require DNR (Department of Natural Resources) tags.
Mountain Biking Trails: Mountain biking is only allowed on designated trails. See the map below.

The Happy Camper
Whether you're an RVer, tent camper or a cabin-dweller, you will have plenty of space to gaze at the stars and experience the open-air. Deam Lake offers 113 electric campsites, 63 equestrian electric sites, and 19 rent-a-camp cabins.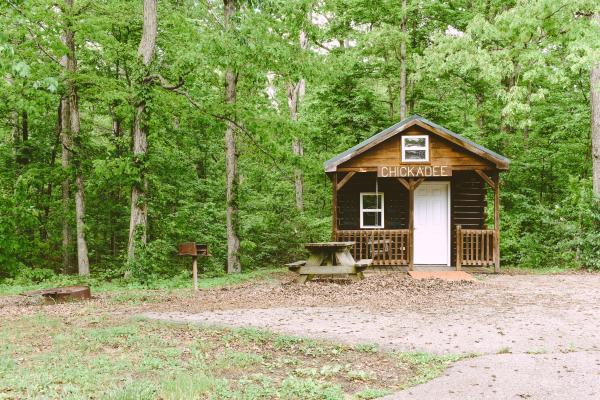 Cabins are available from April to October, featuring a front porch swing, two small rooms with air conditioning, and a cozy living area. The cabins feature a bunk bed and a double bed, though no linens or mattresses are provided. Be sure to bring an air or foam pad or mattress for comfort!
For traditional camping, facilities include electric hook-ups, modern restrooms/showers, picnic tables, fire rings, and a parking spur. Campsites and cabins are available for reservations up to six months in advance. You can call 1-866-622-6746 or reserve online at Camp.IN.gov. 
Maps
Map of Deam Lake Horse Campground  
Map of Deam Lake Mountain Bike Trail  
Clark State Forest & Deam Lake North  
Clark State Forest & Deam Lake South  
Address and phone number
1217 Deam Lake Road Borden, IN 47106
812-246-5421
Getting There – Driving instructions, gate entrances
Take I-65 and take exit 7 for IN-60 W.
Turn left toward Salem and stay on IN-60 for 8.6 miles.
Turn right onto Deam Lake Road, which will get you to the park entrance in about a mile.
Property hours are 7 a.m. – 11 p.m.
Cost
$7 per car with Indiana tags
$9 per with out of state tags
For more information on Deam State Recreation Area and for up-to-date safety regulation check out the Indiana Department of Natural Resources website.