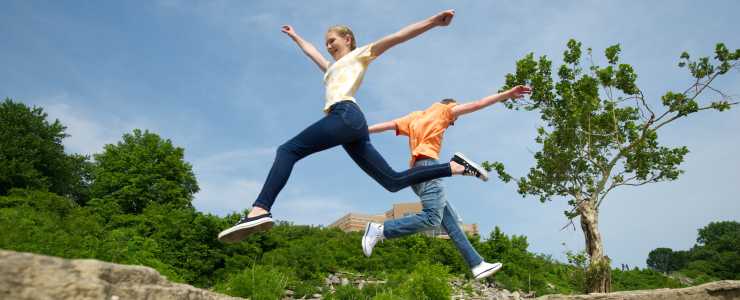 Whether you're taking a road trip or relaxing with a Spring Break staycation, Southern Indiana has some new and classic hot spots to keep both kids and parents entertained!
1. Be excellent to each other!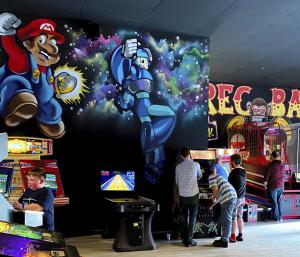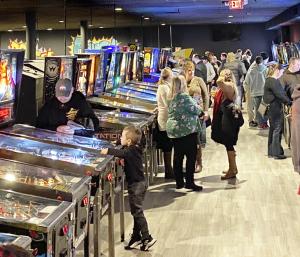 Southern Indiana's newest addition is within New Albany's eccentric, mural-covered new bar, Recbar. Don't let the title fool you -- Recbar 812 is an arcade mecca for all ages. You can challenge your kid to a match of Dance Dance Revolution that will have you panting, or give them a cup full of tokens while you kick back with a brew and some Southern-Inspired eats.  
2. For the parents who had 'The Sandlot' on repeat.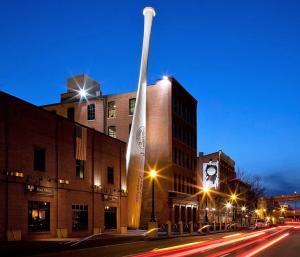 The Louisville Slugger Museum & Factory is an incredible asset for the whole family to enjoy history, baseball, and an interactive tour where everyone takes home a mini bat! The museum offers an inside-look at the making of the Louisville Slugger, but also allows the baseball lovers to pay homage to over 3,000 bats that bore the grip of Babe Ruth, Ted Williams and many other power-hitting legends. 
3. You can feed a child cake, or you can teach a child to bake YOU cake.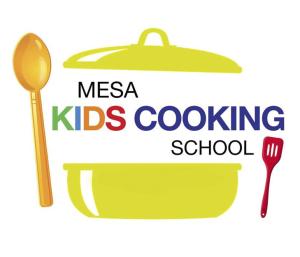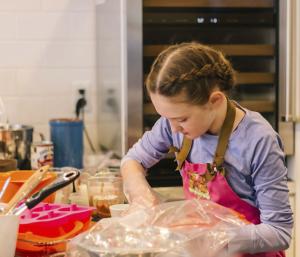 MESA Kids is a great place to keep little hands busy while they learn safe and opportunistic cooking skills. To bookend your break, MESA Kids will host a Pot of Gold Cake Pop workshop on March 21, followed by a March Madness Rice Krispy Treat workshop on March 30! And, if you want a date night, check out MESA's Collaborative Kitchen, offering cooking classes or multi-course meals for adults. 
4. GO THE XTREME. 

For the high-energy family, channel your inner ninja at Xtremenasium, one of the region's featured trampoline parks in Clarksville. You can stick to trampolines, practice rock-climbing, take your chances in the Wipeout Arena or practice your acrobatics into the foam pit.  
5. Willy Wonka (perhaps a distant cousin) lives in Jeffersonville.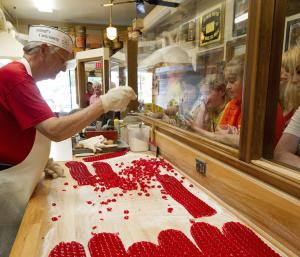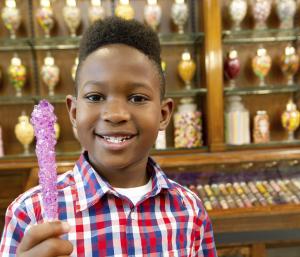 Schimpff's Confectionery and Candy Museum is the real deal! Watch Warren and Jill Schimpff and staff make their signature red-hot cinnamon drops and hand-dipped chocolates; then enjoy an ice cream float or sundae. Before you leave with your favorite candies, browse the store's collection of antique candy memorabilia. 
 6. For the fun and educational Spring Breaker.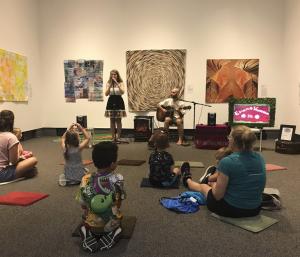 The Carnegie Center for Art and History will be hosting a Discovery Day: Sports Edition on March 28. Inspired by the exhibition on the BPW Hoosiers softball team of the 50s and 60s, try out sports-themed art activities, performances, live music, and more! The whole museum will be transformed for a family-focused day, all at no cost! For more science, hunt for fossils and explore trails at The Falls of the Ohio State Park--even in rainy weather, the indoor exhibits at the Interpretive Center brings the 390-million-year history to life! 
7. Give them theatre!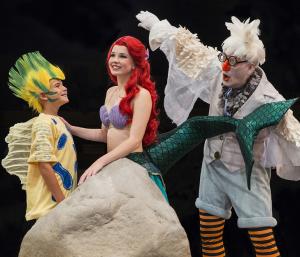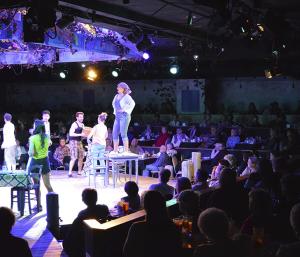 See a live children's theater production at Derby Dinner Playhouse, a Southern Indiana treasure noted for its musical and comedy productions. Their featured children's production, A Year with Frog and Toad, will be showing on Saturdays through March 28. Just across the bridge, the Kentucky Center for the Performing Arts will be offering the off-Broadway musical, Anastasia from March 17-22, and Dragons Love Tacos, based on the popular children's book by Adam Rubin.  
8. For the adventurers.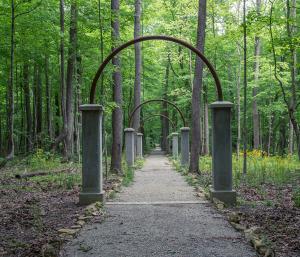 Take a hike and travel back in time along wooded trails in Charlestown State Park. Envision what this 1920s-amusement park was like years ago, as you walk among the remains on this scenic walk. Explore the Rose Island exhibit, then enjoy a picnic, or spend a few nights at the Charlestown State Park's campground, offering 60 full hook-up sites. For more trails and unique sites, you can also check out Bernheim State Park and Arboretum just 30 minutes south of Louisville--don't forget to check out the new Forest Giants! 
9. Get your body moving across the Big Four Bridge!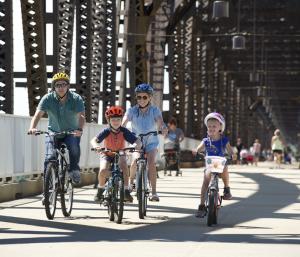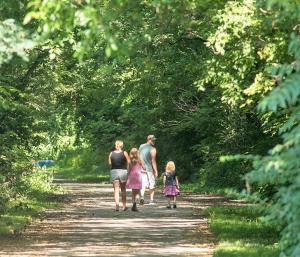 Feel the river breeze and watch barges pass on the river below, and take in the vibrant nighttime views across Kentucky and Indiana as you make your way across the Big Four Bridge. On the Indiana side, Big Four Station Park in downtown Jeffersonville has a playground and picnic area, as well as downtown shops and restaurants within walking distance. Grab a bike or hike along the Ohio River on the 7-mile long Ohio River Greenway connecting New Albany, Jeffersonville and Clarksville for incredible views of the Louisville skyline. We recommend checking out the latest interactive art installation, the New Albany Flow Park, whether or not you have a skater in the family. 
10. Get more for your museum.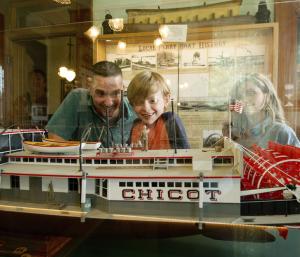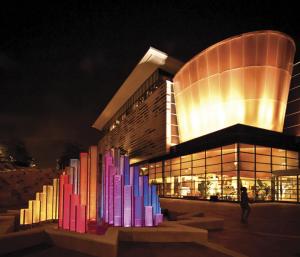 One of the most underrated museums in the area is the Howard Steamboat Museum. Of course, Kentuckiana boasts amazing unique museums for anyone of all ages, including Muhammad Ali Center, Speed Art Museum, Frazier History Museum and more, but the waterfront in Jeffersonville boasts a gorgeous mansion the highlights the history and industry of a once-booming river town.  
11. Feed them ice cream and tell them they're pretty.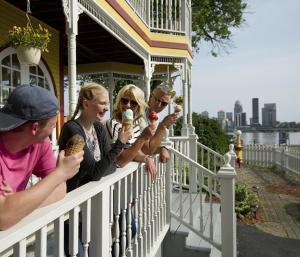 For the family looking for a little sweetness this Spring, seasonal ice cream shops will reopen in March (some opened in February)! Take the family to Chillers, Zesto's, Polly's Freeze, Berry Twist, Pearl Street Treats and Widow's Walk Ice Creamery. Make sure you also stop by the newest addition, Uncommon Cups & Cones, a quaint and eclectic sweet shop in New Albany that will make you want to raid your grandma's teacup collection.