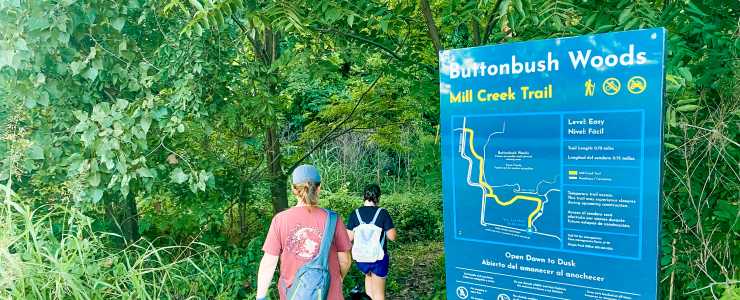 Walk through these hidden gem nature areas in Clark and Floyd counties.
Want to take a walk in nature close to the Ohio River communities of New Albany, Clarksville and Jeffersonville? Sure, we have trail hikes at Falls of the Ohio State Park, Charlestown State Park, Deam Lake State Recreation Area and Clark State Forest. But I want to highlight some hidden gems that are off the beaten path and less traveled, almost guaranteeing you a peaceful walk in the woods. These small nature parks nestled throughout Clark and Floyd counties are the ideal places to immerse yourself in the area's wildlife and flora. Some of the spots are so hidden that you will not find a lot about them online. But that is why I'm here.
Let's learn more about three secret nature trails you should explore in Southern Indiana: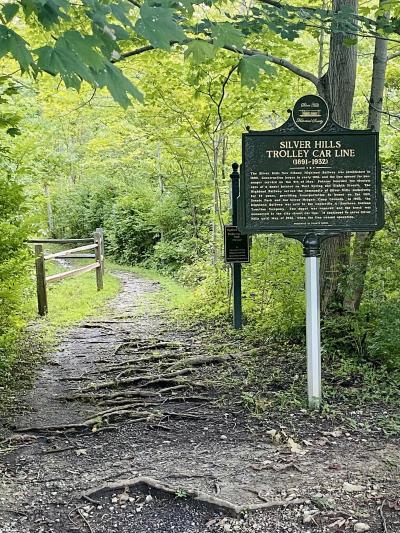 Silver Hills Historical Nature Trails & Wildlife Sanctuary
900-1198 Spring Street Hill, New Albany, Indiana 47150
Venture west of downtown New Albany for the first hidden gem. As 8th Street starts to ascend Spring Street Hill into the knobs sits Silver Hills Historical Nature Trails & Wildlife Sanctuary. A small gravel parking lot fits a half dozen vehicles. 
I highlight this trail first because it holds unique features, in addition to being in a tranquil natural setting. It's a walk through local trolley line history. The Silver Hills Historical Society meticulously charted the trolley and community's key moments in photos, remnants and written accounts along this one-mile loop dirt path that follows a section of the original roadbed of the trolley line. It also meanders along Fall Run stream.
There is a sign at the west trail entrance denoting the trolley line history. It reads: 
SILVER HILLS TROLLEY CAR LINE (1891-1932)
The Silver Hills New Highland Railway was established in 1890. Construction began in early 1891, and the line opened for passenger service on the 4th of May. Patrons boarded the electric cars at a depot located on West Spring and Eighth Streets. The Highland Railway served the community of Silver Hills exclusively for 14 years, providing transportation to homes on the Hill, Scenic Park and the Silver Heights Camp Grounds. In 1905, the Highland Railway was sold to the Louisville & Southern Indiana Traction Company. The depot was removed, and the track was connected to the city streetcar line. It continued to serve Silver Hills until May of 1932, when the line ceased operation.
Explore Silver Hills, enjoy nature and go back in time! To learn more about Silver Hills, check out Visit Indiana's post: This Former Trolley Car Line is Now a Nature Trail & Wildlife Sanctuary.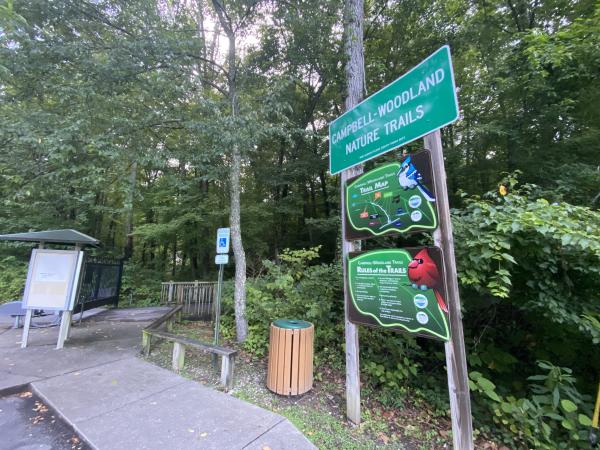 Campbell-Woodland Nature Trails
3273 Budd Road #3295, New Albany, Indiana 47150
Campbell-Woodland Nature Trails is just a short drive from downtown New Albany. Travel west on Hwy 111 to Budd Road. Enjoy the winding road to the 122-acre nature preserve. There is a paved parking lot and trail information at the trailhead. The trail starts out paved and offers a mix of boardwalks and gravel and dirt paths (¾ mile in length) that loop back to the paved path. The ⅓ mile paved trail is a great handicap accessible trail option. There are small creek beds to explore and even a waterfall. Campbell-Woodland is also dog-friendly. This is one of my favorite places to wander around the creek with my dog. 
This is a serene spot in the rolling hills of Southern Indiana. Benches line the path to rest and take in the bird songs. There is also a solar powered automated system that tells the history of the site. Learn more at Floyd County Parks.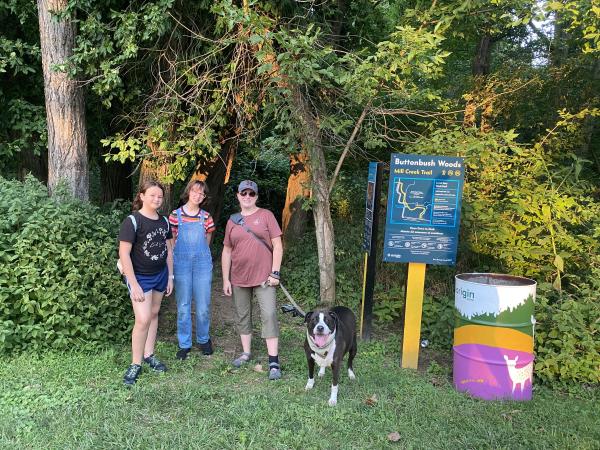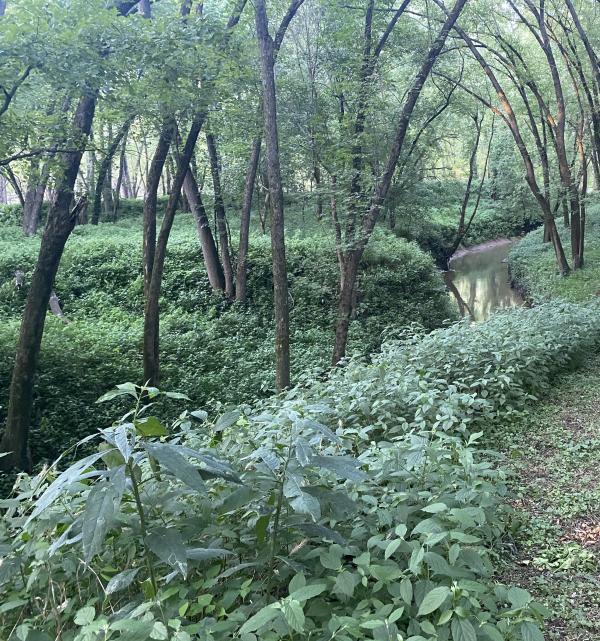 Buttonbush Woods Mill Creek Trail
Access from George Rogers Clark Boat Ramp
1170 Harrison Avenue, Clarksville, Indiana 47129
This might just be the newest trail in SoIN. It is such a hidden gem that you will not find it on Google Maps … yet. Buttonbush Woods is part of Origin Park, a massive 400-acre recreational area in development. The project is still in Phase I, but, when complete, it will offer users the opportunity to experience the Ohio River shoreline, even when the water is at flood stages. 
To access the Mill Creek Trail, park at the George Rogers Clark Boat Ramp in Clarksville. Then walk west on the Ohio River Greenway toward New Albany. The well-marked trail entrance is just after you pass the bridge over Mill Creek. The trail is a natural-surface pathway and .7 miles long. Once you exit the other side, you can circle back to your vehicle via the paved Ohio River Greenway. 
There is a thick canopy of cottonwood and black locust trees with impressive vines throughout. It's known as wet woods and the landscape defines this area of the Ohio River shoreline. The trail surface is a mix of dirt and grass. It has beautiful views of Mill Creek. The area is also known for bird migration so listen and look for our seasonal bird visitors. And if you're quiet, you may come upon a warbler, turkey, deer or beaver at work along the creek. Learn more about Buttonbush Woods and progress of Origin Park at originpark.org.
Bonus Nature Trails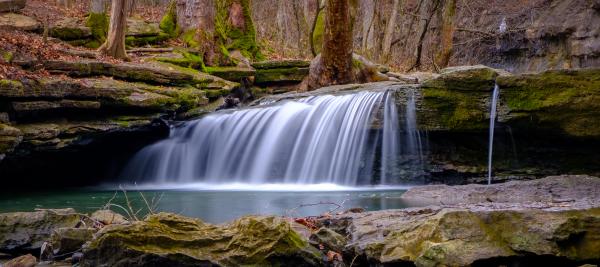 There are plenty of other beautiful places to take a stroll in nature around SoIN. I can think of two other nature preserves that you should also add to your list:
Loop Island Wetlands — New Albany
Nine Penny Branch Nature Preserve — Charlestown
Find one or all of these hidden gem nature trails. Remember: take only photos and videos and leave no trace behind you as you explore SoIN nature trails!