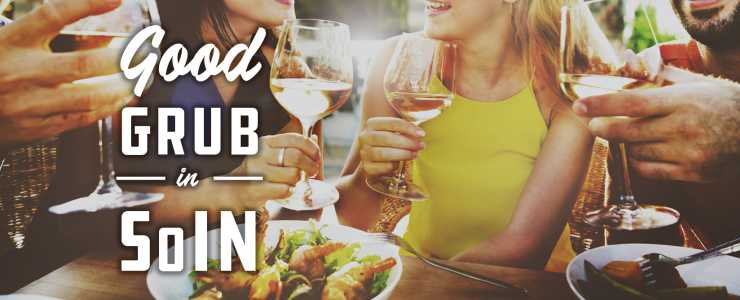 We could say that this blog is a '15-day plan for an awesome foodie experience throughout SoIN or simply the beginning of a delicious culinary exploration. However you plan to put this blog to use, we thought this would be a great way to get started. So when you find yourself staying overnight in Clarksville, Jeffersonville, or New Albany, you'll want to make a special effort to grab a bite to eat at these top 5 restaurants according to TripAdvisor.

Click the restaurant links for more information: 

New Albany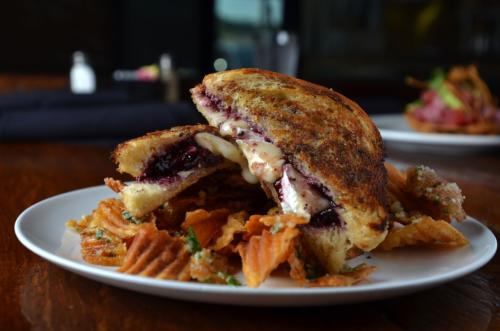 The Exchange's Blueberry Brie Grilled Cheese Sandwich

1.    The Exchange Pub and Kitchen - Historic downtown New Albany gastropub, using locally sourced meats and produce. Full-service bar, with specialty cocktails and craft beers. Heated outdoor patio, al fresco and indoor dining.
2.    Toast On Market- Breakfast, lunch, and coffee specialties that include items such as lemon soufflé pancakes, spicy chipotle grilled cheese, and Italian pot roast.
3.    Dragon Kings Daughter- Contemporary Asian fusion restaurant featuring sushi, miso, and other dishes for vegetarian, vegan, gluten-free, and fish/meat-lovers. Enjoy eight different sakes, and local craft brews.
4.    Habana Blues - Cuban-inspired cuisine, with flavorful tapas and entrees. Full bar, reservations accepted.
5.    Mark's Feed Store - Local chain serving BBQ, fish, comfort sides and desserts in a casual space with a country vibe. Offers kids' menu, private group room, and catering.
Jeffersonville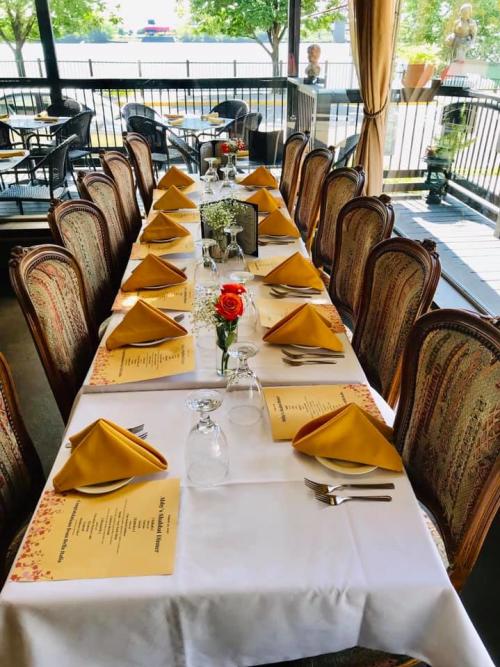 Outdoor Dining at Bella Italia

1.    Cast Iron Steakhouse - Locally owned Cast Iron Steak House offering top-quality food at affordable prices. Serving Certified Angus Beef, hand-cut, and aged to perfection. All of the dishes made from scratch from dressings to dessert.

3.    The Red Yeti Restaurant & Brewpub - Downtown Jeffersonville restaurant featuring Red Foot craft brews and culinary creations like truffle fries, brisket sandwiches, pulled-pork tacos, and vanilla bourbon cheesecake.
4.    Town -  A Neighborhood Pub - Downtown Jeffersonville's casual Italian restaurant and bar, serving pasta, salads, and other American favorites.
Clarksville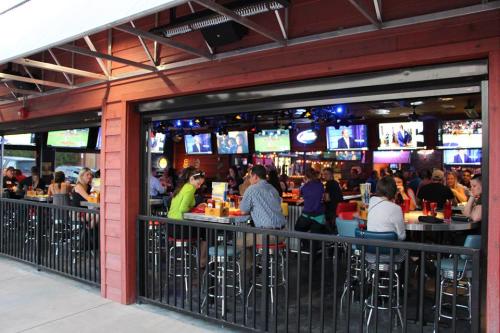 Bubba's 33

1.    Bubba's 33 - Enjoy pizza, burgers, salads, and other American favorites at this family-friendly restaurant and bar.
2.    Texas Roadhouse - Lively chain steakhouse serving American fare with a Southwestern spin amid Texas-themed decor.
3.    Chuy's - Chain serving "big as yo' face" burritos & other Tex-Mex dishes in kitschy, Elvis-heavy settings.

4.    Outback Steakhouse - Boisterous Australian-themed chain serving steaks, seafood & other hearty steakhouse fares.
5.    LongHorn Steakhouse - Casual steakhouse chain known for grilled beef & other American dishes in a ranch-style space.