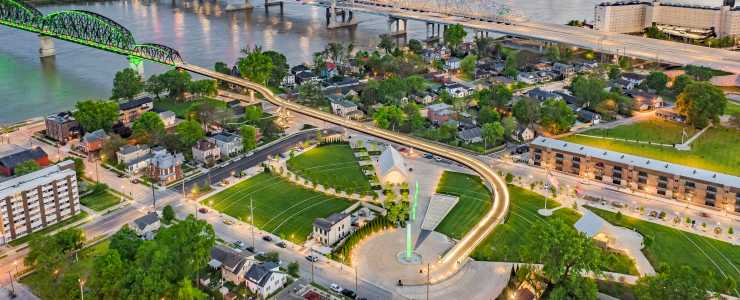 Juneteenth is coming quickly and GoSoIN wants to help you find a celebration to commemorate this truly important American holiday.
While originating in Galveston, Texas, Juneteenth has been celebrated annually around the United States since 1865. The holiday marks the day that the final group of enslaved Black people were given their freedom. On June 19, 1865, two years after the Emancipation Proclamation originally freed all enslaved people, this final declaration by Union army general Gordon Granger made it official in the parts of Texas where the proclamation had yet to be enforced. Even still there were some that remained enslaved in Indigenous areas that had sided with the Confederacy. These people would not be freed until 1866. This number was small but still significant when looking at the length of time it took to truly abolish chattel slavery in the United States. 
The celebrations are held in remembrance and in celebration of the present with a focus on keeping this history fresh and alive in the memories of present-day United States citizens who may have forgotten what it took to truly gain freedom. On June 5, 2021, Juneteenth became a federally recognized holiday. 
Check out these local celebrations:
Southern Indiana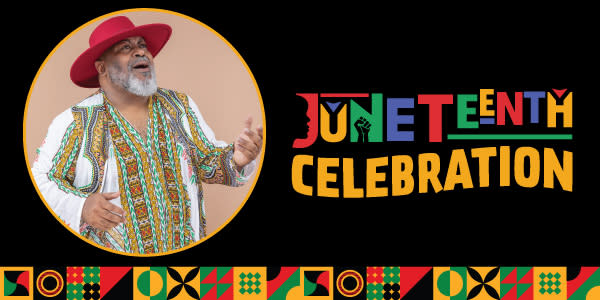 June 14 The Music & Cuisine of Juneteenth with Troy Bell
Celebrate the rich music and cuisine with a Gospel concert featuring Louisville-based artist Troy Bell. All guests can enjoy a FREE sampling of classic Soul food from Ashleigh's Taste of Soul, including greens, sweet potatoes and barbecue. All ages are welcome for this event taking place from 12 - 1 p.m. at The Floyd County Library - New Albany Central Library. Registration is required. Register online at https://nafclibrary.libcal.com/event/10830971.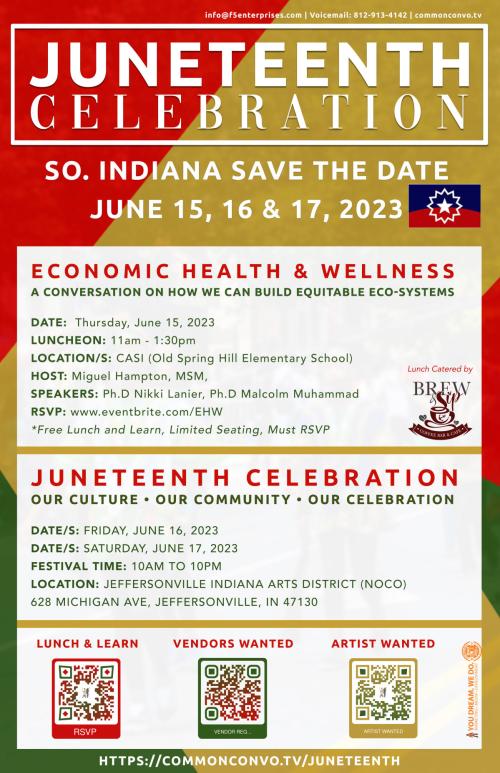 June 15-17 Juneteenth Celebration 2023 in Jeffersonville
CC: The Move Forward "A New Hope"
Celebrate Jeffersonville's Black/African American history and support and engage with local businesses and vendors during this multi-day event in Southern Indiana. The event kicks off with the "Economic Health & Wellness" luncheon from 11 a.m. – 1 p.m. on Thursday, June 15, followed by "Juneteenth Celebration Weekend" from 10 a.m. – 11 p.m. at The Depot, featuring a BIPOC Art Exhibit, a comedy show, live music, spoken word exhibit, craft and food vendors, food trucks and much more! This event is family friendly and will also include face painting, a balloon artist and educational opportunities for all ages.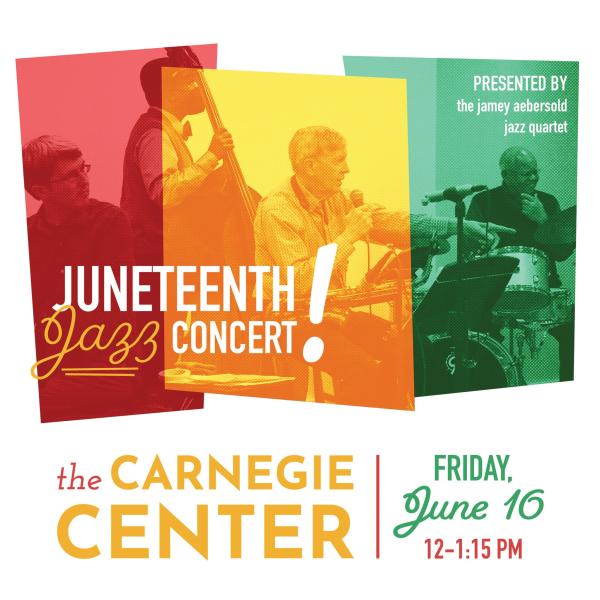 June 16 - Juneteenth Jazz Concert at the Carnegie Center
Head to the Carnegie Center for Art & History for a free concert celebrating Juneteenth with the Jamey Aebersold Jazz Quartet on Friday, June 16 at 12 p.m. All ages are welcome and registration is encouraged. The audience is invited to participate in a conversation about "what is jazz?" and how Juneteenth and jazz go hand in hand. The Jamey Aebersold Jazz Quartet consists of Jamey Aebersold on sax, Wade Honey on piano, Tyrone Wheeler on bass and Johnathan Higgins on drums.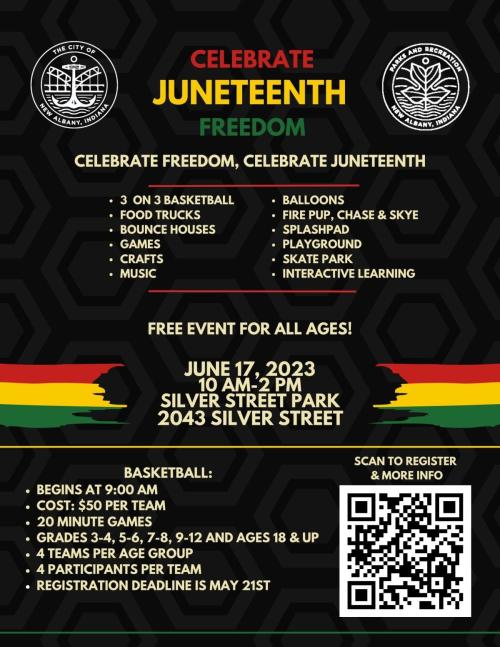 June 17 – Juneteenth Celebration in New Albany
Head to Silver Street Park from 10 a.m. – 2 p.m. on June 17 to celebrate Juneteenth during this free event for all ages. The event features a 3 on 3 basketball tournament, music, games, crafts, bounce houses, interactive learning and special characters Fire Pup, Chase and Skye. Enjoy the park's amenities, which include a splash pad, playground and skate park.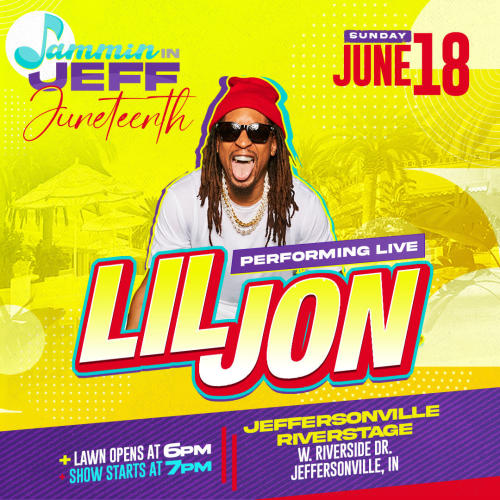 June 18 – Jammin' in Jeff: Juneteenth
Turn down for Jammin' in Jeff's special Juneteenth performance featuring Lil Jon at the RiverStage in Jeffersonville. Jammin' in Jeff performances are free to attend. Lawn opens at 6 p.m. and the show begins with an opening performance at 7 p.m. In addition to performing his hits from the 2000s, Lil Jon will get the crowd moving with his own DJ set. Enjoy dinner before the show in downtown Jeffersonville or get a bite and drink at one of the local food vendors in attendance.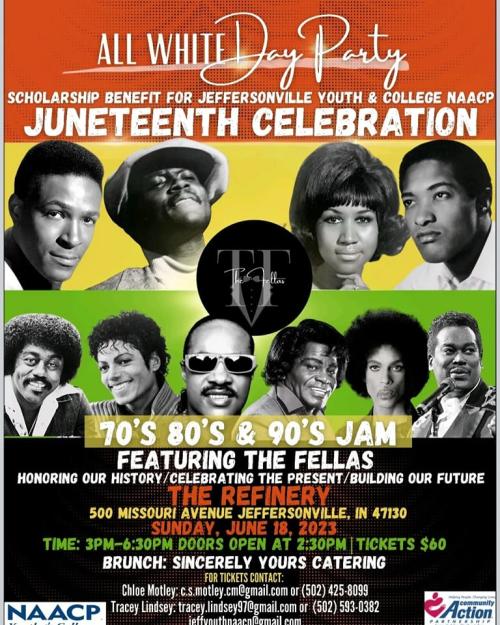 June 18 – All White Day Party: Juneteenth Celebration
A live music event and scholarship fundraiser for the Jeffersonville NAACP Youth Council. Attendees enjoy music from the 70s, 80s, and 90s at the Refinery in Jeffersonville. Contact the event organizers via Facebook to purchase tickets.
Louisville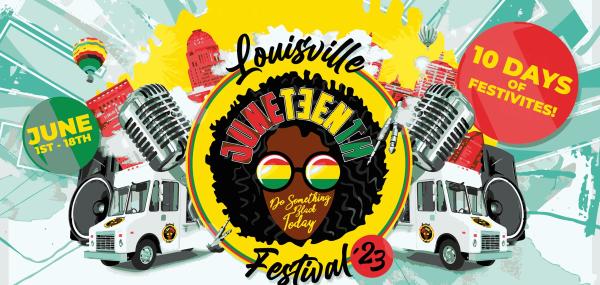 June 1 – 18 – Louisville Juneteenth Festival 
Celebrating with events across the city June 1 – 18. Visit the festival's website for information on all events and activities, including the 4th Annual Louisville Juneteenth Festival from 3 - 10 p.m. on June 18.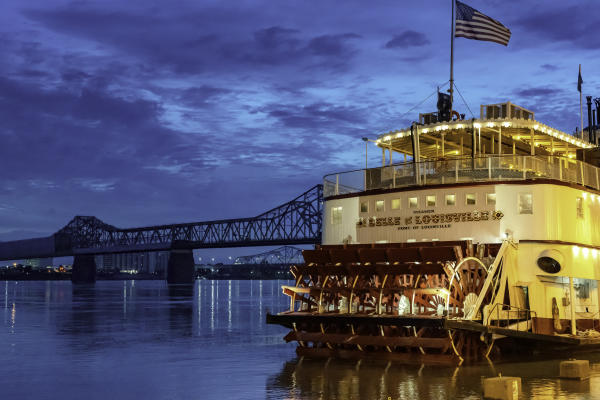 June 16 – Juneteenth on the River
Participants of the Juneteenth cruise on the Belle of Louisville can listen to music and watch a performance about the story of Lucie and Thornton Blackburn, a couple that found their way to freedom via the Ohio River.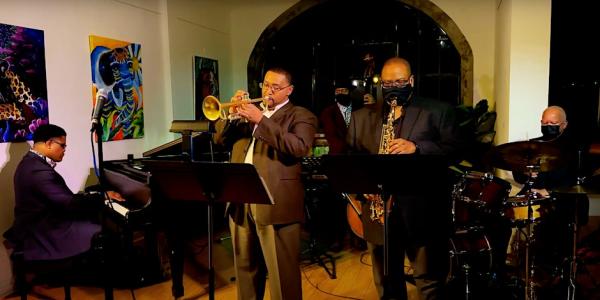 June 18 – Juneteenth & Father's Day Jazz Brunch
Celebrate Juneteenth and Father's Day with brunch and Jazz from the Ansyn Banks Legacy Quartet at the Kentucky Center for African American Heritage. While there, catch the "Celebrating the Black Experience Art Exhibition" before it ends on June 19.
More events and exhibits to honor Juneteenth: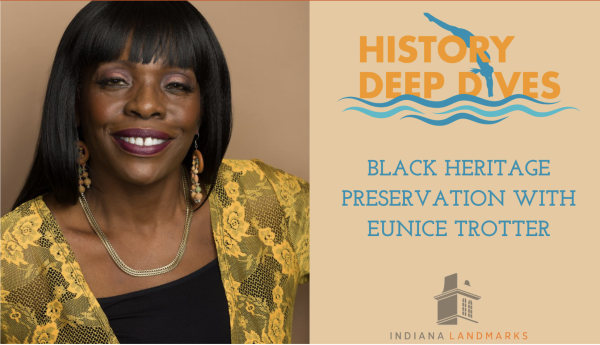 June 13 – History Deep Dives: Indiana Landmark's Black Heritage Preservation
Join Eunice Trotter, Director of the Black Heritage Preservation Program for Indiana Landmarks, as she shares more about her work to uncover, document and preserve Black heritage across the Hoosier state. Eunice is an award-winning journalist, inducted into the Indiana Journalism Hall of Fame in 2017, and hails from a pioneer Black family that has ties to Indiana dating back to the 1790s. Every other month, the Carnegie Center for Art & History hosts "History Deep Dives" to explore local historical topics, as well as broader history throughout the region, nation and world.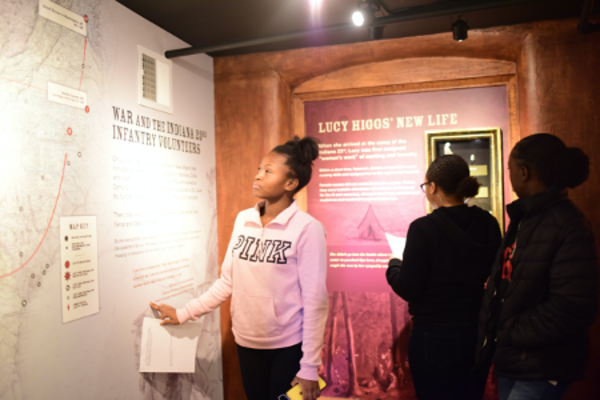 Carnegie Center for Art & History
The Carnegie Center in New Albany features temporary exhibits throughout the year, but it is also home to permanent exhibits including "Ordinary People, Extraordinary Courage: Men and Women of the Underground Railroad," which tells the story of New Albany's role in the Underground Railroad, and "Remembered: The Life of Lucy Higgs Nichols," an exhibit on one former slave who became a Civil War nurse.
Roots 101 African-American Museum
Located in downtown Louisville, KY, Roots 101 invites visitors to learn about the journey of African Americans from slavery to freedom to the ongoing fight for social justice. Exhibits highlight African American contributions and experiences throughout history. The museum encourages exploration and healing and was named one of USA Today's Best New Attractions of 2021.
Support Black-Owned Businesses:
Another way to celebrate Juneteenth is to visit and support Black-Owned tourism and hospitality businesses in our area. A few of these include:
Poppin' Flavors in Jeffersonville offers snack bags and tins in fun flavors like banana pudding and birthday cake, plus classic popcorn flavors.
Wacky Nachos & Mrs. and Mr. Cotton Candy give families a fun lunch or dinner option.
Taylor's Cereal Bowl Kitchen where you can find delicious mixed shakes and sensory-inclusive fun.
Big Ben's D & M Restaurant at the Depot is a must-stop to fill your BBQ cravings. Posters on the wall explore African American history in Clark County.