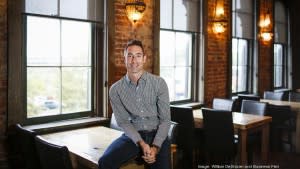 Bureau: Can you tell us a little bit about Brooklyn & the Butcher?  
Ian Hall: The concept of Brooklyn & The Butcher is fine casual. We want to provide the high-end culinary experience of the classic steakhouse, with modern touches of an independent restaurant. Brooklyn & The Butcher is housed in a building that was once a hotel, and we want to uphold the integrity of the space, just as we have done with the warehouse-style space of The Exchange. Our locations and atmosphere are vital parts of our concepts, and we want to give our guests a unique experience.  
Bureau: What kinds of things will you do that are unique to this restaurant vs. the Exchange?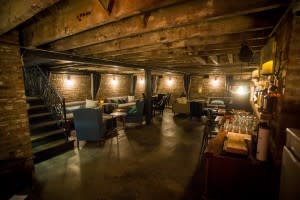 Hall: Brooklyn & The Butcher will be very different in many ways from The Exchange. The menu will be protein heavy in terms of beef. Our small plates menu will be more seasonal in terms of rotating dishes as well as some more interesting dishes. Our bar program will feature a lower level New York style speakeasy lounge, a throwback to the 1930's era some live jazz. This restaurant will be a little sleeker in terms of finishing details, whereas The Exchange is much more industrial and rustic.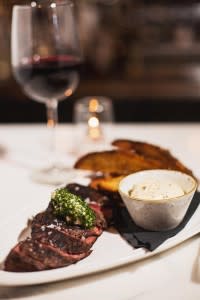 There will be similarities that will be present in both concepts, such as our hospitality that we extend to our guests and our attention to detail. These are the touches that have made The Exchange a success and we want to make sure replicate that recipe.   
Bureau: What kind of menu items can we look forward to?
Hall: The focus of the menu at Brooklyn & The Butcher is small plates, BIG STEAKS. We will offer a rotating seasonal menu of small plates, focusing on locally sourced ingredients that change with the seasons. A nice selection of fresh seafood will also be present on the small plates menu. For the BIG STEAKS portion of our menu, we will offer a wide selection of beef, from both local and regional farms. Cuts of terres major, hanger steak, bone-in tenderloin, and tomahawk ribeyes will be some of the featured cuts of our menu. Our beverage program will have a heavy emphasis on bourbon whiskeys, handcrafted, classic cocktails and a fantastic wine list.
Bureau: Why is it called Brooklyn & The Butcher?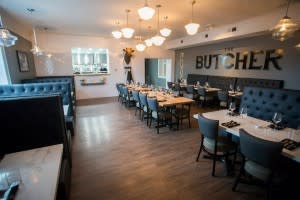 Hall:
The first time I viewed the property I was drawn to the outdoor courtyard space. With its 3-story brick walls and exposed fire escape, it reminded me of a scene from Brooklyn. New Albany has also been referenced to being a burrow of Louisville, much like Brooklyn is to New York. We are an up-and-coming entertainment district that has architectural features, much like Brooklyn.
As for The Butcher, I wanted something that would tell people we would be focused on great cuts of beef, which made me think of the local butcher shop. I didn't want to have the word "steakhouse" in our logo, because we are going to be much more than that, with seasonally rotating small plates menu that highlights the products of our local purveyors. So it tells people we are going to be a steakhouse, but we are going to have a lot of variety.
The whole space is really a play on New York. We have some really sleek, sexy design elements to the space, while at the same time having this kind of throwback idea to a great historic hotel. We are even going to be doing this speakeasy style basement lounge area just below the lobby bar.
*****
Brooklyn & The Butcher opened on Valentine's Day 2016 in downtown New Albany. Visit our dining page for more information on the restaurant.