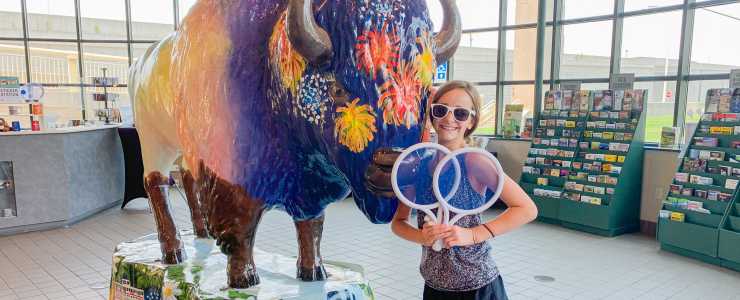 The 2023 Fun Trail has came to an end but keep an eye out for our next Fun Trail starting in May 2024. 
For the last several years, my daughter and I have planned a trip to Southern Indiana in the summer. As we were planning our trip, we heard about the new SoIN Fun Trail. Each visit to a spot featured on the Fun Trail gets you a sticker. You get a prize for three, five, and 10 stickers. It was the perfect excuse to experience a few new spots while also visiting our tried and trues.
We planned to spend two full days and one night in the area. I started with having my daughter circle all the places she'd like to go (a wish list of sorts) and then sat down to realistically think through what we could get through. Spoiler alert … her 20 plus wishes couldn't all make the cut! To see our full itinerary, click here.
Our first stop is the reason this trip started becoming an annual tradition: PEACH PICKING!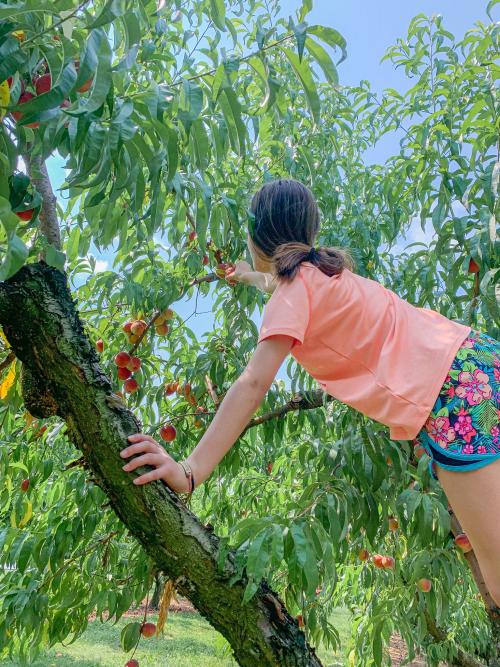 There are not a lot of places to pick peaches in Indiana and it has become something we look forward to every year. Huber's Orchard, Winery & Vineyards is the full experience. You start with a wagon ride out to the u-pick area ($3/person). Depending on the timing, there are a variety of things you can pick. This time we had our option of blueberries, blackberries, black raspberries and peaches.
After picking our fair share (and trying one or two!), we stopped by the market for apple slushies and made a trip into the winery to grab a bottle to take home and headed on our way. If we had more time, we would have explored the grounds - they have a family fun park full of games and playground equipment for kids that we hit up last time.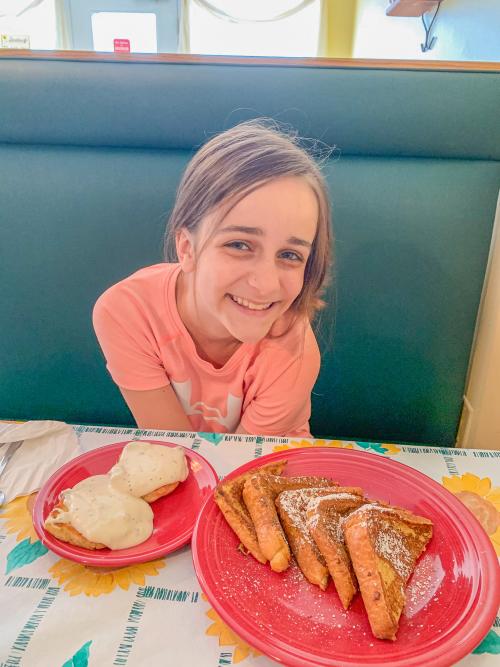 We headed into downtown Jeffersonville to try a new spot for lunch – Geraldine's Kitchen. This felt like we hit on a local hot spot. I could quickly tell folks were regulars and the food was delicious. (My daughter recommends the biscuits and gravy!)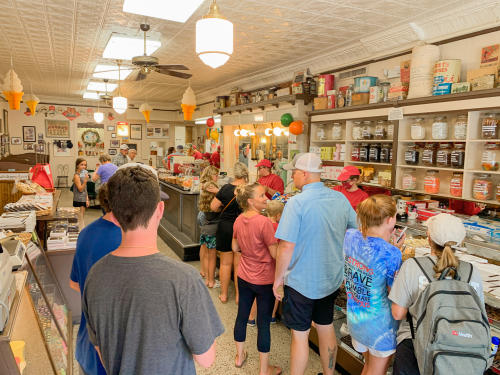 We decided to walk off a bit of our lunch and meander through the quaint streets a bit. While we didn't time it right to catch one of my favorites - the demo on making red hot candies - we at least got to visit Schimpff's Confectionery. This is a true gem in Southern Indiana made only better by the sweet couple that runs the store. It is an old-time candy shop mixed in with history and a café.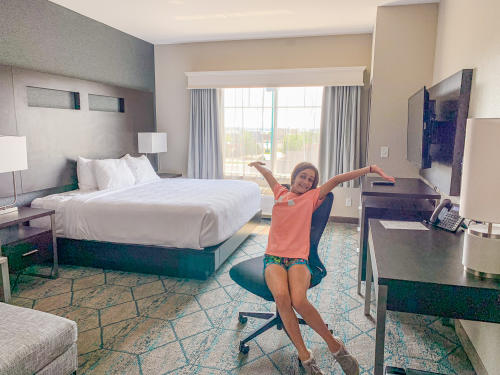 Before we headed to another excursion, we decided to check into our hotel – the Best Western Plus, a new property in Clarksville.
The room was perfect for the two of us and an incredibly convenient location for all we had planned. Bonus: Great rate and free breakfast!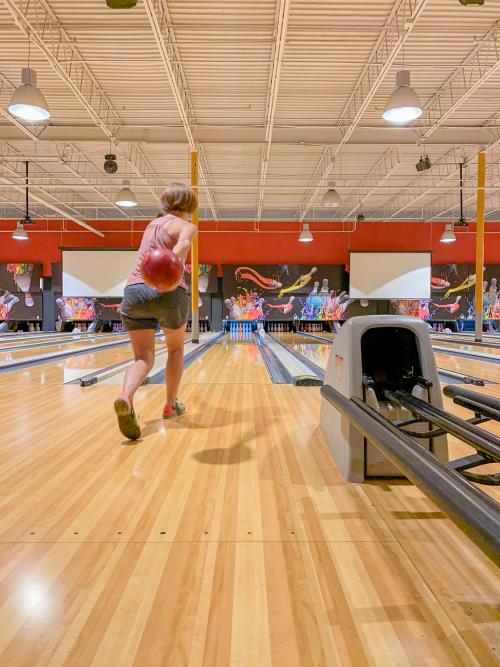 We had a few hours until dinner, so we headed out to Strike and Spare.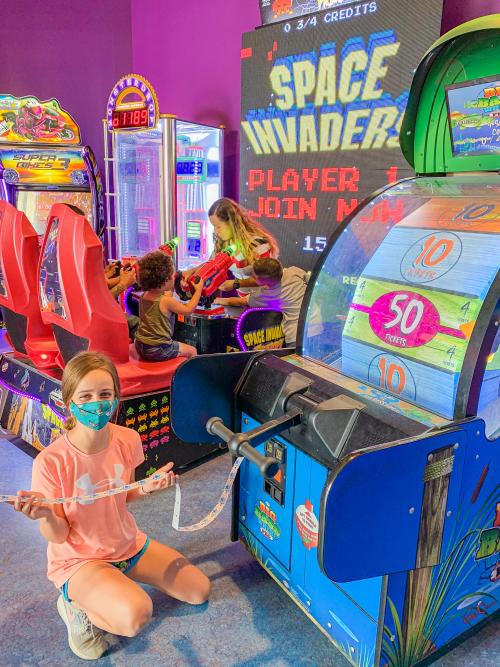 After bowling two games and some arcade fun, we decided to head out to dinner.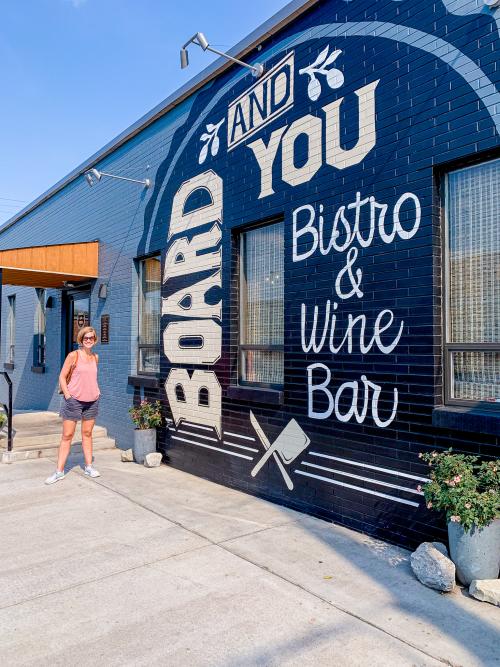 I had given my daughter several options and she chose Board and You Bistro & Wine Bar and I'm very glad she did. I thoroughly enjoy creating my own charcuterie boards at home, but that is nothing compared to what we got here! Note: The blueberry goat cheese!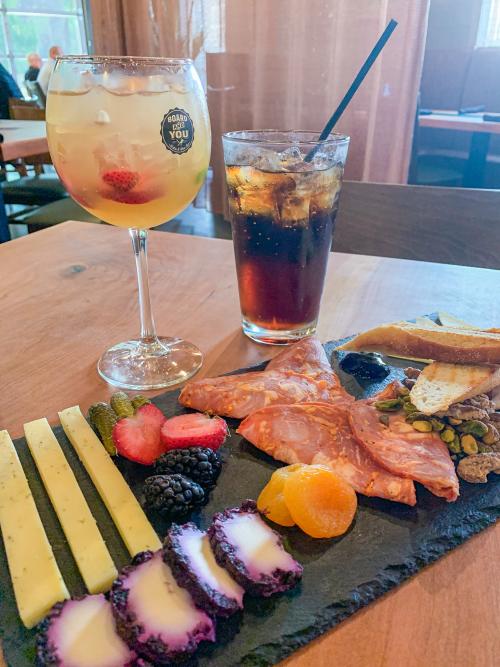 May I also recommend the pasta dish and the white Sangria. 😊
We took some time after dinner to walk down to the riverfront.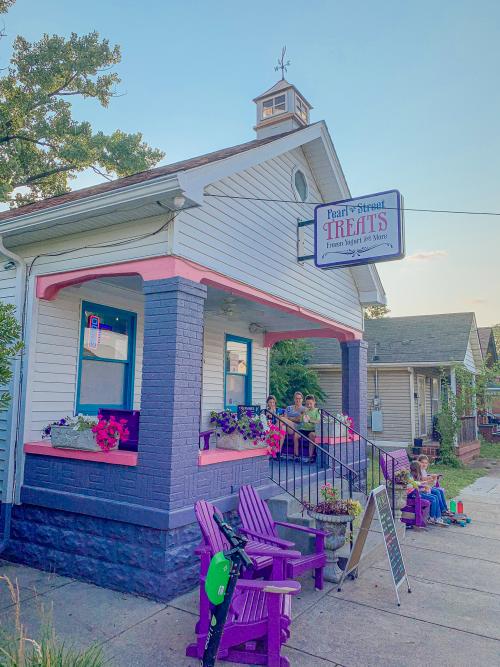 And, because we were on a trip, we couldn't pass up the chance to get some dessert. We headed back into Jeffersonville to try Pearl Street Treats. Mango soft serve with gummy bears on the side for the win! Toss in time on a playground and it is the perfect end to the day.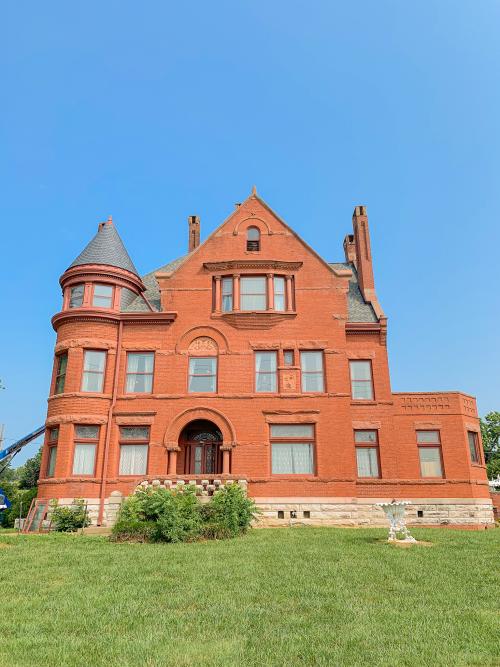 Day two started with the previously mentioned free breakfast at the hotel (who doesn't love a waffle?) and then off to the Howard Steamboat Museum.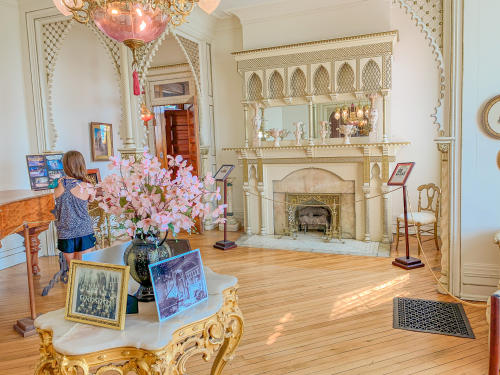 While I may not be the world's biggest history buff, I am a sucker for river towns and the history behind them. This home is beautiful and walking through it had me wondering what life would look like in the early 1900s. Our self-guided tour started with a brief overview from one of the staff members who had the foresight to point out a few features to us: The fireplaces and the chandeliers – that are almost ALL set up for both gas and electric!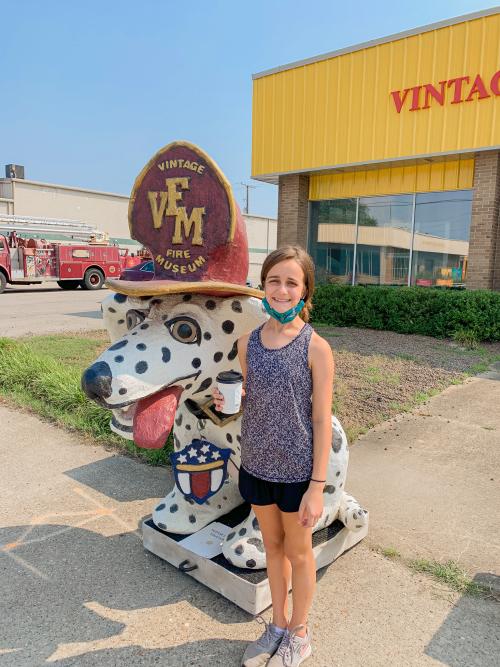 Next up was the Vintage Fire Museum.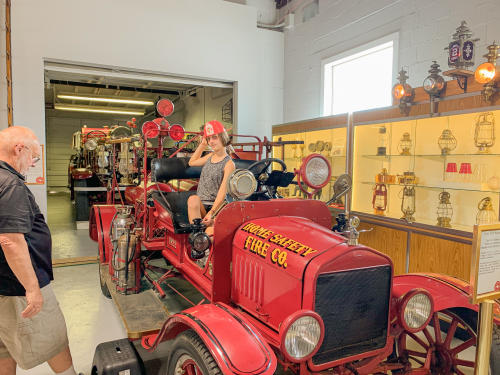 We spent about 45 minutes here looking around and, according to our guide, we could get a tour to fit whatever time we needed. I've visited three other fire museums in the state and what was different about this one (and something I loved) was the history of how they put out fires and the machines PRE the fire truck.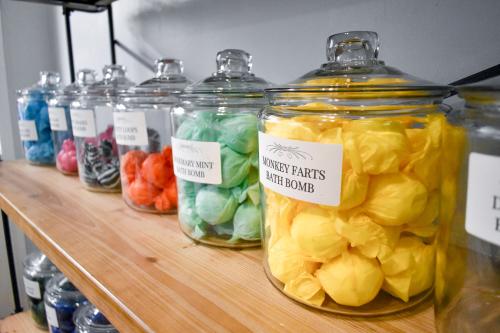 We opted to spend our last few hours walking around the streets of New Albany visiting many shops …
I realized I was too enthralled with shopping to take any pictures. But rest assured, the bath bombs, jewelry and wallet we found were one of a kind!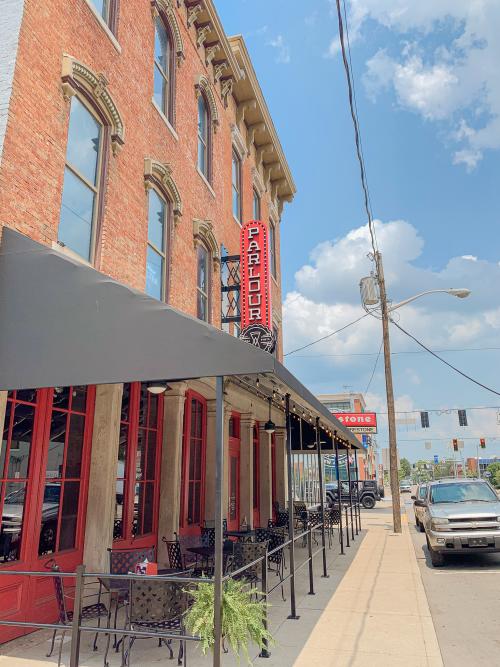 Our last stop was to enjoy some pizza at Parlour New Albany.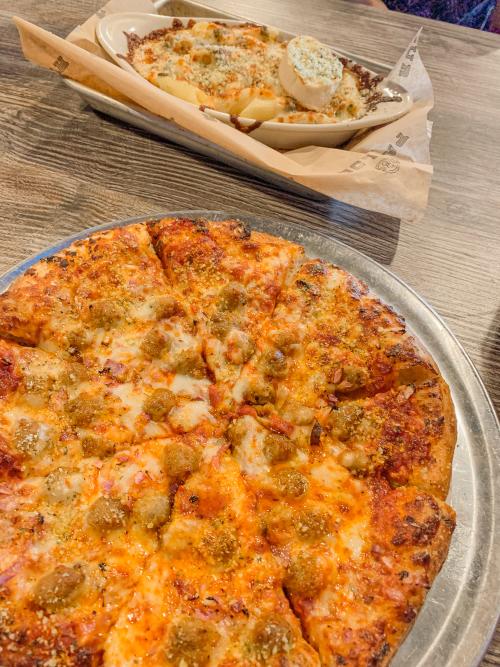 It hit the spot and managed to get us to our fill of stickers on the passport!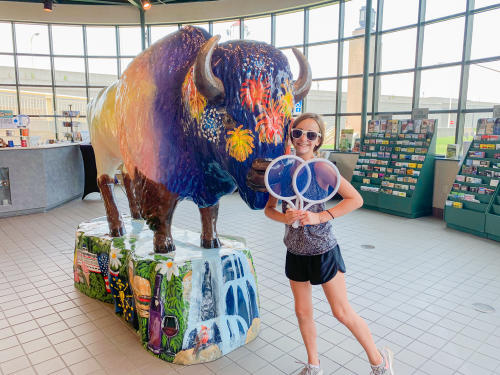 That led us to our last stop: SoIN Visitor Center … we turned in our sheet and collected our prizes. Color-changing sunglasses, a paddleboard game and a picture with the bison was the perfect way to cap off our visit!
Good news … I already have a few places on my list for our 2022 excursion … if I can make it that long. 😊
Carrie and Maggie's Itinerary:
Day I
11am - Arrive at Huber's Orchard, Winery & Vineyards
2pm - Visit Schimpff's Confectionery and walk around downtown Jeffersonville
3pm - Bowling/Arcade at Strike and Spare Family Fun Center
4:30pm - Check in at Best Western Plus
5:30pm - Dinner at Board and You Bistro & Wine Bar and walk to the riverfront (Ohio River Greenway)
7pm - Dessert at Pearl Street Treats and visit the playground at the foot of the Big Four Bridge in Big Four Station Park
Day II
10am - Explore the Howard Steamboat Museum
11am - Visit the Vintage Fire Museum
12:30pm - Drive down Mansion Row in New Albany on the way to visit shops
1:30pm - Lunch at Parlour in New Albany
3pm - Stop by the Southern Indiana Visitor Center to collect prizes!
Other must-sees that we couldn't fit in!
We love to see your SoIN adventures on the SoIN Fun Trail. Tag us using #SoINFunTrail!