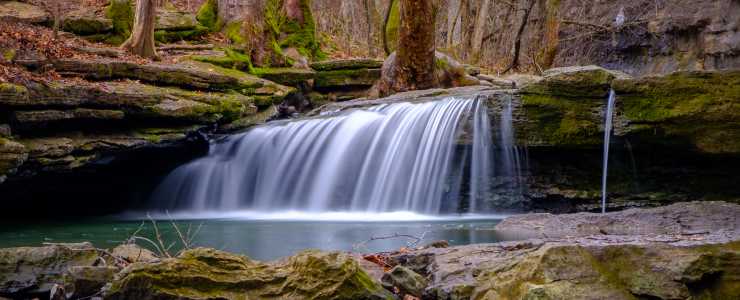 Spring and early summer rains bring a perfect opportunity to experience waterfalls near the small town of Charlestown on an Indiana waterfalls road trip.  
There are 22 named waterfalls in Indiana. But did you know there are nearly 200 unnamed small, seasonal waterfalls to explore? Charlestown is home to three amazingly tranquil waterfalls, ready for you to find this spring and early summer, while spring rain keeps them flowing. Lace up your walking shoes and let Clark County's waterfalls transcend you to a peaceful place.   
All three waterfalls are thanks to Fourteen Mile Creek and its tributaries as the stream weaves its way through Southern Indiana before flowing into the mighty Ohio River. Stone creek beds add to the rush of water rolling over the falls. Let's explore three Clark County waterfalls:  
No. 1: Trail 6 Waterfall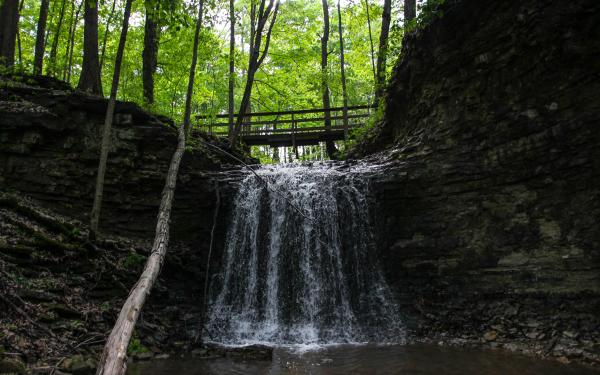 Charlestown State Park, Charlestown, Indiana 
The most prominent and well-known of the three waterfalls is the Trail 6 waterfall at Charlestown State Park, a hidden gem in Indiana's state park system. Get ready for a hike to its canyon-based falls.  
To get to the waterfall, park at the Ohio River overlook parking area across from the western trailhead. Trail 6 is a 2.3-mile hike that is marked rugged. To really capture the beauty of the trail and the anticipation of reaching the falls, hike clockwise on the loop trail. You'll quickly traverse a rock garden as you ascend to the ridge line. It's not too technical but it will get your heart racing. Then you'll skirt the ridge line taking in the epic views of the Ohio River. As you descend a steep hill, you'll begin to hear the water movement. Traveling deeper into the narrow canyon provides the first glimpse of the falls.  
Trail 6 waterfall features two drops. The first is a cascade over moss-covered rock to a second drop of over 12 feet. A wooden bridge allows you to cross directly over the falls and continue on the trail.   
For a less rugged hike, travel counterclockwise down the service road and trail straight to the falls and make it an out-and-back hike.  
No. 2: Trail 2 Waterfall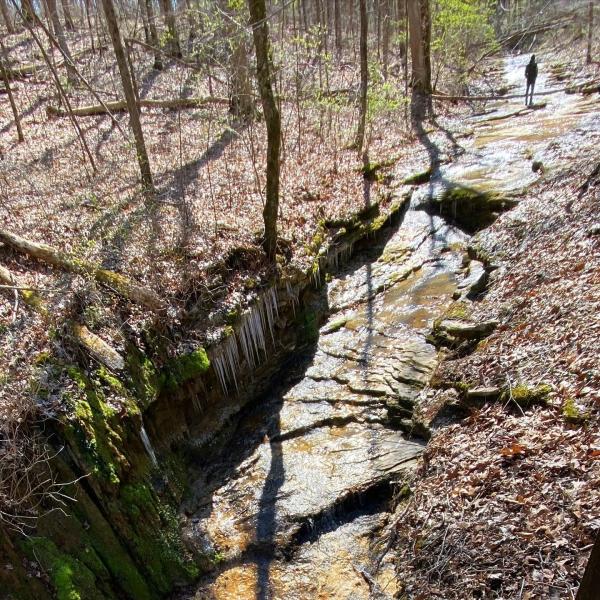 Charlestown State Park, Charlestown, Indiana 
Charlestown State Park is also home to another accessible waterfall. Trail 2 offers a small but mighty seasonal waterfall. The trail is 1.4 miles and is rated moderate.  
Park near the picnic shelter and find the trailhead at the southwestern corner to hike the trail counterclockwise. It takes you through a small meadow before a slow descent into a ravine with a small stone creek bed. You'll wind your way along the stream, as the cascades become more pronounced, and you reach the roar of a 3-foot cascading waterfall. The waterfall collects into a deep pool surrounded by moss-covered rock and falling water running off the hillside. A platform landing allows you to take in the soothing sounds and view of the waterfall and the stream's vanishing point.  
As you walk a little farther up the trail and around a bend — if you are lucky enough to experience it — there is a second, very seasonal cascading waterfall. The trail then winds its way back to the north side of the parking area. 
No. 3: Nine Penny Branch Waterfall 
Nine Penny Branch Nature Preserve, Charlestown, Indiana 
This small, off-the-beaten-path nature preserve close to Charlestown is magical. Nine Penny Branch features an old-growth forest of beech and tulip poplar trees and a picturesque limestone stream bed. The out-and-back trail is one mile in total. The first 1/3 is a paved, wheelchair and stroller-friendly ADA-accessible trail. The next 0.4 mile of trail to the waterfall is ADA grade but it is not an ADA surface; it is part crushed stone and part dirt. 
After the overlook, it's a slow, gradual descent to the creek where you are greeted with an evergreen-lined creek and a view upstream reminiscent of the film "A River Runs Through It." Bubbling pools and stone landings give you an optimal chance to get close to the stream before reaching its main attraction, a small, wide, flowing waterfall. Take a seat at the bench overlooking the falls or continue on to explore the stream bed area at the base of the falls.  
There is a loop trail that continues, but it requires a creek crossing and a climb up an embankment.   
Add zen to your adventure by visiting Charlestown State Park and Nine Penny Branch Nature Preserve this spring or early summer. Go explore! 
MAKE IT A WATERFALL WEEKEND  
Make it a waterfall weekend by visiting one or two nearby Southern Indiana waterfall destinations:  
Hemlock Cliffs, English, Indiana 
A favorite Southern Indiana waterfall, Hemlock Cliffs features a box canyon, sandstone rock formations and seasonal waterfalls with a main towering waterfall. Take a hiking tour of Hemlock Cliffs.  
Clifty Falls, Madison, Indiana 
An Indiana destination for waterfalls, Clifty Falls features four major waterfalls in its high canyon.  
MISSING FROM THE LIST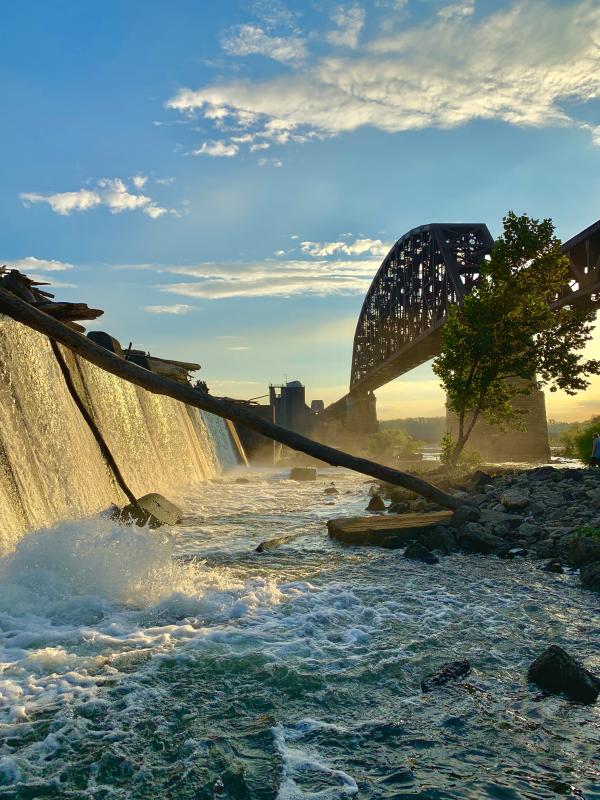 Falls of the Ohio State Park
Wait! What about the Falls of the Ohio State Park? Though the name implies "waterfalls", the Falls of the Ohio was actually named after its series of rapids that fall 26 feet over a 2-mile stretch. These rapids made the area treacherous for early explorers. What remains is the largest exposed Devonian fossil beds in the world (more than 390 million years old), which today's explorers, like you, can view and study firsthand when river levels are low, typically in late summer.