1. Enjoy Free Admission to Indiana State Parks. On May 1 only, enjoy free admission to any Indiana State Park. Visit state parks in Clark and Floyd counties and enjoy full hook-up camping amenities at Charlestown State Park, fishing, hunting, and a shooting range at Clark State Forest, or stay overnight in a cabin and go boating and swimming at the Deam Lake State Recreation Area. At the Falls of the Ohio State Park, bird watch for Great Blue Heron or Indigo Bunting, and picnic near the Ohio River banks.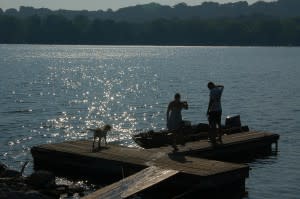 2.  Experience History Hands-on when you Visit the Falls of the Ohio State Park's Interpretive Center.
The Falls of the Ohio Interpretive Center's new exhibits are captivating and engaging—for all ages! Walk under a towering mammoth skeleton, have pop-up fun with squiggly corals and sponges, touch a bison's coarse hair, piece together tree and flower puzzles, and listen touch a bison's coarse hair, piece together tree and flower puzzles, and listen to native Shawnee while inside a tree bark wegiwa (Shawnee hut). Plus, how cool is it that the Falls of the Ohio State Park has one of the largest exposed Devonian fossil beds in the world?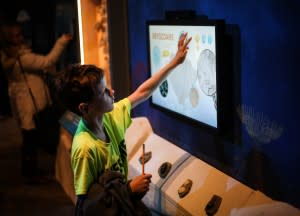 3.  Discover why this restaurant is the talk of the town. 
From the 8 oz. Flat Iron to a 34 oz. Tomahawk Ribeye, to seared tuna or lump crab cakes with Edamame horseradish puree, Brooklyn and the Butcher's "small plates and big steaks" pampers patrons.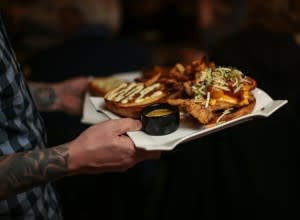 4.  Welcome spring at these two Starlight family-favorites.
Drive to scenic Starlight, Indiana to enjoy two local families' home-cooked meals, u-pick fresh produce, and award-winning wines.  Treat yourself to down-home goodness with Joe Huber's Family Farm & Restaurant's meal of fried chicken, country ham, fresh corn and green beans, and fried biscuits with apple butter. While at Huber's Orchard, Winery, and Vineyards, enjoy shopping at the gift store and market, sample Huber's reds, whites, and spirits, or relax on the patio while listening to live music.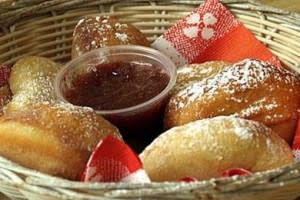 5.  Celebrate Schimpff's 125 years of candy making.
Schimpff's Confectionery and Candy Museum continues to be owned and operated by Gustav Schimpff's third-great grandson, Warren Schimpff and his wife Jill. Watch Warren as he uses the same copper kettle, marble table, and roll molds used by his family since 1891. After the demonstration is done, taste a warm cinnamon red hot drop or a luscious caramel-covered marshmallow called a Modjeska. On Schimpff's 125th anniversary on April 11, purchase a quarter pound of red hots at the original 1891 price of 2 cents (minimum $2.50 purchase)!