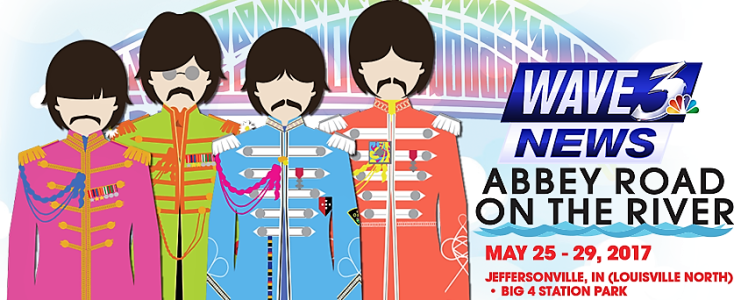 This year's Abbey Road on the River will be held across the river in Jeffersonville, Indiana after 12 years in Louisville. The festival will debut in its new location on Memorial Day weekend, May 25-29.
Here are the top 5 reasons to love Abbey Road on the River in Jeffersonville: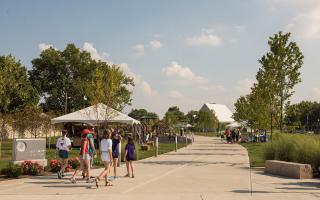 1. Proximity: Abbey Road on the River may be moving to a new city and state, but the new venue, Big Four Station Park, is only two miles from its previous home in Louisville. If you've been to Abbey Road on the River in the past, you're already familiar with metro Louisville. You won't have to change your travel plans drastically to enjoy the five days of peace, love, and rock-n-roll. You'll just have to cross the river and explore Jeffersonville!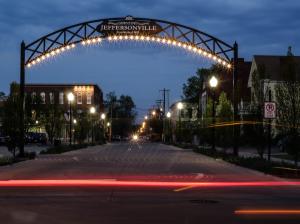 2. Explore fantastic new options: Jeffersonville's exploding local scene, including its revitalized Main Street district, boasts an abundance of restaurants, retail and hotels.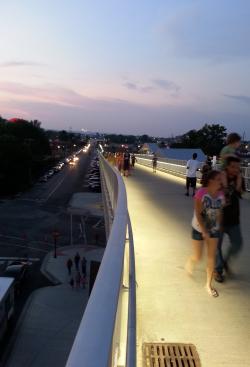 3. Views: Pedestrians walking the Big Four Bridge (Fab Four Bridge) will have a unique perspective. They'll be able to look down at the festival site from the Big Four Bridge. And, festival goers will be steps away from the iconic Louisville skyline view from the Big Four Bridge.  
4. Boating access: The $3 million renovation to the Jeffersonville marina, now called Fisherman's Wharf, houses 15 boat slips, 30 boat docks, and a kayakers' area for daily access.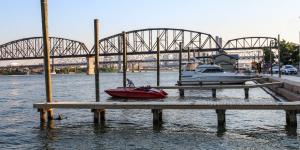 5. Parking: 1,200 free parking spaces are within a half-mile of Big Four Station Park.
The 2017 festival will coincide with musical anniversaries: 50th anniversary of the Summer of Love and the 50th anniversary of the release of the greatest album in rock history – Sgt. Pepper's Lonely Hearts Club Band. 
Wave 3 News Abbey Road on the River will celebrate the musical history milestones with a lineup of popular musicians from that 1967 summer:  Herman's Hermits starring Peter Noone, the American rock band The Grass Roots, The Family Stone, and Mark Lindsay of Paul Revere and the Raiders.
To purchase tickets for this year's event, visit the official WAVE3 Abbey Road on the River website.