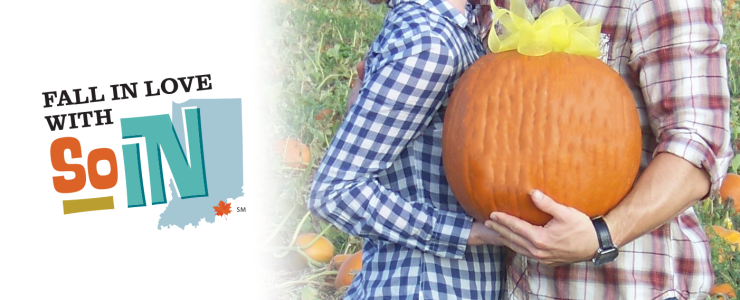 With Thanksgiving right around the corner, you can almost smell the roasted turkey, stuffing, and pumpkin pie. Great food isn't the only thing happening this time of year. We're talking travelers, and a lot of them. AAA says nearly 51 million of us travel every year during Thanksgiving. If you're one of the visitors landing in SoIN this year, we want to give you and your holiday guests some insider tips on fun things to do to make your stay an eventful one in SoIN's riverside communities. 
How about a hands-on turkey cooking class taught by one of our local chefs, a children's musical at Derby Dinner Playhouse or even a few rounds of golf at a Fuzzy Zoeller-designed course? 
Whatever your choice, there's so much going on this time of year. Here's a list of pretty cool things happening around the holidays. 
Nov. 14 to Dec. 31, Irving Berlin's, 'Holiday Inn,' Clarksville
Audience members can revel in the romance of this holiday musical classic. "Holiday Inn" features thrilling dance numbers, laugh-out-loud comedy, and a hit parade of Irving Berlin songs. The ticket price includes dinner, show, tax, and parking. A special matinee buffet will also be held on Thanksgiving Day.
When: Matinee, evening performances, Tues. through Mon., Dec. 31
Where: Derby Dinner Playhouse, 525 Marriott Dr.
Cost: Adults, $39-$49; New Year's Eve show: $80
Info: https://derbydinner.com/show/irving-berlins-holiday-inn/ 

Nov. 17 to Dec. 22, 'A Velveteen Rabbit Christmas,' Clarksville
Travel back in time with Santa as your guide. This story about a young boy and his Velveteen Rabbit is a musical filled with laughter, whimsy, and heart. Children's musical theater is suitable for ages 3 to 12.  Santa will be at every performance. 
When: Saturday matinee performances: 9 a.m. (breakfast) or 12 p.m. (lunch), Nov. 17 - Dec. 22
Where: Derby Dinner Playhouse, 525 Marriott Dr.
Cost: $17 - $22
Info: https://derbydinner.com/show/a-velveteen-rabbit-christmas/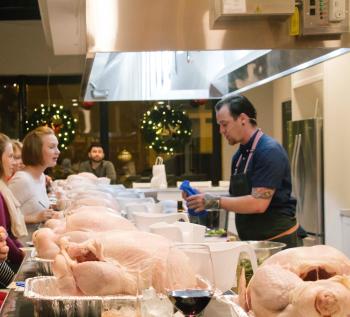 Nov. 21, Thanksgiving Turkey Class, New Albany 
MESA, A Collaborative Kitchen will offer a class on how to prepare a turkey by chef Scott Dickenson. In the second annual Thanksgiving Turkey Class, guests can prepare their family's Thanksgiving dinner the day before. Class includes a full turkey with all the ingredients, a recipe card, and a fall shooter cocktail. 
When: Cocktails: 5:30-6:30; Class: 6:30-8 p.m., Wednesday, Nov. 21
Where: MESA, A Collaborative Kitchen, 216 Pearl St.
Cost: $55 per person, includes a full turkey to take home
Info: MESA, A Collaborative Kitchen, (812) 725-7691

Nov. 23, 2018, Turkey Hangover Scramble, Henryville
Come and play golf in the 11th Annual "Turkey Hangover" Scramble presented by Fuzzy's Vodka at Fuzzy Zoeller's Champions Pointe Golf Club.
When: Fri., Nov. 23, 10 a.m. 
Where: Champions Pointe Golf Club
Cost: Early Bird Special - Sign up and pay by November 14th for $100/team. The regular price after November 16th is $120/team.
Info: For sign-ups or more information call 812-294-1800, ext. 4.

Nov. 23, Black Friday 2-Person Scramble, Jeffersonville
Play a few rounds of golf in this 2-person, 18 - hole scramble in Jeffersonville, IN. The deadline to sign up is November 21st at noon. 11:00 a.m. (Shotgun start). Teams will be flighted by the team's total handicap. Open to men, women, couples & the general public.
When: Fri., Nov. 23, 11 a.m.
Where: Elk Run Golf Club
Cost: $40 for Members and $60 for Non-Members. Includes golf, prizes, and food following play. Optional $20 team skins game. Limited to the first 50 teams! 
Info: To sign up call (812) 283-9022 ex. 1 or go to https://www.elkrungolfclub.com/event/black-friday-2-person-scramble

Nov. 24, Stocking Stuffer Stash, Jeffersonville
Make a big impact and support small businesses. Get some holiday shopping done at the Stocking Stuffer Stash event hosted by Wimsatt Soap Company in Jeffersonville.
When: Sat. Nov. 24, 11 a.m. - 2 p.m.
Where: Wimsatt Soap Company, 1325 Skyline Dr.
Cost: Free
Info: For more information call 502-544-7014

Nov. 23 & 24, Schimpff's Confectionery Holiday Candy Making, Jeffersonville
Watch Warren and Jill Schimpff and staff make candy canes and ribbon candy for the holiday season, using the same copper kettle and roll molds that founder Gustav Schimpff used in 1891.
When: 10:30 a.m. - 3:30 p.m., Friday (ribbon candy) and Saturday (candy canes), Nov. 23 & 24
Where: Schimpff's Confectionery & Candy Museum, 347 Spring St.
Cost: Free
Info: http://www.Schimpffs.com 

Nov. 24, Holiday Fest, New Albany
Celebrate the season with this family-friendly event featuring a scavenger hunt, a photo booth at the Carnegie Center, and ornament painting at Uptown Art. The YMCA will have a children's program from 2:30-5:30 p.m. Later that evening is the "Light Up #OurNA" tree lighting ceremony at Bicentennial Park.
When: Holiday Fest, 2-5 p.m.; Light Up #OurNA, begins 6 p.m., Nov. 24
Where: Downtown New Albany
Cost: Free
Info:  Facebook Event Page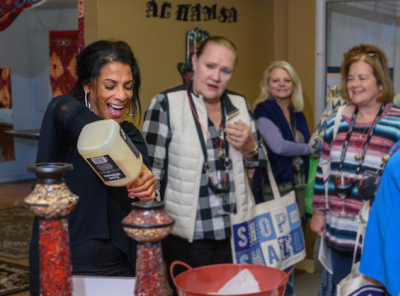 Nov. 24, Jingle Walk: Wine and Shop, New Albany
Sample wine from 14 wineries at Downtown New Albany businesses and celebrate Small Business Saturday. Check-in begins at City Square, home of the Farmer's Market, and will feature a Christmas Bazaar. The event will be held rain, snow, or shine. A valid ID will be required at check-in. This is a 21 and older event. All alcohol must be consumed while in the shops. Wineries may have bottles available for sale. Please drive responsibly.
When: 2-5 p.m., Jingle Walk, Sat., Nov. 24
Where: Downtown New Albany
Cost: VIP Tickets: $35 gets you early entrance at 1 p.m. Advance tickets: $25 includes wine glass & wine bag; $35 includes glass, bag & wine, glass holder. Day-of Tickets: $25 includes wine glass only. Tickets are non-refundable but can be transferred.
Info:  https://www.facebook.com/NAJingleWalk/

Nov. 23 through Jan. 1, Light Up Charlestown, Charlestown Christmas City
Charlestown is Southern Indiana's Christmas City. The festivities begin with "Light Up Charlestown" at 6:30 p.m. on Friday, Nov. 23, in Greenway Park. Catch the holiday spirit. Through Jan. 1 visit the Animated Light Show on the Square, train rides on the Charlestown Express, the ice-skating rink, Santa Claus, and the beautiful Winter Wonderland with its 50-ft. Christmas Tree.  
When: Nov. 23 - Jan. 1
Where: Downtown Charlestown
Cost: $5 for most rides, ice skating; no admission for parks, animated light show
Info: http://cityofcharlestown.com/christmas-in-charlestown/ 

Nov. 24, Kelly Services presents Jeffersonville's Holiday Lights Parade and Light Up Jeff
Kick-off the holiday season with this annual holiday event showcase. The fun begins with train rides, inflatables, live entertainment, hot chocolate, and visits with Santa and Mrs. C. The parade will run in historic downtown Jeffersonville on Spring Street between Market and 7th St. The tree lighting ceremony will be at Warder Park.  
When: Southeast Christian's North Pole Party, 4 - 6 p.m.; Holiday Lights Parade at 6 p.m., (Spring St. between Market & 7th); Light Up Jeff at 6 p.m. (Warder Park)
Where: Downtown Jeffersonville
Cost: Free, with food available for purchase
Info: https://www.Facebook.com/JeffParksDept 

Nov. 24, Keltricity, New Albany
Keltricity is a Celtic World music band based in Louisville, Kentucky, blending Irish, Scottish, French-Canadian, Cape Breton into the contemporary and traditional sounds of today.
When: Sat., Nov. 24, 8 p.m.
Where: Floyd County Brewing Company
Cost: Free
Info: https://www.facebook.com/events/708885999459947/

Nov. 25, Christmas Tree Lighting, Sellersburg
This annual event features a fried chicken dinner buffet, a visit from Santa (5 pm), caroling, and a Christmas Tree lighting following dinner. This event is open to the public, residents, and members.
When: Sun., Nov. 25
Where: Covered Bridge Golf Club
Cost: Adults $15.95, Kids 12 & Under $7.95
Info: Dinner reservations are required. Call (812) 246-8880, ext. 5 to make your reservation.

Nov. 28, Bone Broth Protein Breakthrough, New Albany
Guest speaker Kevin Brock with Ancient Nutrition talks about transforming your body with bone broth. Learn about the health benefits of bone broth protein, how to add bone broth into your daily life & recipes. Purchase a can & receive a FREE copy of Dr. Axe's book "Bone Broth Breakthrough" or "Multi Collagen Makeover".
When: Wed. Nov. 28, 5:45 p.m. – 6:45 p.m.
Where: Seeds and Greens Natural Market and Deli
Cost: Free
Info: https://www.facebook.com/events/1054549364726515/
We can't wait to have you here in SoIN this Thanksgiving season and we hope to see you soon. Safe travels!