It truly doesn't get much better than enjoying a frozen treat with family and friends on a SoIN summer day! When you are looking for a sweet treat to cool you down, why not venture out from the usual chocolate or vanilla cone and try something different!
Southern Indiana has ice cream shops offering unique flavors, serving utensils, and atmosphere for you to try out this season!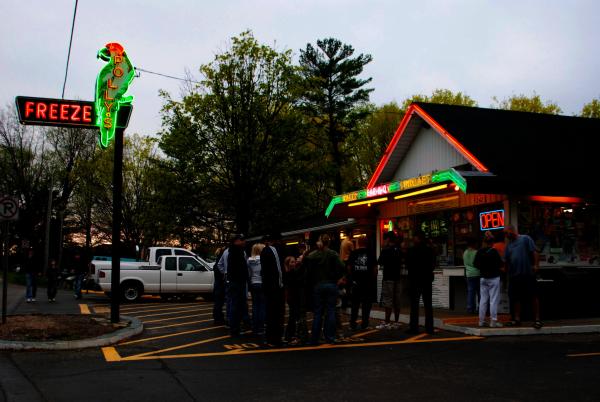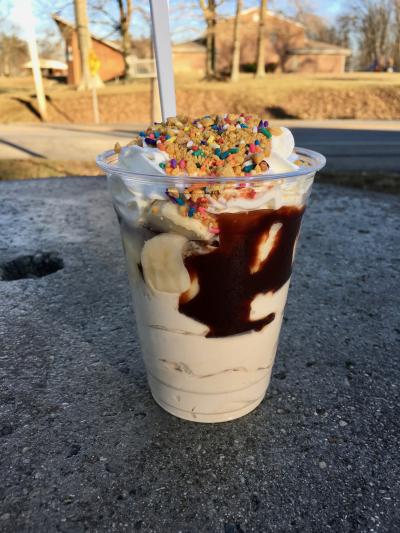 Retro Nostalgia: Polly's Freeze
Take I-64 up to Georgetown to Polly's Freeze, a local drive-in restaurant and ice cream shop serving delicious treats in an authentic 1950's atmosphere. Step back into 1952 where shakes and burgers are still served underneath the bright neon parrot. If you want to continue the retro-themed evening, head down to Georgetown Drive-In to catch a movie!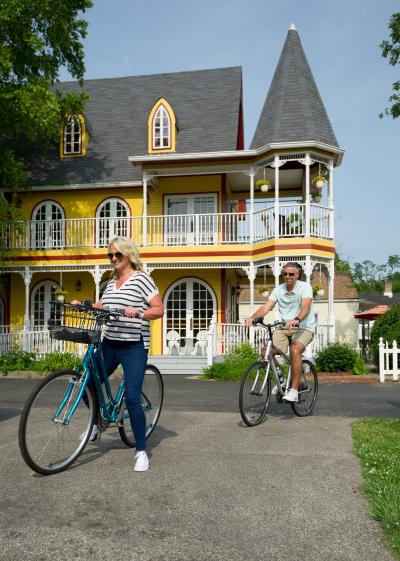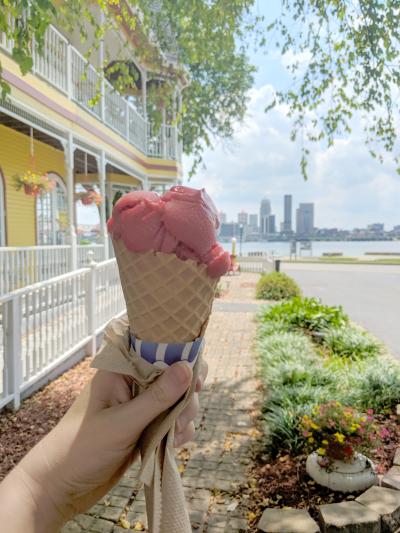 Ice Cream with a View: Widow's Walk Ice Creamery
This charming Victorian-replica home along the Ohio River offers ice cream treats and the best views of the Louisville Skyline. Enjoy one of its 22 hand-dipped ice cream flavors, specialty shakes or sundaes in tranquil gardens. Two local favorites are the Proud Mary's Peanut Butter Cup Sundae and the Bananaberry Shake.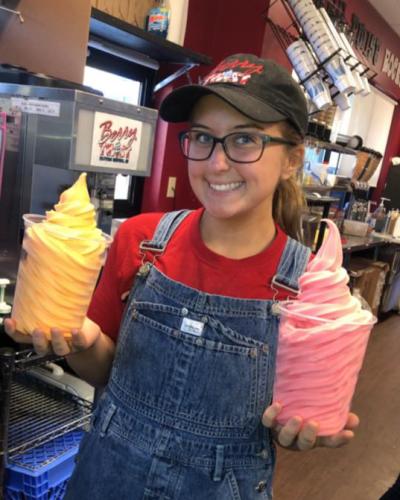 Sherbet Crazy: Berry Twist
A Floyds Knobs tradition since 1978, the Berry Twist serves your favorite ice cream treats! Follow State Street in New Albany, known as "Paoli Pike" by locals, for a scenic drive with vistas overlooking New Albany and Downtown Louisville. ​Berry Twist has a reputation for having the best sherbet around, with over 24 flavors, three offered daily. Follow its Facebook page, @ILoveBerryTwist, to find out which flavor is available when you visit.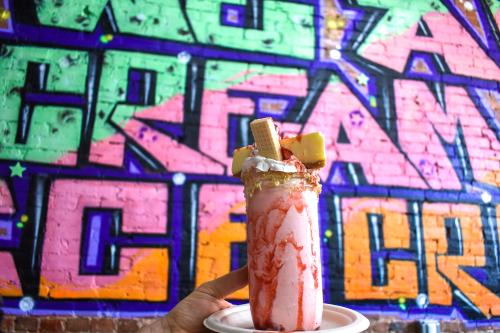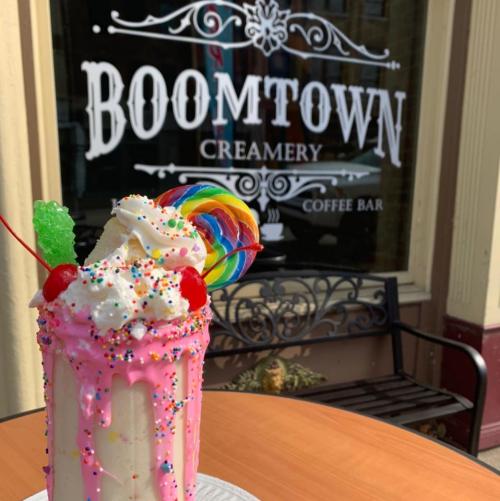 Over-the-Top Milkshakes: Boomtown Creamery 
The neighborhood ice cream parlor in the heart of historic downtown New Albany is serving up a variety of cold, sweet treats – from classic hand-dipped ice cream cones – to decadent, crafted milkshake concoctions known as "Boomshakes." The shop offers 10 flavors of ice cream. Bestselling milkshakes include the Strawberry Cheesecake and the Mega-S'more-Us.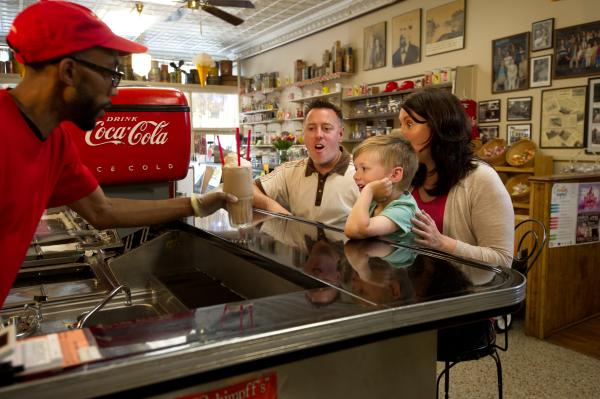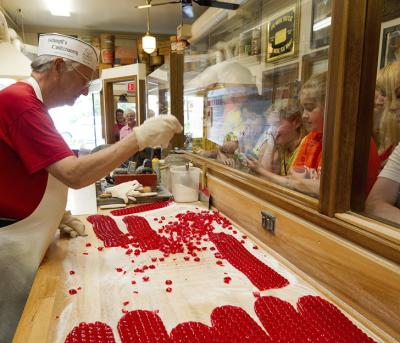 Milkshakes with a Side of History: Schimpff's Confectionery
Located in historic downtown Jeffersonville is one of the oldest, continuously operated, family-owned candy businesses in the U.S. It opened in its present location in 1891! This unique confectionery and candy museum comes complete with a 50's soda fountain serving sandwiches, soups, chocolate sodas and old-fashioned milkshakes! Make sure to catch a live candy demonstration showing visitors how candy has been made by hand for over 130 years!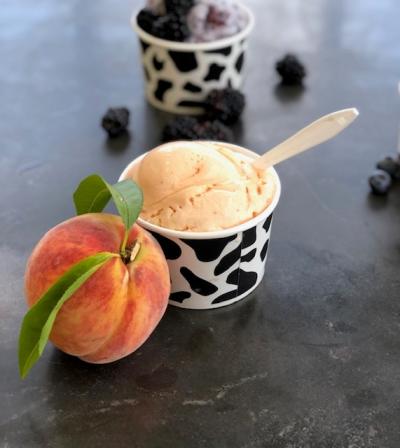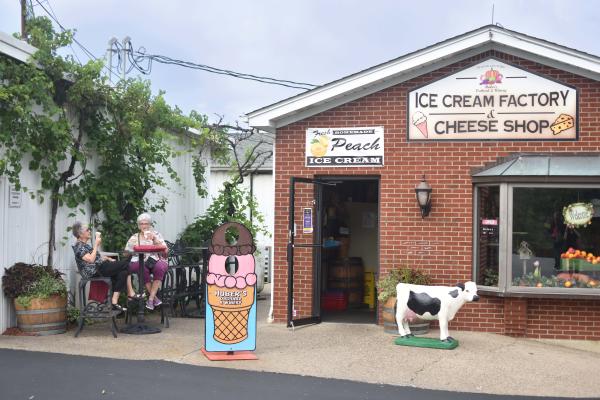 Fresh from the Farm: Huber's Ice Cream Factory
Spend a day on the farm and enjoy some homemade ice cream at Huber's Orchard and Winery made right on site. They offer seasonal flavors made with fresh fruit from the farm like blackberry, strawberry and peach. Visit Huber's also has a Family Farm Park with activities like mountain slides, mazes, the Grain Train and more. Catch a ride to the fields for U-pick fruits and vegetables from early spring to late fall. Stop for take-home goodies at Huber Winery, Starlight Distillery and the Farm Market.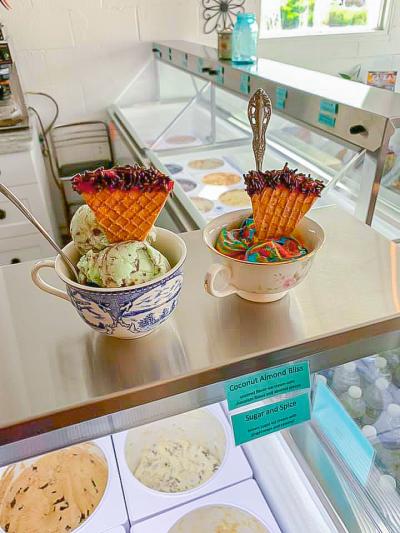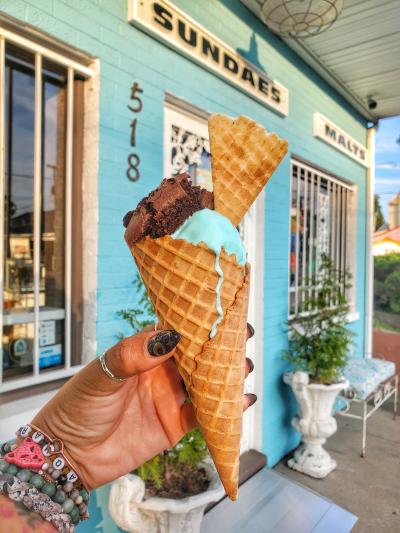 Out of the Ordinary: Uncommon Cups & Cones
Enjoy an eclectic ice cream experience at Uncommon Cups & Cones in New Albany. This antique-filled ice cream shop serves 28 flavors year-round in antique teacups, dishes and cones. Try a sundae, a scoop or a whole flight of flavors. Alongside ice cream, they also serve hot dogs, cold & hot drinks and smoothies. The upstairs area is a wonderful place to host parties or meetings. They're open most evenings, which makes it the perfect after-dinner (or before dinner!) spot. Check their Facebook page, @UncommonCupsandCones, for the latest hours.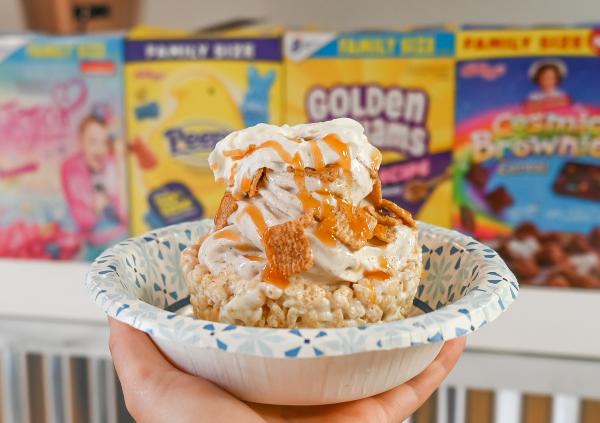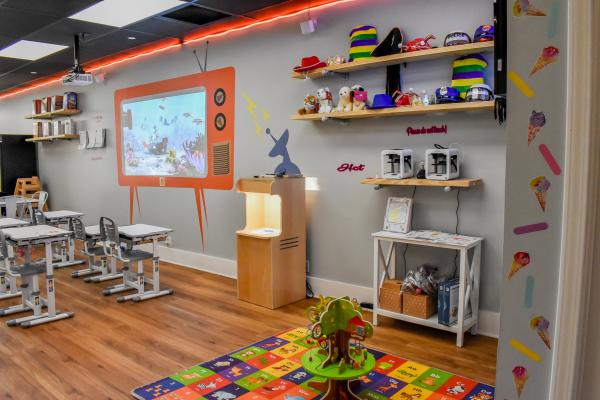 All Mixed Up: Taylor's Cereal Bowl Kitchen 
Create your dream shake combo at Taylor's Cereal Bowl Kitchen in Jeffersonville. They offer more than 30 cereal, candy, fruit and syrup options to build your own shake. Struggling to decide? Try out one of the specialty shakes to satisfy your sweet tooth. Float like a butterfly and sting like a bee with "The Champ Shake" (vanilla ice cream, Honey Bunches of Oats, bananas, honey and whipped cream) or combine your favorite morning treats with "The Hot Shake" (vanilla ice cream, John Conti coffee, Cinnamon Toast Crunch, caramel syrup and whipped cream). This spot also serves as a sensory-inclusive space where families with neurodivergent children can explore interactive activities that build critical thinking and fine motor skills.