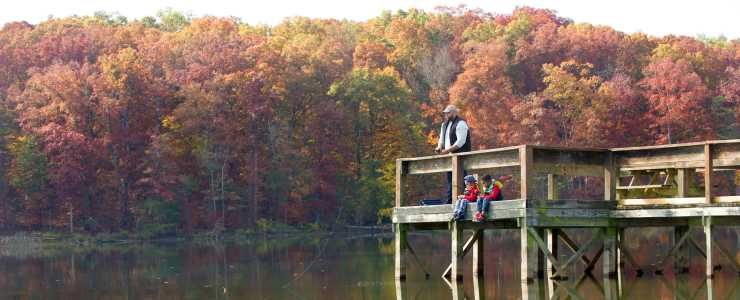 I am not a stranger to the joy of fishing. I grew up having family vacations planned around where to catch the largest fish. Whether it was Michigan lakes, Outer Banks or Alaska. By the time I was 5, I could put a worm on a hook, remove the fish and clean it properly (family rule – if you caught it, you had to clean it!). Though I don't get to cast a line often these days, I still have very fond memories of fishing!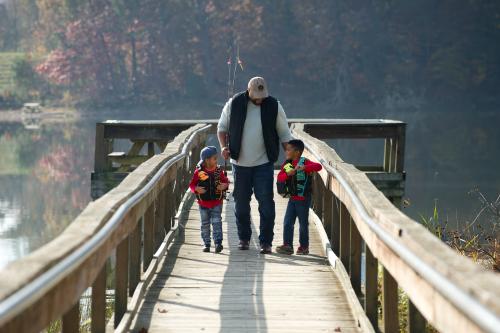 Free Fishing Days
Indiana celebrates "Free Fishing Days" in May, June and September. This is an excellent opportunity to learn how to fish or introduce the kids or a friend to the joys of fishing. On these free fishing days, Indiana residents do not need a license or a trout/salmon stamp to fish the state's public waters. Outside of "Free Fishing Days" all anglers over 18 years of age must have and carry a state fishing license with appropriate stamps.
Fishing Spots in SoIN
Southern Indiana, with its numerous lakes, creeks, and access to the Ohio River, is a prime spot for fishing! You can hook largemouth bass, bluegill, catfish, crappie, walleye, and more!
All anglers over 18 years of age must have and carry a state fishing license. Check before you leave for each location's individual fishing rules and regulations.
Whether you are looking for a day on a boat, standing on a dock, or at the edge of a lake, SoIN has a spot for you. Here are a few spots in Clark and Floyd Counties.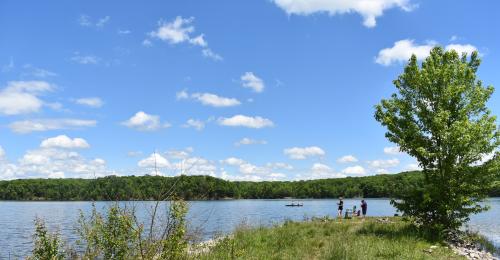 Deam Lake State Recreation Area
The 194-acre lake includes a public boat launch ramp; boat motors are limited to electric trolling motors only. Rowboat and kayak rentals are available from Memorial Day weekend through Labor Day weekend. There are also numerous spots to step up and cast from a dock or land.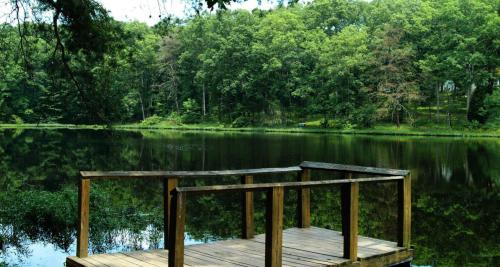 Clark State Forest
Seven lakes are open to fishing; Schlamm Lake (18 acres), Franke Lake (12 acres), Bowen Lake (7 acres), Oak Lake (2.5 acres) Pine Lake (2 acres), Shaw Lake (13 acres) and Wilcox Lake (5 acres). Boat launch ramps are available in all except Pine and Shaw Lakes; boat motors are limited to electric trolling motors only. Indiana DNR typically stocks Oak Lak in Clark State Forest with 405 trout in mid-late October. Indiana Fish Stocking Plan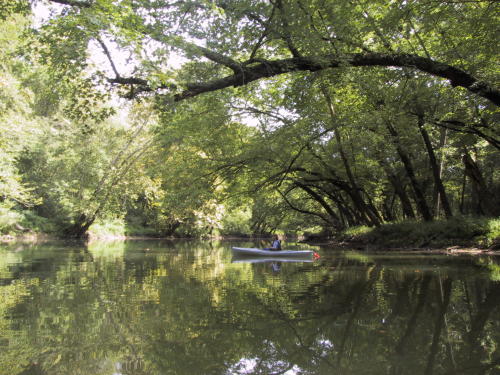 Charlestown State Park
Charlestown State Park has many good spots for stream-bank fishing along 14 Mile Creek on Trail 3. Bass, bluegill, catfish and other game fish are common.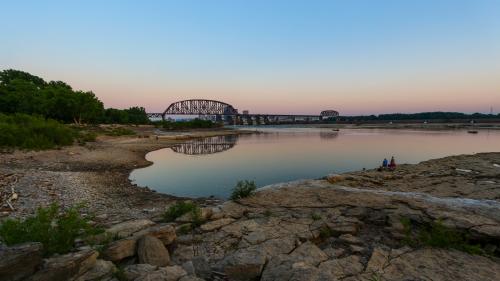 Falls of the Ohio State Park – Ohio River
Many fishing opportunities await anglers of all ages and experience levels at the Falls of the Ohio State Park. You can fish on the shoreline, on the Ohio River (small boats only), and at the boat ramp. Fishing in the Ohio River requires an Indiana or Kentucky fishing license. Fishing in Cane Run and other streams that feed into the river require an Indiana fishing license.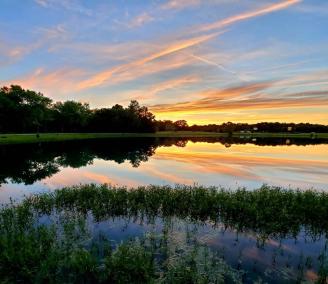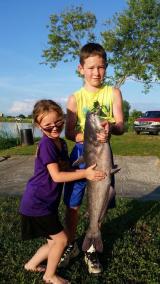 Source: https://www.facebook.com/koppslake/
Kopp's Lake
Kopp's Lake is an outdoor recreation facility that offers fishing, primitive camping, a venue for company picnics and outdoor events. This is a private lake, so you do not need an Indiana fishing license, but you do have to pay an entry fee.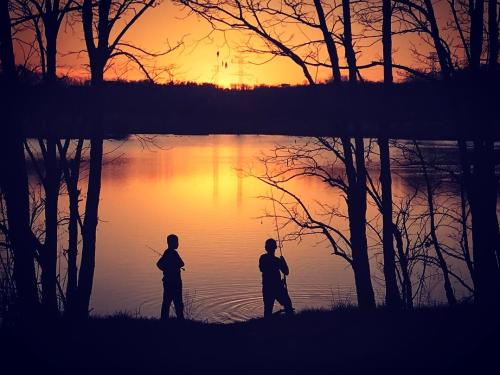 Source: Instagram @carissa_renee
Sam Peden Park
Kiwanis Lake at Sam Peden Park is 15 acres where citizens may fish, or even take specified boats out. In addition to the water activities, there are 5 covered shelters with tables (you might bring your own tablecloth), 4 playground areas, 3 restroom facilities, 3 basketball courts, 11 tennis courts (2 courts lined for pickleball), a sand volleyball court, 6 horseshoe pits, and a 1.25-mile trail for walking, jogging, or biking.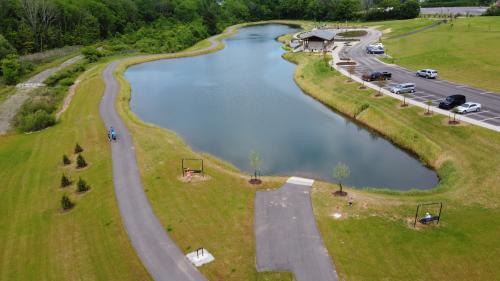 Source: https://www.facebook.com/jeffersonville.indiana/
Chapel Lake Park
Chapel Lake features a large stocked lake for catch-and-release fishing and canoeing/kayaking.
Additional Boat Access to the Ohio River
Duffy's Landing - Jeffersonville
Jaycees Boat Ramp – New Albany
Bonus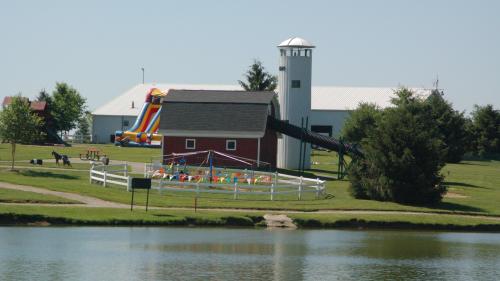 Joe Huber's Family Farm & Restaurant
Joe Huber's Family Farm & Restaurant is known for its delicious scratch-made food, pumpkin patches and event space. Visitors can now enjoy fishing in the lakes at Joe Huber's, too. Fishing is catch and release, and those dropping a line will likely catch bluegill, catfish and bass. Hours for fishing match the restaurant and market – 11 a.m. – 7 p.m. Thursday – Sunday from early March to mid-December. The cost for a fishing day pass is $10 for adults and $5 for kids. Visitors can bring their own gear or rent a rod at the market for $5. Fishing day passes can be purchased at the farm market.
Indiana Fishing Info Resources
Not sure where to find info? Here is a list of resources for fishing regulations from the Indiana Department of Natural Recourses:
Regulations
It's important to know the local fishing regulations. We've included links below to help you find resources.