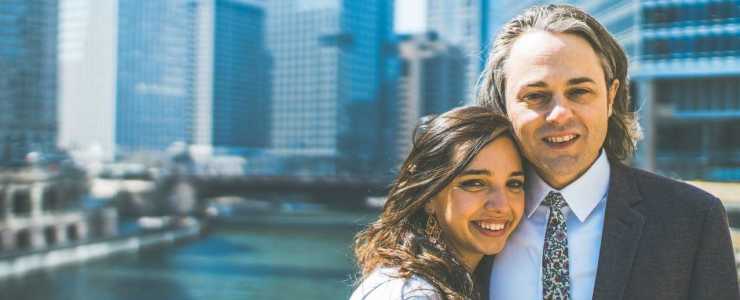 There's something about Abbey Road on the River, the five-day festival on the Ohio River. It isn't just a weekend filled with Beatles music and other acts of the era.
It's something in the air. Maybe it's being near the water. Maybe it is the allure of a bygone era of innocence, but Abbey Road on the River creates strong love vibes along with the music.
Josh Hawkins, a local musician and production manager for Abbey Road on the River, discovered that the festival was more than a job when he met a band from Bogota, Colombia called Classicstone. They immediately connected.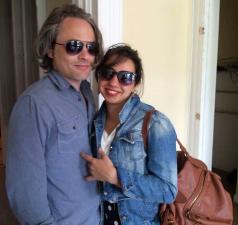 "They arrived on different days because they weren't involved in all of the shows," says Josh. "The core band showed up on a Wednesday, and the festival starts on Thursday."
"That Friday night another girl joined their crew, and I saw her hanging out with the band. I initially thought she was somebody's girlfriend who had just kind of showed up."
Juliana Rodriguez remembered the moment as well. When Josh discovered she wasn't attached, his face gave away his excitement.
"I remember him saying he thought I was someone else's girlfriend, so I saw the look on his face when my brother said I was his sister," she recalled.
Josh was smitten.
And so was Juliana.
"I thought he was the most handsome guy I'd ever seen," she said.
That weekend, they spent as much available time as possible together. Then Classicstone left to perform in New York.
"I was really sad and didn't want her to leave," he said. He was set to return home but instead devised a plan to see Juliana again.
"I was living in Chicago at the time and after the festival was over, I went back to Chicago; but I bought a plane ticket to New York because I had to see her before she went back to Colombia."
In New York, Josh became certain he couldn't let Juliana fade from his life. He was falling in love.
"Spending time with her in New York sort of anchored our relationship," he said.
"We became inseparable, talking on the phone every day. Through the internet, Facetime and Skype, we were able to really keep in touch and really be a part of each other's lives -- and figure out how we were going to be together."
Josh was determined to find a way to be with Juliana. He consulted an attorney and took the proper channels to reunite with his love. When they were finally together again, they married soon after.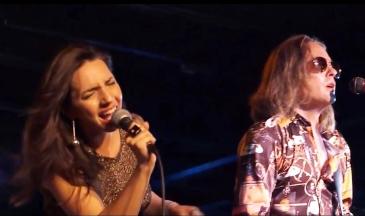 They've since moved from Chicago to Louisville and remain part of Abbey Road on the River. Each year Classicstone comes to play (and visit Juliana) and Josh is there working with the production team.
Juliana waxes poetic about their meeting. "I was not expecting to meet the love of my life. I just came to sing. I guess that's how the best stories happen when you aren't looking for it."
Josh agrees. "It definitely has something special about it. It's just got a really good vibe."
Love is All You Need
This will be Abbey Road on the River's second year in Jeffersonville. Apparently, it's a great place to fall in love.
A story reported in the Courier Journal told of a couple, Tracy and Rachel Renfrow, who were married on the Big Four Bridge just above the Abbey Road on the River festival. Inspired by their mutual love for the Beatles, they wanted to include it in their ceremony.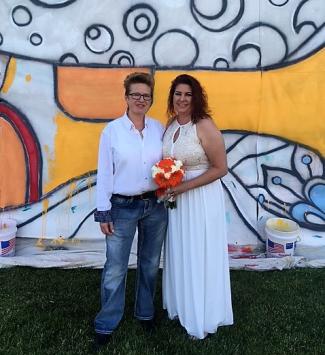 Local wedding planner, Krista Embry and her company, Crown the Day help couples hold "pop-up weddings," small affairs, often held in unconventional locations. Last year, Crown the Day held several pop-up weddings and vow renewals at Abbey Road on the River.
This year the festival is being held May 24-28, and who knows what magical love vibes will come from this year's event?
So, whether you're single, engaged or married, make plans to attend, and may cupid be with you.