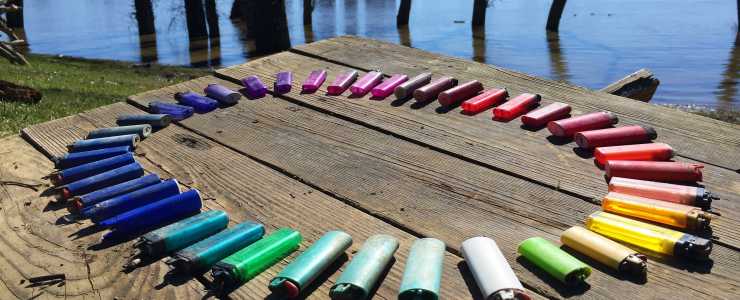 Local artist Al Gorman uses objects washed ashore to create art works. Want to know more about the sculptures? Visit the banks of the Ohio River. 
"It's the day after Christmas at the Falls of the Ohio on an admittedly nippy day. I stopped by my trusty site under the now bare willow trees to see how this latest group of sculptures and artworks are faring. Each time I come out here, I'm just as likely to find things knocked down and destroyed" -Al Gorman-
Did you know there is an artist at Exit 0? 
Just off the highway in Clarksville at the Falls of the Ohio State Park, artist Albertus Gorman creates colorful installations solely from materials he finds along the river at the park. He documents his creations on a blog that he's kept since 2009, Artist at Exit 0. The opening quote is from a 2017 blog post summarizing his river adventures for the year.
Gorman's creations are often colorful, sometimes funny and almost always whimsical, created from discarded plastic tops, foam, flip flops, and other items introduced to the river by humans.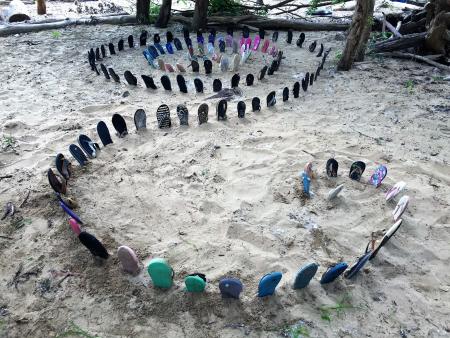 Gorman doesn't simply use human-engineered refuse. He also works with the materials natural to a river and aquatic environment such as leaves, rocks and driftwood.
"I want my art to be in the service of life," says Gorman. "I believe that will give it greater purpose. It's not just about the things at stake [for the environment] or the images I created."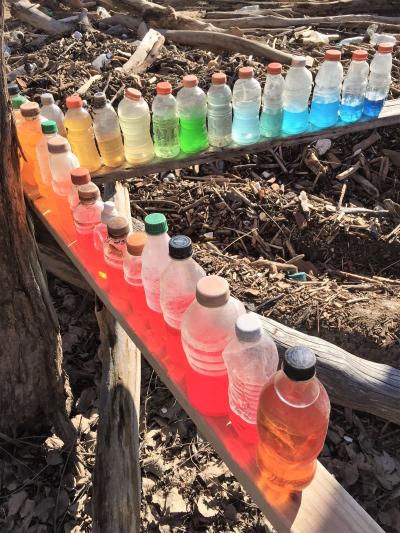 "My work is relational, meaning that the other plants and other animals [nearby] are just as important. A lot of my adventures are about making something of the day."
Gorman works as an artist solely at the Falls of the Ohio State Park. He hosts conversations, artist talks and students who come from art programs around the region to learn about Gorman's work. The materials he finds often remain in the park, but some objects he takes and stores in his basement at home for another project.
"The river is a metaphor for the journey we all take in life," says Gorman. "It is both my outdoor studio and my gallery."
"I work extremely locally, but because I put stuff online, I can have a global presence."
Gorman was trained in drawing and has a Bachelor of Arts from Murray State University and a Master of Fine Arts in drawing from the University of Cincinnati. He credits his training for helping form his unique view of his choice of materials and art.
"It's very basic, but drawing is key to so many things. What drawing does is teaches you how to look," he says.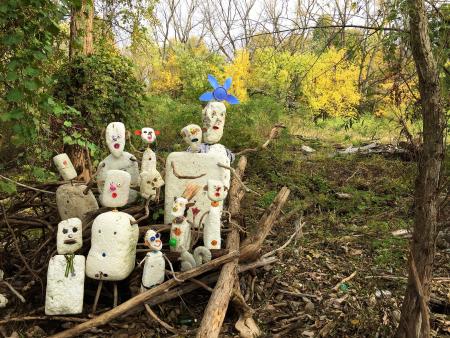 What he sees in his found materials is more than the pollution of the river and he realized quickly that using a drawing of these things wouldn't have the same impact.
"The simple fact is drawing things that show things like environment destruction just wouldn't resonate with people," he said.  "I don't try to overexert my will over my materials. I don't change them much. I respect the process the river has in shaping these materials."
He acknowledges that the amount of plastics and other foreign materials is finds in the river is problematic.
"I became concerned about the state of the environment. What I'm trying to do is to show people that these things do impact nature," he said. "Once these things are in the world, they are in the world. If people get upset about the plastic, then we need to stop making it."
Gorman hopes that as people encounter his work, they will be encouraged to clean up the river but also feel that what he does is something they can access too.
"Hopefully people will say, 'hey this is creative, I can do something like this.' In the long run that's kind of the hope," he says.
_____
Outside of his riverside art, Gorman works as the Coordinator of Public Programs and Engagement for the Carnegie Center for Art and History in New Albany.
His work can be seen at the Falls of the Ohio State Park or on his blog, Artist at Exit 0.