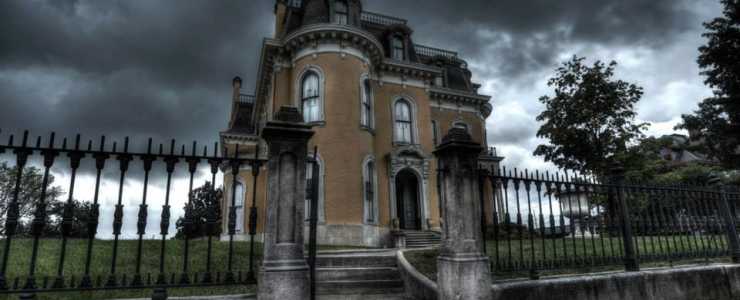 Fall and Halloween are in full swing and Southern Indiana is packed with fang-tastic haunts and happenings to celebrate the spooky season. Here's a round-up of thrills and chills taking place to have a spooktacular time in SoIN!
Hair-raising Experiences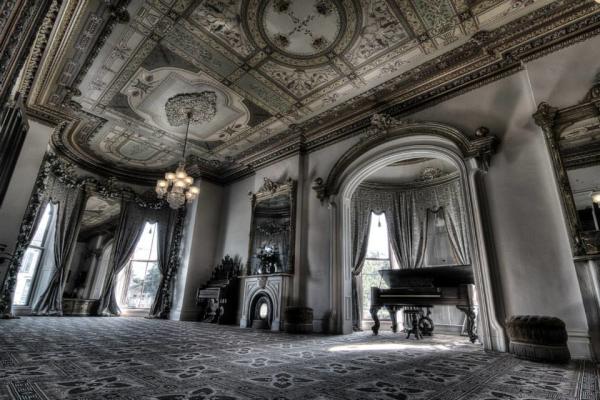 Literally, A Haunted House
"Literally, A Haunted House" is back this year at New Albany's historic and legendary Culbertson Mansion. If you dare, take a tour of the Carriage House in the backyard. This year's theme is "The Webb Institute," - a medial facility working toward the advancement of science - gone wrong!  
Fun (and spooky) fact: Over the years, mansion staff and volunteers have reported strange and unusual occurrences in the Carriage House, including electrical problems, mysterious figures moving from room to room, strange sounds after hours and missing items. So, yes, this is literally a haunted house! 
When: 7-11 p.m., every Friday and Saturday from September 29 - October 28
Where: 914 E. Main St., New Albany
Admission: $18 per person. Get your tickets at the door the night of the event.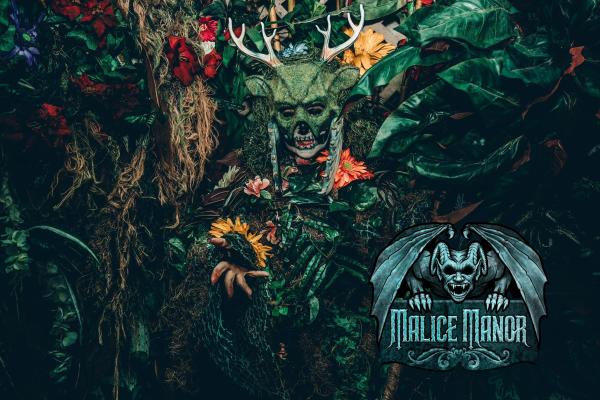 Source: https://www.facebook.com/Malicemanor/
Malice Manor 
This haunted attraction located in Clarksville features more than 10,000 square feet of horror. Depicted as a dreamland of thrills and spine-tingling screams around every corner. Are you brave enough to endure the creatures that have escaped the mind of the Manor's owner?
When: 8 p.m. to 11 p.m. every Friday and Saturday in September; 8 p.m. to 1 a.m. every Friday and Saturday in October
Where: 640 Providence Way, Clarksville 
Admission: General Admission - $25; Fast Pass - $40; Front of the Line - $60
More Info & Tickets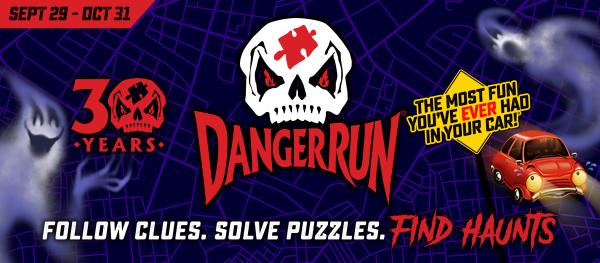 Danger Run
Billed as the "Most Fun You've Ever Had in Your Car," Danger Run is one of the longest-operating Halloween attractions in the region. This immersive scavenger hunt-style game has you driving around to follow the clues that lead you to haunted locations. Beat the game and you and your crew will be entered to win free prizes. Complete the puzzles at your convenience and starting from the comfort of your driveway OR get the full-service experience, complete with a free set of fangs!
When: Full Service – 7 – 10 p.m. every Friday & Saturday from Sept. 29 – Oct. 21; Self Service – Available 24/7 from Sept. 28 – Oct. 31. 
Where: 2221 State St., New Albany
Admission: The base game of Danger Run costs $20 per person and DOES NOT include admission to haunted houses. Pay $40 per person to include haunts. Groups of 4 or more participating in the self-service experience save $15 by using code "CARLOAD" at checkout.
More Info & Tickets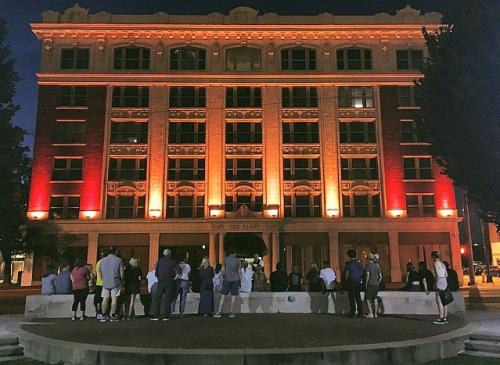 New Albany Wicked Walk 
Take a walking tour to explore all things wicked in downtown New Albany and hear the stories of strange and creepy happenings during a New Albany Wicked Walk. This is a historical tour, not a haunted house, where you'll learn chilling, graphic and shocking details from the past! Be prepared to walk about two miles as the tour lasts approximately 2.5 hours. Held rain or shine. This year's "Spooky Season" tours include Friday the 13th tours and Full Moon tours!
When: Visit NewAlbanyWickedWalk.com for specific details on tour times
Where: Tours takes place in downtown New Albany and typically meet at 202 East Market Street at least 10 minutes prior to the start of the event. 
Admission: Tickets are $25 per person plus sales tax.
More Info & Tickets
NEW in 2023!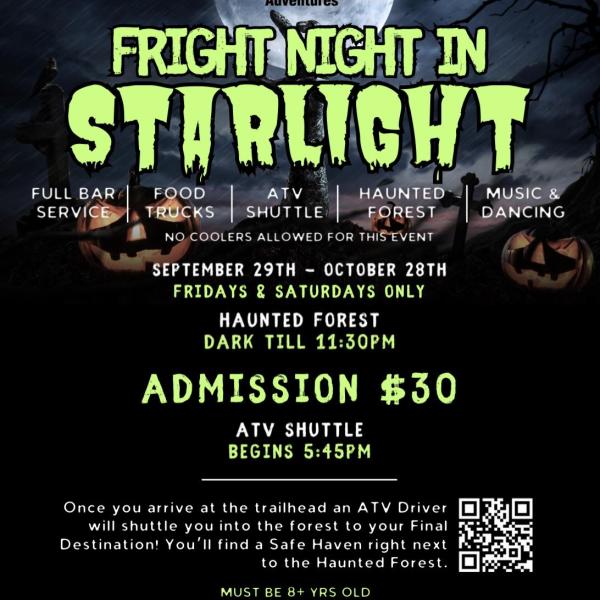 Fright Night in Starlight
Southern Indiana's newest attraction, The Woods ATV Adventures, is getting into the Halloween spirit with their own spooky event! At Fright Night in Starlight, thrill-seekers are shuttled to a Safe Haven via ATV. From there, they can access the Haunted Forest, enjoy music and dancing, and purchase food and drink from a full-service bar and food trucks. Attendees must be 8 years of age or older.
When: Every Friday & Saturday from Sept. 29 – Oct. 28; ATV Shuttle begins at 5:45 p.m.; Haunted Forest open from dark until 11:30 p.m.
Where: 9699 Saint Johns Road, Borden
Admission: $30 per person
More Info & Tickets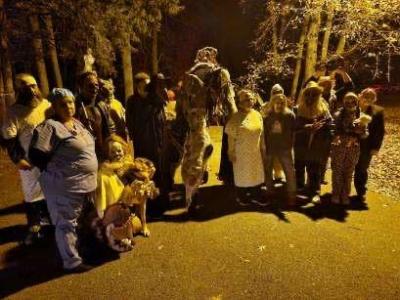 Clifty Falls of Fear Haunted House
Our neighbors to the east are hosting some scares of their own! Get ready for a THRILLING scare at the Clifty Falls of Fear Haunted House! Step into the spine-tingling Haunted House at Clifty Shelter – if you dare! Your visit supports the incredible Friends Group.
When: 7-10 p.m. October 20 & 21 and October 27 & 28
Where: Clifty Falls State Park, 2221 Clifty Dr., Madison, IN 47250
Admission: $10, Cash only
Trick and Trunk or Treat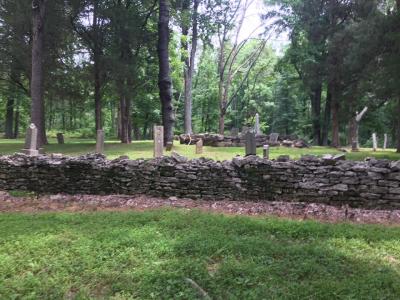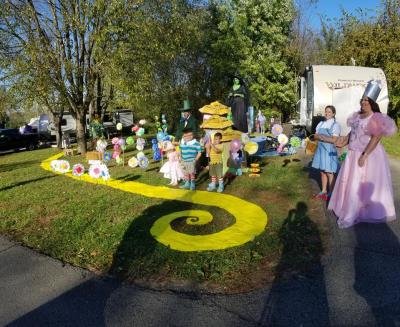 Source: https://www.facebook.com/charlestownsp/
A Haunting Good Time
Charlestown State Park's annual Halloween family-friendly event, A Haunting Good Time, features trick-or-treating and festive decorations throughout the weekend weekend, plus crafts, guided hikes, a costume contest, campsite decorating contest and more! Guided hikes this year include, "Murder on Trail 3" and a cemetery hike!
When:  October 20-22; See Charlestown State Park Facebook event for more details on activities throughout the weekend.
Where: Charlestown State Park, 12500 State Road 62, Charlestown
Admission: $7/vehicle for in state; $9/vehicle for out of state; free with annual Indiana state parks pass.  

Floyd County Halloween in the Park 
Bring the whole family out for Floyd County Halloween in the Park, a jam-packed Halloween event that is sure to have something for everybody. Expect trunk-or-treating, pumpkin decorating, face painting, inflatables, yard games, and a movie at this year's Halloween in the Park presented by Floyd County Parks & Recreation and Floyd County Sheriff's Office.  
When: 3-7 p.m. Sunday, October 22 
Where: Sam Peden Community Park, 3037 Grant Line Rd, New Albany 
Admission: Free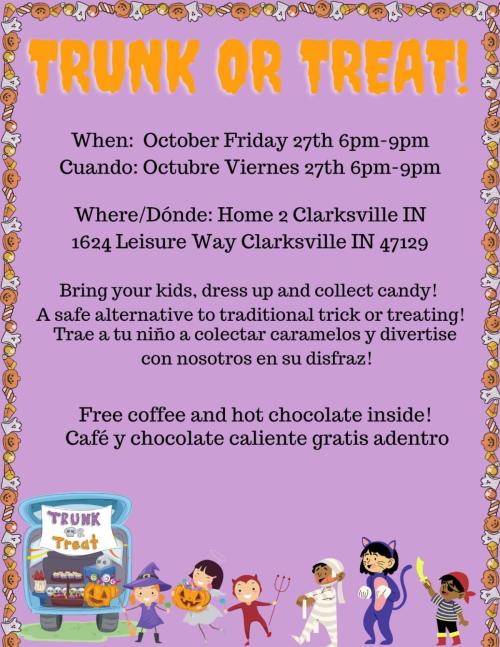 Home2 Suites Trunk or Treat
Gather your loved ones and get ready for a trunk or treat extravaganza at Home2 Suites! Not only will you be treated to a generous dose of free candy, but they also have piping hot coffee and delicious hot chocolate waiting for you inside!
When: 6-9 p.m. Friday, October 27
Where: Home 2 Suites By Hilton Clarksville Louisville North, 1624 Leisure Way, Clarksville, IN 47129
Admission: Free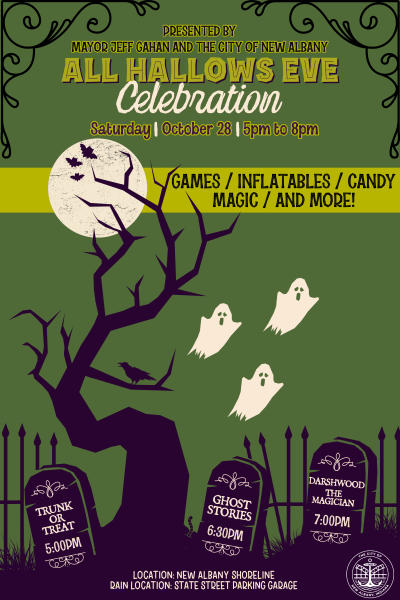 New Albany All Hallows Eve Celebration
Join Mayor Jeff M. Gahan and the City of New Albany at the annual All Hallows Eve Celebration at the New Albany Shoreline with a Trunk-or-Treat, inflatables, ghost stories, a magician and more! Prizes will be awarded for the best costume.
When: 5 – 8 p.m. October 28
Where: 100 E Water Street, New Albany; Rain location: Parking garage on the corner of State and Market streets
Admission: Free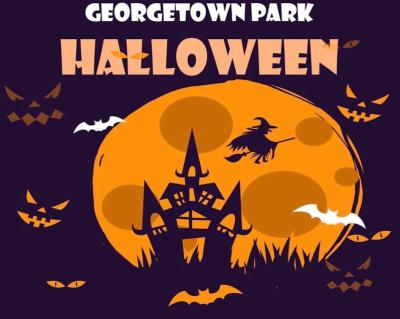 Georgetown Trunk or Treat 
Bounce from one decked-out car to another while filling your goody bags with treats at the Georgetown Trunk or Treat. Enjoy a safe and family-friendly Halloween haven without those endless dark streets or marathon hikes between houses.   
When: 5-8 p.m. Sunday October 29 
Where: Georgetown Park, 9100 Lois Lane, Georgetown, IN 
Admission: Free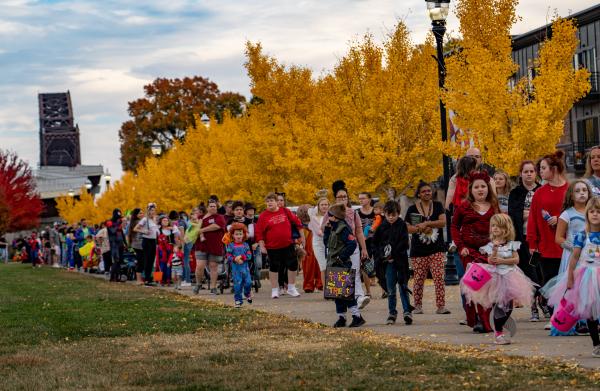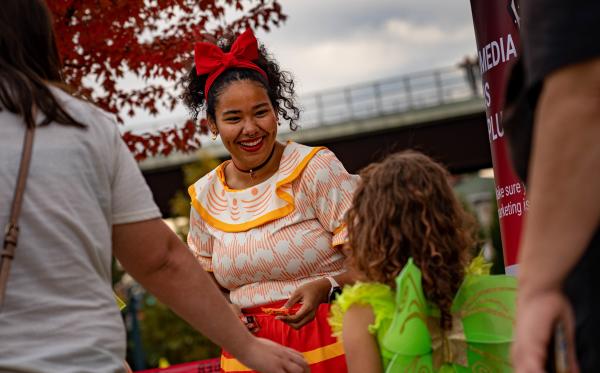 Big Four Boo Fest
Get ready for tricks, treats, music, food trucks and more Halloween festivities at Big Four Boo Fest, a fun event for the entire family.
When: 5-8 p.m., October 30
Where: Big Four Station Park in Jeffersonville.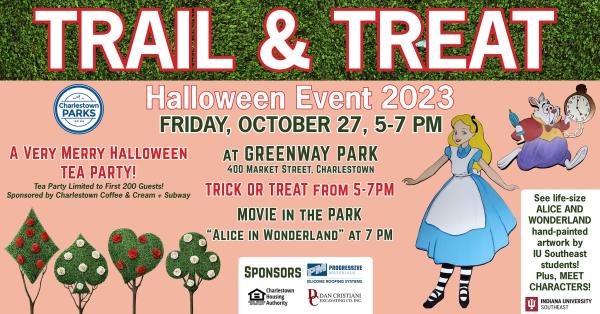 Charlestown Trail and Treat - Alice in Wonderland
The City of Charlestown's annual Trail and Treat event returns on October 27 at Greenway Park. Over the summer, the City of Charlestown partnered with Fine Arts students from Indiana University Southeast to create scenes from Alice in Wonderland, which will be set up along the trick-or-treat trail. Community organizations will be handing out candy to trick-or-treaters. Attendees will also get a chance to meet characters from the movie! The first 200 people in attendance will be treated to "A Very Merry Halloween Tea Party," receiving tea or lemonade and a cookie courtesy of Charlestown Coffee and Cream and Subway. Following Trail and Treat, families can stick around to watch the Disney classic "Alice in Wonderland," in the park. Concessions at the park will be open offering popcorn, hot dogs, chips, candy bars and drinks for sale. Food trucks – Spud Bank, Café Lomez and Big Nita's Cheesecakes will also be in attendance!
When: 5 – 8 p.m. October 27; Movie begins at 7 p.m.
Where: Greenway Park, 400 Market Street, Charlestown
Admission: Free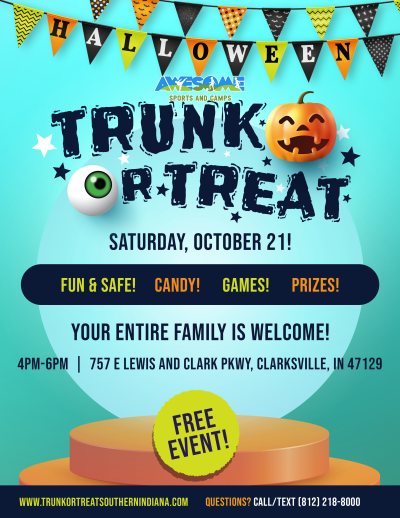 Awesome Sports and Camps Halloween Trunk or Treat
Join Awesome Sports and Camps for their 4th Annual Halloween Trunk or Treat. There will be prizes, games, trunk decorations, and so much more!
When: 4 – 6 p.m. October 21
Where: 757 E Lewis and Clark Pkwy., Clarksville
Admission: Free, Register Here 

IUS Fest
IU Southeast has combined Homecoming and Fall Fest to create IUS Fest, welcoming alumni and the community to enjoy the beautiful campus and fun fall activities. Events include a trunk-or-treat, pumpkin painting, touch-a-truck, carnival games, cornhole and yard games, food trucks and a beer garden.
When: 11 a.m. – 2 p.m. October 28
Where: 4201 Grant Line Road, New Albany
Admission: Free to attend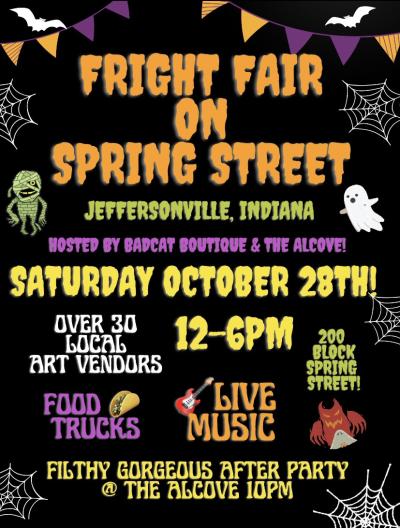 Fright Fair on Spring Street
The 2nd Annual Fright Fair on Spring Street returns to Jeffersonville on October 28. Hosted by Bad Cat Boutique and The Alcove, the block party is a family-friendly event featuring more than 30 artisan booths, live music, beer and grub. Spring Street will close from 12-6 p.m. for shopping, trick-or-treating, street magic, face painting, aerial performances and more! Costumes are encouraged! Head to the Spacious & Bodacious after party at the Alcove at 10 p.m. for a Halloween drag show hosted by Filthy Gorgeous.
When: Noon – 6 p.m. October 28; After Party at 10 p.m.
Where: Spring Street, Jeffersonville
Admission: Free
More Halloween & Fall Events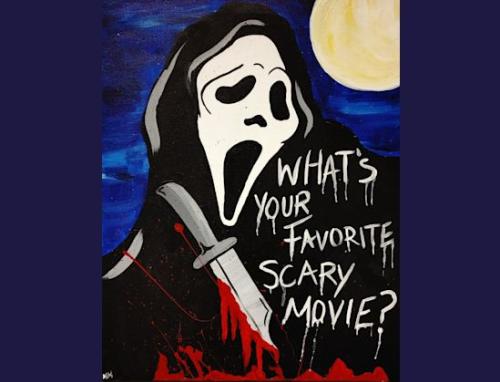 Paint at Viva Art
Add to your Halloween décor when you make your own pop-culture painting this October at Viva Art. Paintings feature scenes and characters from Scream, Friday the 13th and Hocus Pocus.
When: Dates & Cost Varies; View October Calendar & Pricing Here
Where: 426 Bank St., New Albany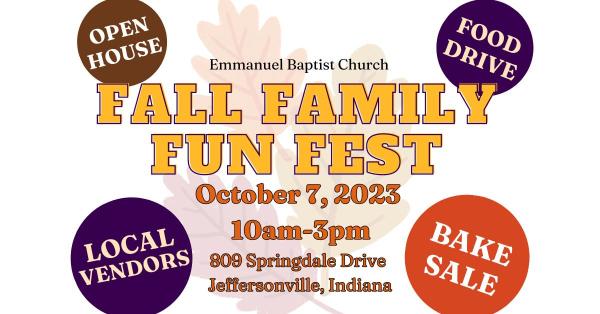 Fall Family Fun Fest
Kick off October with the Fall Family Fun Fest at Emmanuel Baptist Church in Jeffersonville. Shop local vendors and enjoy a meal. Bring canned goods to support the food insecure.
When: 10 a.m. – 3 p.m. October 7
Where: 809 Springdale Dr., Jeffersonville
Admission: Free to attend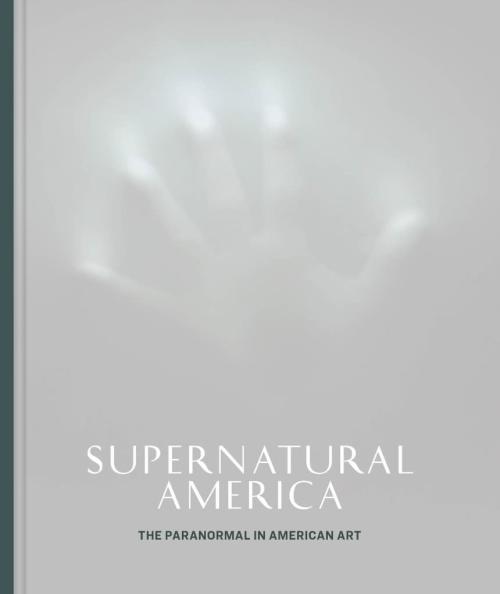 Art Tales
Explore the supernatural in the world of art at Art Tales at the Carnegie Center. Participants will read two chapters from "Supernatural America: The Paranormal in American Art," an exhibition catalogue from the Minneapolis Institute of Art – the first to examine the spectral in American art!
When: 1 – 2 p.m. October 21
Where: 201 E. Spring Street, New Albany
Admission: Free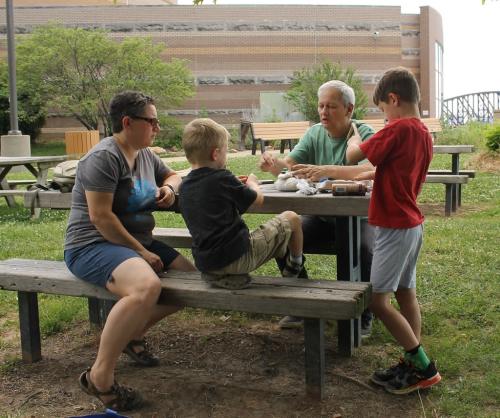 Falls of the Ohio Mask Making
Unleash your inner artist at the exciting NEW Halloween art program at the Falls of the Ohio State Park! At Mask Making, get a blank paper mâché mask provided by the event, and let your imagination run wild with natural materials or paint. Craft something spooktacular or captivating!
When: 3-4 p.m. Sunday, October 29
Where: Falls of the Ohio State Park, 201 W. Riverside Dr., Clarksville, IN 47129
Admission: $2 program fee covered by the Falls of the Ohio Foundation grant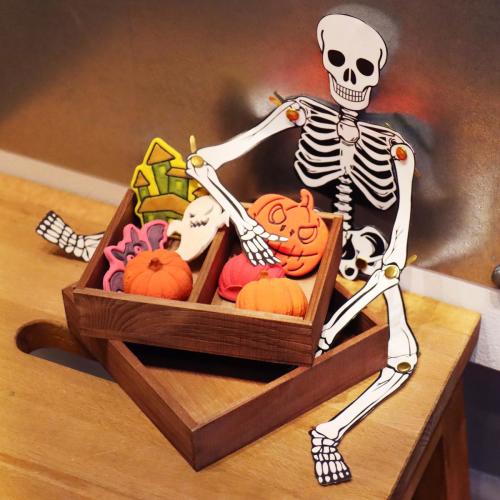 Halloween Artmaking
Create your own Halloween clay sculptures and paper skeletons at Halloween Artmaking at the Carnegie Center! Make your own or use the provided molds and cutters. Costumes are encouraged and drop-ins are welcome.
When: 4 – 6:45 p.m. October 31
Where: 201 E. Spring Street, New Albany
Admission: Free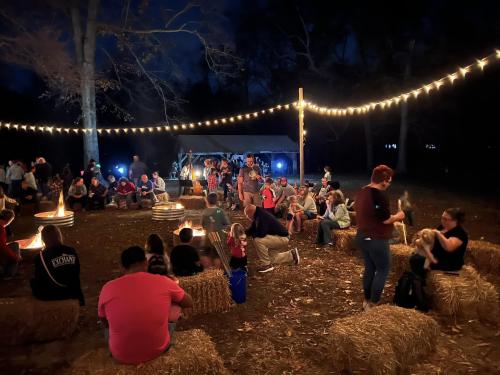 Fall Harvest Hayride 
Get ready to immerse yourself in the irresistible allure of fall's wonders at Lapping Park during the Fall Harvest Hayride. Enjoy delicious hot chocolate as you're taken on a journey through the park on the wagon hayride. Returning this year is the delightful petting zoo! Get up close and personal with a variety of friendly animals, from adorable bunnies to fluffy alpacas. It's an interactive experience that will surely warm your heart and bring joy to all ages. The event also includes live music and a campfire! 
When: 6-8:30 p.m. Friday, November 3 
Where: Lapping Park, 2404 Greentree N, Clarksville, IN 
Admission: Bring a single canned good per person to contribute to a worthy cause. 
Dia de los Muertos: Day of the Dead
Honor the spirits of your loved ones at the inaugural Dia de los Muertos Celebration hosted by City of New Albany Parks and Recreation at Silver Street Park. La Catrina Mexican Kitchen will be leading activities, including creating a beautiful ofrenda (alter to remember loved ones), crafts, face painting, dance performances, a screening of Coco and, of course, delicious food from La Catrina.
When: Noon – 4 p.m. November 4
Where: 2043 Silver St., New Albany
Admission: Free 
If you're looking for more festive fun in the area, Louisville has several haunted houses and Halloween events, including haunted cruises aboard the Belle of Louisville, Pumpkins at Kentucky Kingdom, and the popular Jack O' Lantern Spectacular.  And in the meantime, we "witch" you a Happy Halloween!
Did we miss an event? Send an e-mail with event details to anna@gosoin.com.