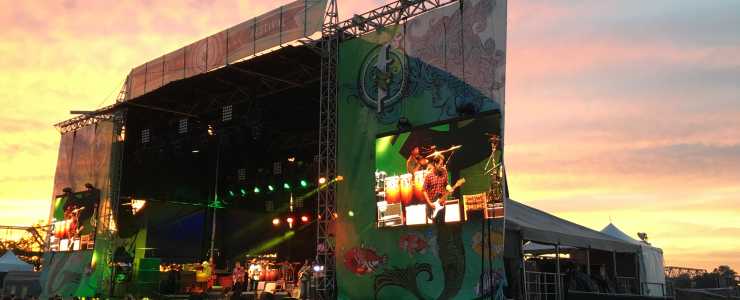 Useful insider tips and what you need to know before
What is Forecastle Fest?
This year, Forecastle Fest is Friday, July 12, to Sunday, July 14, at Louisville's Waterfront Park, the riverside heart of downtown. Forecastle has grown from a small music festival in 2002 to a robust weekend of events that captures not only all musical genres, but experiences: from the Bourbon Lounge to late-night shows to a giant walking Hunter S. Thompson puppet, this weekend is the perfect match of music, culture, and art. There's even a mermaid lagoon. You can find the full list of Forecastle experiences here.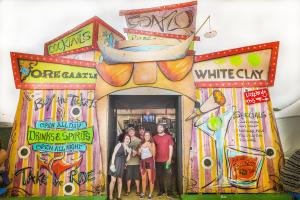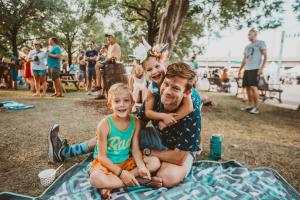 Source: www.facebook.com/ForecastleFest/
Forecastle holds a strong reputation for booking Indie Pop and Folk bands but continues to draw in a variety of genres and generations of solid performers. Headliners include The Killers, The Avett Brothers and quickly rising star Anderson .Paak, a unique hip-hop artist who features strong instrumentals. Other notables include Nelly, the esteemed experimental pop sound of ChVrches, the Cold War Kids, and rapper Denzel Curry. Rising stars include dynamic duo Lucius, Calpurnia, and PJ Morton, the jazzy/rhythm and blues former keys player for Maroon 5. Click here for the full Forecastle schedule. Whether you're visiting for a day or want the full weekend experience, tickets are still available. Day passes range from $79 to $199, and General Admission Weekend Passes start at $184.50.
The Forecastle Festival is not only one of the largest musical festivals of the region, located in the Bourbon Capital of the world, but it's perhaps the only festival where the local watering hole (literally--the hydration station) is conveniently located under an overpass -- the most welcomed stretch of shade to relieve the midsummer humidity of the Ohio River Valley.
Where to Stay. What to Eat.
Forecastle is not only an accessible and family-friendly weekend experience (view map here), but it is surrounded by many indoor food options, lodging, and activities to recover from the July heat and take in the booming culture of Kentuckiana. Where most come for the bourbon but stay for the experience, there are plenty of recommended eats and sleeps in Louisville. However, you can truly capitalize on the cultural draw with fewer crowds by staying in Southern Indiana -- especially in downtown Jeffersonville. If you stay in Sheraton Louisville Riverside Hotel, for example, you can take the Big 4 Pedestrian Bridge to walk to Waterfront Park -- at a mile walk, you'll not only get in your steps, but you'll earn those Hi-Five Doughnuts later between shows.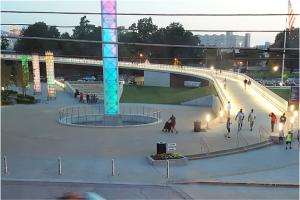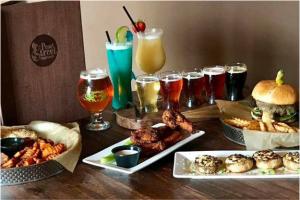 Source: www.facebook.com/pearlstreettaphouse/
In downtown Jeffersonville, the ideal hotel stay includes TownePlace Suites, conveniently tucked into a corner of the art-inspired downtown, also conveniently located right next to the pedestrian bridge. From either hotel, you can walk to Pearl Street Game & Coffee for breakfast, Parlour for pizza, or Pearl Street Taphouse for local brews, or make a reservation at Portage House for a modern take on Southern cuisine and hand-crafted cocktails.
Click here to see the full list of Jeffersonville area hotels.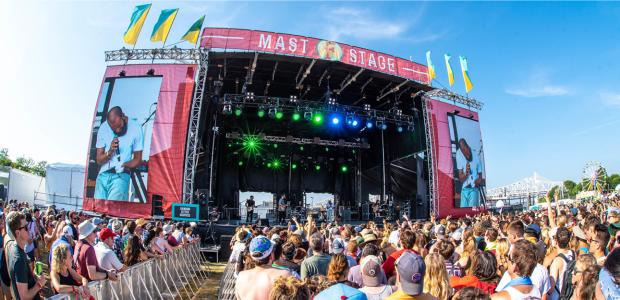 Source: www.facebook.com/ForecastleFest/
The proximity of the festival to local amenities is a major draw for visitors and locals alike, but make sure you prepare for your weekend. Once you've found your hotel, and if you choose not to travel by foot or scooter, using Uber or Lyft might be your safest bet for transportation to and from the festival. However, if you'd rather have your car (and snacks) nearby, be sure to check out this map of public parking near Waterfront Park. And most importantly, check out Forecastle's FAQ's for helpful hints and the festival restrictions on prohibited items and activities. If you're curious about other ways to supplement your weekend fun, check out the local Southern Indiana Visitor Guide for the full Kentuckiana experience