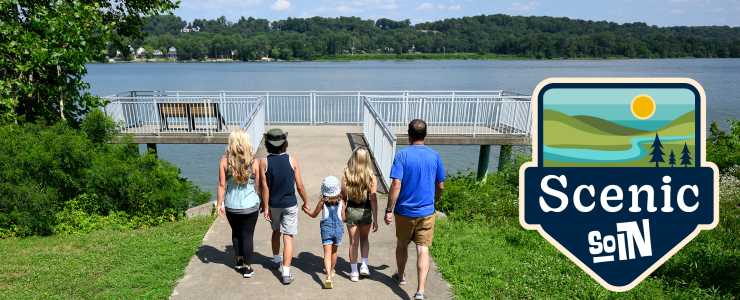 Throughout the seasons, Southern Indiana (SoIN) brings many opportunities for exploration and adventure. With lots of gorgeous spots to explore, SoIN is the place to check out intriguing historical sights, stunning natural landmarks, and adventurous parks.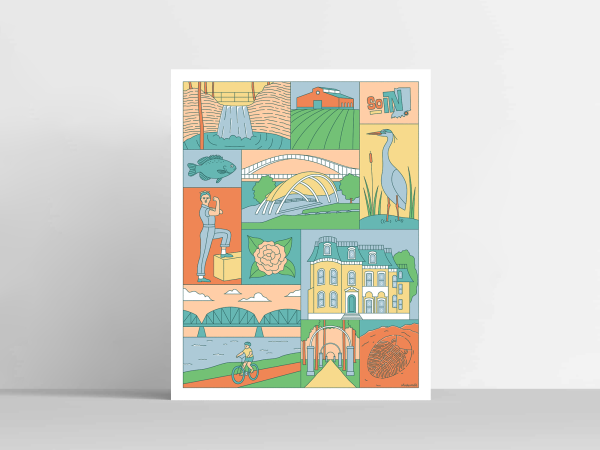 Don't know where to start? The free Scenic SoIN digital passport makes it easy to discover all the beauty SoIN has to offer. Simply sign up and pick from any of the 14 selected sites to discover. Plus, after you've checked-in at 10 sites, you earn a poster designed by artist and SoIN native, Matthew Clinard. Made to capture all the beauty of this area, you can download the passport today to begin discovering Scenic SoIN.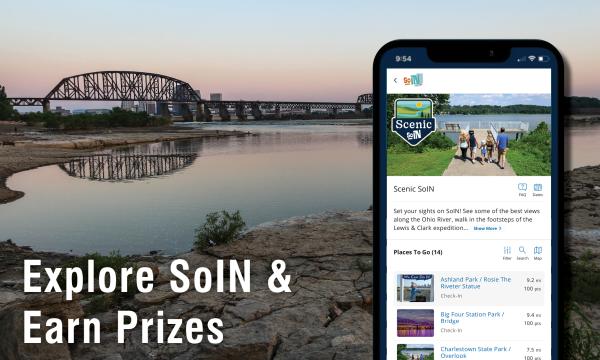 Here's how to hit 10 spots in one weekend!
Day 1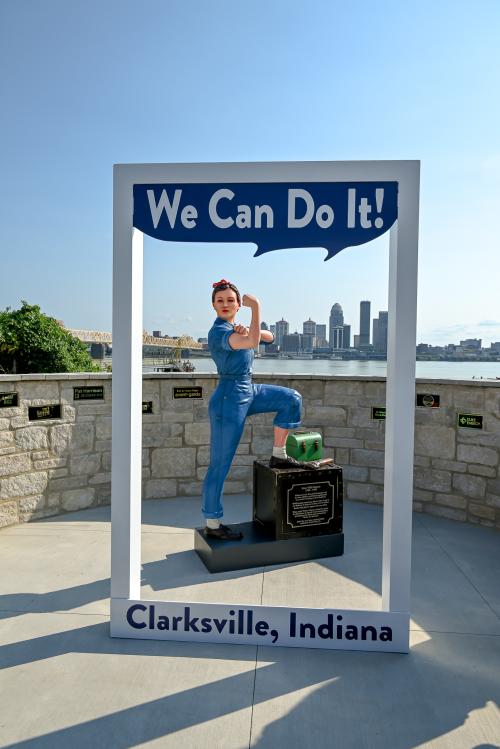 Ashland Park
Start your adventure at Ashland Park in Clarksville. This small park has a stunning view of the Ohio River and our neighboring city, Louisville, across it. It's the perfect place to start on the Ohio River Greenway, but don't forget to get a picture with Rosie the Riveter before you take off!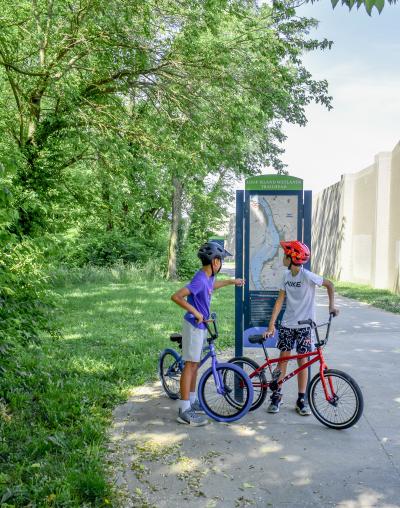 Ohio River Greenway
After you've checked out Ashland Park, start on the Ohio River Greenway. This 7.5-mile-long paved pathway runs along the river connecting three of our riverside communities! It offers a tranquil environment for walking, jogging, or riding your bike. Let the sun kiss your skin and the cool fall breeze awaken your senses as you make your way to the next stop at Falls of the Ohio State Park.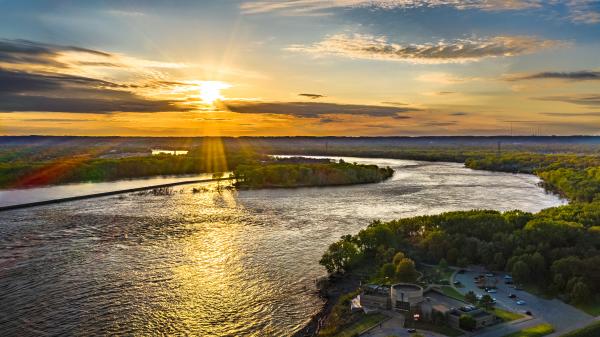 Falls of the Ohio State Park
Ready to learn about fossils and the history of the land here in SoIN?! Well, this is the right place to stop. Once you've hopped off the Greenway, head into the interpretive center to learn all about life found in this area going back before the dinosaurs! Then, head down to the fossil beds to investigate the largest, exposed Devonian fossil beds in the world!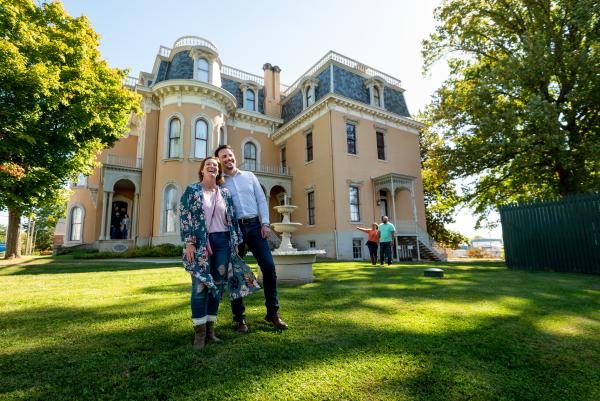 New Albany Mansion Row
It's time for your last stop of the day! Jump back on the Greenway if you're up for the walk, or head back to your vehicle to drive and head to New Albany Mansion Row. Here you can see a number of historical homes. Culbertson Mansion State Historic Site, the most renowned mansion on this strip, is brimming with history. You can book a tour to view the inside of the mansion or simply admire its grandeur from the outside. Don't forget to read the historical markers along the row sharing the rich historical knowledge of this area. 
For a bonus activity, spend your evening in downtown New Albany for some light shopping at locally owned stores and grab dinner at one of New Albany's many restaurants.
Day 2
Jeffersonville RiverStage
Day 2 starts at the Jeffersonville RiverStage. Seated right on the river, this picturesque spot offers a great location to take some Instagram-worthy photos, have a picnic, or watch a live performance. Be sure to check out their website for a list of events, including free concerts, to make your visit even more memorable.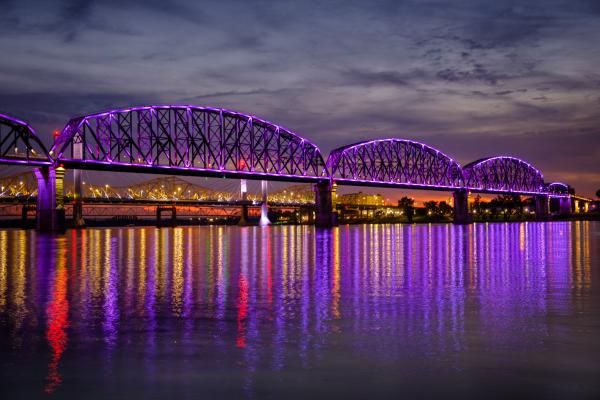 Big Four Pedestrian Bridge
Next, make your way over to Big Four Station Park and the Big Four Pedestrian Bridge. Immerse yourself in the park's artistic charm and learn about local celebrities through their biographies. Walk, jog, bike, or even scoot across the one-mile bridge (2-mile roundtrip) that leads directly to Louisville's Waterfront Park. Scooter rentals are available, and e-bike rentals are available from The Bicycle Station just down the road.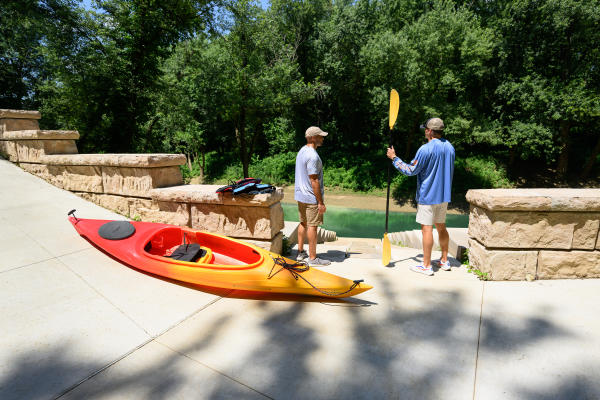 Origin Park
After your adventure over the river, it's time to get back to SoIN. Head over to Origin Park where you can launch your canoe or kayak from Croghan Launch for a paddling adventure, try your hand at catching some fish, or take a hike through the wetlands. Whatever you decide, you won't be disappointed with the scenery.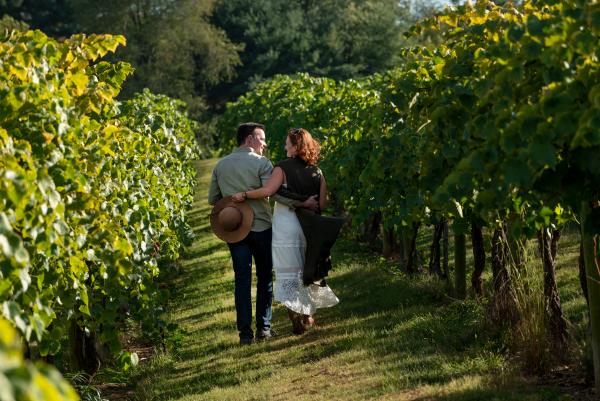 Huber's Orchard, Winery & Vineyards
After a long day of adventure, it's time to chill out. Head up to Huber's Orchard and Winery for some much-needed wine and spirits tasting, easy shopping, family fun, and maybe even some U-Pick fruits, vegetables, flowers, pumpkins or Christmas Trees! The seasonal Family Farm Park offers a range of farm-themed attractions. Explore the market area for baked goods, cider and more, then stop by the distillery or winery for a tasting and a bottle to take home.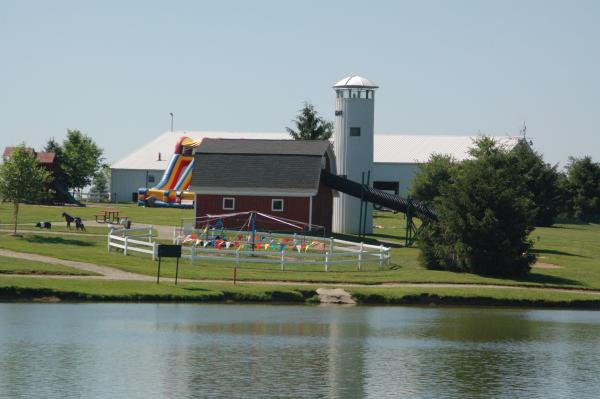 Joe Huber's Family Farm & Restaurant
After your day of hiking and exploring, it's time to have some dinner. Drive up to Joe Huber's Family Farm and Restaurant to have a classic country meal. Served with fried biscuits and apple butter, any entre is sure to impress, but make sure to leave room for dessert. With options such as various homemade cobblers and pies, including seasonal favorites like pumpkin pie and apple cobbler, your tastebuds will thank you. After your meal, take a leisurely stroll around the farm to see animals, leave a lock on the deck, stop by the "barnyard" playground, and grab a souvenir from the farm market.
Day 3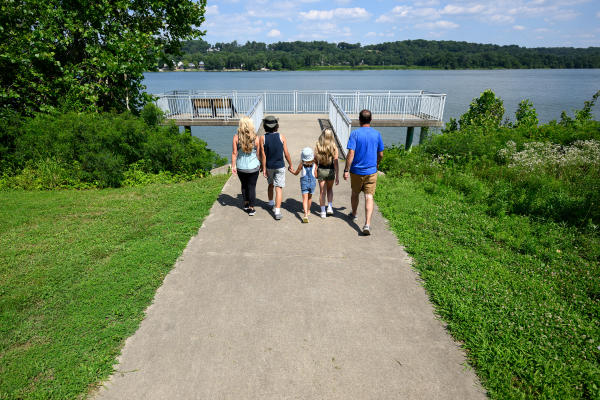 Charlestown State Park
On your last day, spend most of your time in Charlestown State Park. Start your adventure at the Ohio River Overlook to check in and catch a glimpse of the flowing beauty of the Ohio River.  Hike any of the 8 beautiful trails but be sure not to miss Rose Island. Accessible by a paved trail and bridge, Rose Island is truly a hidden gem. Once a resort and amusement park in the 1920s, it is now a nature reserve teeming with history. The towering arches and scattered remains call you in to learn about this marvel of the past. On your way out, grab some lunch at one of the fantastic restaurants near River Ridge.
Claim Your Prize
Congrats! You've done it! You've explored the heart and soul of SoIN, and now it's time to claim your well-deserved poster through the Scenic SoIN app. Simply go the "Rewards" section on your passport and tap "Claim Now" under the "Scenic SoIN Poster Prize". This beautiful poster serves as a lasting reminder of your unforgettable journey.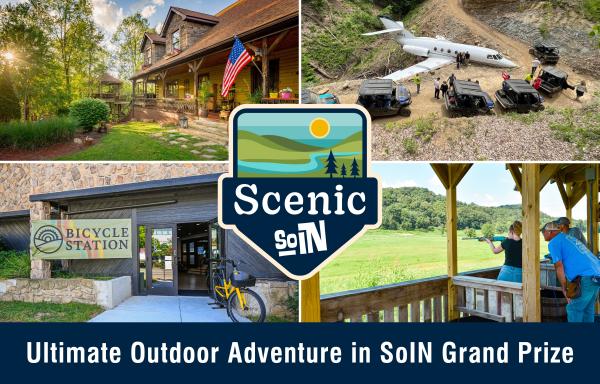 Also keep in mind that each check in earns entries for the grand prize drawing for the "Ultimate Outdoor Adventure in SoIN" package. The package includes an overnight stay at Stone Creek Cabin, an adventure at The Woods ATV Adventures, a clay shooting experience at The Sporting Club at the Farm, and a gift card to The Bicycle Station. 
Sign Up Today!
Don't miss out on this opportunity to capture the beauty and history of Southern Indiana. Start your adventure today with the Scenic SoIN Digital Passport and share your amazing experiences with us using the hashtag: #ScenicSoIN. SoIN is waiting for you!