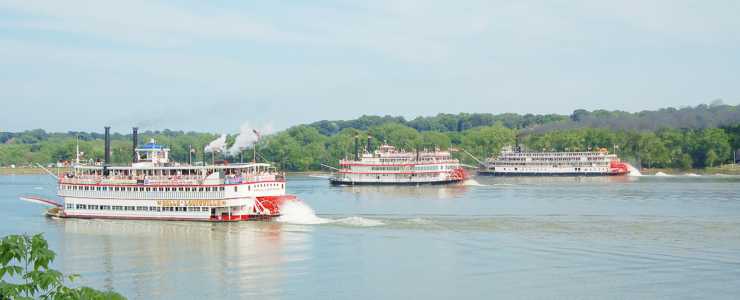 The Ohio River's Race of the Belle's
The party known as the Kentucky Derby Festival has begun in preparation for one of the most anticipated social and sporting events of the year, the 145th annual Kentucky Derby. The Kentucky Derby Festival provides a celebration by sponsoring more than 70 events that let visitors revel in spring and see one of the most famous of all horse races.

Southern Indiana is one of the best places to be to watch one of the most iconic Festival events that happen annually – the Great Steamboat Race, which takes place on the Ohio River.

Since its beginning in 1963, the race is one of the Festival's longest-running events.  Always on the Wednesday before the Kentucky Derby, the 2019 race will be on May 1. It pits the historic Belle of Louisville, the hometown favorite, against the Belle of Cincinnati. The winner of the race is awarded the coveted silver antlers, a symbol of riverboat supremacy.

Not just for the swift

Unlike most races, the first to cross the finish line is not necessarily the winner. The winner is determined by points accumulated from performing a series of five tasks assigned to each competitor throughout the day and during the race. One of the tasks is a Calliope Contest between the two Belles; other tasks are performed by boat crew members on-board as well as onshore.

The Clark Memorial Bridge, also known as the Second Street Bridge, serves as both the starting and finish lines for the race. Beginning at 6 p.m., the boats travel up the Ohio River toward Six Mile Island, then turn around and head back toward the bridge. The race typically is finished by 8 p.m. 

Where to Watch 

The Indiana shoreline, especially West Riverside Drive is a prime spot to watch both the beginning and end of the race. Grab some friends, a picnic, and some refreshing libations, and snag a seat along the river to enjoy a picnic-style afternoon of boat racing. Or call dibs on a seat at one of the riverside restaurants in Jeffersonville.  Kingfish, Cluckers, and Portage House not only offer great views of the race, but each one also offers great culinary fare and drink. All offer alfresco dining.

The Big Four® Pedestrian Walking Bridge is another great place to watch the race. The bridge spans the length of the Ohio River, between Southern Indiana and Louisville Waterfront Park in Louisville, Ky., and is near the race's start and finish line. The bird's eye view offers a perspective like no other. The bridge stretches nearly a mile from start to finish, so be sure to wear your walking shoes.  

For more events around the Kentucky Derby or any time of the year, check out our events page.