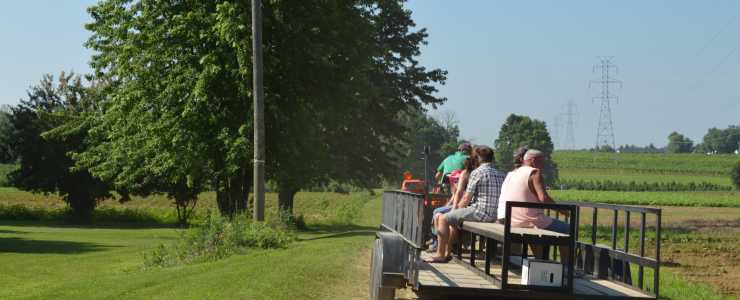 A delicious way to spend a day in SoIN 
My hands are stained purple with juice. The sun is shining on my sunscreen-slathered neck and arms. My bucket is filling with "black gold." I'm picking black raspberries, and all is right with the world.
It's that time of year: berry-picking time! We always love the taste of freshly picked berries from Huber's Orchard, Winery & Vineyards. From spring through summer, Huber's offers strawberries, blueberries, black raspberries and blackberries to pick and purchase. Harvest times can be impacted by a number of factors. Refer to the Harvest Schedule on the Huber's Farm Market web page for a list of estimated harvest dates. To make extra certain your berry of choice is ready for picking, call ahead to check with a Farm Market Associate. The number to call is (812) 923-9813, and select Option '2.'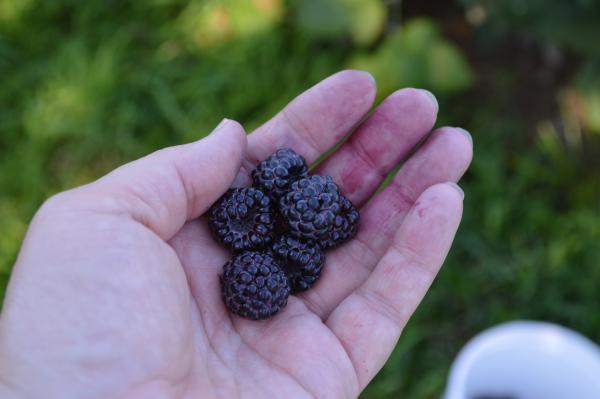 Socializing and Scouting Berries
I put a note on my calendar beginning in mid-June, to check on the black raspberries at Huber's. Every week I hound the farm market staff.  (They must get tired of me.) 
"Are they ripe yet? How about now? Are they ready now?" I'm like a kid waiting for candy. This is my kind of candy.
Once they're ready, I notify the troops. Cheryl and Sharon are my tried and true berry-picking pals. They are willing to get up early on the weekends when they're in town. My mom has even made an appearance or two. Last weekend my friend came with me, but I had a whim this morning, so I'm by myself. 
Today I share the wagon ride with an Indian family from Louisville. As the wind tousles our hair, I talk with the woman about veggies and fruits – what she cooks, eats, and grows.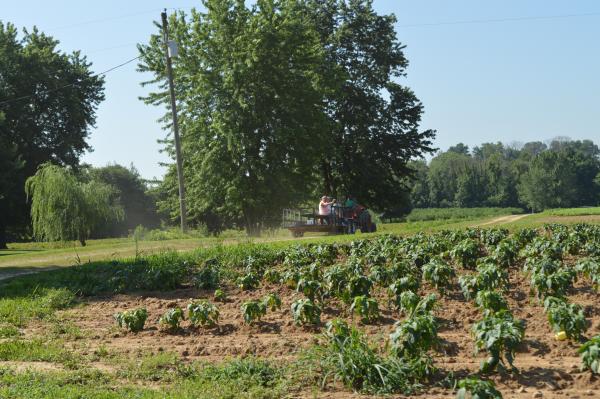 In the field, I scout the black raspberry bushes, walking up and down the rows, peering under leaves and lifting branches – careful to avoid their spines – to find ripe fruit clusters. Black gold!
I see the woman from the wagon ride again. She and her family started picking blueberries and then switched to black raspberries. They don't have these in India, her husband said. 
With a bout of sciatica earlier in the year, I worried I wouldn't be able to pick enough. So, I brought a portable gardening stool with me to take pressure off my back. 
As I pick, I lean over to look at the bottom branches and discover huge clusters of berries underneath. I move my little stool over and pick for a while, then glance back and see berries I've missed. Changing your perspective can be "berry" illuminating!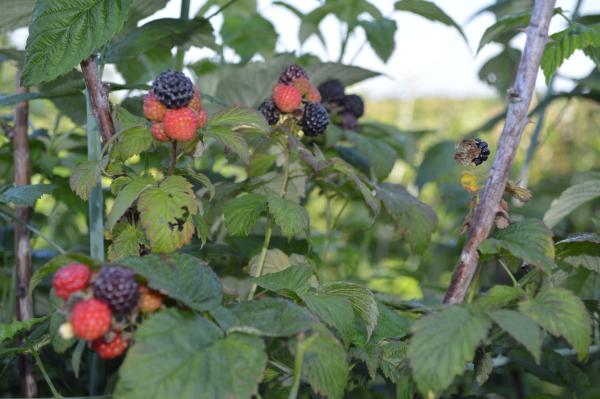 On my first outing, I picked for an hour and got a bucket full. On my second, the branches were heavy with fruit. I fill nearly two buckets. 
I'm an old hand at this berry business. I spent summer days picking with my dad when I was a kid. But this was before I knew Huber's had rows and rows of blueberries and black raspberries. Dad would take my sisters and me out to nearby forests, and we'd find patches of berries to pick. My middle sister was a champion picker, filling our makeshift buckets – coffee cans – full of fruit. I ate most of what I picked, but I do remember contributing to the harvest. Mom might remember it differently, though. 
Wild berries are free to those who know where to find them, but there's another price to pay: chiggers. The tiny mites will get on your skin and you may itch and itch afterward. 

This is just one of the benefits Huber's Orchard offers. Cultivated rows of fruit and produce mean you don't have to search. And wagons that drop you off and pick you up at the field of your choice mean ripe fruit is there for the picking – literally. No tromping through the woods (though there's something to be said of that experience). 
Fruits (and jellies) of my Labor 
What will I do with all of these? (You know I still pop a few in my mouth while I pick. If you've never tasted black raspberries, you don't know what you're missing!)
I mix them with other fruits for a fresh dessert or bake them in pies, muffins or make a sauce for ice cream or cake. I reserve the rest for jelly. 
I gently rinse the berries with water and put them in a pan. I place the rinsed berries in a pan and cook them until they're soft. Afterward, I strain the juice and cook them with pectin, placing canning lids and rings on them. The years I helped my mom with her canning have paid off handsomely for me. 
Yay! I have jelly for the entire year. 
Black raspberries are pretty well done for the season, but blueberries may still be around. I'm marking my calendar for next year. 
If you'd like to stroll the fields for some picking at Huber's Orchard & Winery just give the Farm Market a call at 812-923-9813 and select Option '2' for the U-Pick schedule, availability, and picking conditions. 
Farm Market Finds and Plans to Return
Back at Huber's Farm Market, the produce and its colors were gorgeous! In addition to berries, I purchased some potatoes, tomatoes, and peaches. The peppers are calling my name, too.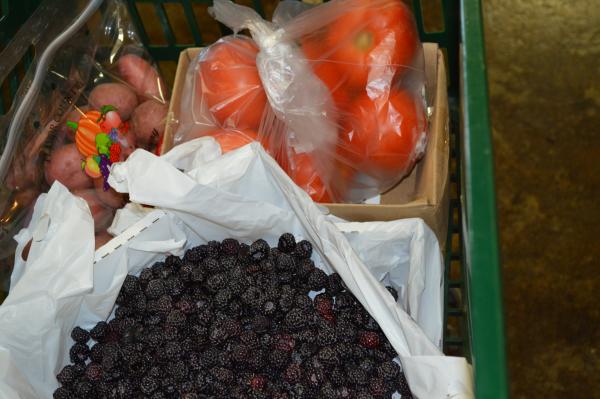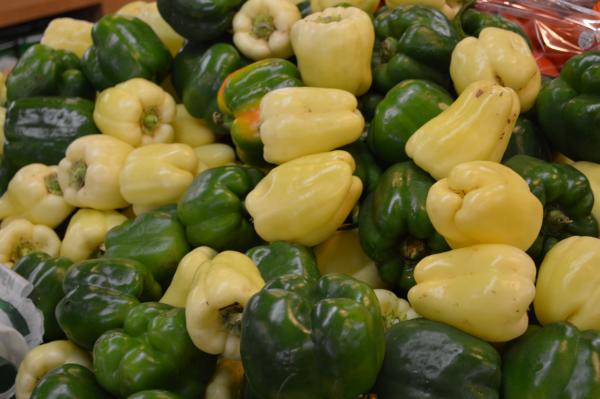 Peaches are coming on strong, and soon it will be time for peach cobbler. I've frozen some blueberries, so perhaps I'll combine them for a peach-blueberry pie. Later, I'll make sure I come back for apples – pie, applesauce, and more. 
And maybe I'll meet my girlfriends for a glass of wine one weekend when a band is playing. The gift of Huber's keeps giving all year long. 
How about a family-style meal with homemade biscuits and apple butter? Joe Huber's Family Farm and Restaurant is a mile away. 
Interested in other farmers' markets? Check out the New Albany Farmers Market and the Jeffersonville Farmer's Market at Big Four Station. 
Happy hunting!