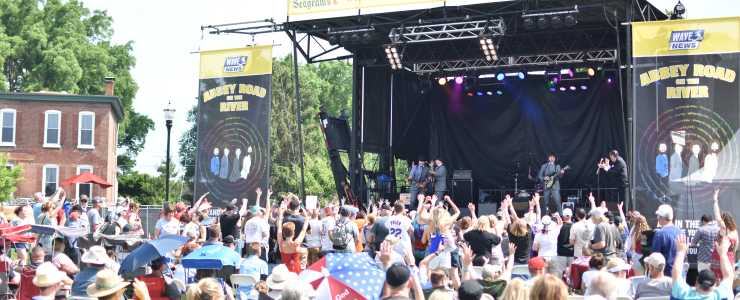 We usually celebrate Memorial Day weekend in southern Indiana jamming to Beatles' songs. That's because Jeffersonville has been home for Abbey Road on the River, five days filled with peace, love and rock n' roll.
That will have to wait until Oct 8-11 this year. Until then, enjoy this throwback video from the 2019 festival. Click here to buy tickets for Abbey Road on the River 2020 and use the code "STAY" for $30 off tickets!
Memories of 2019
The 2019 festival looked back 50 years to 1969. That was the year The Beatles' Abbey Road album was released. Memorable songs like Let It Be, Something, Come Together and Here Comes the Sun entered the pop music scene for the first time that year. It was also the year thousands gathered in New York for the Woodstock Music Festival and The Who released its rock opera, "Tommy." 
Some of Abbey Road on the River's favorite bands honored that historic year. Classicstone and Juke Box Beatles played tribute to the Abbey Road album. The band Magic Bus commemorated Woodstock with a tribute concert, and LBB Experience paid homage to Crosby Stills & Nash. Classicstone also played a tribute to Queen's Bohemian Rhapsody.
Get your Abbey Road on the River fix virtually
Still need more AROTR? Tune in each evening at 5:00 on Saturday, Sunday and Monday, May 23-25, for never before seen concerts from our bands Jukebox, Classicstone, All You Need Is Love, and many more! Enjoy the virtual concerts with your favorite Abbey Road on the River Cocktails delivered to your door by Beha Caterina & Carry Red Events.