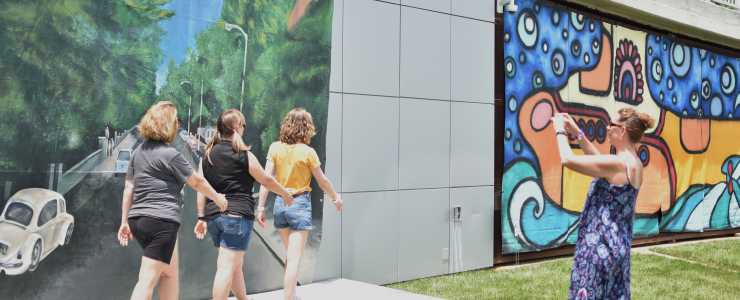 Abbey Road on the River: What you need to know before you GO 
The world's largest Beatles-inspired music festival is right around the corner, beginning this Memorial Day Weekend. It will be held May 25-29, 2023. 
If you haven't purchased your tickets yet, the good news is you still have time. The 21st Anniversary of Abbey Road on the River features 50 bands performing over the five-day festival at Big Four Station Park in Jeffersonville. Below you will find everything thing you need to know about this year's Festival because "we love you – yeah, yeah, yeah!"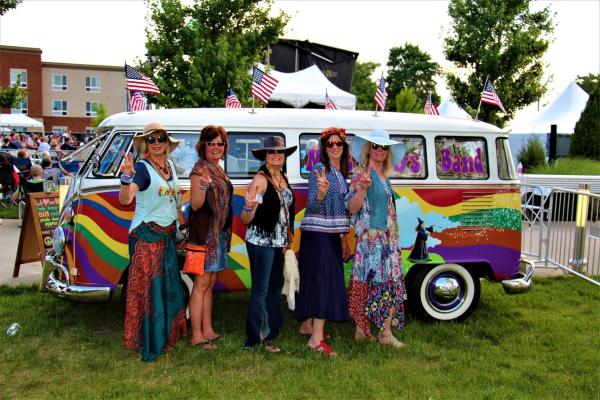 Here are all the details
Dates: May 25-29, 2023
Hours: 
Thursday, May 25: 2 - 11 p.m.; Doors open at 1 p.m. 
Friday, May 26: Noon - Midnight; Doors open at 11 a.m.
Saturday, May 27: 11:30 a.m. - Midnight; Doors open at 11 a.m.
Sunday, May 28: Noon - Midnight; Doors open at 11 a.m.
Memorial Day, Monday, May 29: 1 - 10 p.m.; Doors open at Noon
Location: Big Four Station Park in Jeffersonville 

Tickets 
Online at AROTR.com. Use promo code "SOIN" to get 15% off any tickets! Offer excludes tickets for attendees aged 20 and under.
Walk-up tickets are available at the box office. 
Single-day, general admission tickets can be purchased for $30 at the SoIN Visitor Center - 305 Southern Indiana Ave., Jeffersonville, Ind., 47130. (the yellow building next to the Second Street Bridge). Get one free children's ticket for each general admission ticket purchased.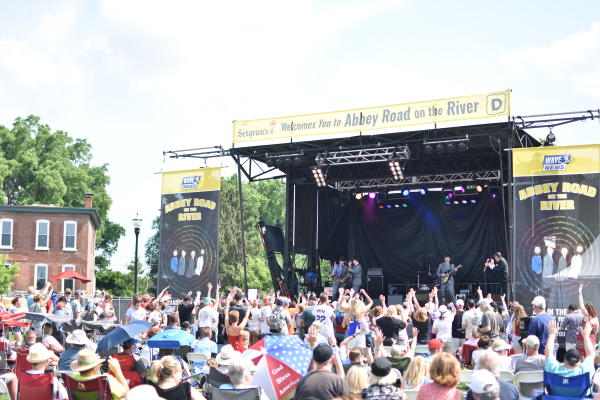 What's New
See legends live in 2023, including Micky Dolenz of the Monkees and Felix Cavaliere and Gene Cornish of The Rascals! Additional headliners include Tony Kishman's Live and Let Die: the music of Paul McCartney and BritBeat.
As past attendees know, Abbey Road is a celebration of music, so look for more tributes from crowd-favorites like Classicstone performing tributes to Queen and Pink Floyd, Back2Mac performing classics from Fleetwood Mac, Axis - The Jimi Hendrix Tribute, and local Doors tribute band Doorway.
More Local Acts: Erin Hill, The Rigby's, CMN Trio, Kaleidoscope I's, The Dave Meland Band, The Kukes, Laren Rapp & Co., Louisville Brass & Electric, Nick Peay, and The School of Rock. View full lineup. 
In addition to the amazing music line-up, festival-goers can look forward to fun activities like singalongs, yoga, disc golf and even guitar lessons. There will be at least 20 different food options on site to choose from, including Japanese, pizza, barbecue, vegan options and more.
If you're a true Abbey Road on the River fan, your ears will love the new "Something Will Happen" podcast. It covers everything from interviews with the bands to the history of The Beatles and much more. 
Visit AROTR.com for the latest and greatest information.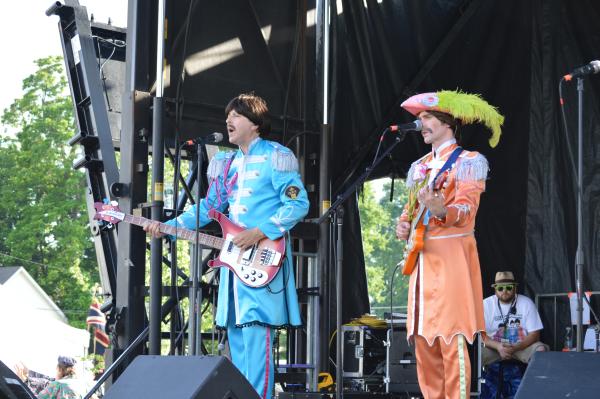 What Should I Bring?
Hand sanitizer 
Blankets 
Lawn chairs (Lawn chairs are only allowed in designated spots [grass areas] and must be spaced out to allow optimum seating. No lawn chairs are permitted in the Marketplace Pavilion or on sidewalks). 
Strollers 
Sun hats 
Sunscreen 
Bug spray 
Rain gear 
Small umbrellas (please be considerate of who is seated behind you)
Empty, refillable plastic water bottles 
Your ID if you plan to consume alcoholic beverages 
Last but not least, a huge smile on your face and shoes to groove in. 
What Items Are Prohibited?
No coolers, picnic baskets, cans, or bottles 
No alcohol or glass, no flasks, or containers where alcohol can be added. 
No pets (except Service Animals) 
No bikes 
No skates, balloons, beach balls, or hula hoops 
No selfie sticks 
No drones 
No smoking 
No weapons 
Abbey Road on the River's team reserves the right to refuse entry or deny items you may be carrying that are not on the list above. Please note: Prohibited items will NOT be stored. 

Now for some FAQs  
Q: Is the Festival for all ages? 
A: Yes, the Festival is appropriate for kids of all ages. Kids 21 and under get in free with each ticket order.
Q: Where can I park? 
A: Parking is available at free parking lots around Jeffersonville. One of the best paved, lit, accessible parking lots is 503 W. Market St./502 W. Riverside Drive is about a 5-minute walk to the venue. For patrons with limited mobility, the best drop-off location is directly in front of the festival site at Pearl and Chestnut streets. There is also VIP ADA parking available for purchase on the ticket site, as well as a shuttle pass. Shuttles run to and from the Radisson only and are handicapped accessible. View more parking options.
Q: Can I walk over the Big Four Pedestrian Bridge from Louisville to access Abbey Road on the River? 
A: Yes, you can park on the Louisville side of the bridge and walk over to Big Four Station Park. You will exit the bridge right at the box office.
Q: What about reserved seating: 
A: If you have a Reserved wristband, you will get a seat in the Reserved Seating section of Stage A, and Stage C. Chairs are first come, first served. Reserved tickets and Ultimate Ticket to Ride tickets come with reserved seat for main shows and access to a tent with a charging station and restrooms at Stage A.
Q: If I leave for part of the day, can I return? 
A: While re-entry is permitted, you must go through a complete security check each time you return. 
Q: Will I be able to dance? 
A: Though there is no designated dancing area in front of the stage, you can dance wherever you are comfortable. 
Q: Will there be free water? 
A: There will be complimentary water refill stations at the festival site. Refillable plastic water bottles are allowed but must be empty upon arrival. Additionally, cold water will be available for sale. 
Q: What if it rains? 
A: As always, with outdoor events, it might rain. Come prepared with your rain poncho, hat, or umbrellas. Or have fun grooving along and dancing in the puddles! If there is lightning, concertgoers must evacuate the site and seek shelter. The site will be closed for at least 20 minutes after the last thunderclap. (There are no refunds or makeup dates. If a day gets rained out, your ticket can be used the next day). 
Q: What happens if the festival is postponed or canceled? 
A: Every effort will be made to stage Abbey Road on the River. If one day is canceled due to rain, you can use your ticket the next day. 
View a full list of festival FAQs at arotr.com/faq-2023. 
Now let's get back to the music: https://www.arotr.com/band-videos 
Last updated: April 26, 2023