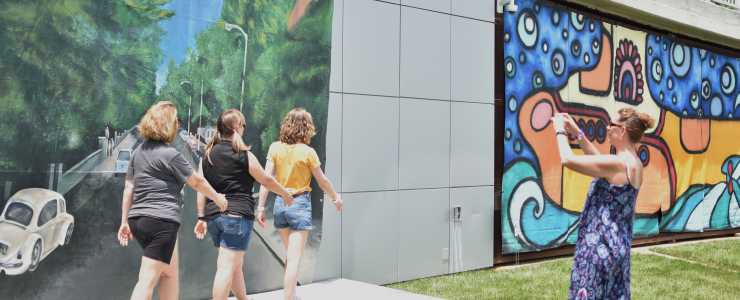 Abbey Road on the River 20th Anniversary: What you need to know before you GO 
The world's largest Beatles-inspired music festival is right around the corner, beginning this Memorial Day Weekend. It will be held May 26-30, 2022. 
If you haven't purchased your tickets yet, the good news is you still have time. The 20th Anniversary of Abbey Road on the River will be like no other, with more than 50 acts performing 200 concerts at Big Four Station Park in Jeffersonville. Below you will find everything thing you need to know about this year's Festival because "we love you – yeah, yeah, yeah!"
Here are all the details
Dates: May 26-30, 2022 
Hours: 
Thursday, May 26: 1 - 11 p.m. 
Friday, May 27, Saturday, May 28, and Sunday, May 29: Doors Open at 11 a.m.; concerts are from noon until midnight. 
Memorial Day, Monday, May 30: 1 - 10 p.m. 
Location: Big Four Station Park in Jeffersonville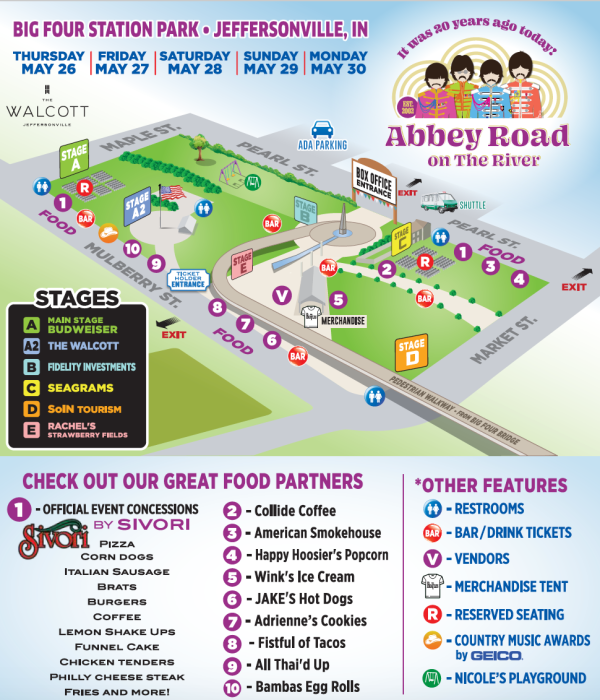 Tickets 
Online at AROTR.com. Use promo code "SoIN" to get 15% off any tickets!
Walk-up tickets are available at the box office 
Tickets are also available at the SoIN Visitor Center - 305 Southern Indiana Ave., Jeffersonville, Ind., 47130. (the yellow building next to the Second Street Bridge) 

What's New
This year's 20th Anniversary means that unrestricted access for a guest 20 and under is included for each adult ticket purchased. So, bring the whole family. 
If you're a true Abbey Road on the River fan, your ears will love the new "Something Will Happen" podcast. It covers everything from interviews with the bands to the history of The Beatles, the women of the event, and much more. 
Headliners in 2022 are Tommy James and the Shondells, The Cyrkle, and The Fab Four. 
Local acts: Erin Hill, Sheryl Rouse, Hot Brown Smackdown, The Rigby's, E.L. Faux, CMN Trio, and The School of Rock. View full lineup. 
Visit AROTR.com for the latest and greatest information. 

What Should I Bring?
A mask to wear while in line or when you feel like it. Note we are back to pre-COVID protocols, so masks are not required.  
Hand sanitizer 
Blankets 
Lawn chairs (Lawn chairs are only allowed in designated spots [grass areas] and must be spaced out to allow optimum seating. No lawn chairs are permitted in the Marketplace Pavilion). 
Strollers 
Sun hats 
Sunscreen 
Bug spray 
Rain gear 
Small umbrellas 
Refillable plastic water bottles 
Your ID if you plan to consume alcoholic beverages 
Last but not least, a huge smile on your face and shoes to groove in. 
What Items Are Prohibited?
No coolers, picnic baskets, cans, or bottles 
There is no alcohol or glass, no flasks, or containers where alcohol can be added. 
No pets (except Service Animals) 
No bikes 
No skates, balloons, beach balls, or hula hoops 
No selfie sticks 
No drones 
No smoking 
No weapons 
Abbey Road on the River's team reserves the right to refuse entry or deny items you may be carrying that are not on the list above. Please note: Prohibited items will NOT be stored. 

Now for some FAQs  
Q: Is the Festival for all ages? 
A: Yes, the Festival is appropriate for kids of all ages. Children 5 and younger get in free with each ticket order. In celebration of the 20th Anniversary, there is free admission for one guest 20 and under per paid ticket. 
Q: Where can I park? 
A: Parking is available at free parking lots around Jeffersonville. One of the best paved, lit, accessible parking lots is 503 W. Market St./502 W. Riverside Drive is about a 5-minute walk to the venue. There is also VIP ADA parking available for purchase on the ticket site, as well as a shuttle pass. 
Q: Can I walk over the Big Four Pedestrian Bridge to access Abbey Road on the River? 
A: Yes, you can park on the Louisville side of the bridge and walk over to Big Four Station Park. You will exit the bridge right at the box office. (Please note: Forecastle Festival is taking place at Waterfront Park in Louisville on Memorial Day Weekend, so Louisville parking may be scarce.) 
Q: What about reserved seating: 
A: If you have a Reserved wristband, you will get a seat in the Reserved Seating section of Stage A, and Stage C. Chairs are first come, first served. 
Q: If I leave for part of the day, can I return? 
A: While re-entry is permitted, you must still go through a complete security check each time you return. 
Q: Will I be able to dance? 
A: Though there is no designated dancing area in front of the stage, you can dance wherever you are comfortable. 
Q: Will there be free water? 
A: There will be complimentary water refill stations at the festival site. Refillable plastic water bottles will be allowed but must be empty upon arrival. Additionally, cold water will be available for sale. 
Q: What if it rains? 
A: As always, with outdoor events, it might rain. Come prepared with your rain poncho, hat, or umbrellas. Or have fun grooving along and dancing in the puddles! If there is lightning, concertgoers must evacuate the site and seek shelter. The site will be closed for at least 20 minutes after the last thunderclap. (There are no refunds or makeup dates. If a day gets rained out, your ticket can be used the next day). 
Q: What happens if the festival is postponed or canceled? 
A: Every effort will be made to stage Abbey Road on the River. If the event gets canceled for any reason, your tickets can be used for the 2023 Festival, which will be held May 25-29, 2023. If one day is canceled due to rain, you can use your ticket the next day. 
Q: What are the COVID protocols? 
A: Currently, there are no protocols in place. We are back to the pre-COVID entry to the festival. 
Now let's get back to the music: https://www.arotr.com/band-videos 
Last updated: May 18, 2022