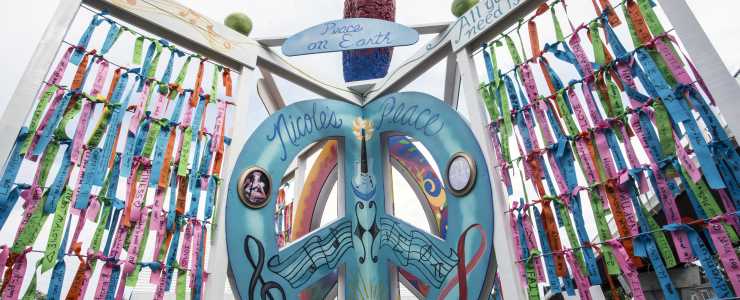 It's going to be a fun and festive experience "four" sure celebrating the Fab Four in Big Four Station Park in Jeffersonville! The world's largest Beatles-inspired music festival is headed to Southern Indiana over Labor Day weekend.
From how to get tickets and what you're allowed to bring – to where you can park and entry rules regarding COVID-19 – we've rounded up all of the know-before-you-go info for having a rocking and groovy time at Abbey Road on the River.
GENERAL INFORMATION
Dates: Sept. 2-6
Hours:
Sept. 2: 2-11 p.m. (Doors open at noon)
Sept. 3-5: Noon to midnight (Doors open at 11 a.m.)
Sept 6: TBD
Location: Big Four Station Park in Jeffersonville
Schedule: Click here
Map: Click here
Tickets:  Available online here. Walk-up tickets are available at the box office.
Tickets are also available at the following Remote Ticket Outlets in Jeffersonville:
SoIN Visitor Center – 315 Southern Indiana Ave.
Parnelli's – 3548 E. 10th St.
Parlour Pizza – 131 W. Chestnut St.
Visit AROTR.com for the latest and greatest information
WHAT SHOULD I BRING?
A mask to wear in line or when you want to wear it (regardless of vaccination status)
Hand sanitizer
Lawn chairs (They are only allowed in designated spots (grass areas) and must be spaced out to allow for optimum seating. No lawn chairs are permitted in the Marketplace Pavilion).
Strollers
Blankets
Sun hats
Sunscreen
Bug spray
Rain gear
Small umbrellas to block the sun or rain (please be considerate of who is seated behind you.)
Empty, refillable plastic bottles
Photo ID
A positive and fun-loving attitude!
WHAT ITEMS ARE PROHIBITED?
No coolers, picnic baskets, cans or bottles
No alcohol or glass. No flasks or any container where alcohol can be added.
No pets, (except Service Animals)
No bikes
No skates, balloons, beach balls or hula hoops
No selfie sticks
No drones
No smoking
No weapons
OTHER KNOW-BEFORE-YOU-GO INFO
Q: Is the Festival for all ages?
A: Yes, the Festival is appropriate for kids of all ages. Children 10 and younger get in free with each ticket order.
Q: Where can I park?
A: Parking is available onsite at Colston Park behind and next to TownePlace by Marriott on Maple Street. It opens daily at 11 a.m. Cost is $10 per day. Cash only. First come, first served. In addition, there are plenty of free parking lots around Jeffersonville. One of the best paved, lit and free parking lots is located at 503 W. Market St./502 W. Riverside Drive, which is about a 5-minute walk to the venue.
Q: Can I walk over the Big Four Pedestrian Bridge to access the Festival?
A: Yes, it is easy to park on the Louisville side of the bridge and walk over to Big Four Station Park. You will exit the bridge right at the box office.
Q: What about reserved seating:
A: If you have a Reserved wristband, you will get a seat in the Reserved Seating section of Stage A and Stage C. Chairs are first come, first served.
Q: If I leave for part of the day, can I come back?
A: While re-entry is permitted, you must still go through a full security check each time you return.
Q: Will I be able to dance?
A: Though there is no designated dancing area in front of the stage, you can dance wherever you are comfortable.
Q: Will there be free water?
A: There will be complimentary water refill stations at the Festival site. Refillable bottles will be allowed but must be empty upon arrival. Additionally, cold water will be available for sale.
Q: What if it rains?
A: As always, with outdoor events, it might rain. Come prepared with your rain poncho, hat or umbrellas. Or just have fun grooving along and dancing in the puddles! If it starts to rain and people begin to look for shelter, Festival organizers strongly insist you put on a mask. If there is lightning, concert goers must leave the site and it will be closed for at least 20 minutes. (There are no refunds or makeup dates. If a day gets rained out, your ticket can be used the next day).
Q: What happens if the festival is postponed or cancelled?
A: Every effort will be made to stage Abbey Road on the River. In the case of the event getting cancelled for any reason, your tickets can be used for the 2022 Festival, which will be held June 2-5. If one day is cancelled due to rain, you can use your ticket the next day.
Q: What COVID guidelines will be in place?
A: The main priority of Festival organizers is to ensure the safety and comfort of patrons, staff and bands, as well as to aid in slowing the spread of COVID-19 and the Delta variant.
For concert goers who are vaccinated, you are required to show your vaccination card at entry.
For customers who are not fully vaccinated, a negative COVID-19 test result must be obtained within 72 hours (3 days) of attending Abbey Road on the River.
Each day you come, bring a printed or digital copy of your vaccine card, vaccine record or printed negative COVID-19 test (showing the test date). You can also take a photo of your vaccine card on your phone in case you are worried about forgetting to bring it or misplacing it.
If you are a multi-day customer, you will receive a wristband proving your COVID vaccine/test (similar to a 21 and over wristband) and only have to show your card once.
MASKS
At this time, AROTR is not requiring masks to be worn by fully vaccinated patrons in outdoor spaces at the Festival. If you are vaccinated, you can use your best discretion on when you want to wear a mask (Wearing a mask in crowded areas is encouraged as the Delta variant can still spread via vaccinated people).
If you have not been vaccinated, but tested negative, please wear a mask in crowds and around other people for the comfort and safety of all patrons.
Concert goers must socially distance and attempt to stay six feet away from others not in their party. If this isn't possible (in crowds and in lines for entry, vendors, food, etc.), please wear a mask.
Last updated: Aug. 18, 2021
*Information is subject to change