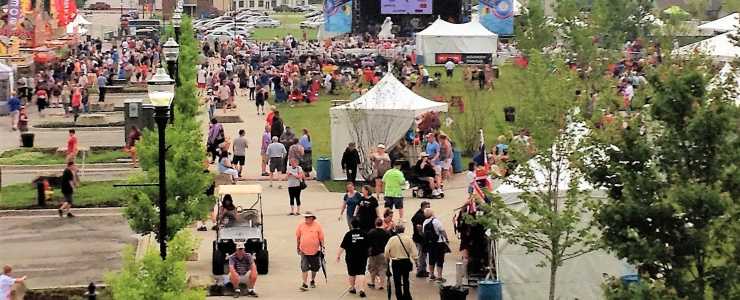 Where can I park? Are tickets still available? What am I allowed to bring with me? With the largest Beatles-inspired music festival in Jeffersonville happening May 24-28, we want you to have the latest information so your Abbey Road on the River 2018 experience will be a fun and memorable one.
First rule for Abbey Road on the River, and the most important one is always: Don't worry about anything!
Other important rules to follow:
No coolers, picnic baskets, or CamelBak® will be allowed. Outside food will be only allowed for children, (what they need-fruit, snacks, milk), and adults with dietary restrictions can carry small amounts in a purse or medium-sized backpack. Fans can bring in one bottle of sealed water not to exceed 20 oz. each.
There is no smoking at Big 4 Station Park. Thank you.
Drink tickets and proper ID are required for alcoholic beverages. ID's will be checked regardless of age for alcoholic beverages. These tickets may be purchased at designated ticket booths. Cash or credit card is accepted at ticket booths. There will be vendors onsite who offer beer, wine, bourbon, and a variety of spirits for sale at the venue. 
The guest information and ticket check-in is at the three outdoor box offices on Maple, Pearl and Mulberry Streets. These are open all hours of the festival.
Find answers to these FAQ categories:
What you can bring:
Q: Can I bring a lawn chair?
A: Lawn chairs are allowed, but only in designated areas, and must be placed 6 inches apart from other chairs to allow for optimum seating.
Q: Are umbrellas allowed?
A: Yes, but please respect others' view, regardless if you use it from protection from sun or rain.
Q: Are strollers allowed?
A: Yes; strollers for infants and toddlers are allowed.
Q: Are pets allowed at any of the performance locations?
A: Service dogs are the only animals allowed.
FAQs about admission, tickets, and IDs:
Q: Is there an age limit to enter the event?
A: Attendees under the age of 17 must be accompanied by an adult (21 and over).
Q: Do I need to bring the printed copy of my ticket to enter?
A: No, it's not required, but it's preferred.
Q: Can I update my registration/ticket info? Is it transferable?
A: Yes, online ticket info can be updated. However, if you are not able to attend a late-night concert, no one else can use your wristband (ticket).
Q: What if I can't attend. Is my ticket refundable?
A: No, there are no refunds.
Q: Can I exit the festival and come back without buying another ticket?
A: Yes; daily wristbands allow you to come and go during your day of purchase only. The 5-day wristbands are for the entire festival, so you can leave and return anytime during that 5-day period. Note: wrist band colors are different each day for single day reserved, general admission, and walk-up admission tickets.
Q: Are tickets still available and where can I purchase them?
A: Yes, tickets are still available.  You can purchase tickets online or in-person at Octopus's Garden, SoIN Visitor Center, or Red Yeti Brewing Co. You can also purchase tickets at the onsite box office during the event (until sold out).
Q: How much are tickets?
A: General admission for over 21 $20 and up. See full ticket details here.
A: General admission for ages under 21: $10 (age 9 and under are free)
Performance location and shuttle FAQs:
Q: Where will the performances be?
A: The main performance area is Big Four Station Park, 227 Pearl St., Jeffersonville
Other performance venues include:
Here are helpful parking FAQs:
Q: Where can I park?
A: There is a full weekend parking pass available, valid all five days of the festival. The lot is located across Big Four Station park along Mulberry Street.
Cost: $30
Q: Will there be a shuttle service between the Radisson, Sheraton, and festival site?
A: Yes! There will be buses running 11:30 a.m. to 2 a.m. The service is free. 
FAQs about onsite services and weather:
Q: Will there be a lost and found, and where will it be located?
A: Yes, there will be a lost and found booth, located at the main box office near the Pearl Street entrance.
Q: Is there security onsite?
A: Yes, there is 24-hour security. Everyone will be scanned by hand held metal detectors each time they enter the festival grounds and event security will be also be stationed at 300 Spring and the Radisson ballroom.​
Q: Will there be a first-aid area?
A: There will be a First Aid Station at the back of the Main Lawn in front of the permanent bathrooms.​
Q: Will there be bike racks available at Big Four Station Park?
A: Yes, Big Four Station will have bike racks for those riding bikes to the event.
Q: What happens if it rains?
A: In case of bad weather, there will be schedule contingencies for everyone's security. Even if it does rain, attendees will still get to see many concerts.
Q: What kind of weather does Jeffersonville typically have late May?
A: Weather in Jeffersonville during May varies.  Average low is 60 degrees, and average high is 80 degrees. Watch the forecast and pack accordingly. Sunscreen, ear plugs (especially for children), a light jacket or sweater, a rain poncho, and a hat are suggested items.
Visit www.AROTR.com for up-to-date information.  Click here for the latest performance schedule, which also includes artists' performance locations.

When sharing your Abbey Road on the River photos on Instagram, Twitter, or Facebook, use #AROTR18 and #SoINtoAROTR. 
Is Abbey Road on the River family-friendly? You betcha! Read why Abbey Road on the River is safe and fun for the kiddos.