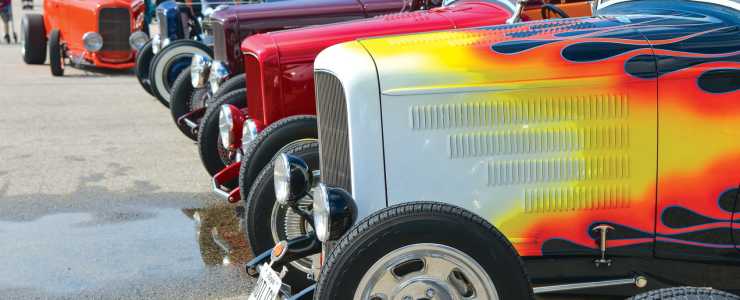 Louisville and Southern Indiana will rev up in August when more than 10,000 brightly colored street rods, customs, muscle cars, street machines and vintage automobiles cruise into the area for the National Street Rod Association's (NSRA) annual Street Rod Nationals.
The world's largest vintage car show rolls into the Kentucky Exposition Center Aug. 3-6. This marks the 29th time the event has been held in Louisville.
Nearly 70,000 spectators will attend the outdoor show where they'll be treated to four action-packed days. If you're one of those planning to attend the 54th annual Street Rods, we've got you covered with a handful of know-before-you go highlights:
You Can Look (But 'U Can't Touch This!')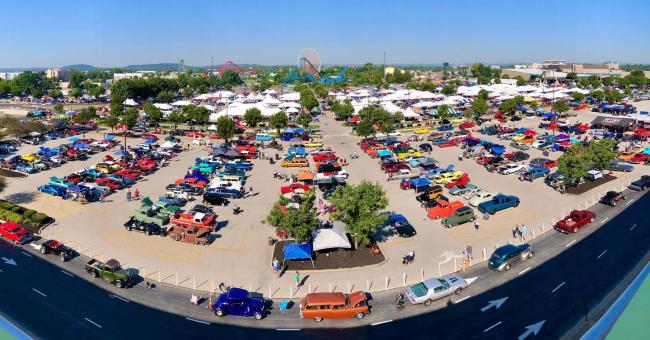 Source: https://www.facebook.com/NSRAEvents/
One of the special appeals for spectators is that you can walk right up to the vehicles and check them out, as they are not roped off or confined. And while they can be examined from top to bottom, front to back and inside and out, the exquisite paint and other unique features of the car should not be touched. But getting up close and personal is definitely encouraged! Vehicles in attendance at the 2021 show ranged in value from $20,000 to $150,000, with the total value of cars cashing in at more than $350 million.
Baby, It's HOT outside!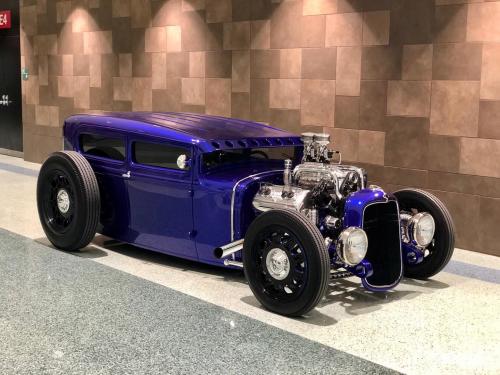 Source: https://www.facebook.com/NSRAEvents/
Whether you attend as a spectator or a participant, be prepared for Louisville's typical hot and humid August temps. While it's fun to browse the thousands of eye-catching cars in the Expo Center parking lots, finding a shady spot can be a challenge. Pro tip: Beat the heat by breaking up your day. Spend an hour or so outside and then head indoors for more automobile excitement.
Of course, during the Dog Days of Summer, staying hydrated is key. If you're a participant, a cooler of water should be at the top of your packing list. If you have space, a pop-up tent is an ideal way to provide some shade and stay cool.
More Revved Up Fun!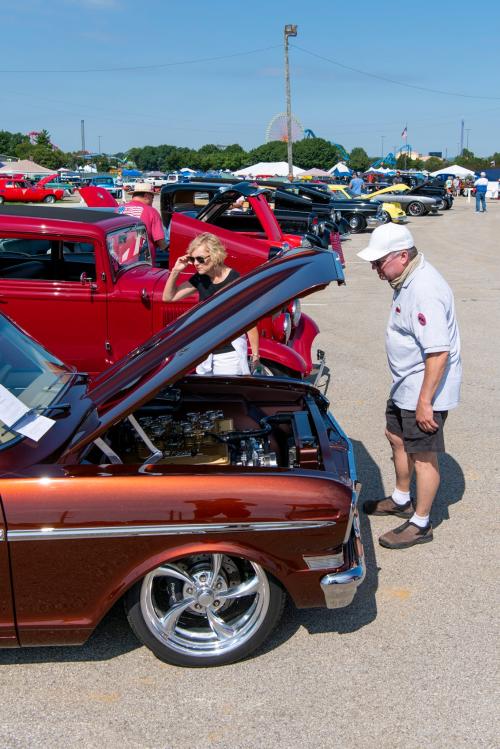 Source: https://www.facebook.com/NSRAEvents/
In addition to more than 10,000 vehicles in attendance, the Street Rod Nationals features several activities and events underway during the show's four-day run. One of those is a trade show, which boasts more than 350 manufacturers and dealers of specialty automotive equipment who will display and sell their parts, accessories and supplies in the special exhibit section.
Get Your Tix
All events are open to the public. Hours are:
8 a.m. to 5 p.m. Aug. 3
8 a.m. to 7 p.m. Aug. 4
8 a.m. to 7 p.m. Aug. 5
8 a.m. to 12:30 p.m. Aug. 6
Admission: $19 per adult (13 and older), $6 for children (ages 6-12) and free for children under 5 when accompanied by an adult.
Entry is $17 for military personnel with a military I.D., NSRA members with a current membership card and anyone 60 and older. (One discounted admission per person.)
Tickets are on sale at the Kentucky Exposition Center during the event. Discounted tickets are also available in advance at O'Reilly Auto Parts.
Explore Downtown Louisville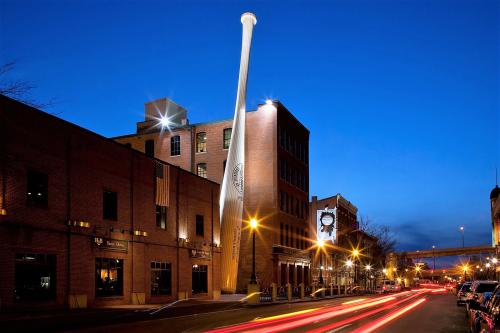 Looking for some other fun options when you're not enjoying the sights and sounds of thousands of street cars? Head to downtown Louisville for an evening or even a full day of fun. The area is packed with options, including being home to Museum Row on Main, which features several iconic attractions, all located within a few walkable blocks of one another on Louisville's historic Main Street. Plan a visit to the Muhammad Ali Center (a six-story multicultural center and award-winning museum that pays tribute to the legendary boxer and global humanitarian) or the iconic Louisville Slugger Museum & Factory, where the world-renowned Louisville Slugger baseball bats are manufactured. You can also take a cruise along the Ohio River on the Belle of Louisville, the oldest operating Mississippi River-style steamboat in the world.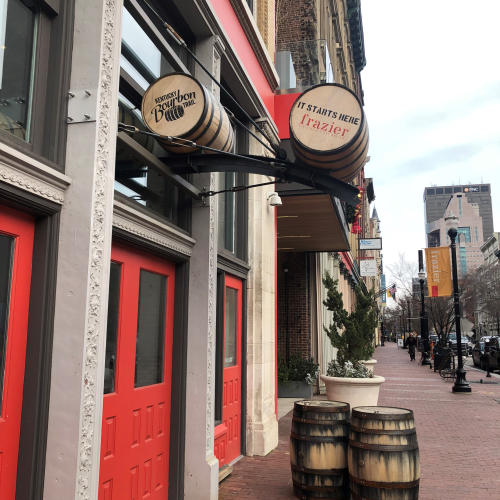 As the proud owner of 1/3 of the world's bourbon supply, Louisville, dubbed Bourbon City, is also known for being the site of more than 10 bourbon experiences, several of which are downtown, including the Evan Williams Bourbon Experience and the Kentucky Bourbon Trail® Welcome Center at the Frazier History Museum. In addition to the distilleries, Louisville is also home to the Urban Bourbon Trail® -- a cocktail and culinary experience highlighting the city's best bourbon bars and restaurants.
Experience a Can't-Miss Visit to Southern Indiana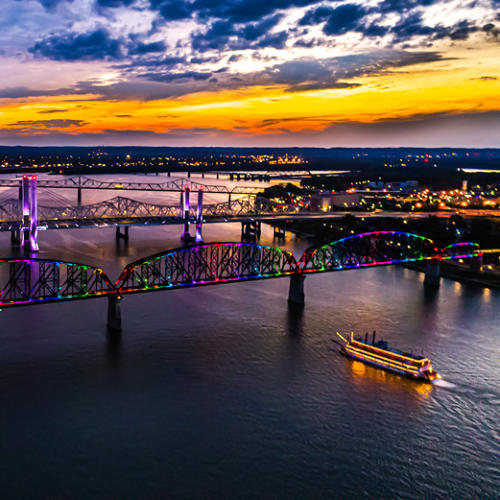 Just one bridge away (and only one mile) from downtown Louisville, Southern Indiana is packed with fun that's SoIN!  You can either drive from downtown Louisville or walk over via the Big Four Bridge. The six-span former railroad truss bridge, constructed in 1895, crosses the Ohio River and connects Louisville to Jeffersonville, Ind. It was converted into a bicycle and pedestrian bridge in 2014 and took its name from the now defunct Cleveland, Cincinnati, Chicago and St. Louis Railway, which was nicknamed the Big Four Railroad. The round-trip journey from Louisville to Jeffersonville is around two miles and offers breathtaking views of the river and skyline. The base of the bridge in Jeffersonville is home to Big Four Station, which features lots of green space, fountains, a bike-sharing station, a pavilion, a playground and easy access to downtown shops and restaurants, including locations with riverside views, patio dining and local brews, wine and cocktails.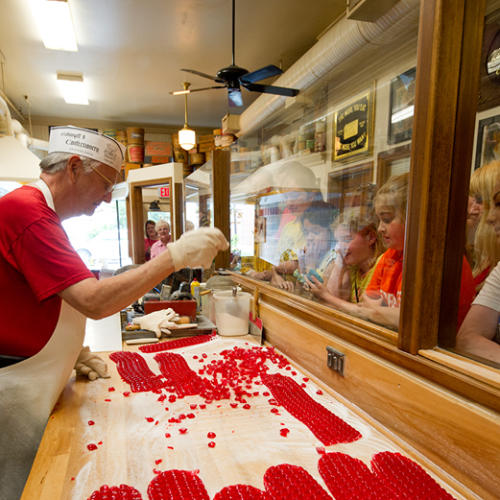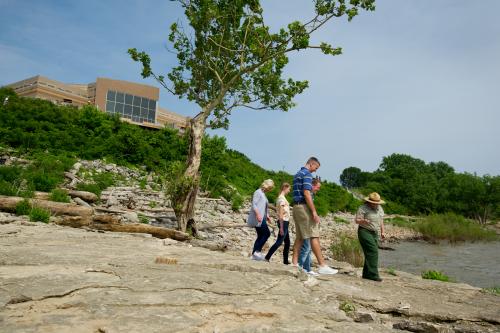 Other can't-miss, authentic SoIN experiences include Schimpff's Confectionery in Jeffersonville and the Falls of the Ohio State Park in Clarksville. Schimpff's is a historic downtown treasure that's one of the oldest, continually operating family businesses in the country. The sweet shop has been making hard candy since 1891 and is one of the only places making Hard Candy Fish, which it offers in 20 flavors. In addition to a variety of candies, you can order up a sundae or an old-fashioned soda (the shop makes its own syrups in house) at the 1950's soda fountain. It's Candy Museum and Candy Demonstration Area offer a sweet taste of history. At the Falls, the 390-million-year-old exposed fossil beds steal the show (the Falls was also the site where famous explorers Lewis & Clark met up for the Lewis & Clark expedition).
Southern Indiana is also home to stunning riverfront parks, local shopping, an eclectic culinary scene and a hopping selection of breweries.
For help planning your hop across the river, visit GoSoIN.com.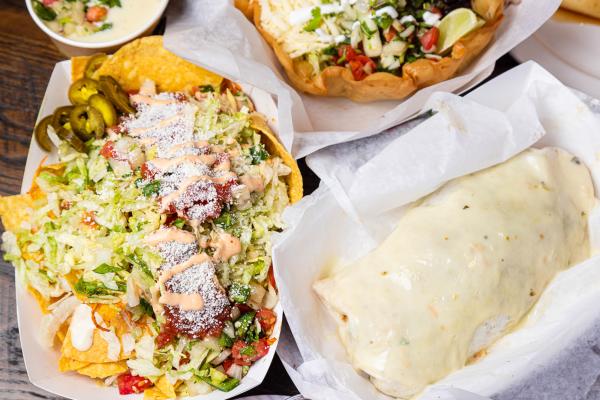 New in SoIN
Make sure you check out all of Southern Indiana's newest attractions in our "New in Southern Indiana in 2023" blog post.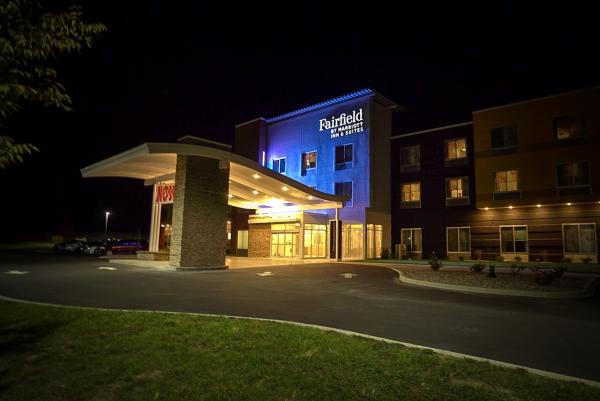 Stay An Extra Day (or Two!)
With so much to see, do and experience in Louisville and Southern Indiana, extend your visit by a day or two at the beginning or end of your trip. From top-tier hotels, budget-friendly options and charming bed and breakfasts, there's plenty of lodging in both Louisville and Southern Indiana. Head to the show early (or stay late) and take time to venture around the area for authentic, one-of-a-kind experiences.