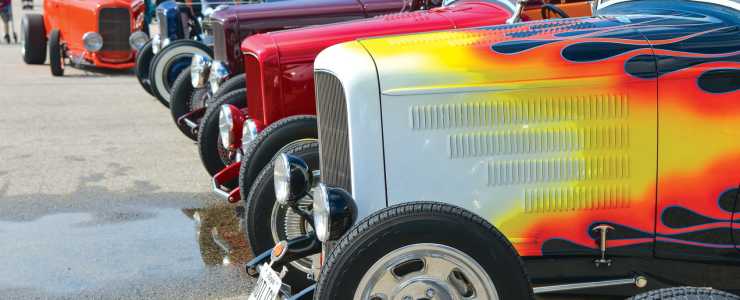 Planning on attending the NSRA Street Rod Nationals in Louisville? Make the trip one you'll never forget with this insider's guide to the show and the city.
Every August, tens of thousands of classic car and truck lovers descend upon Louisville for the NSRA Street Nationals. This year marks the 50th annual Nationals, and the numbers of vehicles, spectators, and vendors will surely be near record-setting, and for some, overwhelming. Use some of these tips to ensure you have an unforgettable experience.
Don't let the weather ruin your time at the show
Whether attending as a spectator or participant, some easy tips will make your days at the show hassle-free and safe in terms of the weather.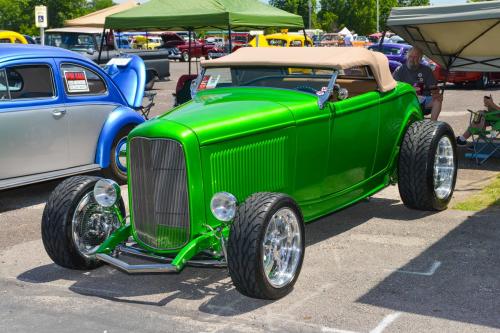 Source: www.facebook.com/NSRAEvents/
Most years, the weather is hot, and while it's fun to browse the thousands of beautiful rides in the parking lots, shade is hard to come by. Beat the heat by breaking your days into chunks. Spend an hour or so outside and then an hour or more inside the expo center. Also, try to do a lot of your outside browsing during the morning before peak heat hits.
Of course, with all that heat, staying hydrated is key. Drink plenty of water and notice if you're feeling dizzy or lightheaded. This is a sure sign you may be on the way to heat exhaustion or even heat stroke.
If you're a participant, a cooler of water should be part of your packing list. If you have space, a pop-up tent is a nice way to provide some shade.

Source: www.facebook.com/NSRAEvents/
If the weather turns, however, these pop-up tents can become a real problem. We watched firsthand as one flew away and did thousands of dollars damage to a stunning red Packard. So, if storms are on the horizon, pack up your tent and head inside the expo center.
Allot some time for downtown Louisville
Nestled on a wide and picturesque stretch of the Ohio River, downtown Louisville is a great place for spending your evenings or even a full day. Learn about Louisville Slugger bats at their museum or learn about the impact of the champ, Muhammad Ali, at the Muhammad Ali Center.
While 4th Street Live! is mentioned frequently as a party spot downtown, there are other exceptional places to enjoy down on Main Street like the Evan Williams Bourbon Experience, Proof on Main and more.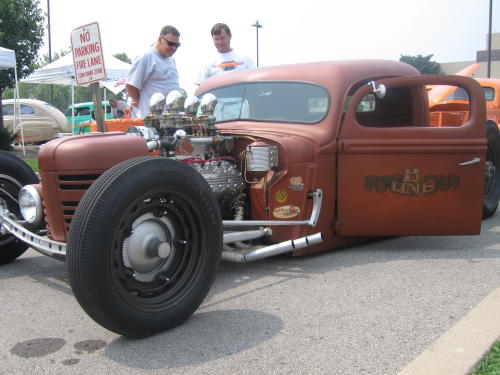 Source: www.facebook.com/NSRAEvents/
Venture across the river to Southern Indiana
The biggest mistake we made in our early days of visiting Louisville was not going across the river to Indiana. Whether you walk the pedestrian bridge from downtown to Jeffersonville or drive over, you won't be disappointed. Riverfront parks and local shopping and dining make southern Indiana a perfect place for an afternoon or evening.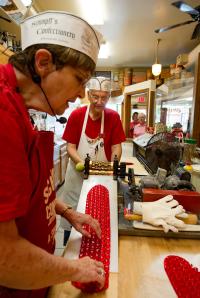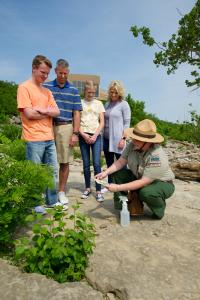 Our favorite spots include Schimpff's Confectionery in Jeffersonville, a historic and charming candy store where you can watch them make candy before your eyes, Falls of the Ohio State Park, and the entire town of New Albany with its breweries, local shops, and big-city caliber restaurants.
For help planning your hop across the river, browse GoSoIN.com.
Add some extra days
With so much to see and do in Louisville and Southern Indiana, do yourself a favor and add a day or two to the beginning or end of your trip. From top-tier hotels to charming bed and breakfasts, there's plenty of lodging in both Kentucky and Indiana.
The NSRA Street Rod Nationals have been calling Louisville home for many years now and with good reason. There's just so much to see and do in Kentucky and Indiana. So get to the show early, beat the heat, and take time to venture around the area. You'll have a trip you won't soon forget.