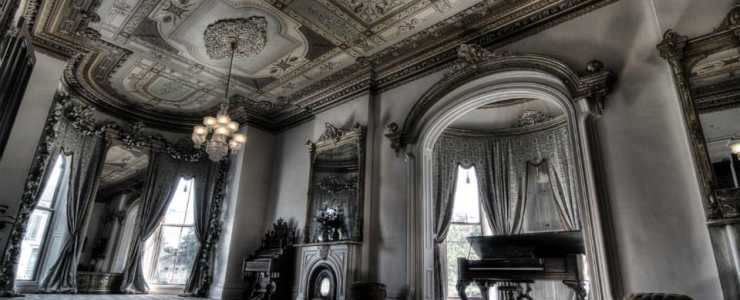 Notice: Because of the pandemic, Literally, A Haunted House will not be held in 2020. Instead, the Friends of the Culbertson Mansion will hold "Macabre at the Mansion," an intimate event that aligns with the mansion's Victorian spirit. 
During October, New Albany's historic Culbertson Mansion and its carriage house embrace all that is eerie and scary.
Why do you enter haunted houses? You know they're going to scare you!
If you're like others who look forward to the Halloween season so you can be scared, you'll want to visit Culbertson Mansion's "Literally, a Haunted House" every year. The staff members use their dark-creativity to scare the wits out of you!
In the same haunted-show spirit, here's a "did you know" list about SoIN's oldest and scariest haunted house. Share if you dare!
This years "Toxic" theme, is sure to give visitors the heebie-jeebies with the threat of mold and mildew. Past themes include 2018's 'A House Possed" and 2017's "Circus Inferno: The Show Must Go On," which was based on the 1918 Hammond, Indiana Hagenbecker-Wallace Circus train wreck that killed 86 people and injured 127 others.


 
Over the years, mansion staff and volunteers have reported strange and unusual occurrences in the carriage house. They include: electrical problems, mysterious figures moving room to room, strange sounds after hours, and missing items.
 
Several staff members and past volunteers have refused to work in the carriage house because of personal experiences with the "unexplained."
 
Literally, a Haunted House enters its 35th season and is one of the longest running haunts in the region.
 
"Literally, a Haunted House" takes more than nine months to plan and involves mansion staff and more than 80 volunteers.
 
"Literally, A Haunted House" has been held in the carriage house since 1987, and is the longest-running haunted house in Kentuckiana.


 
Admission to the annual haunted house is the primary fundraiser for the Culbertson Mansion. To date, the event has contributed over a million dollars towards the mansion's restoration.
 
According to the website, the haunted house is not recommended for pregnant women, children under age 10, or people with asthma, heart conditions, or those who have had recent surgery.
 
The mansion and carriage house have been: auctioned off at the turn of the century, saved from demolition in 1962-63 by Historic New Albany, and the offices for the American Legion Bonnie Sloan Post in New Albany (1946-1964).
 
The Friends of Culbertson Mansion was formed in 1997, after a decade of being a volunteer group. Today, the non-profit organization serves to "promote and develop the Culbertson Mansion State Historic Site through financial contributions, historic preservation, and accurate restoration."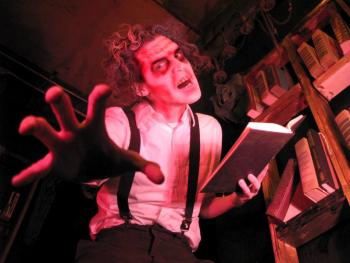 "Literally, A Haunted House"
begins 7-11 p.m., Friday & Saturday, September 27 & 28,  and runs every Friday and Saturday night through October 25 & 26 in 2018. Tickets are $15.00 each and can be purchased at the ticket tent behind the Culbertson Mansion beginning at 7:00 pm on event nights. For more information call (812)944-9600.
Find out more about the Culbertson Mansion State Historic Site and its Haunted House.