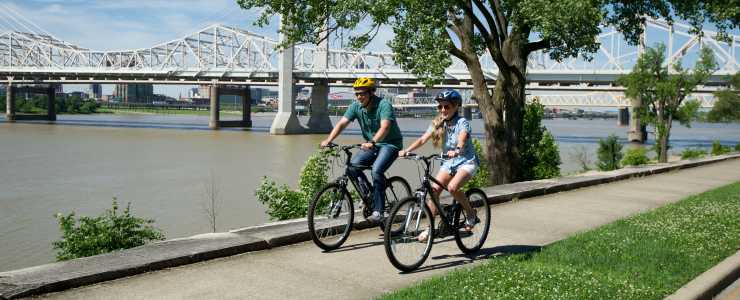 Explore the best places to ride a bicycle in Clark and Floyd counties.
Southern Indiana is home to some of America's best cycling routes. Clark and Floyd counties offer cycling options for every skill level, from families looking for a leisurely, short ride, to intermediate cyclists wanting to pedal several miles, or even advanced cyclists ready for a challenge.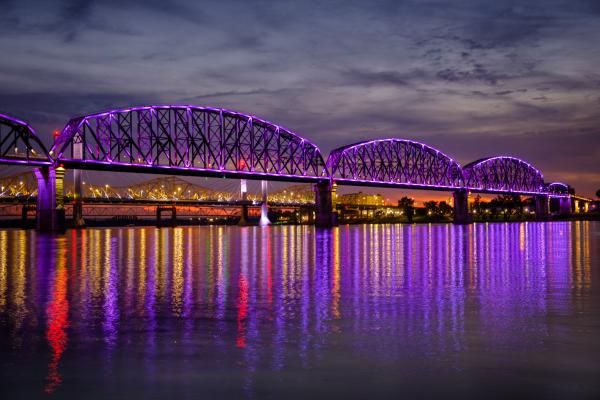 The Big Four Bridge located in downtown Jeffersonville, Indiana, is a gateway to riverside trails, bike paths, quiet streets, urban bike lanes, rolling country roads and hilly switchbacks. A gathering place for cyclists, you'll notice many groups start and stop their rides at the Big Four Bridge.
As an avid cyclist and adventure rider, I want to share a few of my favorite spots, whether you are looking for a short, medium or long ride.
Below, I will share ride suggestions and route examples for reference purposes only. You should always research the best routes for your comfort level and abilities before you ride.
Now, let's explore cycling in SoIN:
Best Short Rides in Southern Indiana – Great for Families and Leisure Cyclists
If your idea of a perfect ride is pedaling a few short miles and stopping along the way to check out attractions, play or relax while enjoying a view, I have four paved trail suggestions for you:
Ohio River Greenway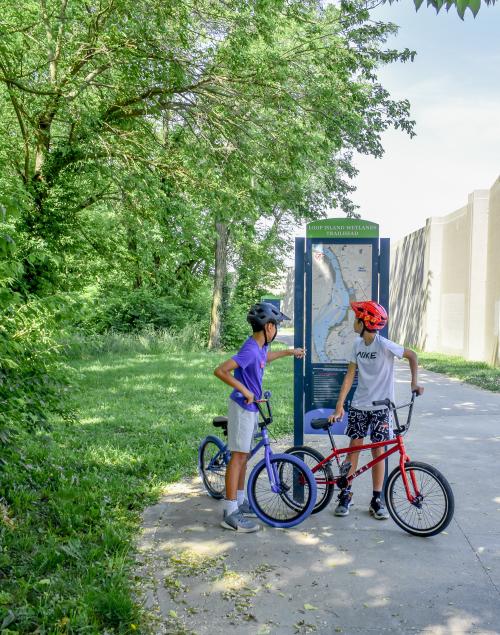 Two of my favorite short rides are on the Ohio River Greenway, a multi-use path linking the towns of Jeffersonville, Clarksville and New Albany, Indiana. Since the Greenway is a 15+-mile round trip, out-and-back route, I am going to narrow down some of my favorite picturesque sections of the trail for those wanting a short few miles. You can always add to it.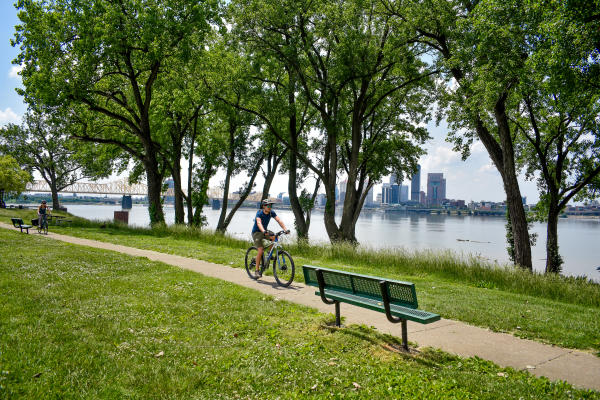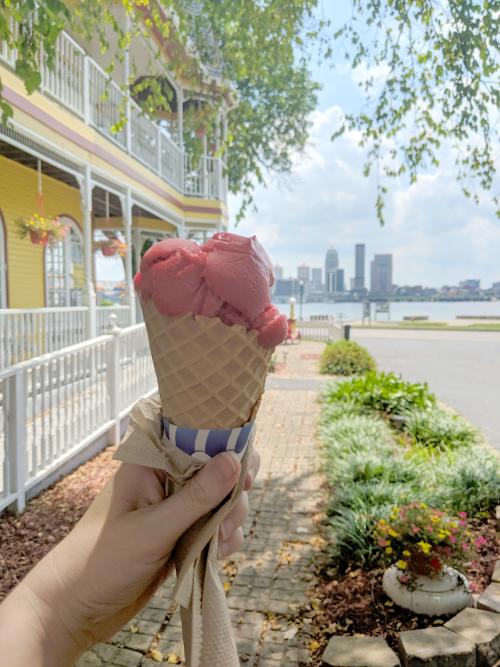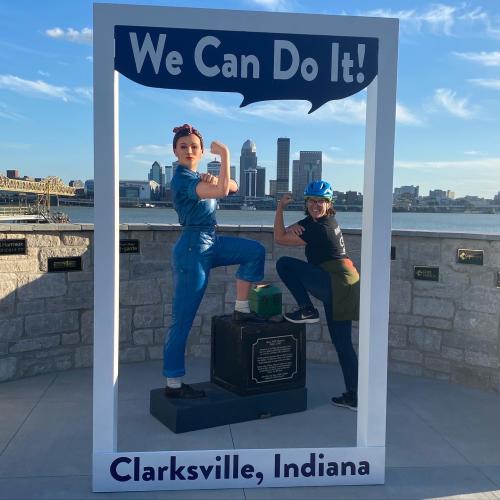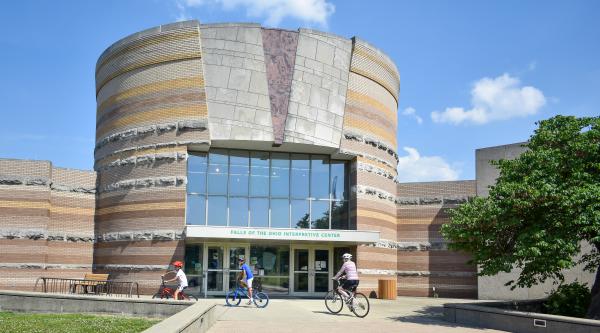 Ashland Park to Falls of the Ohio State Park — This will be just over a mile ride roundtrip. Go to Ashland Park in Clarksville, Indiana. Park directly across from the downtown Louisville skyline and Widow's Walk Ice Creamery. Get a gorgeous view of downtown Louisville and take a photo with Rosie the Riveter. Head northwest on the paved pathway (toward Falls of the Ohio State Park). Stop at the parking area just before the railroad bridge to walk down a short path to get an up-close view of the McAlpine Dam at the Falls of the Ohio. After you pass under the railroad bridge, let the kids play at the Percussion Play Area. There is a point at the next parking area where you will merge left to a narrow trail instead of continuing up the flood wall on the Greenway. The narrow trail leads to the Interpretive Center. Explore the overlook and the fossil beds below at the Falls of the Ohio State Park.
Note: The Falls of the Ohio State Park Interpretive Center is closed through October 16, 2023, for a major renovation of the Center's HVAC system. All outdoor Falls of the Ohio areas remain open.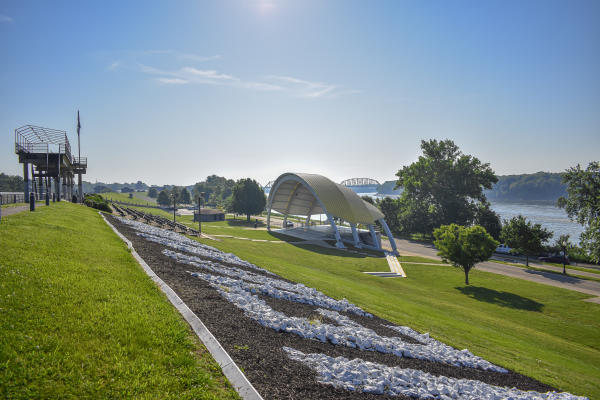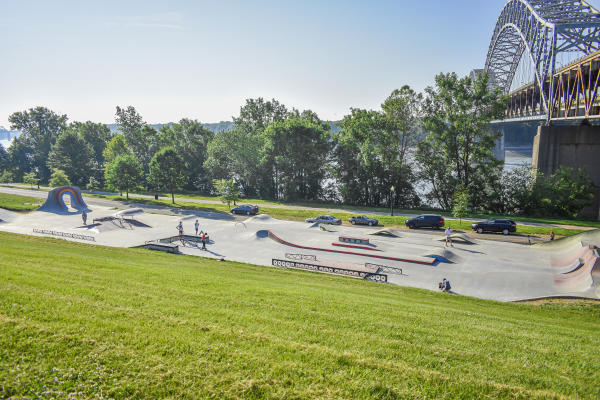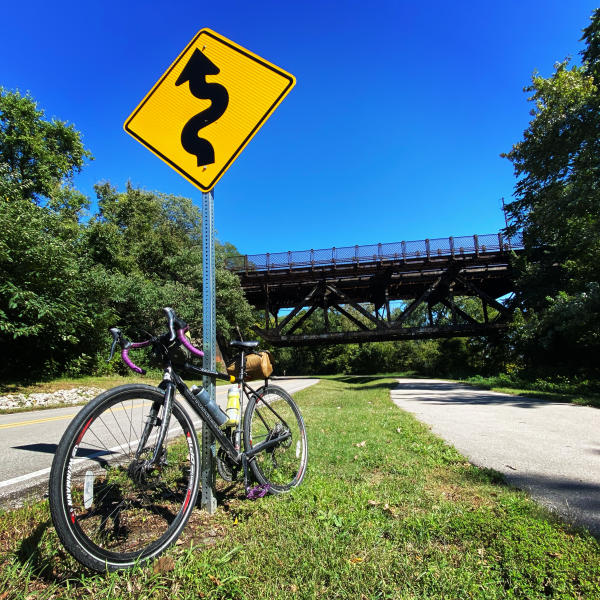 New Albany Amphitheater to the K&I Railroad Bridge — This is a 2-mile round-trip ride. It crosses two wooden bridges and provides great views of barges going downstream on the Ohio River. Park at the lot next to the New Albany Flow Park and watch in amazement as skaters show off their tricks. Head east on the trail. Pass by the amphitheater, New Albany Boat Ramp, and a play area. The trail will shift to the left side of the road, giving you an up-close view of the giant flood wall. When you get to the K&I Bridge, look up and marvel that there was a time when rail cars and automobiles both traversed over the river span on the K&I. When you return to your starting point, venture over the flood wall to explore post-ride dinner and drink options in downtown New Albany.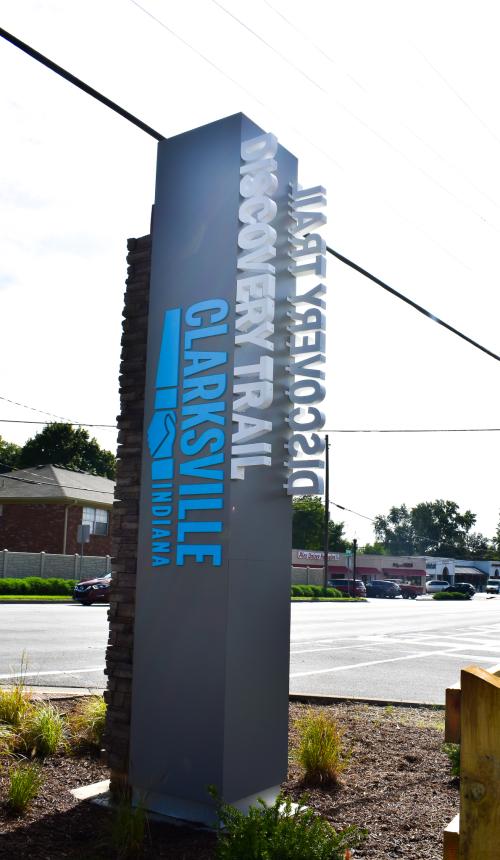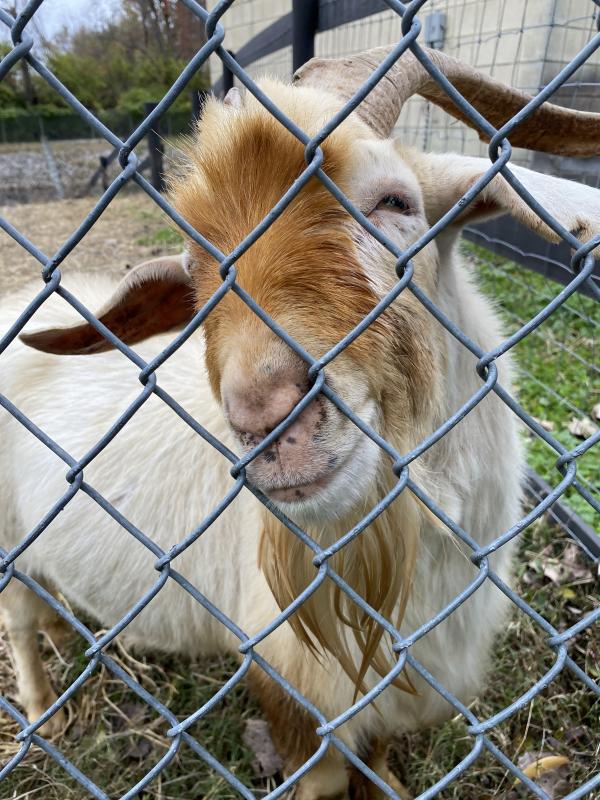 Clarksville Discover Trail — This former CSX railroad track turned rail trail is a hidden gem in Clarksville, Indiana. It stretches 1.9 miles one-way and connects to the Ohio River Greenway. The surprise is what you see on the trail. If you want an even shorter ride, go to the parking area on Eastern Blvd. Head east on the trail to Ray Lawrence Park. This is a 0.6-mile ride (1.2 roundtrip). See the goats (yes, I said goats!). Bring pickleball paddles for a mid-ride game on one of eight courts at Ray Lawrence Park, which are free to use and open to the public.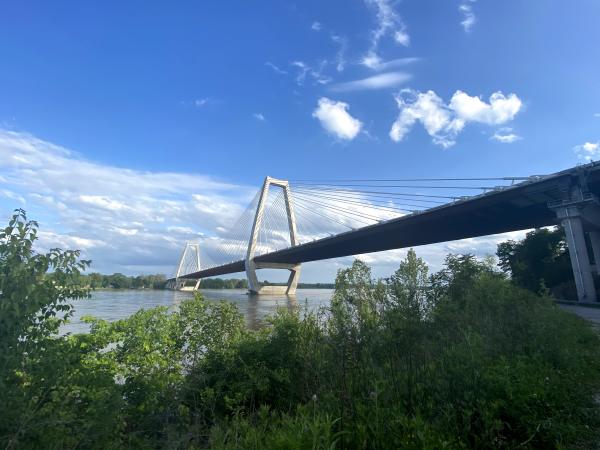 East End Bridge Trail — Its official name is the Lewis & Clark Bridge, not to be confused with George Rogers Clark Memorial Bridge (the yellow one from Jeffersonville/Clarksville to downtown Louisville). The Lewis & Clark Bridge resides near Jeffersonville's River Ridge next to Interstate 265. The traffic noise is well worth it to get one of the most scenic views of the Ohio River. Cross the state line into Kentucky on this 1.4-mile one-way paved path that has a very gentle ascent and descent to the bridge level, perfect for a leisurely ride. Watch barges, sailboats and other pleasure cruisers. Take a photo at the Indiana and Kentucky signs. 
The Intermediate Cyclist — 10–20-mile rides based in Southern Indiana
So, you want to put in some miles but not make the ride too long. I have a few suggestions for novice to intermediate bike rides. One of the rides even crosses into Louisville, Kentucky.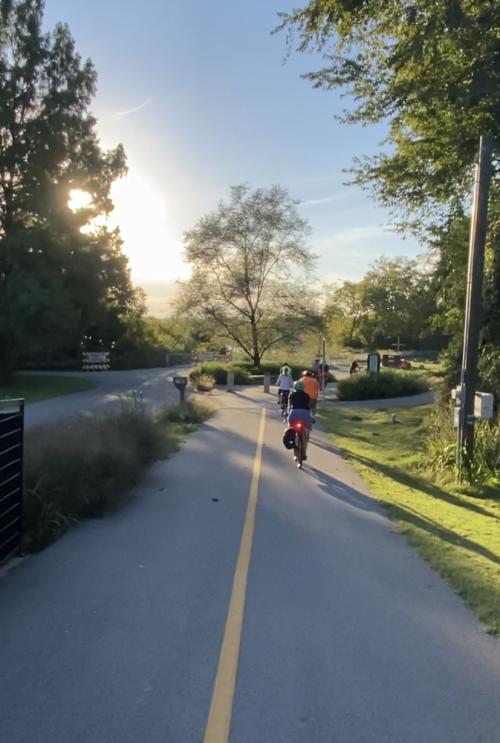 Ohio River Greenway (End to End) — Start in Jeffersonville or New Albany and do an out-and-back ride of the most scenic paved trail in Southern Indiana. There are a few small hills to ascend and descend, as well as connecting trails. There is a small road section in Jeffersonville that takes you along Riverside Drive, part of the Ohio River Scenic Byway. New Albany and Jeffersonville are filled with great restaurants, ice cream shops, bakeries and pubs for a mid-ride treat or post-ride meal. Check out the Ohio River Greenway map to help plan your ride.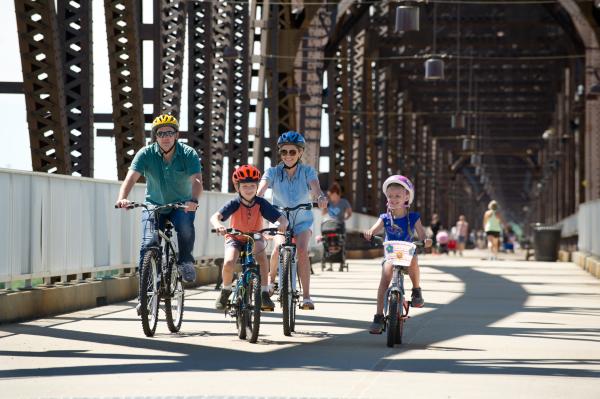 Big Four Bridge to Louisville's Cherokee Park – This is an intermediate 11+-mile ride for the explorer that doesn't mind conquering hills, entering secluded trails and riding city streets. It takes you across the Big Four Bridge to Louisville to explore the Frederick-Law-Olmsted-designed Cherokee Park. You'll pass through Waterfront Park and head east to the Butchertown Greenway, which gives you direct access to the Waterfront Botanical Gardens. After the greenway, you'll follow Story Avenue to turn left onto Spring Street. Turn left on Locust Street and the Beargrass Creek Trail entrance will be at the end of the short block. As you exit the trail, use the crosswalks at Lexington Rd. / Grinstead Dr. to get to the opposite corner where Cherokee Park begins. Pedal around the Cherokee Scenic Loop and trace your way back the way you came to Spring Street. Since Story Avenue is a one-way street, you'll continue on Spring Street as it turns into Adams Street, passing by the Lynn Family Soccer Stadium and turning right on Witherspoon Street to the Big Four Bridge. Here's a sample route to explore the area.   
The Advanced Cyclist — 25+ Cycling Routes in Southern Indiana
Ready for a challenge? I have a few fun routes that might even be called strenuous. These routes are suggested for advanced, longer-distance cyclists who have experience with road cycling (during heavier traffic) and very hilly terrain.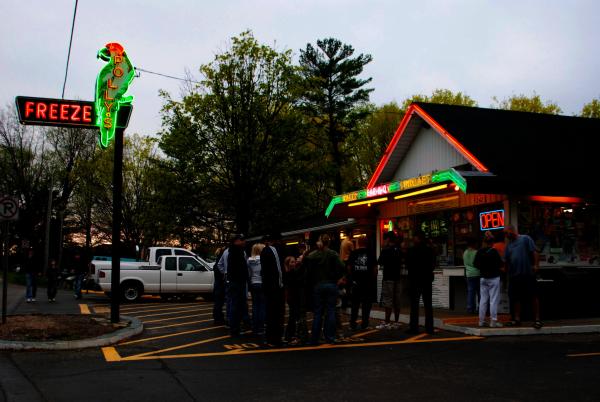 Ice Cream Ride — This is also called the Polly's Freeze ride. The 28-mile ride is a mostly road route with serious climbing and descents. Start at the Big Four Bridge in Jeffersonville and ride the length of the Ohio River Greenway to New Albany. It will turn into Floyd St. Turn right on West 10th Street. Then you will take a left on the busy Main Street (Hwy 111) for a 1/2 mile to Corydon Pike. Enjoy the flat surface before climbing a challenging switchback that, at its most severe, is a 9.8% grade. It will all be worth it when you see the view from the top and know that Polly's Freeze, with its ice cream, burgers and fries, is just a short pedal west on Indiana 62. On your return trip, instead of retracing your route, head back to Corydon Pike and turn left on Quarry Road. Enjoy a fun downhill. You'll make a right onto Old Vincennes for more downhill with killer views of the entire Kentuckiana area. At the "T" at the bottom of Old Vincennes, you'll have an option to turn left to 7th Street to head back to downtown New Albany. Or, if you haven't had enough hills, climb Cherry Street and descend the steep and curvy Spring Street Hill. There are many route possibilities. This is an example of an Ice Cream Ride that includes the Cherry Street climb.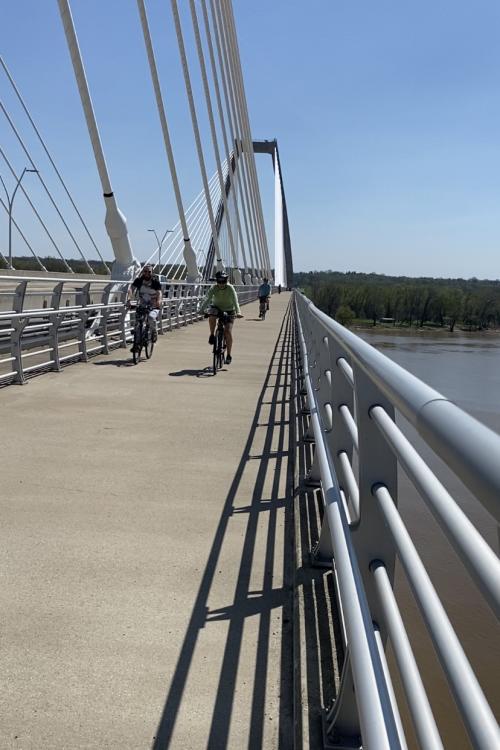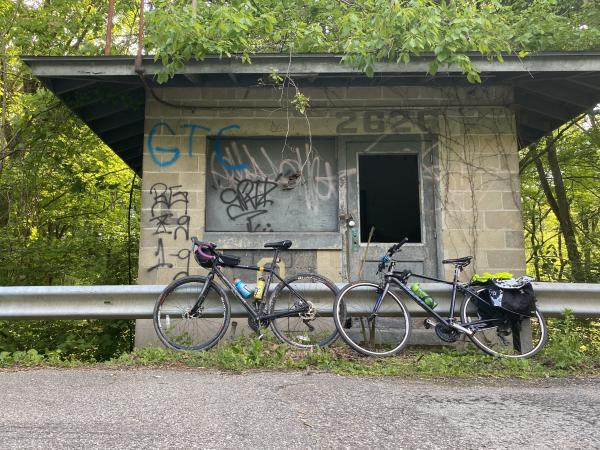 Big Four Bridge to East End Bridge and Ammo Plant — The 26-mile ride takes you from the Big Four Bridge in Jeffersonville to the East End Bridge (Lewis & Clark Bridge), through River Ridge to Paul Garrett Road and along the former grounds of the Indiana Ammunitions Plant. Stop at the old guard shack. Once you reach the river, you'll enter the small town of Utica with its quaint country store and ice cream shop. Head back to Jeffersonville via a busy Utica Pike or use neighborhood streets and country roads to go back to Middle Road. Here's an example route to explore the East End Bridge and Ammo Plant areas.  
The Blunk Knob Challenge — This is a beautiful, exciting and challenging ride. Start at the Big Four Bridge in Jeffersonville, Indiana and head west to New Albany on the Ohio River Greenway. After riding a one-mile section of Indiana 111, cycle the rolling hills and countryside of Bud Road before ascending Blunk Knob to 959 feet. Make it an out and back 30-mile ride or continue on to Lanesville, Indiana to make it a 40+-mile ride. The extended route includes 2,100 feet of climbing in INDIANA! Here is a sample route to explore the Blunk Knob Challenge.
These are just a few ideas from a cyclist who loves cycling in Clark and Floyd counties. There are so many more great Southern Indiana bicycle routes to explore using your favorite GPS app. Come visit SoIN and don't forget to bring your bicycles.