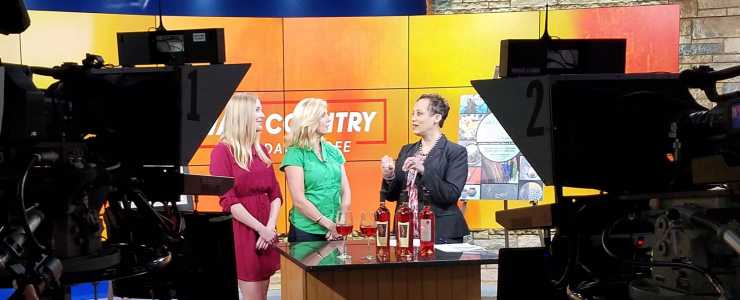 Southern Indiana in the spotlight  
Dawne Gee, the host of WAVE Country with Dawne Gee, welcomed Southern Indiana tourism associates to the WAVE3 TV studios April 3-7 for the "In My Neighborhood" segments.The Clark-Floyd Counties Convention & Tourism Bureau coordinated the publicity with the help of its partners. Each of the spots was about 4-5 minutes in length and highlighted various attractions, events, and shops in SoIN.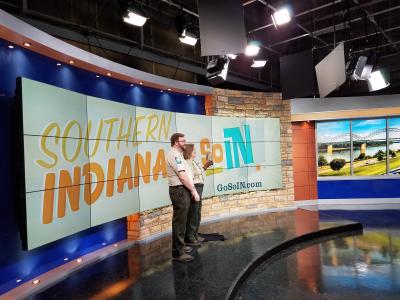 On Monday, Leslie Grow and Jeremy Beavin discussed Raptor Day at Charlestown State Park. Held every year in April, the event focuses on wild birds in southern Indiana that are rehabilitated. The fun, educational event is a way for visitors to learn about the area. Leslie Grow is a naturalist with the Dwight R. Chamberlain Raptor Center at Hardy Lake, and Jeremy Beavin is a naturalist at Charlestown State Park. Grow brought an Eastern screech owl into the studio to give viewers a preview of the April 15th event. 
Wednesday featured Huber's Orchard, Winery, & Vineyards and Vintage Fire Museum. Dana Huber and Brianna Jacobi promoted the 10th anniversary of the Stella di Luce Art Show and talked about the inspiration behind the artwork. Vic McGenity showed Dawne some of the artifacts on display at the Vintage Fire Museum
Thursday featured a segment on spring fashions by HIM Gentleman's Boutique, Threadz Boutique, and Regalo of New Albany. Models included Ian and Nikki Hall, owners of the Exchange pub + kitchen, Amber May, a stylist at Strandz Salon. In addition, Bob Hill discussed the plants and fairy gardens available at Hidden Hill Nursery and Sculpture Garden in Utica.
On Friday, staff from Schimpff's Confectionery demonstrated their Easter candy making skills. Warren and Jill Schimpff, Joey Smither, and Stephanie LaGrange appeared. In a second Friday segment, Alan Goldstein showed samples from the Falls of the Ohio State Park and discussed how the 390-million-year-old fossils came to be here in the Ohio Valley.
Later in the month, the Jeffersonville Arts Commission appeared featuring some of the artwork they will be installing in the upcoming Abbey Road on the River event.