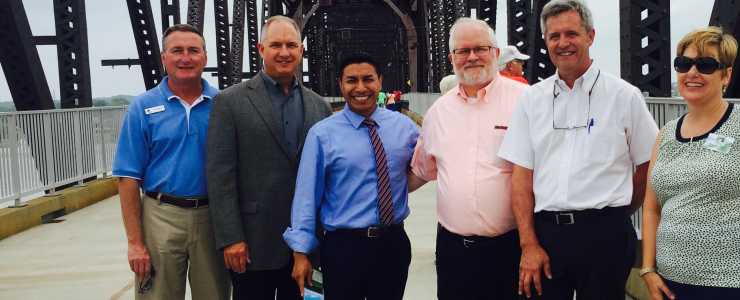 The Bureau provided transportation on July 15 when the Ohio River Greenway Commission hosted Diego Morales on a site visit. Morales, special assistant of cultural affairs for Governor Mike Pence, toured the area with officials from the commission, the Ogle Foundation, and the Parks Departments of Jeffersonville, Clarksville, and New Albany. The Ohio River Greenway Commission designed the tour to highlight the Greenway's potential to improve residents' and visitors' quality of life.
The Greenway is a 7.5-mile linear park system. When complete, it will provide a connected multi-use path for bicyclists and pedestrians along the Ohio River corridor from Jeffersonville through Clarksville and to New Albany. Just over four miles of the Greenway are complete at this time.
Officials explained the Greenway's potential as an investment in the state's economy and will connect residents and visitors to the region's heritage and culture. Riverbank erosion on Harrison Avenue inhibits efforts to construct the planned Greenway multi-use path. Completion of the Greenway will strengthen Southern Indiana property values, draw businesses to the area, create jobs and strengthen Indiana's economy.
Background
In 1993 the state of Indiana chartered the Ohio River Greenway Commission to oversee the completion of a linear park system that follows the Ohio River corridor between Jeffersonville on the east and New Albany on the west. This 7.5-mile park allows pedestrians and cyclists to traverse the river corridor between New Albany, Clarksville and Jeffersonville, including the Big Four Bridge crossing into Louisville, Kentucky.
Cover photo