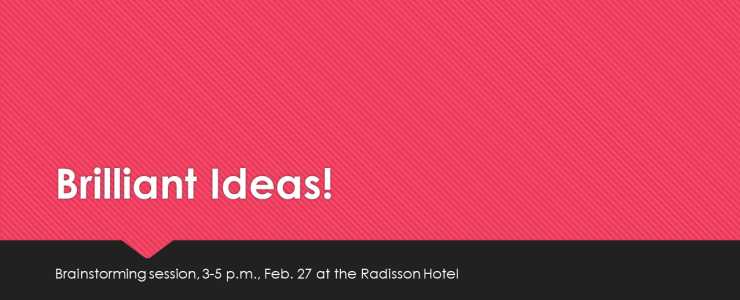 Todd Read, director of sales for SoIN Tourism, will be hosting a brainstorming session 3-5 p.m., Feb. 27 at the Radisson Hotel in Clarksville. 
The purpose of the session is to put on your thinking caps. Kate will guide you and your fellow tourism and hospitality businesses through exercises to get the creative juices flowing. Her goal is to develop new experiences that will attract more group tours to SoIN.
In Kate's work, she looks for things motorcoach operators can offer groups to attract them to our area. 
Motorcoach operators like to visit destinations that offer a wide variety of options. They have diverse groups that purchase their tours. Tour operators must constantly change their offerings by assembling exciting itineraries for these groups. 
Some are stereotypical group tour customers who are satisfied with basic offerings. They don't want frills and they tend to want to sit a lot. That segment of the market, however, is quickly becoming the minority.
Tour growth is coming from other clients who want to do everything! They want to see how the meal was made and then help make it. They want to meet the actors who are in the plays. They want to be part of the show. 
A destination that only offers things to see behind a velvet rope can't compete today. We want to help coach our partners on ways to develop other offerings. How can you come up with ideas to help you get more group tours? 
Brainstorming is key. 
When Todd is helping tour operators plan motorcoach travel or build itineraries to promote to their clients, she relies on partners that she knows offer tours, meals, rooms, etc., to groups. She has to work with them to put together a cohesive plan. 
So, let's get creative on February 27! Meet Kate and other tourism partners at the Radisson Hotel in Clarksville for an afternoon to share ideas about ways you can offer experiences for group tours and the people who are looking for things to do on them.
Quick Facts
When: 3-5 p.m., Tuesday, Feb. 27
Where: The Radisson Hotel, 505  Marriott Dr., Clarksville
Cost: Free
What to Bring: Ideas for groups and unique SoIN experiences