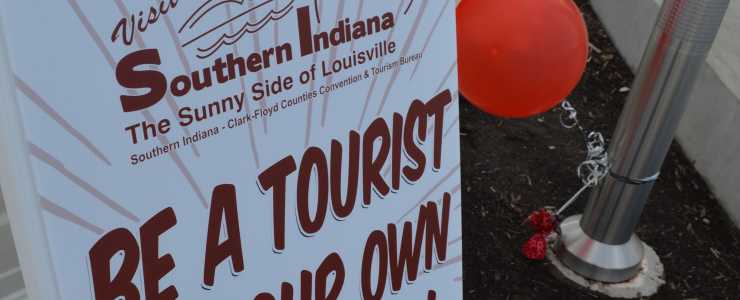 The first Southern Indiana Travel Showcase took place on Wednesday, May 4 at Big Four Station Park. The showcase was held as part of the National Travel and Tourism Week celebration, May 1-7, 2016. Cities all around the country created similar events to promote tourism's positive impact has on communities, big and small. Clark and Floyd counties are, of course, no different. Our attractions, hotels, restaurants, and shops provide jobs, taxes, and entertainment for our residents.
The Showcase took place during the Great Steamboat Race, giving visitors who were already out watching the race the opportunity to learn more about our local tourism amenities. Many partners gave away tickets and prizes at the showcase.
Partners who participated included:
Derby Dinner Playhouse
Clarion Hotel and Conference Center Louisville North
Falls of the Ohio State Park
Schimpff's Confectionery
Carnegie Center for Art & History
Culbertson Mansion State Historical Site
Develop New Albany
Strandz Salon & Threadz Boutique
Kentucky Kingdom & Hurricane Bay
Squire Boone Caverns
Louisville Convention & Visitors Bureau
Ohio River Greenway
While the weather put a damper on the event's turnout, we felt that for our first year, it was a success. Many who visited the booths were Louisville residents, and they learned much about what the Kentuckiana area offers.
The Bureau will hold this event again in hopes of making it an annual showcase. The event's purpose is to educate residents who will tell their family and friends who visit from out of town about the tourism opportunities in Kentuckiana.
Travel showcase visitors who signed up to receive the Bureau's email newsletters were entered into drawings for a Gospel Bird gift card and tickets on the Belle of Louisville. Congratulations to Carol Kennedy, Natalie Basham, Faith Vaughan, Janet Byrd, and Chris O'Leary!
This slideshow requires JavaScript.