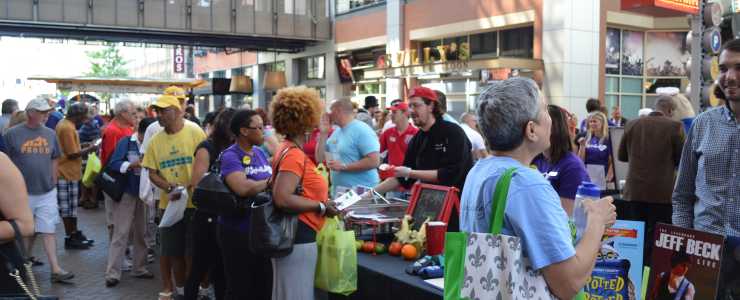 Fast on the heels of American Pharaoh, Dortmund, Carpe Diem, and the Kentucky Derby, the Louisville Convention and Visitors Bureau launched the 2015 Hometown Tourist Celebration on May 5, 2015.
Southern Indiana tourism partners participated, too. Derby Dinner Playhouse gave visitors a chance to win theater tickets, Red Foot Brewing Co. gave away free tacos, Fuzzy Zoeller's Golf Courses, offered a chance to win a round of golf, Schimpff's Confectionery handed out their red hot drops, and the Southern Indiana Clark-Floyd Counties Visitor Center gave out coupons for free t-shirts. The 'Beat the Squeeze' campaign also launched during the event.
Hometown Tourist Celebration's purpose is to promote tourism to locals who host family and friends throughout the year. More than 40 area attractions, shops, hotels, and restaurants participated with giveaways, food and fun. Mascots also joined the festive event. Held yearly in conjunction with National Travel and Tourism Week, the event kicked off with a press conference and Attractions Showcase at Fourth Street Live! Louisville Mayor Greg Fischer, Bureau President & CEO Karen Williams, and other tourism dignitaries.
Discounts offered
Anyone who shows a Kentucky or Indiana ID is eligible for more than 80 discount offers to the area's attractions, shops, accommodations, and restaurants through May 31. Discounts are also available to those with a local student or military ID.
With so many people coming to the area to visit friends and family, the Louisville CVB tries to familiarize residents with all metro Louisville offers in their own backyards. The CVB even created a special hashtag – #LouisvilleLove – to share ideas of favorite things to see and do.
For more information on participating at next year's celebration, contact Todd Read, Visitor Information Coordinator.