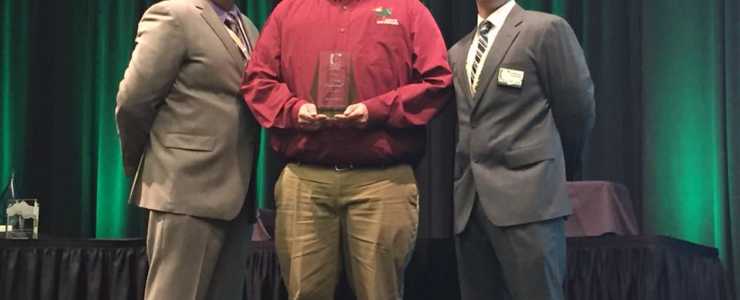 Conklin named 'Exceptional Young Professional'
Indiana Parks and Recreation Association awarded its "Exceptional Young Professional" to Ken Conklin on Jan. 18 at the Awards of Excellence Banquet in Indianapolis. He is the communications director of the Clarksville Parks Department.
The Young Professional Award is presented to a current parks and recreation professional. It recognizes an emerging leader for his or her initiative, innovation, and contributions to the park and recreation field. The Award of Excellence highlights exceptional efforts that transcend everyday standards to improve the quality of life in Indiana's communities.
Spyker receives John H. Minta Award
Jeffersonville Public Art Administrator Dawn N. Spyker received the John H. Minta Award last month at the Clark-Floyd Counties Convention & Tourism Bureau's annual meeting, Jan. 18.
Spyker collaborated with local historians and puppeteers to produce the "Stunning Bicentennial Puppet Extravaganza," a puppet show dramatizing the area's history using giant figures like Sepe, a Shawnee Indian river goddess, and 10-foot-tall Lewis and Clark figures. She helped expand the Steamboat Days festival in 2016 and was instrumental in creating the Sugar Skull Shake Shake, Jeffersonville's first-ever Hispanic cultural festival. Through her vision, Steamboat Days welcomed activities like sand sculpting, "art-chery," and a chalk walk competition.
The Minta award honors the legacy of John Minta, a long-time president of the Clarksville Town Council and past president of the bureau's board of managers. Award recipients are chosen for contributions to the industry and for being devoted, enthusiastic, community advocates for tourism.
Well done Ken Conklin and Dawn Spyker!