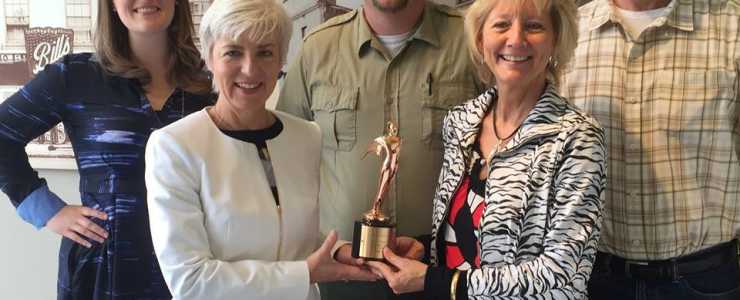 The Telly Awards awarded its bronze medal to "Lewis & Clark at the Falls of the Ohio," a multi-screen projection experience at the Falls of the Ohio State Park in Clarksville, Indiana. Solid Light, Inc. created the film specifically for the Falls of the Ohio's new Interpretive Center. The award was given at the 37th Annual Telly Awards. More than 13,000 films from all 50 states and numerous countries were entered.
When visitors watch the Lewis and Clark film at the Falls of the Ohio State Park's Interpretive Center, they step into an immersive theater. The film begins on the night before Lewis and Clark set off on their famed expedition to the Pacific Ocean. This dynamic film experience combines scenic environments and projected media to tell the story of unprecedented journey and the men who made it. The film draws on historical imagery and on-location reenactments to bring the Corps of Discovery and their achievements to life. It shows on the theater's three walls.
Founded in 1979, the Telly Awards is the premier award honoring outstanding local, regional, and cable TV commercials and programs, the finest video and film productions, and online commercials, video, and films.
"The Telly Awards has a mission to honor the very best in film and video," said Linda Day, Executive Director of the Telly Awards. "Solid Light's accomplishment illustrates their creativity, skill, and dedication to their craft and serves as a testament to great film and video production."
For more information about the Telly Awards, visit www.tellyawards.com.