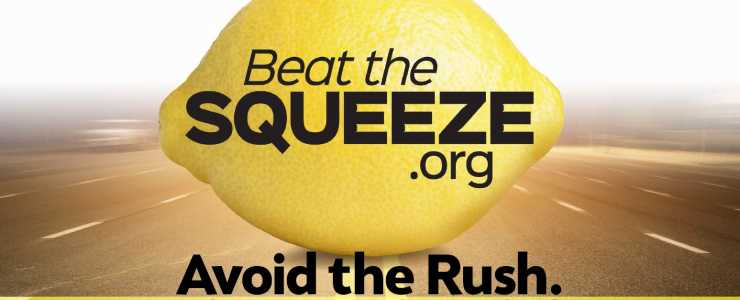 Encouraging Louisville residents and visitors to shop and dine in Southern Indiana, the "Beat the Squeeze" advertising campaign is in full swing. The ad campaign dispels the urban myth that I-65 traffic from the Kennedy Bridge to Brown's Station Way is constantly congested. This myth has been reinforced by the media's repetitive use of the term, "The Big Squeeze."
Advertising and Media Coverage
Billboards posted throughout Louisville show a giant lemon – perfect for making lemonade out of lemons – and urge drivers to "Avoid the Rush." The billboards remind drivers that the I-65 corridor is wide open noon, nights and weekends. Media coverage has also boosted awareness. WHAS Reporter Kayla Moody tested the drive at lunchtime, timing her route from downtown Louisville to Southern Indiana at just under 3 minutes. You can watch her myth busting story at http://goo.gl/FooUOX. 
The campaign kicked off in early May and was well received at the Louisville Hometown Tourist Celebration at Fourth Street Live. Staff gave away cups of lemonade and Beat the Squeeze stickers to more than 300 visitors. Visitors also took selfies with the lemon mascot, which increased Facebook engagement. The next stop for the lemonade stand will be in early June at the Louisville Flea Off Market.
How can you participate?
Southern Indiana businesses can join the Beat the Squeeze campaign at no cost and post their own special offers. These offers will be posted on social media pages as an added incentive to visit Southern Indiana. If interested, request a partnership kit and learn how to post special offers by visiting the Beat the Squeeze website.
The campaign is a partnership of the Town of Clarksville, City of Jeffersonville and the Clark-Floyd Counties Convention & Tourism Bureau. The current campaign is scheduled to run until fall 2015 and may be extended until the Bridges Project is complete if supported by businesses. Contact Marketing Director Jennifer Abbott for more information. You can also visit Beat the Squeeze and follow the campaign on Facebook and Twitter.