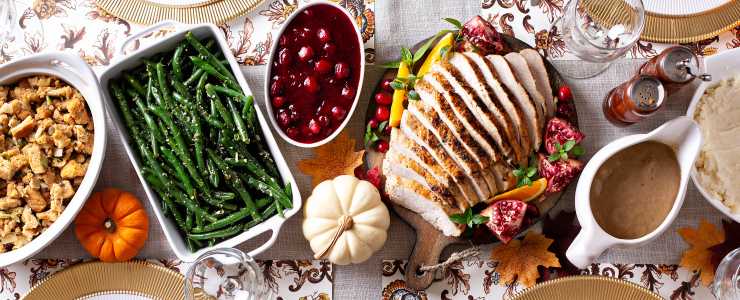 It's turkey time! No need to spend hours in the kitchen cooking up Thanksgiving dinner and all the trimmings. Leave it to creative chefs in Southern Indiana to whip up a gobble-worthy feast for your guests.
Check out these options for carry-out and dining at local restaurants. We also included a few fun Thanksgiving-themed events to mark on your calendar as well.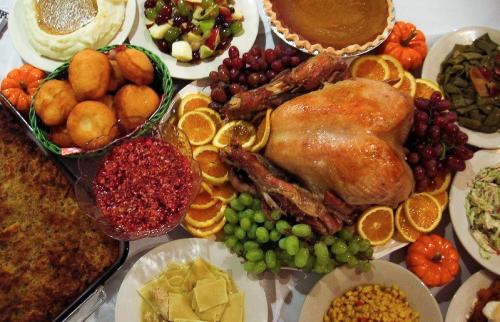 Joe Huber's Family Farm & Restaurant, Borden
The whole month of November, Joe Huber's Family Farm & Restaurant is serving oven-roasted turkey, homemade dressing, pumpkin pie and more! The meals are available for dine-in, carryout and delivery if ordered for 20 or more people. A special buffet on Thanksgiving Day will be served at this annual event.
Huber's Orchard & Winery
Don't forget the sides! For Thanksgiving this year, make a trip to Starlight to pick up holiday flavors from Huber's! The folks at Huber's Orchard, Winery & Vineyards will be serving homemade pumpkin and apple pies and cheddar bread from the Farm Market Bakery. And of course, no Thanksgiving is complete without Huber's wine for the table! Spiced Apple, Sweet Marcella or Pop's Reserve anyone? Choose from these wines and others.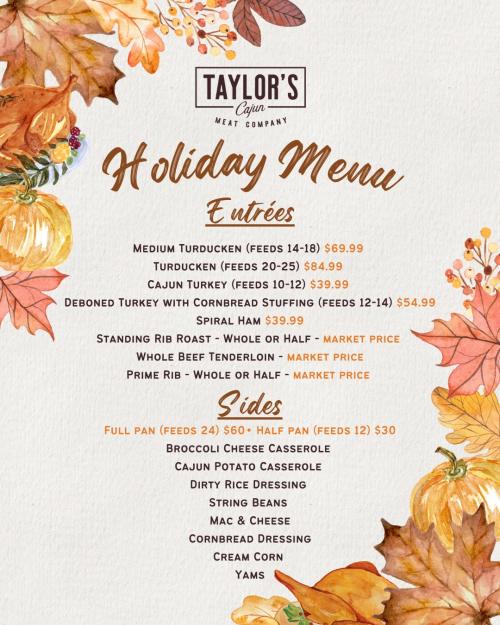 Taylor's Cajun Meat Co.
Spice up Thanksgiving for your family and friends this year at Taylor's Cajun Meat Co. Place your order now for a Turducken (chicken stuffed inside a duck, stuffed inside a turkey), Cajun turkey, Standing Rib Roast, Cajun Potato Casserole, Dirty Rice Dressing and more! Some of the items require cooking but no prep! That counts as kitchen-free right?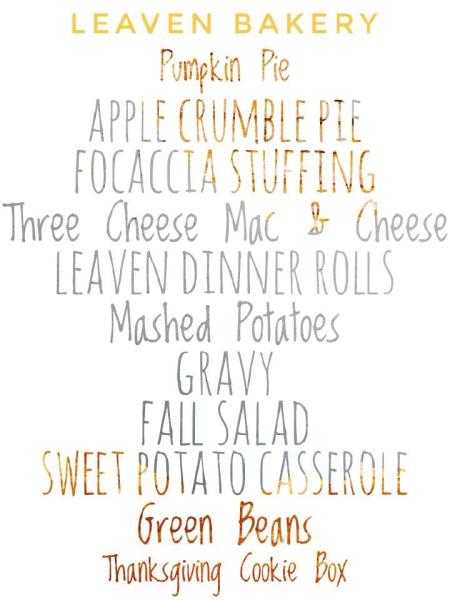 Leaven Bakery
Leaven Bakery has whipped up a special "Everything but the Gobbler" menu for Thanksgiving and has you covered on tasty sides and sweet treats.
You can order up pumpkin pie, apple crumble pie, green beans, Focaccia stuffing, three-cheese mac & cheese, mashed potatoes, gravy, Leaven's dinner rolls, sweet potato casserole, salad and a Thanksgiving cookie box.
Visit LeavenBakery.com to order and pick up by Nov. 24.
Brooklyn and the Butcher is offering the Brooklyn's Thanksgiving Family Meal Kit.
Enjoy a family-style Thanksgiving meal prepared by Chef Ming Pu that includes:
Bowman & Landes Farm Roasted Turkey (13-15-pound turkey – roasted breast and braised leg and thigh, served with turkey gravy)
Spring Mix Salad (Brioche croutons, onions, tomatoes, bacon and Buttermilk Ranch dressing)
Roasted Garlic Whipped Potatoes
Green Beans with Black Truffle Butter
Mac + Cheese (three-cheese blend)
Brioche Stuffing (celery, onions and herbs)
Pumpkin No Bake Cheesecake with Graham Cracker Streusel crust
Cranberry Walnut Bread with Whipped Sorghum Butter
$250 (feeds 4 to 6 guests)
Pick-up on Nov. 23 or 24 between 4 and 8 p.m.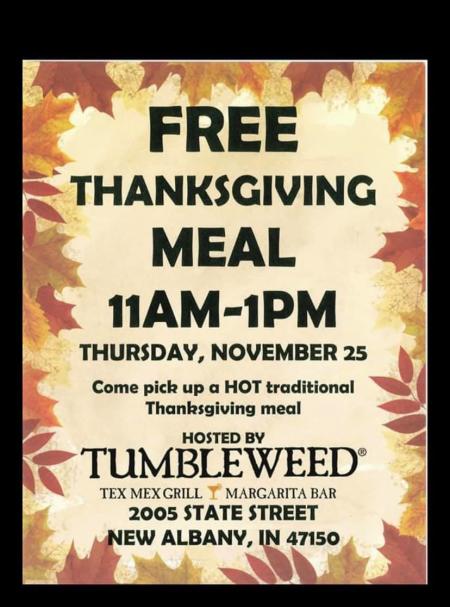 Tumbleweed
Stop by Tumbleweed from 11 a.m. to 1 p.m., Nov. 25 to pick up a free Thanksgiving meal.
Other Thanksgiving Fun Options in SoIN:
MESA, A Live Dining Show is offering its 5th annual Hands-On Turkey Class with Chef Scott Dickenson from 6-8:30 p.m., Nov. 23. It kicks off with a cocktail hour from 6-7 p.m., followed by the class from 7 to 8 p.m.
Prep a turkey and ingredients at MESA and cook it at home on Thanksgiving Day. Food will be served during the event: Turkey Roulade, Cornbread Stuffing, Cranberry Thyme Glaze, Potato Puree and Pickled Brussel Sprouts. Cost is $80. Adults and children welcome.
MESA KIDS Cooking School will host a Turkey Cake Decorating event from 2-3:30 p.m., Nov. 13. Recommended for ages 5-15 years old. Due to time constraints, cakes will not be baked in class. This cake decorating workshop. Cost is $45.
Any Thanksgiving meals we missed? Please email details to Katerina@gosoin.com