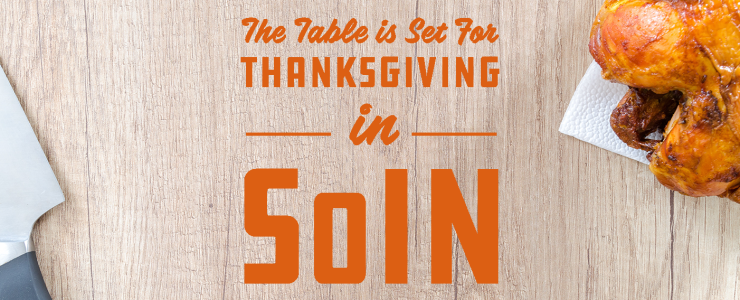 Restaurants open for Thanksgiving in Southern Indiana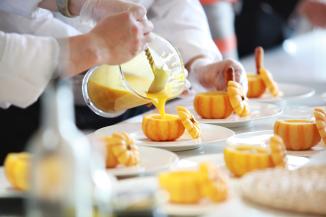 Just because you're away from the kitchen this Thanksgiving doesn't mean you can't enjoy all the traditional dishes that come with the holiday. Or maybe you're just looking for something different for family and friends to experience while visiting SoIN.
If so, we've got the inside scoop! Leave the cooking to southern Indiana chefs as they prepare the Thanksgiving feast, so you can spend more time with family and friends.
 
Check out these kitchen-free options to get you out of the house and off to a great Thanksgiving meal…SoIN style! 
The following restaurants will be open on Thanksgiving Day, Nov. 28: 
Cafe 157, New Albany
Stop by Cafe 157 on Thanksgiving Day for a locally sourced home cooked meal.

Where: Cafe 157, 157 E. Main St., New Albany
When: Noon - 5 p.m.
Cost: $15 + tax  
Contact: For reservations, please contact Linda Williams at (502) 548-9114
Champions Grille, Radisson Hotel, Clarksville 
The Radisson Hotel's Champions Grille is serving a four-course traditional Thanksgiving buffet. Be sure to call to make your reservation soon.
 
Where: Champions Grille, Radisson Hotel, 505 Marriott Dr., Clarksville, IN 47129 
When: 11 a.m. - 3 p.m.
Cost: Adults $21.95 + tax, Children (ages 1-6) ½ price, Children 5 & under Free
Contact: For reservations, please contact Emily at (812) 283-4411
Bella Italia, Jeffersonville
Join Bella Italia for Thanksgiving Day Brunch Buffet for a wide variety of traditional Thanksgiving Day items, cocktail specials, & live music. Reservations are suggested due to limited seating.

When: 11 a.m. - 4 p.m. 
Cost: $25 per adult, $10 per child 10 and under.
Contact: (812) 913-1252
Joe Huber's Family Farm & Restaurant, Borden
All month long, the family attraction is serving up Oven Roasted Turkey, Homemade Dressing, pumpkin pie and more! Visitors can also catch a special buffet on Thanksgiving Day during this annual event.

Cost: Adults $21.99, children (ages 4-11) $12.99 
Contact: (812) 923-5255
Any openings on Thanksgiving Day we missed? Please email details to russell@gosoin.com