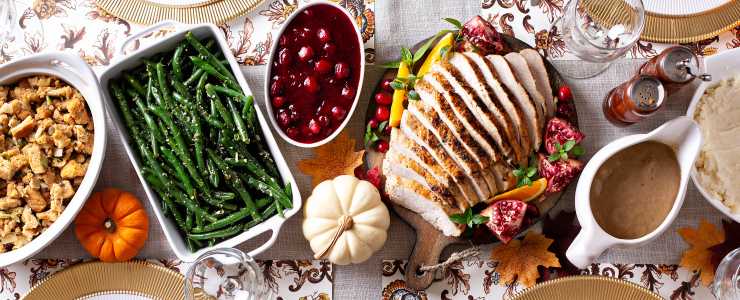 Kitchen-Free Thanksgiving in Southern Indiana
Thanksgiving is looking different this year for families across the country. Many are opting out of large gatherings because of covid-19. That means fewer people to help with the turkey and those famous Thanksgiving side dishes. If you don't want to spend the whole day in the kitchen, why not leave the cooking to southern Indiana's chefs? They can help you prepare a Thanksgiving feast that will make you feel at home, and grateful.
Check out these options for carryout Thanksgiving meals, SoIN style!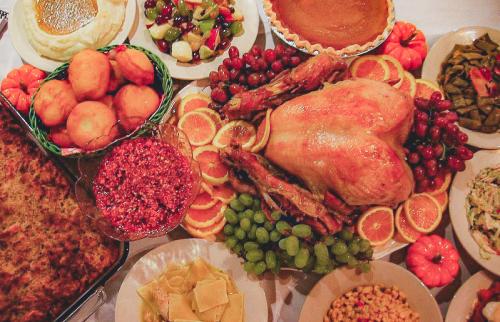 Joe Huber's Family Farm & Restaurant, Borden
The whole month of November, Joe Huber's Family Farm & Restaurant is serving oven-roasted turkey, homemade dressing, pumpkin pie and more! The meals are available for dine-in, carryout and delivery if ordered for 20 or more people. A special buffet on Thanksgiving Day will be served at this annual event.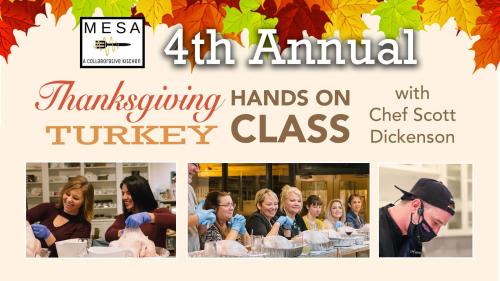 MESA, A Collaborative Kitchen
MESA is a state-of-the-art collaborative kitchen, featuring demonstrations and hands-on classes by southern Indiana and Louisville chefs. The chefs prepare and demonstrate while explaining the process, answering questions and talking with guests who have front-row seats. MESA has a few Thanksgiving events in November. Get your tickets now, as these events sell out fast!
November 21 – 3-Course Friendsgiving Event
November 24 – Take & Bake Thanksgiving Pie Event
November 25 – Thanksgiving Turkey "Hands-On" Class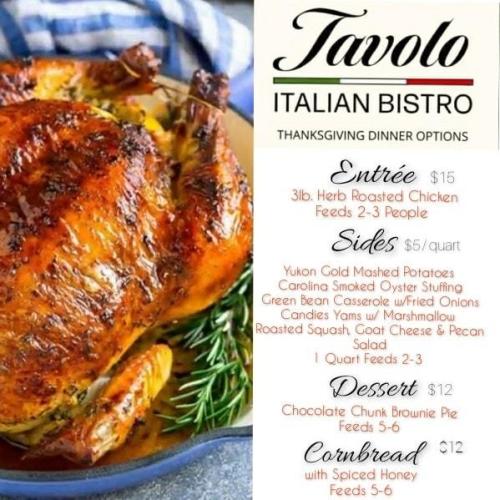 MESA is also teaming with Tavolo Italian Bistro to offer TO-GO Thanksgiving Dinner for 2-3 people. You can pick up from Mesa on Nov. 25.
Order online at Tavoloitalian.com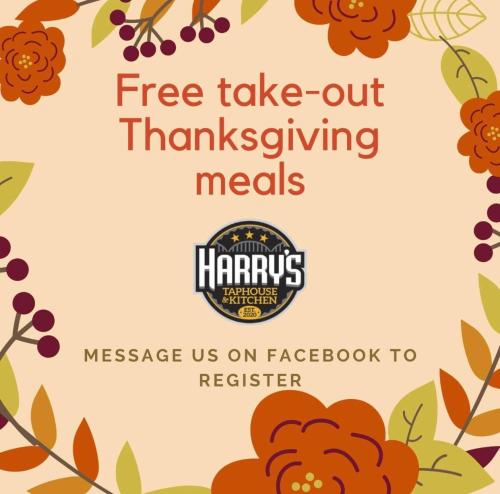 Harry's Taphouse & Kitchen
Harry's is offering your family a FREE take-out Thanksgiving meal on Thursday, Nov. 26. They want to make sure those who don't have anywhere to go or just need a little help with the cost have a home styled Thanksgiving meal! Harry's will be serving the traditional meal of homemade turkey, green beans, corn, mashed potatoes, rolls and pumpkin pie. 
Families must register by Nov. 25. To register, message Harry's on Facebook.
Huber's Orchard & Winery
Don't forget the sides! For Thanksgiving this year make a trip to Starlight to pick up holiday flavors from Huber's! The folks at Huber's Orchard will be serving homemade pumpkin and apple pies and cheddar bread from the Farm Market bakery. And of course, no Thanksgiving is complete without Huber's Wine for the table! Spiced Apple, Sweet Marcella or Pop's Reserve anyone? Choose from these wines and others.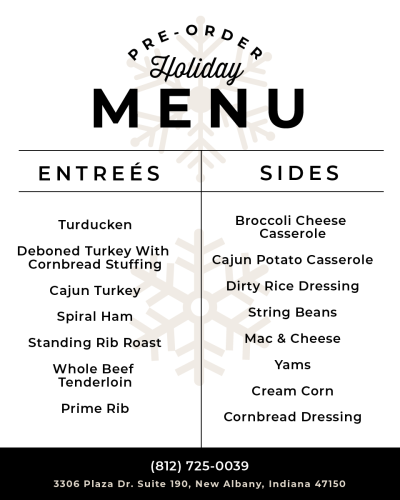 Taylor's Cajun Meat Co.
Spice up Thanksgiving for your family and friends this year at Taylor's Cajun Meat Co. Place your order now for a Turducken (chicken stuffed inside a duck, stuffed inside a turkey), Cajun Turkey, Standing Rib Roast, Cajun Potato Casserole, Dirty Rice Dressing and more! Some of the items require cooking but no prep! That counts as kitchen free right? 
Brooklyn and the Butcher
Enjoy a family-style meal, expertly prepared by Chef Ming Pu from Brooklyn and the Butcher. This meal will feed 6-8 people for $225 per kit, and features a delicious, brined + smoked Turkey Roulade with Brioche Stuffing (must be oven heated approximately 15 minutes). The meal will also include Whipped Potatoes with Turkey Gravy, Brooklyn's Mac & Cheese featuring Cavatappi and Jarlsberg + Tillamook Cheddar, Haricot Vert with black Truffle Butter, Country Ham, Cranberry & Walnut Bread with Whipped Butter and Pumpkin Cheesecake with Candied Pecans and Bourbon Caramel.
Order by 5 p.m. on Sunday, November 22 to be picked up 5-8 p.m. on Wednesday, November 25.
Order online here: https://forms.gle/7SQmbbRRoWLnusHH8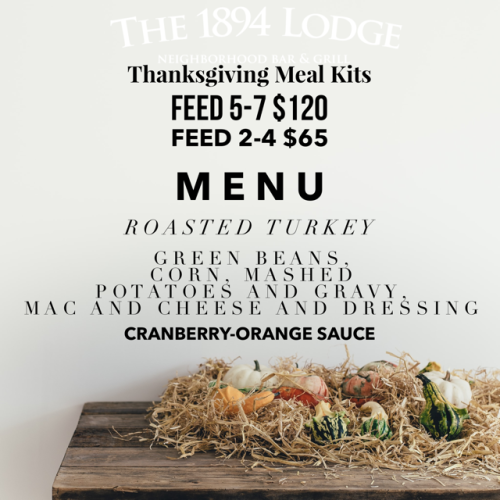 The 1894 Lodge
Order your Thanksgiving meal online from The 1894 Lodge for curbside pick-up. They will offer family-style meals for 5-7 and 2-4, cocktail kits, smoked hams and fried turkeys!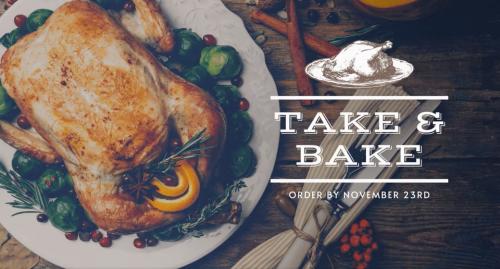 The Standard Plate & Pour
Save that cooking, cleaning, and grocery shopping for another time! Let the folks at The Standard Plate & Pour prepare your Thanksgiving dinner with a take-and-bake meal! The meals feed 8-10 people for $170 or 15-20 for $225. It includes sliced turkey breast, gravy, cranberry relish, rolls, and your choice of 3 sides: mac & cheese, green beans, mashed potatoes, stuffing, sweet potato casserole, or corn casserole!
Order by Monday, November 23 to be picked up on Wednesday, November 25
Order online here: bit.ly/standardevents
Any Thanksgiving meals we missed? Please email details to Katerina@gosoin.com