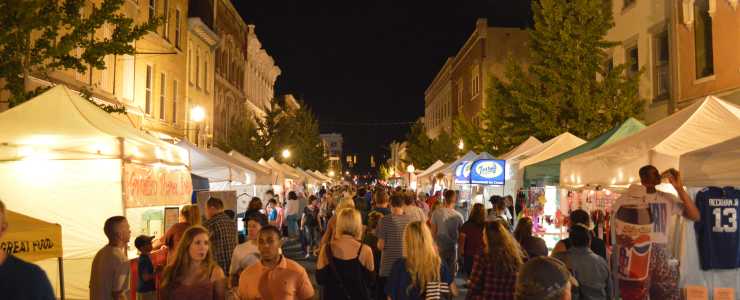 Beginning late September through October 15, downtown New Albany is home to one of the largest fall festivals in Indiana. Aside from the parade, fun rides, funnel cakes, and pumpkin ice cream, here's a list of "Ten Ways to Experience Harvest Homecoming You May Not Know About" to help you enjoy Harvest Homecoming's 50th anniversary to the fullest.
1. Channel your inner rock star and enter the Harvest Idol contest.

2. Listen to Lefty and the Lunatics and sample local food and brews at the From the Ground Up fundraiser benefiting Clark and Floyd County Habitat for Humanity.

3. Form a team and build your own gravity-powered trebuchet (treb-yoo-shet) to compete in the Purdue Pumpkin Chunking Competition.

4. Rock out and sing along to live bands such as The Louisville Crashers, The Juice Box Heroes, and enjoy other riverfront activities at the New Albany Amphitheater.

5. Encourage your Floyd County high school senior to enter Who Wants to Be a College Student? Contest where students can win up to $1,800 in scholarships.

6. Join ghosts and other scary characters as you race your coffin (soap box derby car) along the New Albany riverfront in the Culbertson Mansion Coffin Race. 

7. Enter your 3-13 aged child and family pooch in the Kid's Dog Show and win prizes in the Best Costume, Best Trick, Best Groomed, Best Overall, or A Face Only a Mother Could Love categories.

8. Find grandma's special pumpkin pie recipe, or whip-up your favorite fall dessert and get baking to enter the Harvest Baking Contest.

9. Brag on your adorable infant to 3-year-old by entering his/her photo in the Baby Photo Contest.



10. Find the best pumpkin you can, decorate it using paint or craft materials, and enter it in the Pumpkin Decorating Contest, the festival's oldest event.
BONUS: Are you engaged to be married?
If so, you could win an all-expense paid wedding! For details, visit the "Get Hitched at Harvest" Facebook page.
For more information on all the festivities, visit: www.HarvestHomecoming.com