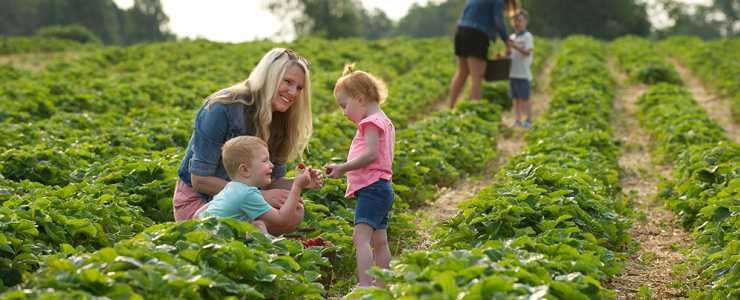 We love planning itineraries for visitors to our area. Many of our visitors want to know what the locals suggest. So, we asked our social media fans to help us design the best way to spend a day in Clark and Floyd Counites. Our followers have spoken and here is the itinerary they planned. 
Note: We developed this itinerary based on the places with the most votes. So, you may need to plan more than a day to fit all these great recommendations into your travel plans!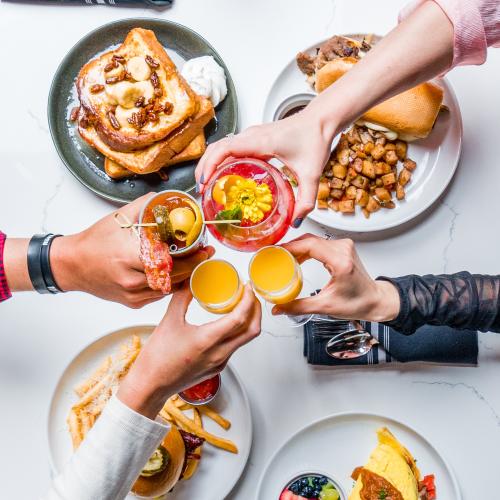 Stop 1: Breakfast
Brooklyn & The Butcher (Sundays 10 a.m. - 2 p.m.)
Chef Ming Pu and Beverage Director Emily Sigo have whipped up an incredible selection for the classy, bougie bruncher. With three steak & eggs options, a beautiful assortment of omelets, and a cocktail menu to tantalize all the senses, Brooklyn & The Butcher should be added to your rotation.
Local Tip: Make your reservation ASAP!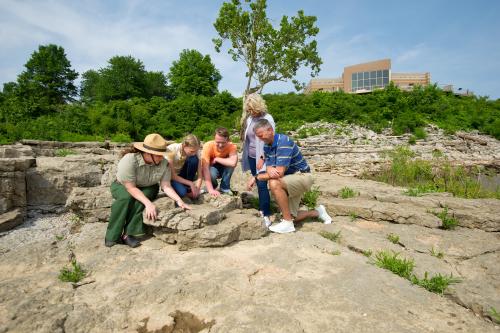 Stop 2: Learn about Southern Indiana History
After breakfast, we head to the Falls of the Ohio State Park. The park is on the edge of the Ohio River where you can hike on 390-million-year-old fossils. These are the world's largest-exposed Devonian fossil beds. The park's interpretive center features hands-on exhibits in four-themed time tunnels: An Ancient Sea, A Changing Land, Converging Cultures, and The Falls Today.
Local Tip: The fossil beds are most visible during late summer and early fall when river levels are typically low. It's best to call ahead when planning your visit.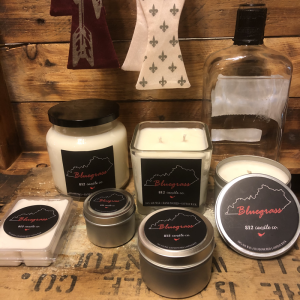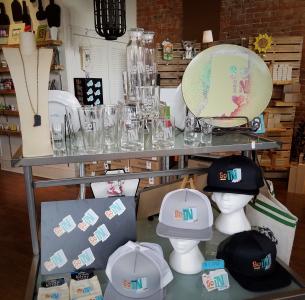 Stop 3: Pick up Souvenirs
We can't forget to pick up some one-of-a-kind SoIN souvenirs, and there's no better place than Regalo Gifts. This locally-owned boutique offers an eclectic mix of gifts, one-of-a-kind jewelry, accessories contemporary décor and fine art. 
Local Tip: Take a moment to smell the locally made 812 candles!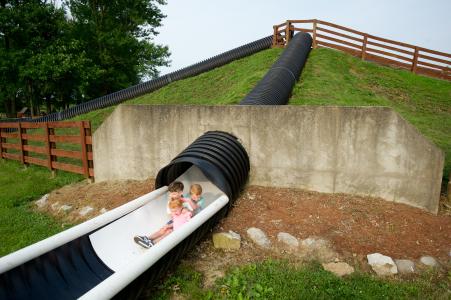 Stop 4: Entertainment for the Kids
Now something for the kids! A 20-minute scenic drive will take you to Huber's Orchard and Winery. The seasonal Family Farm Park has activities like Mountain Slides, Mazes, the Grain Train and many more! Huber's also has a U-pick operation for fruits and vegetables from early spring to late fall. Families can walk in the rows of produce hanging from trees, vines, bushes, and brambles to hand-select their produce. It is truly a one-of-a-kind experience that can be enjoyed by all ages! A trip to Huber's doesn't have to be all about the kids…don't forget to stop by the winery to bring a couple bottles home for yourself.
Local Tip: The Jalapeno Cheese bread from the market is amazing!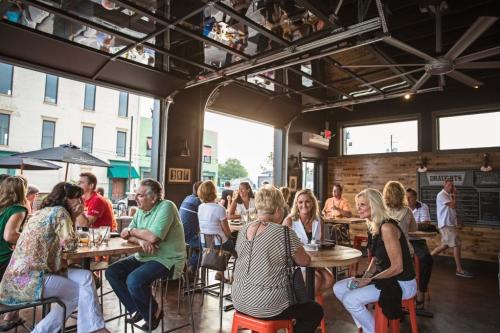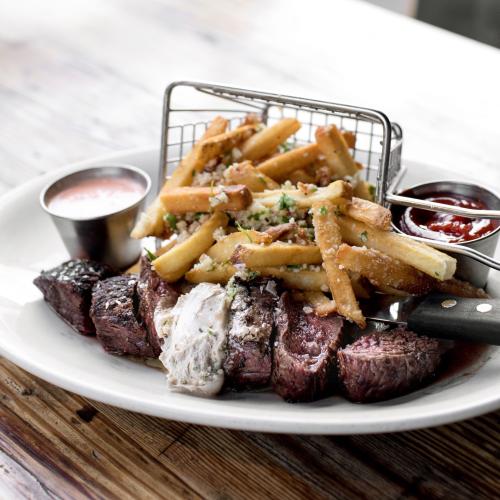 Stop 5: Lunch
We have certainly worked up an appetite by this point. We will head to The Exchange Kitchen + Pub in historic downtown New Albany for lunch. This family-friendly establishment's good food is locally sourced and prepped by a master chef. The ample outdoor heated seating makes this a local favorite!
Local Tip: The goat cheese fritters will change your life.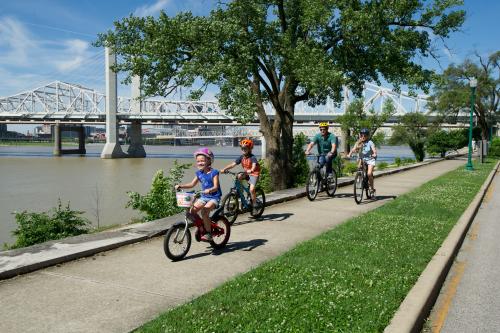 Stop 6: A Nice Stroll
Time to walk off the after-lunch slump! We will take a stroll on the Ohio River Greenway across the Big Four Pedestrian Bridge. The 7.5 mile multi-use path passes through New Albany, Clarksville, Jeffersonville. Check out the breathtaking views as you cross the Big Four Bridge into downtown Louisville.
Local Tip: Get your cameras out for Louisville skyline photo ops from Ashland Park!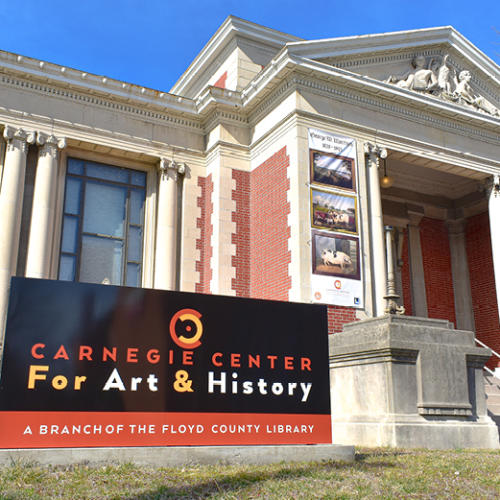 Stop 7: Experience Art
A trip to SoIN wouldn't be complete without experiencing the booming local art scene. You can see both historical exhibits and contemporary art installations that interpret current events and speak to Indiana's culture at The Carnegie Center for Art and History. The Carnegie has rotating exhibits, family workshops, and permanent exhibits including "Ordinary People, Extraordinary Courage: Men and Women of the Underground Railroad," which tells the story of New Albany's role in the Underground Railroad, and "Remembered: The Life of Lucy Higgs Nichols," an exhibit on one former slave who became a Civil War nurse.
Local Tip: The Carnegie Center is free admission and has an art-inspired play area for younger kids.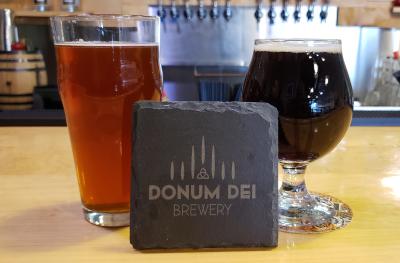 Stop 8: Happy Hour Pint
A SoIN must is happy hour! Craft beer culture is anything but new to the folks in southern Indiana. Whether you drink home-brew or nationally known craft beer, you'll find fun ways to enjoy a pint. A local favorite in Donum Dei Brewery, a ten-barrel brewery with a tap room. 
Local Tip: You must try the seasonally released Unicorn Brew!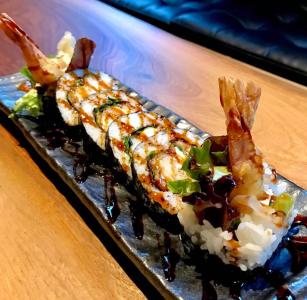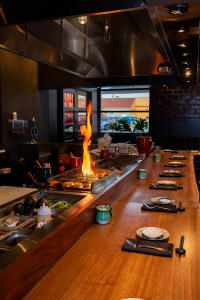 Stop 9: Dinner
Who is ready for dinner? We will head over to Dragon King's Daughter. DKD (as it is known to the locals) strives for a transcendent dining experience. The menu includes traditional items perfected over centuries in the Far East as well as contemporary fare created with a unique twist of our own. Whether you are adventurous or timid, vegetarian, vegan, or gluten-free you are certain to find many items you will want again and again.
Local Tip: DKD's bar is a hot spot that offers cozy private booths and a robata bar where the chef will wow you with their creations.

Stop 10: Sweet Treat
We hope you saved room for dessert! We are headed to Georgetown for some ice cream from Polly's Freeze, a local drive-in restaurant and ice cream shop serving delicious treats and an authentic 1950's atmosphere. Step back into 1952 where shakes and burgers are still served underneath the bright neon parrot. 
Local Tip: If you are looking for a retro-themed evening head down the road to the Georgetown Drive-In movie theater!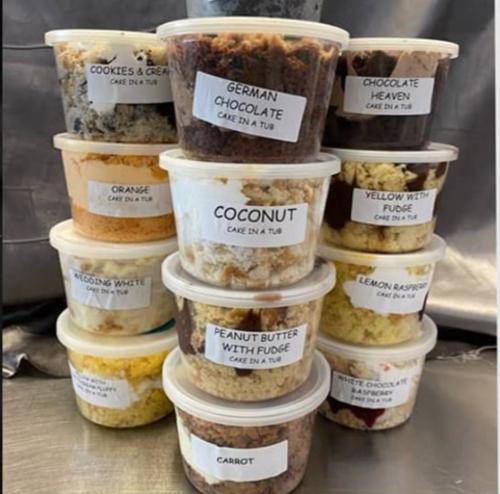 Bonus option: Since Polly's is only open in summer, we're giving a bonus option for travelers who are in SoIN during other times of the year. If it's too chilly for ice cream, Sweet Stuff Bakery has what you are looking for. They are known for their artfully decorated cakes but also have some of the best pies, pastries and desserts in the region. 
Local Tip: Try their Cake Tubs…which is exactly what it sounds like a tub of cake!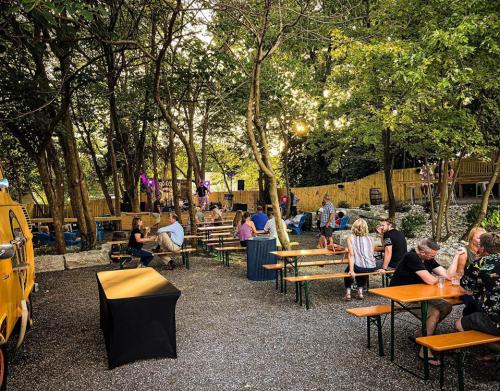 Stop 11: Evening Entertainment 
SoIN comes alive at night, and one of the most hopping spots is Floyd County Brewing Co., an Old World Medieval Themed local brewery and restaurant serving "food, froth and follies." Their Enchanted Forest biergarten has outdoor games and some of the best live music around. It keeps people dancing all night! 
Local Tip: Take a selfie in front of the Alice in Wonderland mural!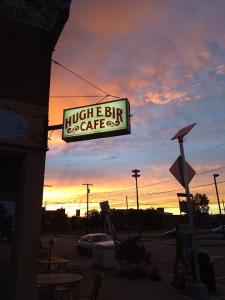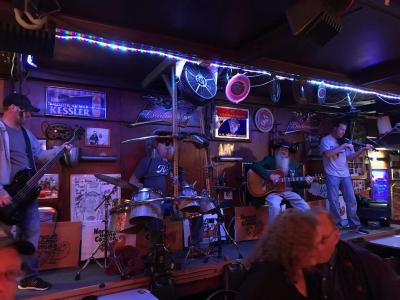 Stop 12: Last Call 
Our last stop on our SoIN adventure is finishing the night at a true local dive bar Hugh E. Birs. This hole-in-the-wall is named after local legend, Hugh E. Bir who has owned this local bar for more than 50 years in the heart of downtown New Albany. Drop by on Friday and Saturday nights for live country music. 
Local Tip: If you ask nicely, they might even let you grab the mic for a song or two.