Essential Worker Hotel Offers
First Responders, Truck Drivers, Construction Workers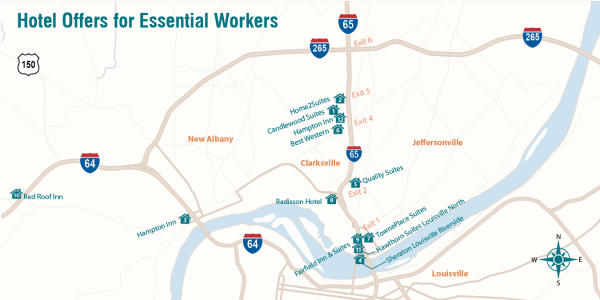 COVID-19 policies: Each hotel has addressed COVID-19 and cancellation policies. Please visit each website, as this will vary with each hotel. 
In the age of social distancing, some men and women continue their work to keep our country going.  
Leisure travel has been restricted, but travelers still need places to stay:  
First responders and health professionals who may need to distance themselves from family members for a short while
Truck drivers on long haul routes 
Construction workers making critical infrastructure repairs 

To help these everyday heroes, SoIN hotels are offering special rates, temporary office space, and other necessities.  
To take advantage of these offers, you must:  
Book directly through the hotel by calling (see contact info below) 
Provide valid ID as a First Responder/Medical Professional, Truck Driver or Construction Worker 

 Candlewood Suites​
         Contact: Carrie Peters (812) 284-6113

 Home2Suites by Hilton Clarksville North
         Contact: Tabitha Gray (812) 920-1880
 Hampton Inn New Albany Louisville West
         Contact: Mallory Jewell (812) 945-2771

  Sheraton Louisville Riverside Hotel
          Contact: Kim Schwartz (812) 206-7165

 Quality Suites (Jeffersonville)
         Contact: Parag Bhatt (812) 282-2100

 Best Western Greentree Inn
         Contact: Andria Phillips (812) 288-9281

 TownePlace Suites
         Contact: Josiah Crawley (812) 914-4100
 Radisson Hotel Louisville North
         Contact: Becky Fulkerson (812) 283-4411

 Fairfield Inn and Suites (Jeffersonville)
         Contact: Kent Miller (812) 280-8220

 Red Roof Inn (Georgetown)
         Contact: Nimesh Patel (812) 923-0441

 Hawthorn Suites
         Contact: Bridget Snelling-Growe (812) 280-8200

 Hampton Inn Louisville North/Clarksville
         Contact: Phil Klaus (812) 280-1501