Status of Traveling in Southern Indiana
Thank you for your continued interest in the area of southern Indiana we call "SoIN."
Due to the coronavirus, we are taking measures to keep you, our community members, partners and staff members safe and healthy. 
Many events are canceled and some businesses are closed. Below are ways you can stay entertained, outdoor recreation that you can still go to, and updates from the state of Indiana. 
Thank you for your patience. 

SUPPORT LOCAL RESTAURANTS - CARRYOUT & DELIVERY
Stay in touch: 
Ways to Stay Entertained in SoIN
Practicing social distancing and still looking for ways to stay entertained? You might want to check out the following ideas. Click on the links below!
Outdoor Recreation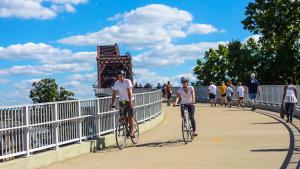 Big Four Bridge
Take a walk on the mile-long pedestrian and cyclist bridge that spans across the Ohio River and connects Jeffersonville, IN and Louisville, KY. Take in the spectacular views of downtown Louisville which is always a local fan favorite activity during the spring and summer.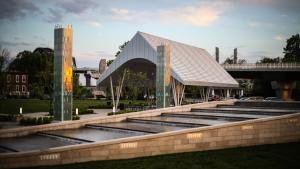 Big Four Station Park
A premiere park that connects to the Big Four Bridge which overlooks downtown Louisville and features 10-acres, playground, benches, pavilion, bathroom, and picnic tables.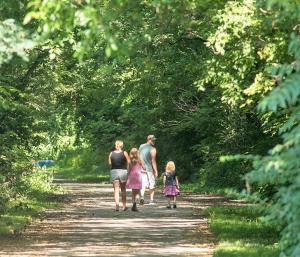 Ohio River Greenway
Walk, ride a bicycle, jog, and picnic along this 7.5-mile path that sits along the banks of the Ohio River linking the riverside towns of Jeffersonville, Clarksville, and New Albany.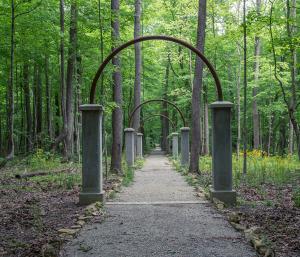 Charlestown State Park
One of Indiana's newest and largest state parks. Take a stroll to Charlestown to enjoy a nature hike, have a picnic, go fishing, and let the kids explore.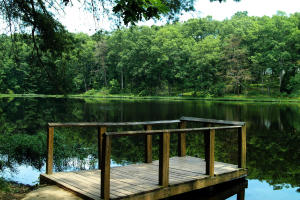 Clark State Forest
The oldest state forest in Indiana and is home to a part of the longest hiking trail in the state, the Knobstone Trail. Other activities this park offers is fishing, hunting, picnicking, and a shooting range. 
Deam Lake
Deam Lake is a 194-acre lake and the Knobstone HikingTrail runs right through it. Home to 4 separate hiking trails along with 1 specifically for mountain biking. Other activities include hunting, fishing, and picnicking.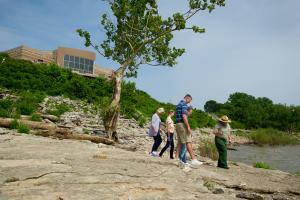 Falls of the Ohio State Park
Hike on 390-million-year-old fossils, in the largest-exposed Devonian fossil beds in the world. The area around the park offers great views and a fantastic picnic spot right on the Ohio River. However, the indoor interpretive center is closed. Follow Falls of the Ohio State Parks Facebook for free coloring pages and at home scavenger hunts.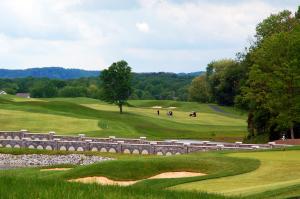 Golf
Hit the links and enjoy the great outdoors! Southern Indiana is home to 6 public golf courses. You can't watch live sports, but you surely can play them.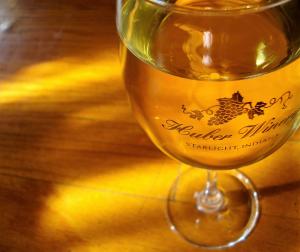 Huber's Orchard, Winery & Vineyard
Head over to Indiana's largest winery to take advantage of their carryout options from their Starlight Cafe, Farm Market, and Winery. 
Mind and Body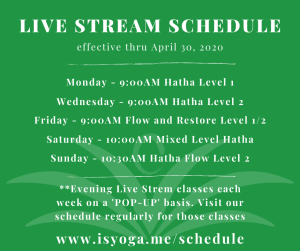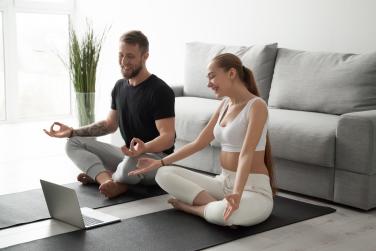 Inner Springs Yoga
Take a yoga class from the comfort home! Inner Springs Yoga has set a live stream schedule thru April 30. They are also offering Pop-Up Live Stream classes once or twice per week in the evenings. Pop-up classes will be announced on our Social Media as well as on their online schedule.
Arts and Culture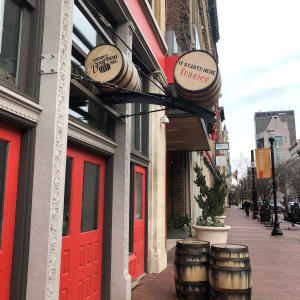 Frazier History Museum
Check out Frazier History Museum's virtual tours and watch history come to life through artifacts, exhibits, and did we mention bourbon? Yes, bourbon!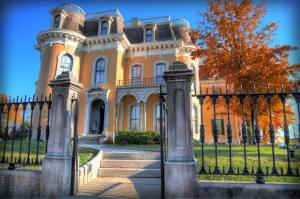 Culbertson Mansion State Historic Site
Take a virtual field trip through this 20,000 square foot Victorian mansion built in 1867.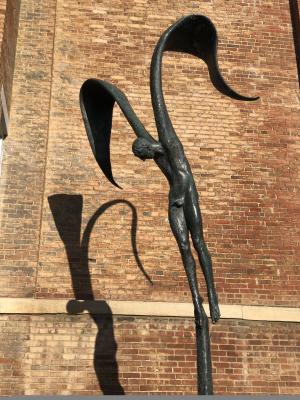 The Floyd County Library 
Floyd County Library has put together a self-guided walking tour of the Barney Bright sculptures in Downtown New Albany.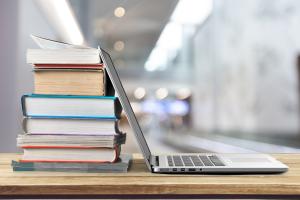 Carnegie Center for Art and Culture
Virtual book discussions, featured books include "O Pioneers!" by Willa Cather and "Silent Spring" by Rachel Carson. Spots are limited, register in advance.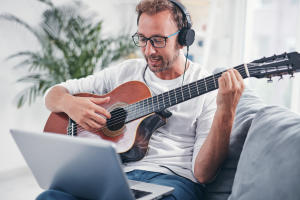 Kentuckiana Music Center
This is a great time to learn a new skill such as a musical instrument! The Kentuckiana Music Center is offering online music lessons for numerous instruments.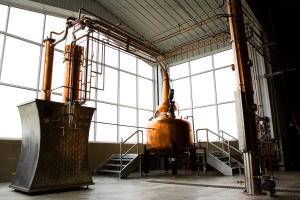 Starlight Distillery The Bourbon Lens Podcast Feature
Learn about the path to creating Starlight Distillery from co-owner/Master Distiller Ted Huber and his son/associate distiller, Christian Huber. They give an inside look into what it takes to run a grain-to-bottle distillery in this podcast.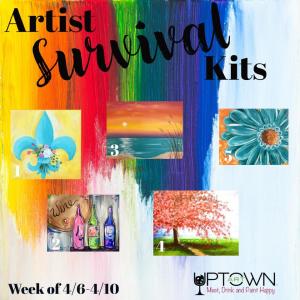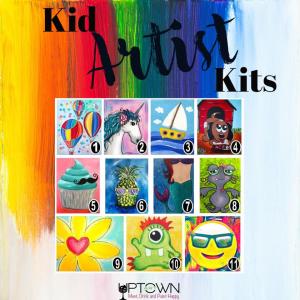 Uptown Art
Get your Artist Survival Kit which includes everything you need to create a masterpiece from your own home! They have adult and kid's kits. They also have live online painting classes, check their calendar for the class schedule and to purchase a kit.
For the Kids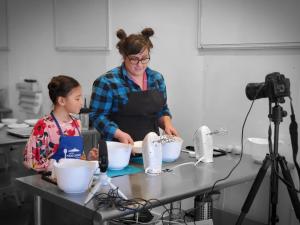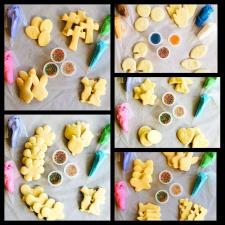 MESA Kids Cooking School
The kids aren't in school so you must keep them learning and active! Take advantage of MESA Kids Online Cooking Classes including take-home kits and cookie decorating kits.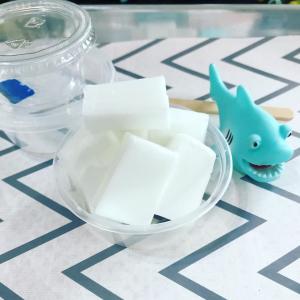 Wimsatt Soap Co.
Make bath time fun with these take and make Toy Soap Kits, pick from superheros, bugs or baby sharks!
Carnegie Center for Art and Culture
Pre-K Storytime and Art Adventures, Tuesdays at 10:00 AM Live via Zoom! Each class features one book and one art activity led live by Carnegie Director Ms. Eileen. Classes. Spots are limited, register in advance.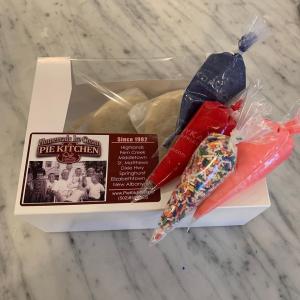 Home Ice Cream and Pie Kitchen (All locations)
Pick up a take-home cookie decorating kit. Each kit comes with 3 sugar cookies enough icing and sprinkles to decorate them!
Kentucky Science Center 
Kentucky Science Center has been doing a series called "Do Science from Home" with different videos featuring science activities you can do from home with items you already have around.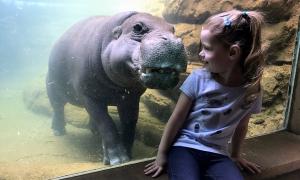 Louisville Zoo
The Louisville Zoo has been rolling out all sorts of fun and educational videos on their Facebook like Ask the Zoo Director, Teaching Tuesdays, Zoo Exhibits Tours, ISpy Games and more. 

State of Indiana Updates
Directives from Indiana Governor Eric Holcomb: 
Executive "Stay-At-Home" order has been extended to April 20, 2020. This was announced on April 3 and is for all non-essential businesses or activities. 
All restaurants and bars are to suspend in-person service except for carryout, curbside pickup, and delivery starting March 17. Support local restaurants.
Indiana will follow CDC recommendations of not having gatherings of more than 50 people.