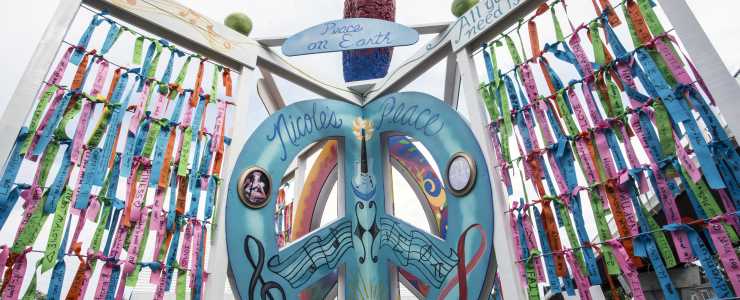 The five-day party on the riverfront is also known as the world's largest Beatles-inspired music festival offers new highlights for Beatles fans this year. You'll find all the peace and love of the 60s and 70s music that have drawn more than 20,000 fans to southern Indiana for the festival.
It will return on Memorial Day weekend to Big Four Station Park in Jeffersonville. You can enjoy the fab music of the Beatles, a playground area for children, Beatles merchandise and retail vendors, and interactive art installations.
This year's headliners include The Buckinghams, The Cowsills, The Grass Roots, and special guests Peter Asher and Jeremy Clyde performing together now as "Peter and Jeremy."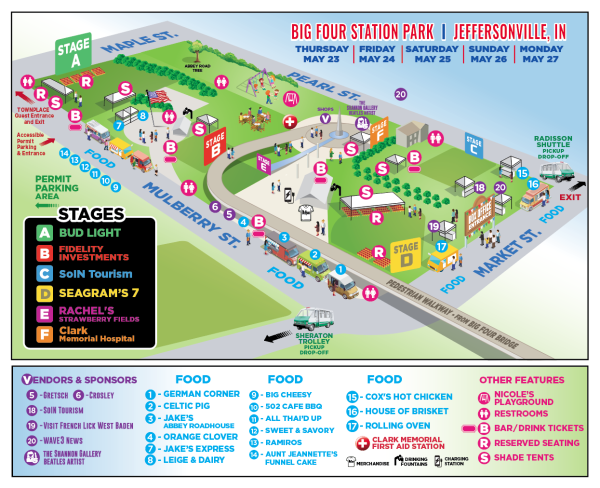 Now, on to the new stuff…
Music:

To honor the 50th anniversary of the Abbey Road album, the festival will present a never-before-seen original concert appropriately named "Abbey Road on the Dark Side" Sunday, May 26, at 9 p.m. Two powerhouse bands, Classicstone from Colombia and the Jukebox Beatles from Puerto Rico, will combine to seamlessly blend Pink Floyd's Dark Side of the Moon with The Beatles' Abbey Road for one big psychedelic show.
World-renowned harpist and southern Indiana resident Erin Hill will also make her festival debut as part of the performance.
The School of Rock Louisville will showcase some of its young talent at the festival. School of Rock is a world leader in performance-based music education, and these young musicians will play The Beatles, The Rolling Stones, The Who, and many songs from the 1969 Woodstock festival.
 

Festival-goers will enjoy new food options on-site, with more diverse and local food offerings including Orange Clover, 502 Café BBQ, Ramiro's, The Celtic Pig and 10 other vendors.
The festival map showing the placement of the stages, food vendors and the new entrance/box office on Market Street between Pearl and Mulberry is available online here.
Click here for the event schedule or download the 'Sched' app on your smartphone and search 'Abbey.'
To purchase tickets, make a hotel reservation, or get more information, click here. Tickets can also be purchased locally at SoIN Tourism (305 Southern Indiana Avenue, Jeffersonville), News and Tribune (221 Spring Street, Jeffersonville).