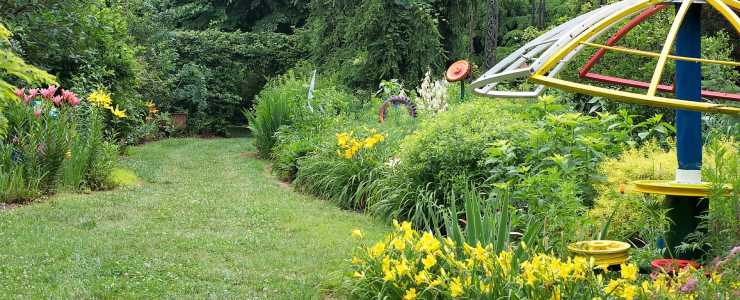 Need to break away from the daily grind this summer? Unplug from the world and re-charge your battery in these parks and paths.
Visit These Parks for a Peaceful Getaway
Did you know there are four state park recreation areas in Clark and Floyd counties? You'll find trails, lakeside vistas, fishing holes, camping spots, and picnic areas at Clark State Forest, Deam Lake, and Charlestown State Park. Falls of the Ohio State Park is known for its exposed Devonian-era fossil beds and newly-renovated Interpretive Center. But did you know it's also home to the Woodland Loop Trail and a national wildlife conservation area? Stroll the grounds, find a nearby picnic spot, then watch for the birds that frequent the river's edge: oriole, heron, kingfisher, and the majestic bald eagle.
Charlestown State Park's six marked trails—some more rugged than others—are lined with wildflowers, and have great views of Fourteen Mile Creek and the Ohio River. You'll find the Rose Island exhibit near Trail 3.  Take a serene walk back in time as you tour the once-grand 1920s amusement park grounds to see remains of its entrance, fountain, and swimming pool.
New Albany, Jeffersonville and Clarksville have green municipal parks and trails that provide cool shade for an impromptu picnic or quiet reading spot. (see below for helpful links).  For a unique outdoor escape, visit Hidden Hill Nursery and Sculpture Garden in Utica. The working nursery's park-like setting of eight acres, winding paths, and whimsical art make Hidden Hill a living outdoor art gallery.
Walk or Ride to Relieve Stress
The Ohio River Greenway's paved pathway runs alongside the Ohio River. Soak up the waking sun with a morning run or ride a bike along the water's edge. The views alone will calm and relax you! On your walk or ride, stop at Ashland Park in Clarksville along the Greenway for a beautiful view of Louisville's skyline.  Day or night, push "pause" when you're here to take in the views.
For an energy-booster, bike across the Ohio on the Big Four Bridge, a 2-mile round trip from Jeffersonville to Louisville. Bicycle rentals are available at nearby Widow's Walk Ice Creamery or Wheel Fun Rentals. Walk the span at daytime and watch mighty river barges pass underneath your feet. At night, feel the calm breeze as you pause to gaze at Louisville's spectacular city lights shine across the water.
At the base of Big Four Bridge, enjoy a frozen yogurt or light snack from Pearl Street Treats at Big Four Station Park.  The park's pavilion, picnic tables, and gently rolling hills are great spots to sit back and take it easy. Remember, downtown Jeffersonville restaurants are within walking distance from Big Four Station. Wind down and dine with family and friends at a cozy gastropub, riverside restaurant, or elegant bistro—what a great way to end a relaxing day!
Want more info about SoIN Parks and outdoor spots? Visit our Recreation page.
Click these parks and recreation sites to find SoIN municipal parks:
New Albany Parks and Recreation
Clarksville Parks and Recreation
Jeffersonville Parks and Recreation
Charlestown Parks and Recreation