What makes a chef a rock star? In my book, a couple of things separate brilliant chefs from decent cooks. Here are some things they can do that I can't do. Maybe one of these days I'll become a chef, but right now, I'm happy to appreciate their culinary arts when I visit a SoIN restaurant. 
The Magic Behind the Kitchen Door
You walk into a restaurant, and the dining room is beautiful. You order your food, and your server disappears through the kitchen doors. Minutes later, they re-emerge with beautifully made dishes. How does that magic happen? 
At Mesa Collaborative Kitchen, you can watch as simple ingredients are transformed into lovely dishes. Mesa is a new concept that allows you to join 22 others for dinner while you watch a chef and his or her team work in front of you. If you love the Food Network, but wish you could ask the questions, sit in on a meal at Mesa. The chefs and their staffs will plate a 3-5 course meal where you'll get a front row. The chefs talk as they cook, and you can ask them questions along the way. 
Grab a friend, a seat and a libation. This sport is a meal where you are a fan, interviewer, student, and dinner guest! 
More info: Mesa Collaborative Kitchen
Holy Combo, Batman! 
Chefs can take (often humble) ingredients and transform them into something delightful. Can I do those things? Sometimes, but usually only when the stars are aligned perfectly. But these chefs can come up with things that I can't. I'm a decent enough cook, but I'm not masterful the way so many of the chefs at our SoIN restaurants are.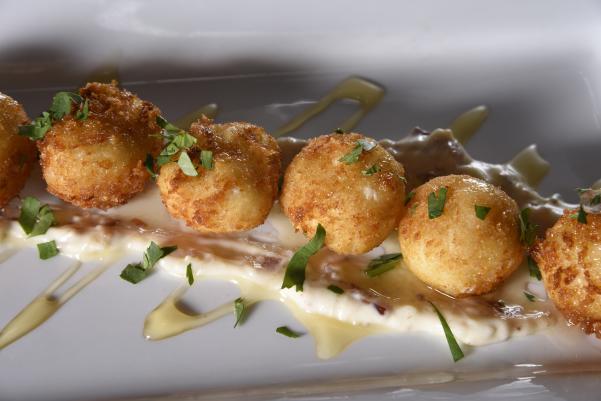 Three of my favorite ingredients are goat cheese, bacon, and honey. Some genius at the Exchange pub + kitchen decided one day to serve delicately breaded goat cheese fritters on a bed of bacon aioli. Then, to top it off, they drizzled them lightly with smoked honey. Talk about delicious! My friend paired these with a glass of sauvignon blanc from the Exchange's menu. It's now my standard order. 
More info: The Exchange pub + kitchen 
Wine is usually my libation of choice, but on a hot afternoon, there's nothing like an ice-cold beer. Who, then, would use it as a glaze for salmon? That's right, a chef. The folks at Floyd County Brewing Company use their amber brew to glaze their salmon filet. Served with steamed veggies and rice pilaf, this is the healthiest and yummiest way to appreciate a good beer. Pair that with any of FCBC's beers brewed on site. 
More info: Floyd County Brewing Company
Flaming Desserts
If you're a cooking show fan, you watch masterful chefs set something aflame and cook it perfectly. I'm adventurous with flavors, but I'll keep the flames on the burner, thank you very much. I leave the flaming desserts thing to the professionals. The staff at Olive Leaf Bistro can give you a show with Bananas Foster. Though it's not on their printed menu, you can make a special request for the dessert. They'll roll a cart next to your table and expertly light the flame so that you watch as your dessert is prepared tableside.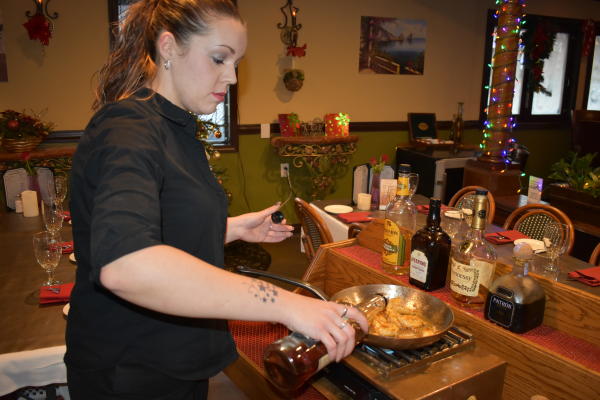 More info: Olive Leaf Bistro
Timing is Everything
They say timing is everything in love. But I think that saying is even more appropriate for a meal. 
I'm a decent cook at home, but, hey, I'm doing good to get all my dishes finished at the same time (within a couple of minutes of each other). Could I do that for a group of people each night? Probably not. That's why I'm amazed at a restaurant's chef and staff. They work as a team to feed dozens, hundreds or even thousands of guests a night – every night! 
The rock star chefs of SoIN are waiting to prepare a meal for you. 
Want more info? Search our dining options for a restaurant that strikes your fancy!